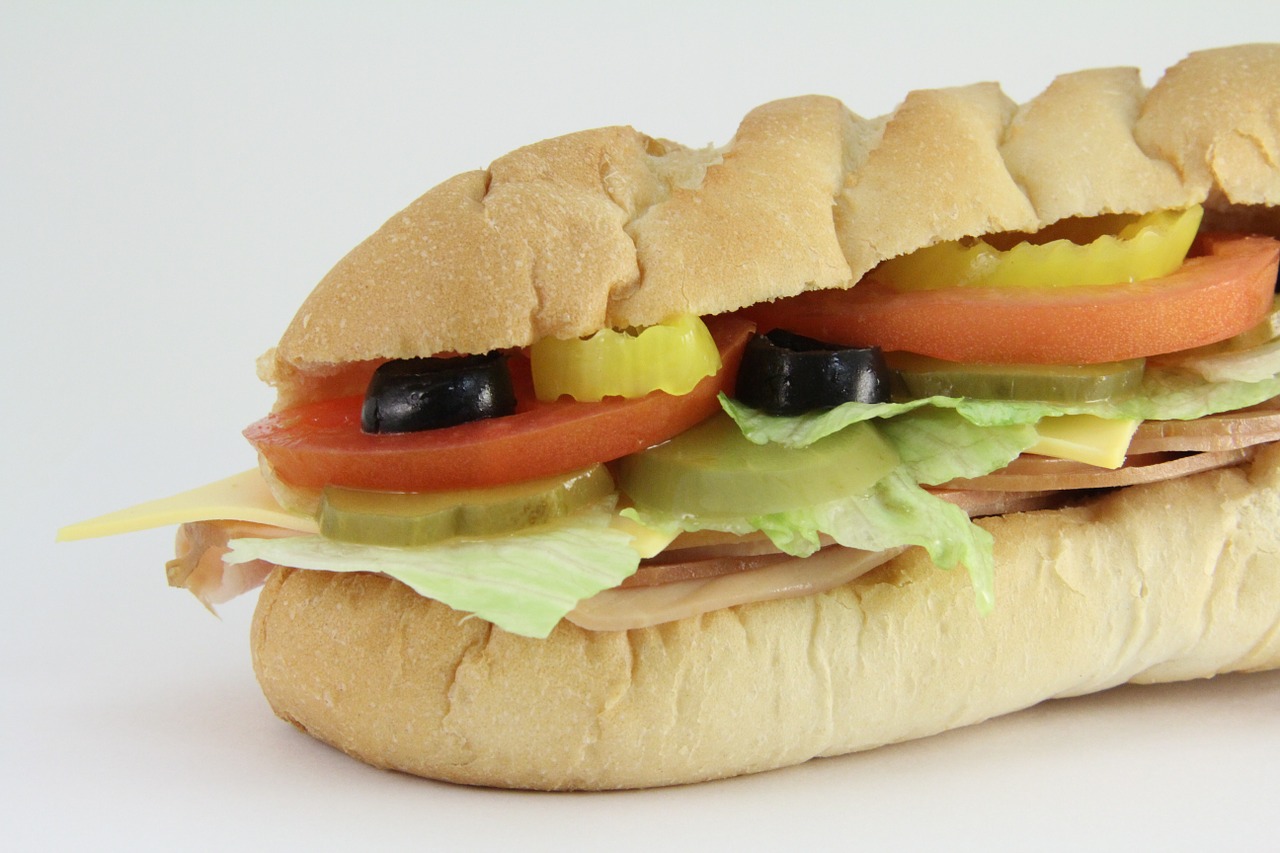 We'll kick off Takeaways with two of the more unusual lawsuits filed in Tallahassee's circuit civil court this past week:
— A corporation called Doctor's Associates Inc. is seeking a court order against the state's Division of Corporations "to strike and forever remove from the public records of the state … (a) certain inadvertently filed amendment" to its articles of incorporation.
It seems the document, filed last year, removed a member of the corporation's board of directors. But the person in question was never a board member, and the amendment also fails to properly identify who the current board members actually are.
When the company tried to correct the record, the division said it needed a court order to delete the document, the complaint said, resulting in the suit at hand.
In case you didn't recognize the name off the bat, Doctor's Associates Inc. is the corporation behind Subway, the biggest restaurant chain in the country, according to Business Insider.
Despite shutting down "hundreds of locations in 2016," it's "still the most ubiquitous restaurant chain in the U.S., with McDonald's in the No. 2 spot," the news site said. (The corporation doesn't own any of the restaurants, however; they're all franchised.)
So what does "Doctor's Associates" have to do with subs? According to an archived version of the site's frequently asked questions, "When the company was founded, Dr. Peter Buck, co-founder, was a scientist with a doctoral degree, and Fred DeLuca [the other co-founder] had aspirations of becoming a medical doctor. Hence the name Doctor's Associates."
— The Woodmen of the World Life Insurance Society sued the state's Department of Revenue, saying it's still owed a refund of over $30,000 in taxes paid for its 2013 national convention at the Hilton Orlando Lake Buena Vista.
The concern, known by its "WoodmenLife" nickname, isn't a for-profit insurer but a nonprofit, membership-based "fraternal benefit society" founded in 1890 and based in Omaha, Nebraska. (Founder Joseph Cullen Root was first motivated to provide financial security to "pioneer woodsmen clearing away the forest to provide for their families.")
It spent more than $406,000 on the convention, including $33,887 in "sales and use tax," the complaint says. When it finally got around to filing for a refund in 2016 based on its tax-exempt status as a nonprofit, the state declined, saying it didn't have a valid exemption at the time.
WoodmenLife explained in the complaint that it didn't know at the time it needed a "certificate of exemption" to claim a tax exemption. Had it known, it would have gotten one, and did in fact register with the state as a nonprofit afterward.
It protested Revenue's denial and was turned down, resulting in the suit. WoodmenLife now seeks a full refund and "appropriate interest" on its payment.
Coming up, the usual assortment of tidbits, leftovers and not-ready-for-prime-time moments by Jenna Buzzacco-Foerster, Jim Rosica and Peter Schorsch.
The "Takeaway 5" — the Top 5 stories from the week that was:
Bump it up — Gov. Rick Scott announced this week he plans to ask the Legislature to set aside $30 million to give the state's law enforcement officers another pay raise. The proposal would allow each state agency with sworn law enforcement officers to formulate their own pay raise plan to meet specific needs. "Our state law enforcement officers face danger every day, and they have protected our communities during some our state's most challenging times," said Scott in a statement. "I was proud to stand with the Florida Senate and Florida House this year to fight for the well-deserved 5 percent pay raise for sworn state law enforcement officers, but we cannot stop there. We must do everything we can to recognize our law enforcement and work to ensure that our state can recruit hard-working law enforcement officers to build on Florida's 46-year crime low."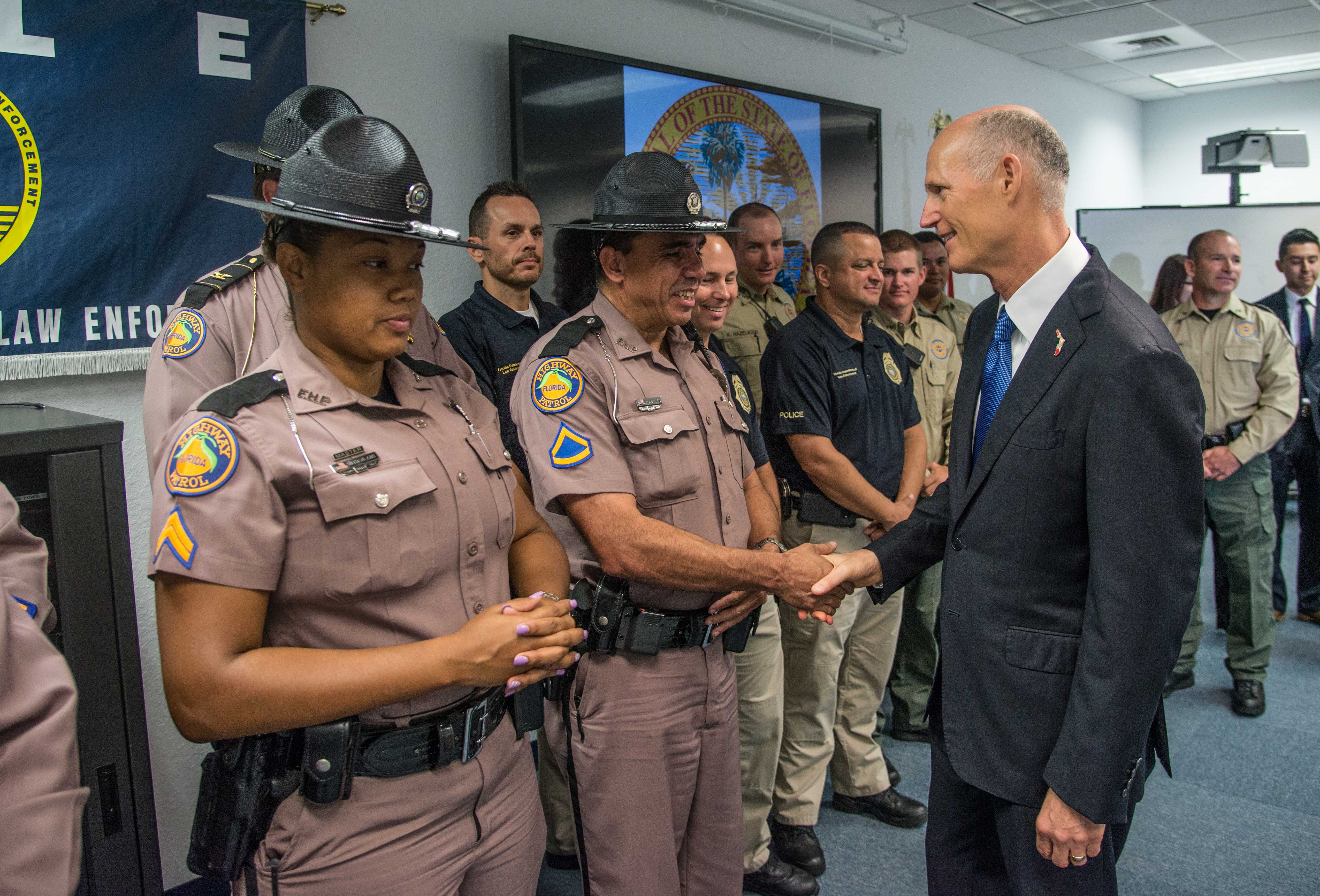 Growing suit — At least five Florida school boards are suing the state over a controversial education bill (HB 7069), which was approved by the Legislature and signed into law by Gov. Scott earlier this year. The Bay, Lee and Volusia county school boards voted this week to join a suit that contends the legislation potentially violates the state constitution. Broward and St. Lucie school boards have already acceded to the suit, and the Miami-Dade and Polk school boards are expected to decide in the coming days about whether to participate. The Pinellas school board plans to decide by Aug. 15. Advocates of traditional public schools have argued the law, which includes money for a "Schools of Hope" program, favors charter schools over traditional public schools.
SoFla special — The ballot is set. Rep. Jose Felix Diaz handily defeated former Sen. Alex Diaz de la Portilla and Lorenzo Palomares in the Republican primary to replace former Sen. Frank Artiles in Senate District 40. Diaz received nearly 58 percent of the vote, while DLP received about 26 percent of the vote. Palomares picked up 17 percent. Diaz will face Annette Taddeo in the Sept. 26 general election after Taddeo crushed Ana Rivas Logan in the Democratic primary. Taddeo received nearly 71 percent of the vote, compared to Rivas Logan's 29 percent. Democratic polling released this week showed Taddeo had a slight lead over Diaz, but the cavalry is already coming out to support Diaz. Senate President Joe Negron, Sen. Bill Galvano, and Majority Leader Wilton Simpson pledged the full support of the Florida Republican Senatorial Campaign Committee, and the Republican State Leadership Committee has already committed $10,000 to the race. In the GOP primary for House District 116, political newcomer Daniel Perez defeated Jose Mallea, a longtime political operative. He'll face Democrat Gabriela Mayaudon in September.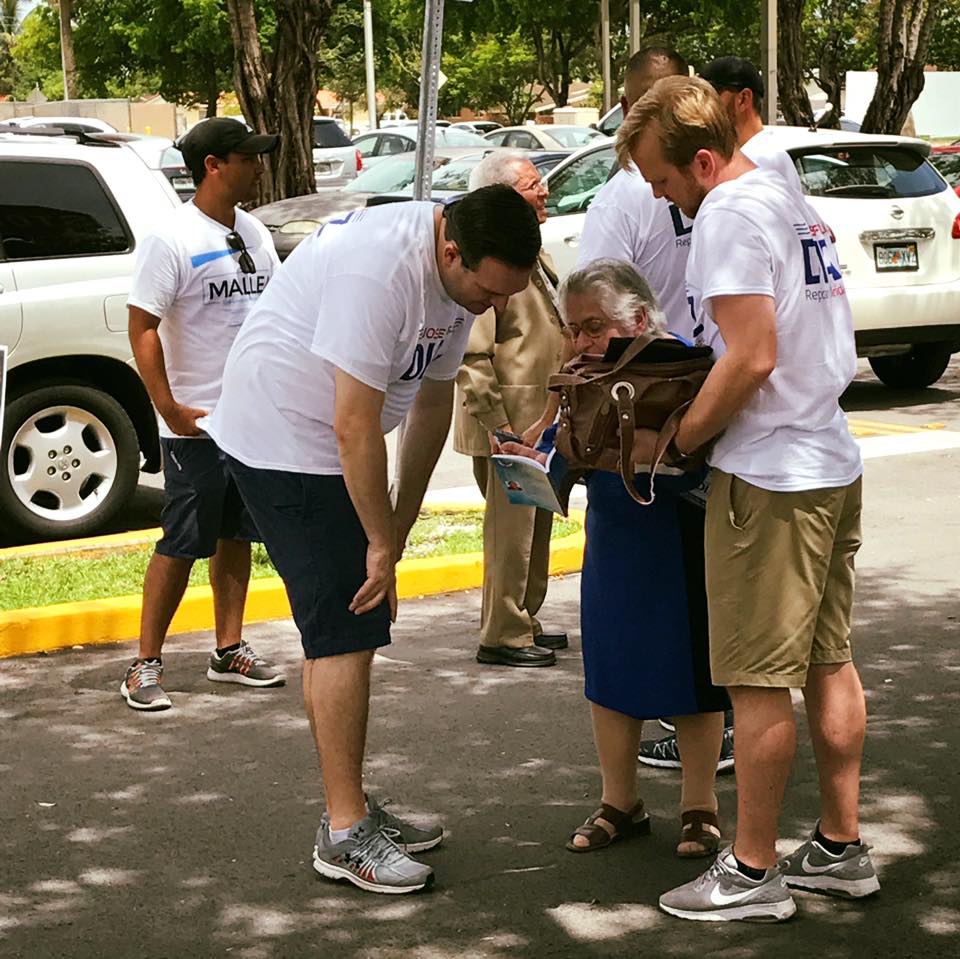 Toodle-loo — Rep. Dan Raulerson is bidding adieu to the Florida House. Raulerson announced this week he was resigning his House District 58 seat, effective Aug. 15. The Plant City Republican missed a portion of this year's Legislative Session because of severe back problems but had initially planned to run for re-election. Raulerson said this week he needed to focus on his health and business, and wouldn't be involved in a campaign to choose his successor. And it appears that campaign has already begun: Two Republicans, Yvonne Fry and Lawrence McClure, are already considering a run. Gov. Scott will likely call a special election for the race, but with committee meetings set to begin in September, it could be a tight timeline.
Ch-ch-changes — House Speaker Richard Corcoran announced his 2018 leadership team this week, appointing Rep. Jim Boyd as chairman of the Commerce Committee, taking over for Rep. Jose Felix Diaz, who resigned effective Sept. 26 to run for state Senate. Rep. Paul Renner, who was recently picked to become Speaker in 2022-24, will replace Boyd on the House Ways & Means Committee. Rep. Dane Eagle will continue to serve as the majority whip, but will now be a member of the Republican leadership team. Corcoran also said he planned to release updated committee assignments in the coming weeks.
Taking a stand
Gov. Scott is doubling down in his opposition to Nicolas Maduro.
The Naples Republican released this week details of a plan that would prohibit the state from doing business with any organization that supports the Maduro regime—even though it already doesn't do any business with Venezuelan companies that have ties to Maduro.
"The atrocities happening at the hands of the brutal and oppressive Maduro regime are unspeakable. I have heard firsthand from Floridians about the need for change in Venezuela," said Scott in a statement. "Nicolas Maduro's attempt to rewrite Venezuela's constitution and take power away from his citizens is reprehensible. This brash attempt, which completely disregards the will of the people, will not be tolerated. Floridians stand with our fellow Americans for freedom and democracy in Venezuela and all Latin America."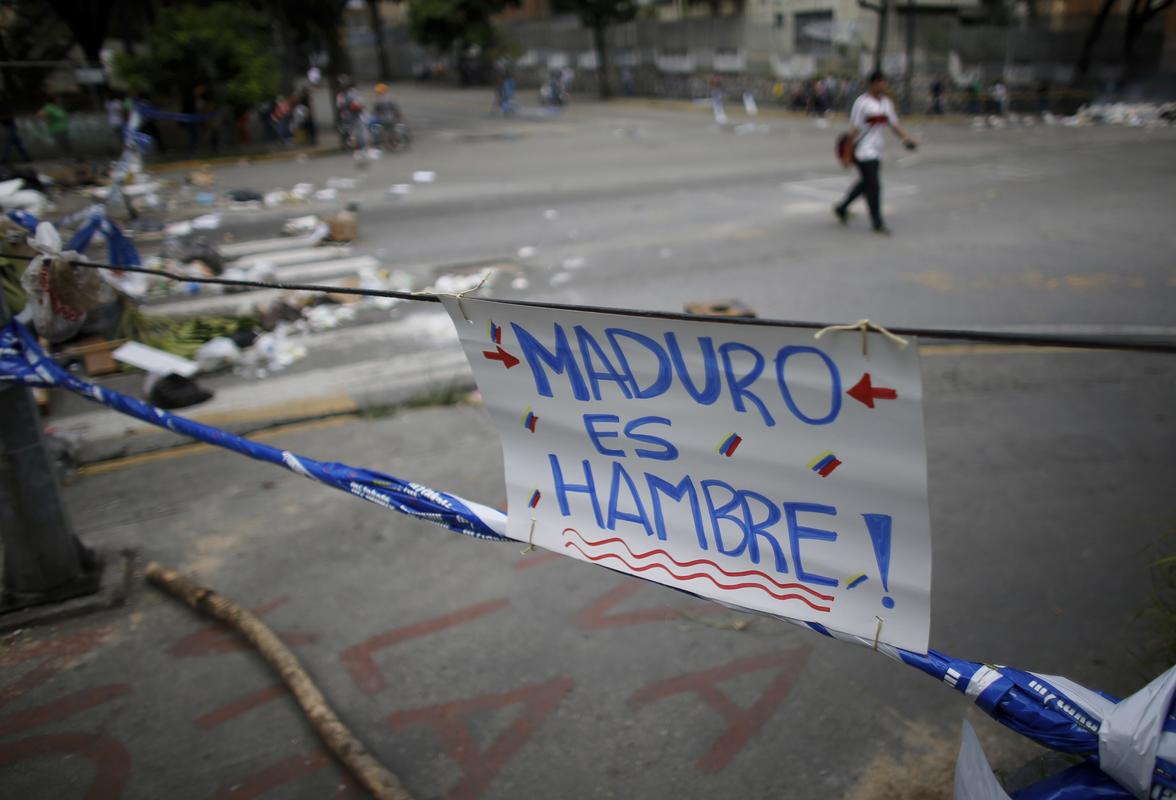 The proposal, which will be considered by the trustees of the State Board of Administration in August, prohibits the SBA from investing in any securities issued by the government of Venezuela, in any company that is majority owned by the Venezuelan government, and from participating in any vote or resolution that advocates or supports the Maduro regime.
The proposal also prohibits the SBA from doing business with any financial institution or U.S. company that directly, or through a subsidiary, and in violation of federal law, loans, extends credit, advances funds, or trades goods or services with the Venezuelan government.
"Prohibiting the Florida State Board of Administration from making investments that support Nicolas Maduro is a big step in the right direction, and we must continue to find ways to bring freedom and democracy to Venezuela," he said. "I am encouraged by the Trump administration's sanctions against the Maduro regime this week. President (Donald) Trump's swift actions on this issue are welcomed, and I look forward to working with our federal and state partners to support democracy in Venezuela."
The Florida Treasury currently conducts no business with Venezuelan companies with ties to the Maduro regime, said Chief Financial Officer Jimmy Patronis in a statement. Patronis has committed to review all measures to "remove every last investment penny from "companies that provide support, in violation of federal law, to the Maduro regime."
Focus on Latin America
Look for Gov. Scott to continue to focus on Latin America throughout the fall.
Scott announced this week he will host the 2017 Latin American Summit Oct. 2 at the InterContinental Hotel in Miami. The summit, according to the Governor's Office, will bring together world leaders to improve current partnerships and build new relationships to better serve the interests of Florida families.
"As the unrest and oppression continue in Cuba and Venezuela, I am hearing from more and more Floridians who are expressing the need for change in Cuba and Venezuela. I join them in demanding democracy and freedom across Latin America," he said in a statement. "I am honored to host the 2017 Latin American Summit to connect leaders from around the world to discuss the issues impacting Latin America. Without freedom and democracy, the region's economy suffers..I look forward to building new relationships that will enhance democracy and human rights throughout Latin America."
Scott has spoken out in recent months about the unrest in Venezuela, including holding rallies in Miami in support of opposition leader Leopoldo Lopez.
Madam President
The Florida Sports Foundation, an arm of Enterprise Florida, has a new president.
The organization announced this week Angela Adams Suggs will serve as its new president and the senior vice president of sports development for Enterprise Florida. She starts her new gig Aug. 7.
"The Florida Sports Foundation is an amazing organization, and I am honored to accept the president role," she said in a statement. "Sports support jobs in all Florida communities and bring billions into our economy. I look forward to working with the board of directors, staff and industry leaders as we continue the growth of sports tourism and development in Florida.
A native of Tallahassee, Suggs spent about eight years at Florida A&M University, most recently serving as the senior associate athletic director for external affairs. She also served as the assistant athletic director for marketing and development at the university. She has a bachelor's degree in business economics from Florida A&M and a master's degree from St. Thomas University.
The Florida Sports Foundation is a nonprofit corporation, which serves as the sports industry development division of Enterprise Florida, the state's public-private jobs recruiting organization. The foundation, among other things, assists Florida communities secure, host and retain sporting events and sports-related business.
Tournament of research
The state's fish and wildlife protector called on anglers to reel one in for the sake of research.
The Florida Fish and Wildlife Conservation Commission teamed up with the Bienville Plantation recently to host two simulated bass fishing tournaments to assist with an ongoing research initiative aimed at studying water quality in boat livewells during summer bass tournaments.
The tournament was the second of eight events in the research effort and took place on the 1,300-acre Bienville freshwater lake. Twenty-two anglers — including Florida League Worldwide pro anglers Braxton Setzer and Joshua Weaver — participated in the event.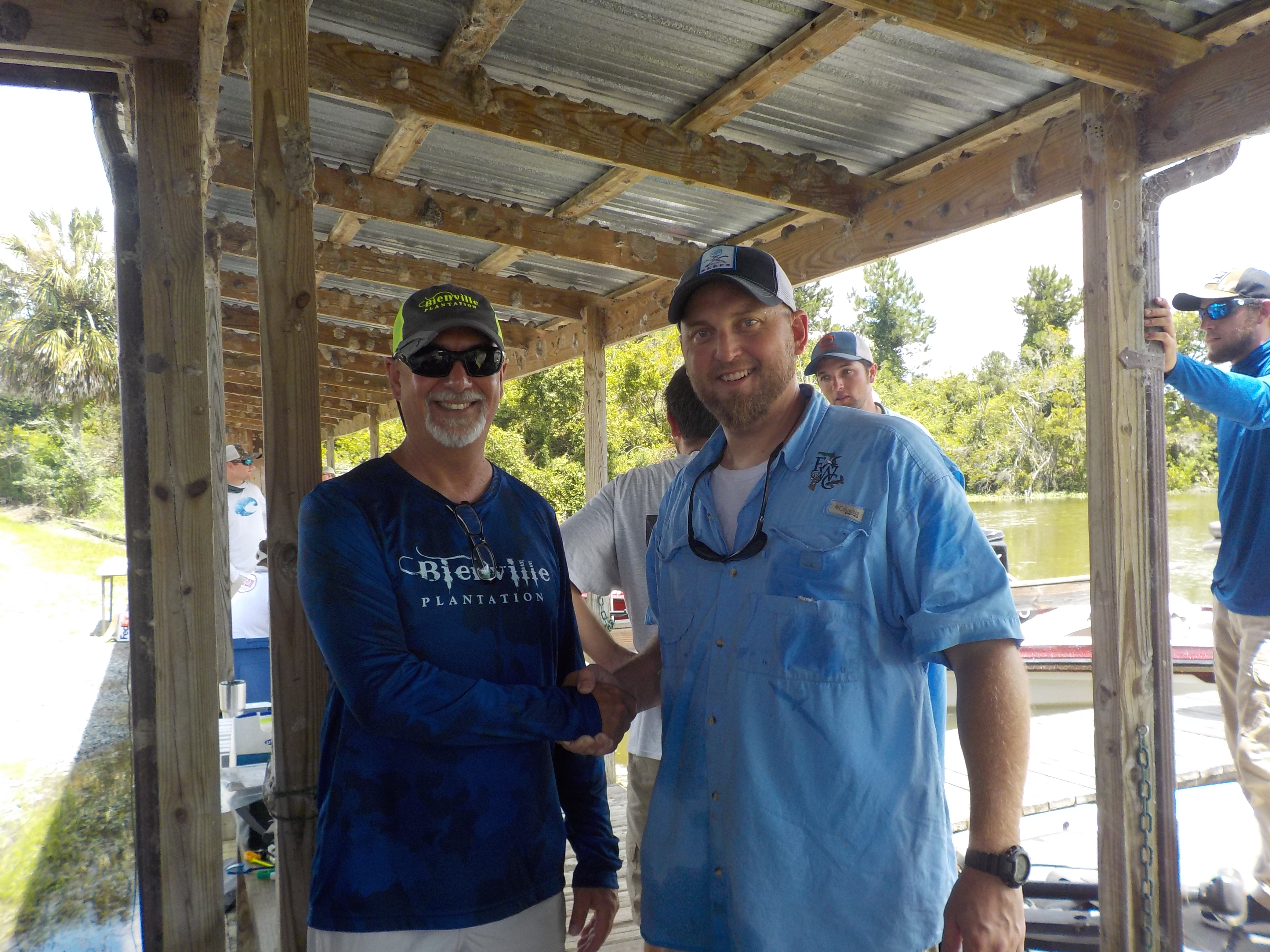 Bass caught during the tournament were temporarily held in angler's boat livewells, the holding tanks in a vessel that contains aerated water to keep bass healthy until they are released, until it was time for the weigh-in. The FWC has designed a research study to determine which combination of livewell settings and management styles provide the best water to keep the bass healthy before their release.
The largest bass caught weight 7.3 pounds, and the winning weight was 18.66 pounds.
Changing of the guard
There's a new sheriff in charge.
The Florida Sheriffs Association announced Walton County Sheriff Mike Adkinson will serve as the organization's president for the coming year. Adkinson will be responsible for presiding over the association, working with staff and the board of directors to guide the efforts and direction of the association and its 67 sheriffs.
"I am thrilled and honored to serve in this once-in-a-lifetime role," said Adkinson in a statement. "I hope to make the association and our community proud."
A Walton County native, Adkinson is in his 18th year of working in law enforcement. Before being elected sheriff, he served as the appointed city marshal/chief of police for the DeFuniak Springs City Police Department He has also worked with the Florida Department of Corrections, Bureau of Parole and the Tallahassee Police Department.
"The association could not have a better leader taking the reins," said Orange County Sheriff Jerry Demings, the association's immediate past president. "Sheriff Adkinson loves his county, his state, his country and his fellow sheriffs. I am honored to work with him and make his transition seamless."
The board also appointed Columbia County Sheriff Mark Hunter to serve as vice president; Pinellas County Sheriff Bob Gualtieri to serve as secretary; and Gilchrist County Sheriff Bobby Schultz as treasurer.
75K in 7 years
There's a whole lot of new businesses in Florida.
Gov. Scott announced Florida added 75,449 new businesses since December 2010, marking a 16.5 percent increase in the number of private-sector employers in the state. The number, according to the Governor's Office, accounts for the total net number of businesses year-over-year since December 2010.
"Florida's rising consumer sentiment shows Floridians are confident in the state's economic growth and I am proud that we've created an environment that fosters this confidence and encourages new business growth," said Cissy Proctor, the executive director of the Department of Economic Opportunity. "DEO works to provide Floridians with as many tools as possible to help their businesses succeed and create jobs for families. In the future, we expect to continue making job gains and growing Florida's economy at a faster pace than the nation's."
Help for Haiti
A truck-load of hospital beds are Haiti-bound, thanks in large part to Sen. Daphne Campbell, who was born in Cap-Haitien.
Campbell announced this week that a medical mission initiative set into motion in February has reached its next phase, with volunteers loading and shipping hospital beds to the island nation. The beds, which were donated by the Miami Jewish Health System, were expected to be transported to Hospital Justinien in Cap-Haitien this week.
"This is a great effort for the people of Haiti," said Campbell in a statement. "They are in severe need, and this will help them immensely."
No more hate
Hollywood commissioners took a step in the right direction, but Rep. Shevrin Jones wants to make sure they follow through on a promise.
Earlier this month, Hollywood commissioners agreed to rename three streets named after Confederate generals. While all three of the streets run through the entire city, the South Florida Sun-Sentinel reports two of the streets run through the predominantly black Liberia neighborhood. Commissioners initially voted 5-2 to approve the change, but they need to vote on the matter for a second, and final, time Aug. 30.
Jones, a West Park Democrat, has been among those who have called for the change, and this week he encouraged "all South Florida elected officials to be present and stand with (him) and the members of the community … to support this important cause."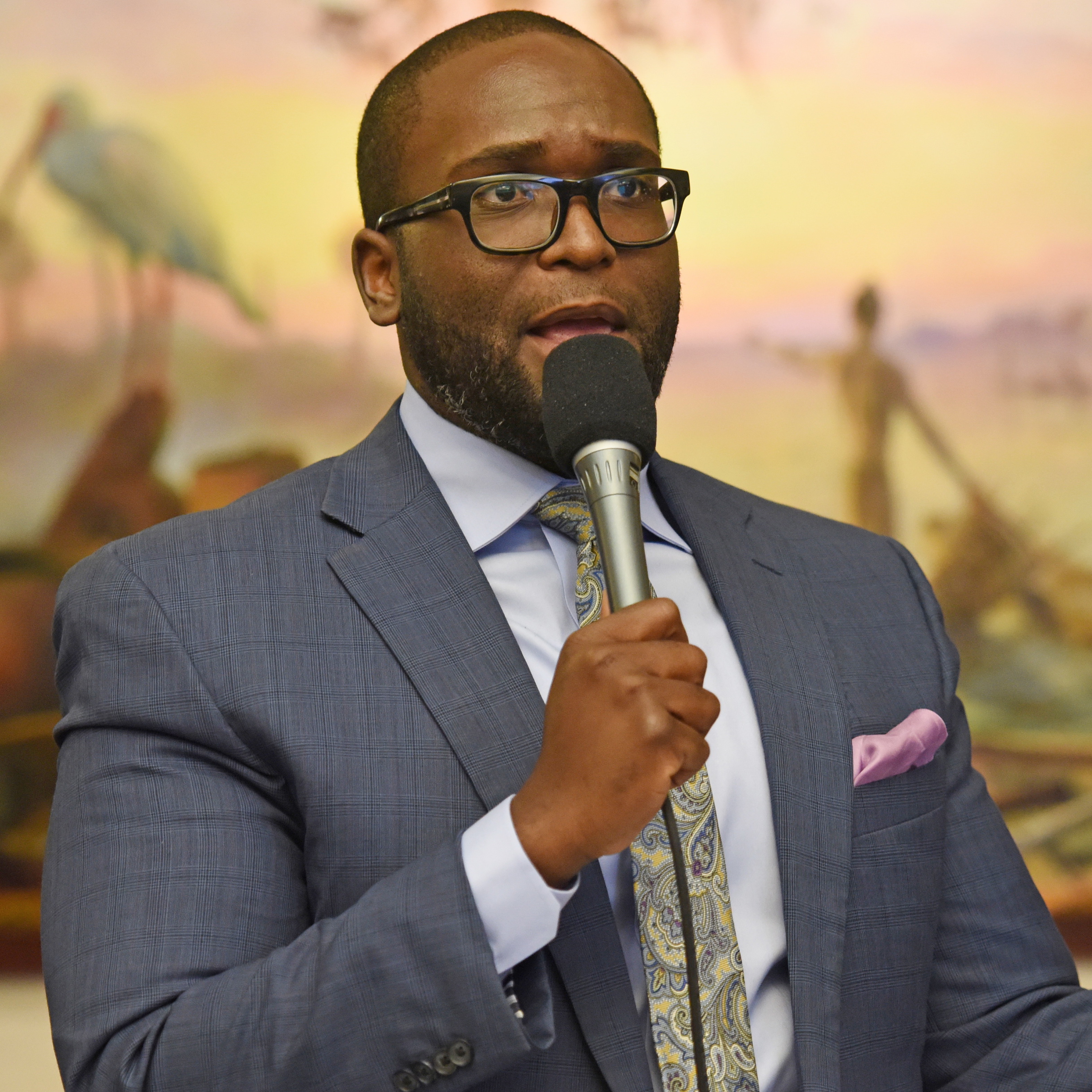 "These are signs that commemorate cruelty and oppression, and it is time that we remove the symbols of hatred from our street," he said in a statement. "The members of this community have spoken out, and they are tired. As elected officials, it is our duty to take the necessary actions to create an environment that the tax paying citizens of this community can be happy to call home."
The Hollywood City Commission is expected to hold a meeting to vote on changing the name of the streets at 1 p.m. Aug. 30.
Modern medicine
More jobs are coming to South Florida.
Gov. Scott announced this week that Modernizing Medicine plans to expand operations in the Boca Raton Innovation Center, adding 838 jobs by 2022. The company also anticipates it will make a capital investment of more than $15 million in the Boca Raton community.
"I am proud that Modernizing Medicine will be expanding in Palm Beach County to create more than 800 new jobs which will provide even more families a great career," said Scott in a statement. "Companies like Modernizing Medicine are helping Florida become the best state in the nation for job creation while helping our unemployment rate continue to drop."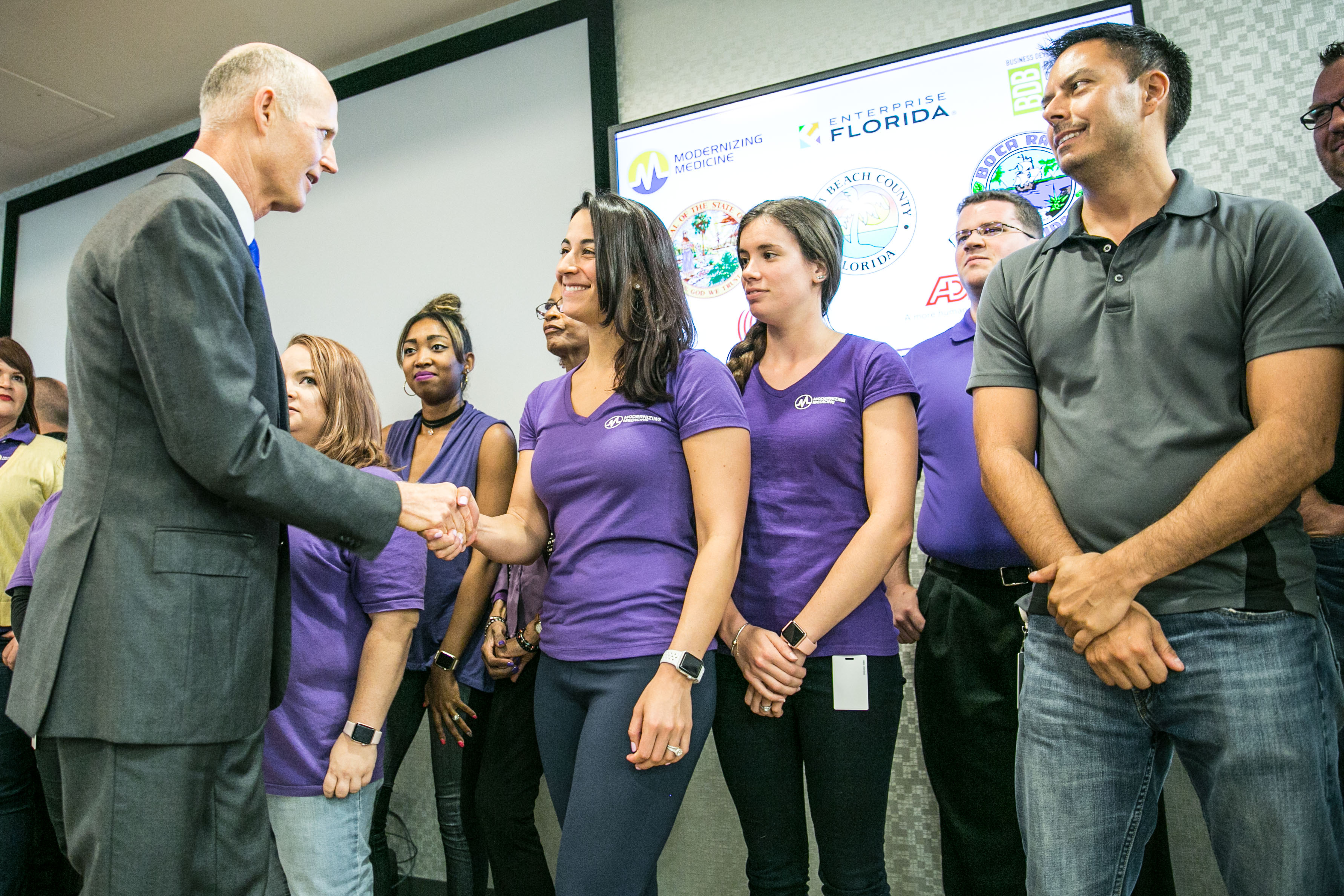 Founded in 2010 by Daniel Cane and Dr. Michael Sherling, the company specializes in health care information technology and has grown to more than 550 employees.
"We are extremely excited to expand our presence and create more jobs across a wide range of fields in South Florida," said Cane, the company's CEO, in a statement. "As a Florida-based technology company, it's not lost on us that we're in the backyard of where the modern day era of technology was born."
Must visit
Looking for a good place to catch a show? Tallahassee's Donald L. Tucker Civic Center might be the place to be.
Venues Today recently ranked the civic center, a Spectra by Comcast Spectacor-managed facility, as one of the top stops in Florida. The center earned its No. 3 spot on the list of venues with a capacity of 10,001 to 15,000 based on total gross ticket sales and attendance from April 1, 2016, through March 31, 2017.
"This recognition is a byproduct of the unwavering dedication of our staff and extraordinary support we receive from Florida State University," said Ben Weiss, the center's general manager, in a statement. "We are very fortunate that the University continues to make investments into this facility. The positive response from our industry partners is reflected in the volume of entertainment we've been able to present."
The facility had long been run by the city and county but was bought in 2013 by the Florida State University Board of Trustees.
The Tucker Center has hosted a variety of concerts, including Chance The Rapper; Florida Georgia Line's "Dig Your Roots Tour;" and Toby Mac over the past year. It has also played host to The Price is Right Live, WWE Live, and the first and second rounds of the Women's NCAA tournament.
Awards season
Ramsberger honored for "judicial excellence" — He's "tireless." He's a "champion for improved justice in domestic violence."
Circuit Judge Peter R. Ramsberger of the 6th Circuit is the 2017 recipient of the Chief Justice Award for Judicial Excellence. Chief Justice Jorge Labarga presented the award to Ramsberger at the Conference of Circuit Court Judges of Florida.
Ramsberger, on the county and circuit benches since 1990, also "has created, prepared, revised and presented more judicial education programs than any other judge in Florida," the release said, noting his "humor, humility, inclusiveness and an overall exceptionally warm judicial demeanor."
The Chief Justice Awards for Judicial Excellence, established in 2014, recognize one county court judge and one circuit judge who demonstrate exceptional commitment to the judicial branch and who personify judicial excellence.
Ramsberger is a graduate of the U.S. Military Academy at West Point and Florida State University College of Law.
—
Farm Bureau honors Grimsley — She's been a state Representative, is a state Senator, and has sights on the office of state Agriculture Commissioner.
Denise Grimsley, a Lake Placid Republican, now is also the Florida Farm Bureau's 2017 Florida Senate's Legislator of the Year.
"Florida Farm Bureau appreciates Sen. Grimsley's leadership and commitment to Florida agriculture on so many important bills and funding issues during the 2017 legislative session," said Adam Basford, director of state legislative affairs at Florida Farm Bureau, in a statement. "Sen. Grimsley worked hard in the Senate to support issues important to our state's producers."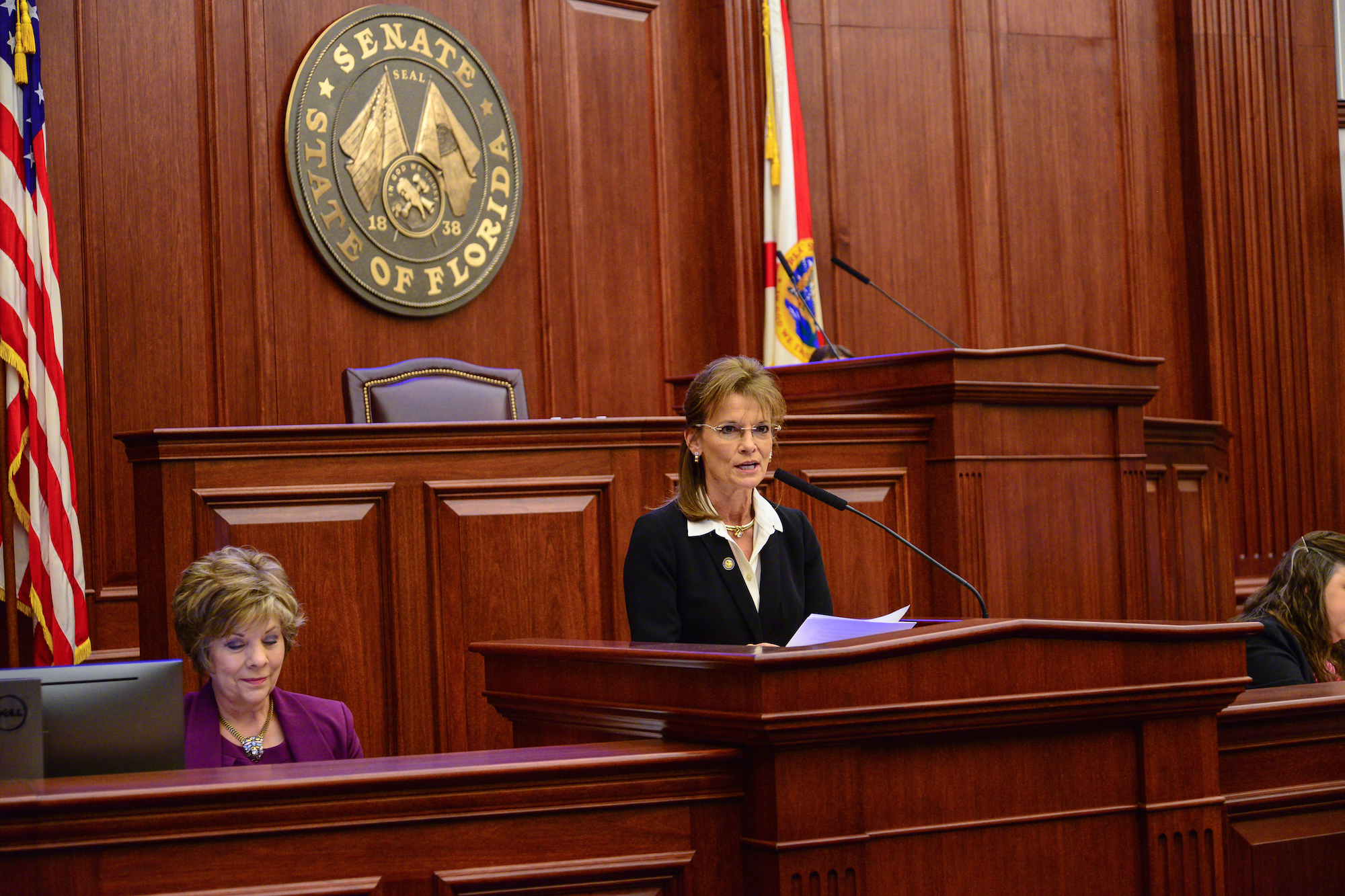 Grimsley currently serves as chair of the Senate Appropriations Subcommittee on General Government and vice chair of the Senate Ethics and Elections Committee.
Before entering politics, Grimsley served as vice president and COO of her family business, Grimsley Oil Company and is a fifth-generation Floridian involved in the citrus and ranching industries. She is also a registered nurse and hospital administrator, as well as a businesswoman.
"I am honored to be named the Florida Senate's Legislator of the Year and a Champion for Agriculture by Florida Farm Bureau," Grimsley said. "As a candidate for Florida Commissioner of Agriculture and Consumer Services, I believe this award showcases my dedication to strengthening and supporting Florida's agriculture industry."
—
LeadingAge honors best in the field — Here's to going above and beyond: LeadingAge Florida recognized outstanding members, employees and residents during its 54th annual convention and exposition.
The awards honored everyone from outstanding trustees and volunteers to executives and communities who work to develop programs that are models of excellence, innovation and best practices.
"Our award winners are the best in the field of aging and seniors' services," LeadingAge Florida President & CEO Steve Bahmer said. "They represent their communities and LeadingAge Florida at the local, state and national levels. I appreciate their passion, dedication and commitment."
For the first time since 2006, LeadingAge Florida handed out its Lifetime Achievement Award to Peter Dys, the CEO Emeritus at Shell Point Retirement Community. The award is considered to be the most prestigious award given out by the organization and honors individuals who have provided LeadingAge Florida and the state with significant, transformative leadership in aging services.
LeadingAge Florida also presented Dr. Edwin Bodo with the Chairman's Award, which recognizes an individual with a passion for aging services. The organization named Elizabeth Sholar, the administrator and senior director of health care services at Fleet Landing as "Executive of the Year;" Lisett Fernandez-Montero with St. Dominic Gardens as the "Service Coordinator of the Year; Kevin Mannix, the director of dining services at Cypress Cove at HealthPark Florida as "Employee of the Year;" Francis "Chance" Irvin, chair of the Penney Retirement Community board of directors as "Trustee of the Year;" and Shirley "Bunny" Weston, a resident at Bishop's Glen, a Retirement Housing Foundation Community as "Volunteer of the Year." The Memory Bridge Program of Water's Edge Extended Care at Sandhill Cove took home the award for best practices.
Founded in 1963 and formerly known as Florida Association of Homes and Services for the Aging, LeadingAge Florida represents continuing care retirement communities (CCRCs), nursing homes and assisted living facilities, among others.
—
Newton a 2017 champ — Florida counties have a champion in Rep. Wengay Newton.
The St. Petersburg Democrat was recently named a Florida Association of Counties' "2017 County Champion."
"As someone who served at the local level, I understand that it's the constituents and elected officials back home that truly know-how policy may affect the community," said Newton in a statement.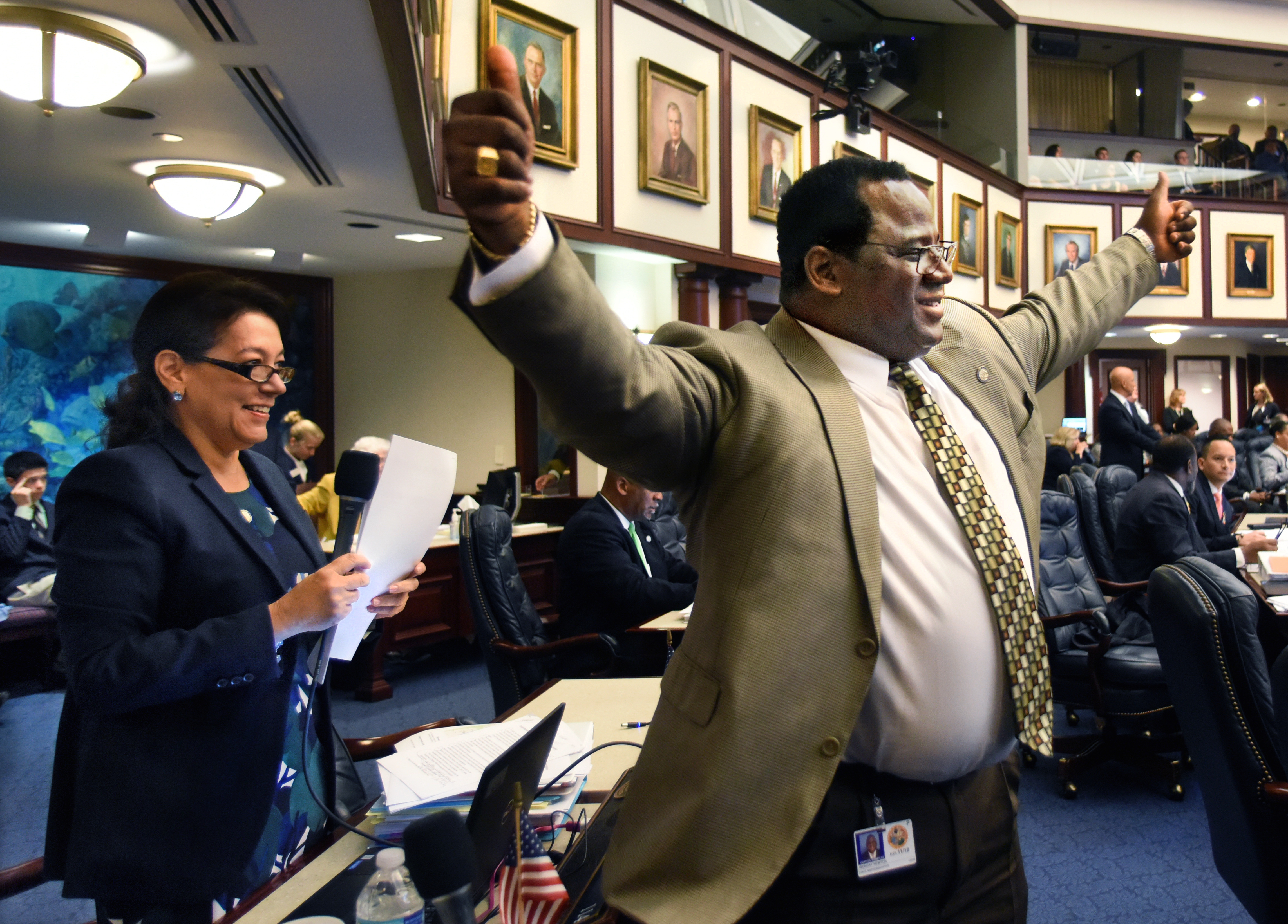 Newton will be presented with the award during one of the upcoming committee weeks and was recognized for his commitment to working alongside counties on local issues throughout the 2017 Session.
"I'm sincerely honored to be chosen as a recipient of the County Champion Award and acknowledged as being a strong voice for local control," he said. "I look forward to continue working together with my local government to ensure that I represent my constituents in Tallahassee as effectively as possible."
Stickers for sea creatures
Want to save a manatee or protect a sea turtle? There's a sticker … ahem … a decal, for that.
Each July, the Florida Fish and Wildlife Conservation Commission introduces new manatee and sea turtle decals, which are available for a $5 donation. The waterproof decals can be placed on a vehicle or on the side of the boat, and the money generated goes toward research, rescue and management programs that help Florida's manatees and sea turtles survive.
"Florida is home to more manatees and sea turtles than anywhere else in the U.S.," said Carol Knox, who leads FWC's imperiled species management section, in a statement. "Public support has been critical in helping us conserve these imperiled species. So please 'stick on a decal' and show support for our manatees and sea turtles."
According to the FWC, the decals address a critical conservation issue. The new manatee decal encourages boaters to be on the lookout for manatees and shows boaters keeping a safe distance as a mother and calf swim along. The sea turtle decal is meant to encourage Floridians to help sea turtles survive and shows a green sea turtle, which nests on Florida's Atlantic and Gulf coast beaches.
Back-to-school
The first day of school is just around the corner, and that means only one thing: It's time to shop.
The 2017 back-to-school sales tax holiday kicks off Aug. 4 and runs through Aug. 6. The sales tax holiday is expected to save families more than $33 million on school supplies "so students can succeed in the classroom," said Gov. Scott in a statement.
"We are working to ensure every child in Florida has the opportunity to get a great education, and we look forward to their continued success in the upcoming school year," Scott said.
Under this year's sales tax holiday, items notebooks, pens and pencils, and backpacks are among those that are exempt from sales tax.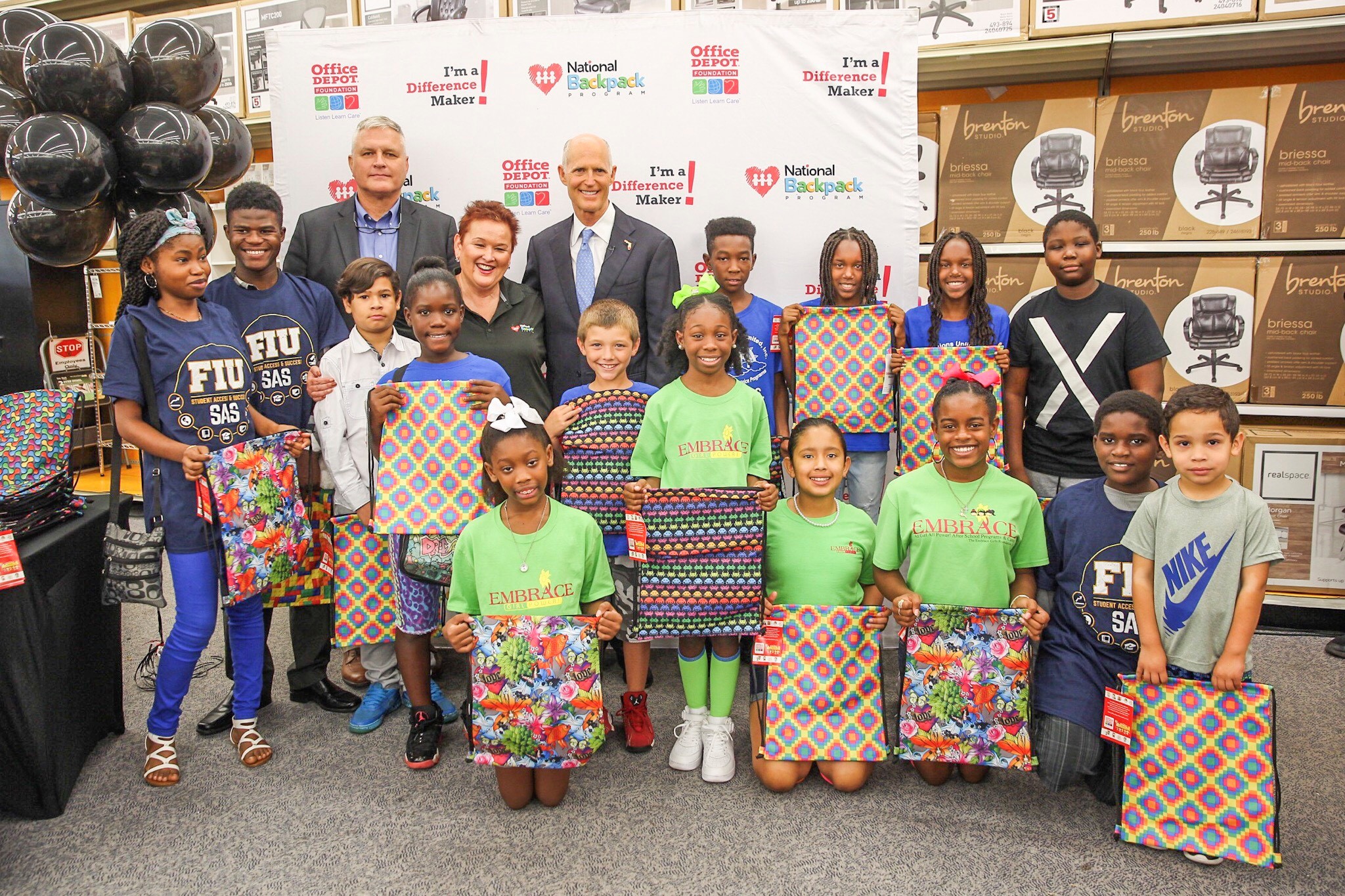 The governor got a peek at some of the latest backpack styles this week when he attended the Office Depot Foundation's Back-to-School Celebration in Miami. Scott helped hand out backpacks and school supplies to students and parents during the organization's 17th annual "National Backpack Program" event.
"It is our mission to make sure that every child has the right tools to achieve success in schools," said Mary Wong, the president of the Office Depot Foundation, in a statement. "School is challenging enough on its own, and when you're unable to come prepared with the basic essentials for learning, it's nearly impossible. We want to give every kid a fair chance."
Big Q2
It's fair to say Florida Power & Light had a good second quarter.
NextEra Energy, the parent company of FPL, reported an 11 percent in adjusted earnings in the second quarter of 2017. The Juno Beach-based company reported adjusted net earnings of $881 million for the quarter, compared to $777 million during the same time period last year.
FPL net earnings were $526 million in the second quarter of 2017, compared to $448 million during the same quarter of 2016. FPL increased its customer base by 1.3 percent, or 64,000 customers, over the previous year.
"During the quarter, FPL executed on its innovative and cost-effective approach of advancing affordable, reliable, clean energy infrastructure across Florida," said Jim Robo, the chairman and CEO of NextEra Energy in a statement.
Get 'em out
Up for a challenge? There's still time — and plenty of lionfish in the sea — to compete in the 2017 Lionfish Challenge.
The Florida Fish and Wildlife Conservation Commission's statewide removal program ends Sept. 4. FWC officials have said more than 5,000 lionfish have been removed this year as part of the program, including nearly 3,700 recreational fish removals and more than 1,200 pounds, or about 1,400 fish, of commercial removal.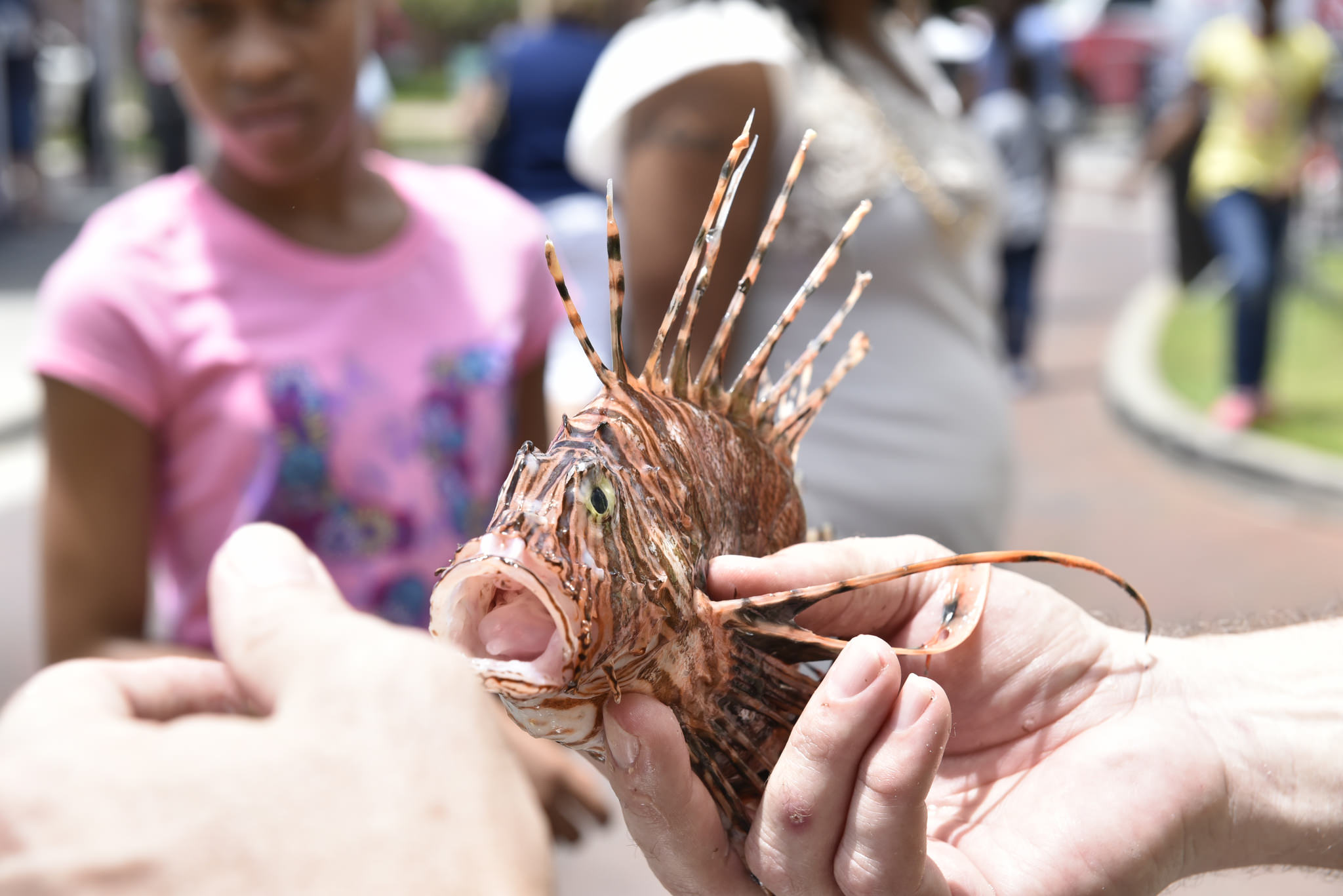 The challenge, which kicked off May 20, rewards lionfish harvesters with T-shirts, tumblers and pole spears. Participants must harvest 25 lionfish, or 25 pounds commercially, to qualify for the program.
The person who captures the most lionfish at the end of the competition will be crowned the Lionfish King or Queen at the Lionfish Safari tournament in St. Petersburg in September.
Going once, going twice
Grab a paddle and get ready for an auction.
The 2017 unclaimed property auction is scheduled to begin at 10 a.m. Saturday at the Sheraton Suites Cypress Creek in Fort Lauderdale. The 2017 event features the sale of nearly 50,000 individual items valued at more than $630,000, according to CFO Patronis' office.
The annual auction includes items from safe deposit boxes that have gone unclaimed for years, despite exhaustive efforts to return them to their owners. Proceeds from the event, Patronis' office said, are deposited into the state's education fund.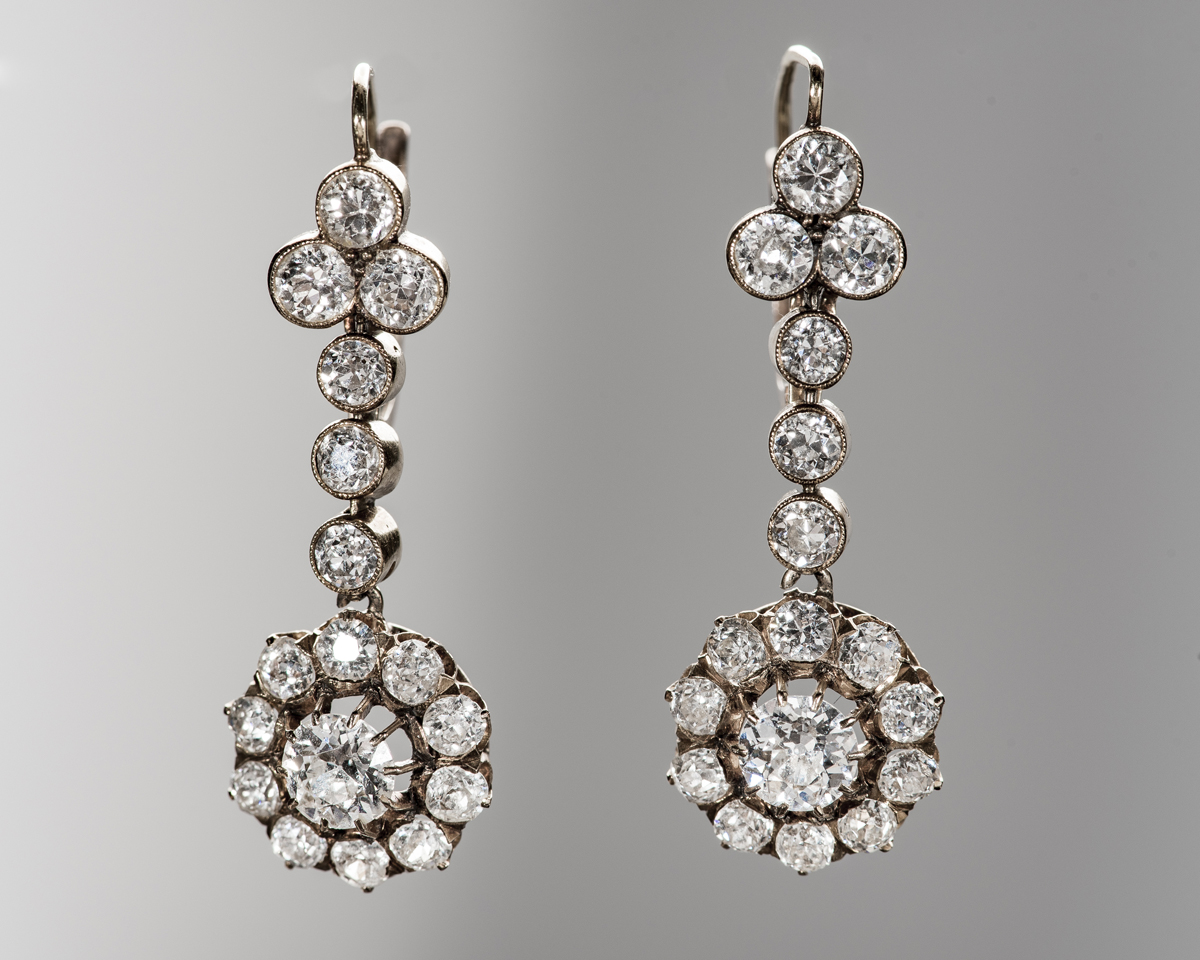 If a property owner discovers that he or she owned an item that was auctioned, the proceeds from the sale can be claimed at any time at no cost.
This year, items up for auction include a 12-pound silver bar recovered from the shipwreck Atocha, a vintage Wilt Chamberlain basketball card, a pair of 4.3-carat diamond earrings, and several high-end watches, including brands like Rolex, Chopard and Bulgari.
Registration for the event opens at 8 a.m.
Now for this week's edition of Capitol Directions: