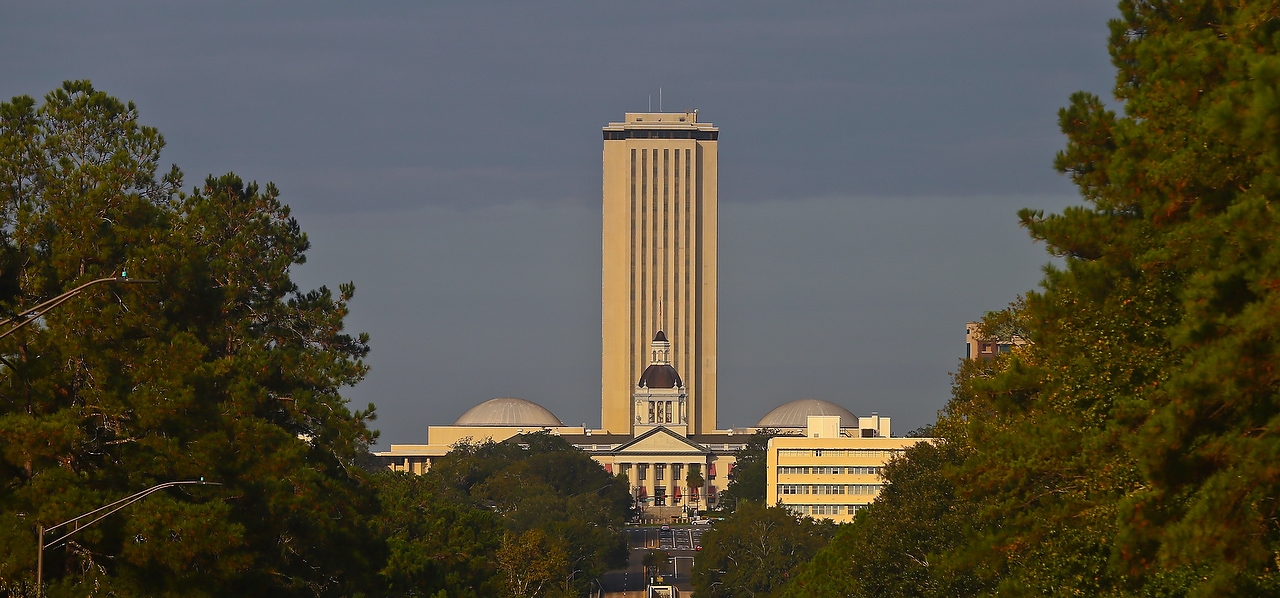 A panel of U.S. district judges this week hit two Jacksonville law firms with $9.1 million in sanctions for filing "non-viable" tobacco lawsuits.
"On the rare occasion when attorneys undermine that integrity and trust, there must be consequences," their 148-page opinion begins. "This is one of those rare occasions."
It singled out The Wilner Firm and Farah & Farah, though the judges noted that though the firms "are responsible for the monetary sanctions, it is primarily the conduct of (principals Norwood) Wilner and (Charlie) Farah, and not the other lawyers in the respective firms, that has caused the Court to impose sanctions."
The opinion went on to call over 1,000 suits they brought an "immense waste of judicial resources (that showed) contempt for the judicial process."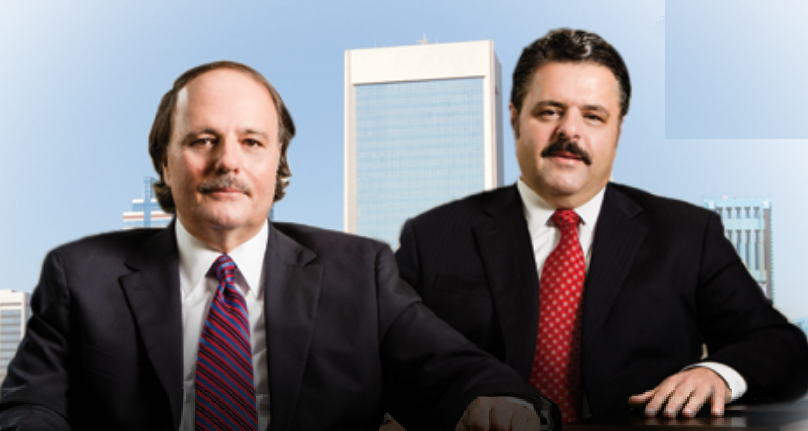 "Counsel evinced a conscious disregard of their professional obligation to properly investigate such claims," it said. "As it turns out, many of the plaintiffs never authorized Wilner and Farah to file a suit. Some had barely heard of them."
Such suits are known as "Engle progeny" cases, after a monumental 1994 class action and landmark Florida Supreme Court decision, in which individual smokers with claims against tobacco companies each sue for their own damages but don't have to prove causation.
"Although a settlement of the cases in federal court was announced, the state court (lawsuits) are slated to go on for decades," according to the Tobacco Control Legal Consortium.
On a related note, a bill died last Legislative Session that would have repealed the state's cap on the amount of money tobacco companies have to put up as appellate bonds.
The state's trial lawyers, who backed the change, said it would have forced settlements and end litigation over plaintiffs' claims of irreversible illness or early death from smoking. The repeal has again been filed for the next session beginning in January.
William Large, president of the Florida Justice Reform Institute, a tort reform group in Tallahassee, said the lawyers "clogged" the courts with "baseless lawsuits."
"As (the judges) said in their decision, 'frivolous litigation diverts the time and attention of [the courts] away from meritorious lawsuits,' " Large said in a statement. "This irresponsible behavior by plaintiffs lawyers has a cost, delaying justice for the truly injured who they profess to represent."
Coming up, the usual assortment of tidbits, leftovers and not-ready-for-prime-time moments by Jim Rosica, Scott Powers, A.G. Gancarski, Andrew Wilson and Peter Schorsch.
But first, the "Takeaway 5" — the Top 5 stories from the week that was:
Spencer speech is snooze — Counter demonstrators greatly outnumbered white nationalist Richard Spencer's supporters on Thursday at the University of Florida, their chants drowning Spencer out during his speech. Outside, hundreds more people protested with signs and anti-Nazi chants alongside hundreds of police officers there to prevent violence. Anti-Spencer protesters shouted, "Not in our town! Not in our state! We don't want your Nazi hate!" and "Let's go Gators" during his speech, frustrating the head of the National Policy Institute. Three or four skirmishes occurred during the long afternoon after single Spencer supporters confronted the counter-demonstrators, trying to speak and rile the crowds up.
Nelson's challenge over citrus — U.S. Sen. Bill Nelson placed a hold on a nominee from President Donald Trump for the No. 2 job in the Office of Management and Budget, saying he's doing so to force the president's hand on delivering Hurricane Irma relief money for Florida's citrus industry. Nelson's office announced he was blocking consideration of Russell Vought, Trump's nominee to be OMB deputy director. Nelson's office said the hold was a response to Trump's denial of Florida's disaster relief package under consideration by the U.S. Senate for the state's devastated citrus industry.
State OKs 'Hope' schools — With 13 school districts challenging the constitutionality of Florida's new "schools of hope" law, the State Board of Education used the law to select 11 low-performing public schools to receive additional funding. The schools will qualify for up to $2,000 in extra per-student funding over the next two years to carry out improvement plans that will include efforts such as tutoring, after-school programs, counseling and teacher development. At the board's meeting in Jacksonville, Education Commissioner Pam Stewart said the schools were part of a group of 59 schools that had sought the funding. Schools that did not make the initial cut will have a chance to reapply in the near future, she said.
Money for Jewish schools — Surrounded by deep worries about violence and growing anti-Semitic sentiment, Gov. Rick Scott pushed his proposal to include $1 million in his 2018 budget proposal to help Florida's Jewish community centers, schools and day care centers further secure against attacks. The Roth Family Center, as well as numerous other Jewish centers throughout Florida and nationally, were hit with multiple bomb threats, forcing the centers, the families, the communities, and the state to reassess the prospects of violence, especially in an era where supremacists and discriminatory hatred appear to be on the rise.
Confederacy keeps losing — The 2018 Legislative Session will see two bills from Florida Democrats aimed at Confederate symbolism: holidays and monuments, specifically. Coral Springs Rep. Jared Moskowitz's HB 277 would strike Robert E. Lee and Jefferson Davis birthdays and Confederate Memorial Day from the list of legal holidays in Florida. And Rep. Shevrin Jones of West Park is carrying a bill (HB 235) that would remove Confederate monuments from public land by 2020, moving them to one of those "museum halls" (specifically, the Museum of Florida History). Monuments to white separatists and supremacists would also be removed, a condition that may lead to a robust debate on certain of Florida's historical figures without Confederate ties.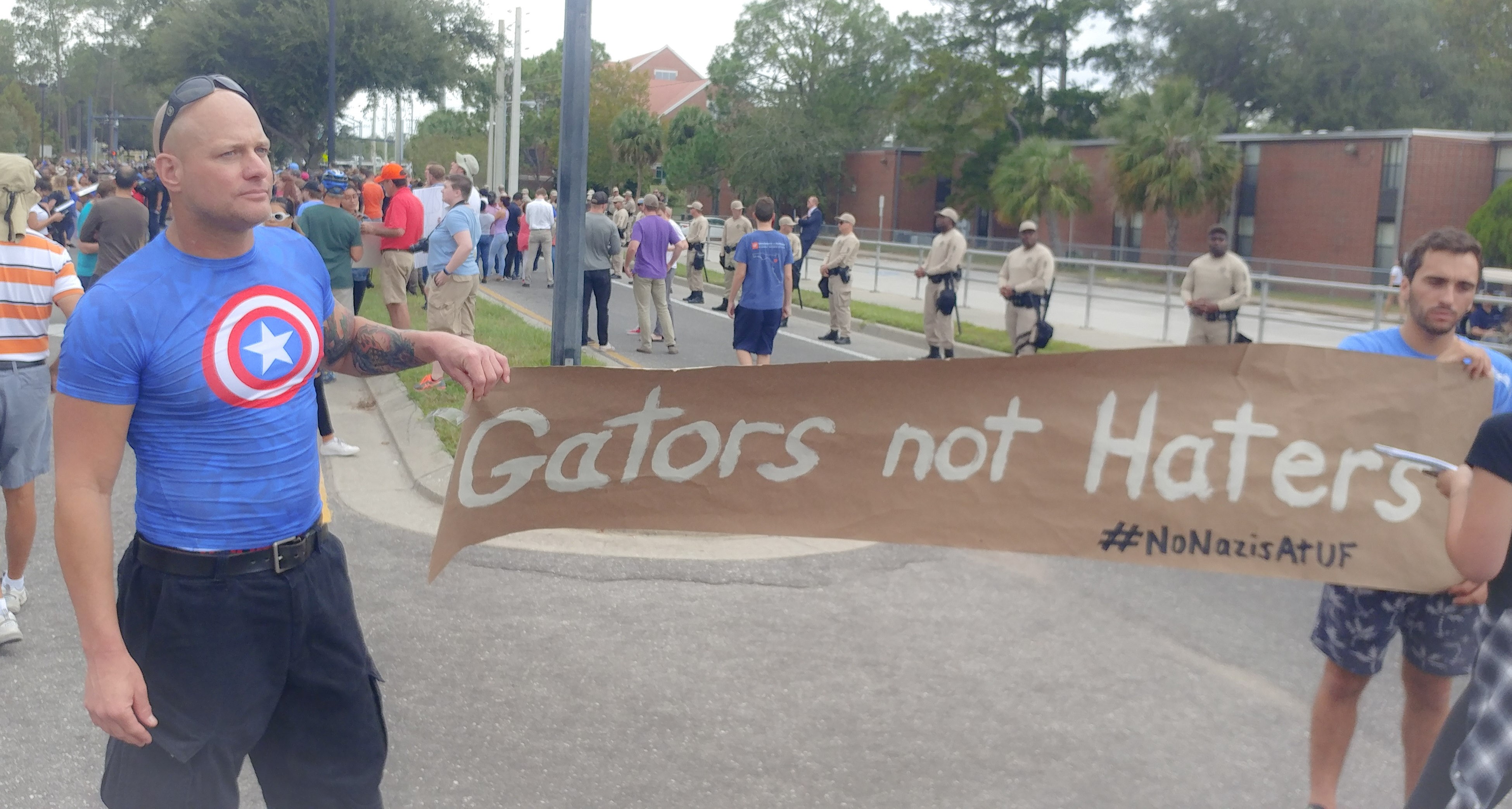 Dems want premium waiver for sick kids
House Democrats sent a letter to Gov. Rick Scott and the Agency for Health Care Administration asking for an October and November premium waivers for Florida children with health insurance through the state's KidCare programs.
AHCA said earlier this month families would have until Oct. 31 to pay their share for their child's October health coverage, typically $20 a month, but House Democratic Leader Janet Cruz and Reps. Amy Mercado, Bobby DuBose¸ Kionne McGhee and David Richardson said that isn't enough in the letter and noted that some kids lost their coverage after the Hurricane Irma.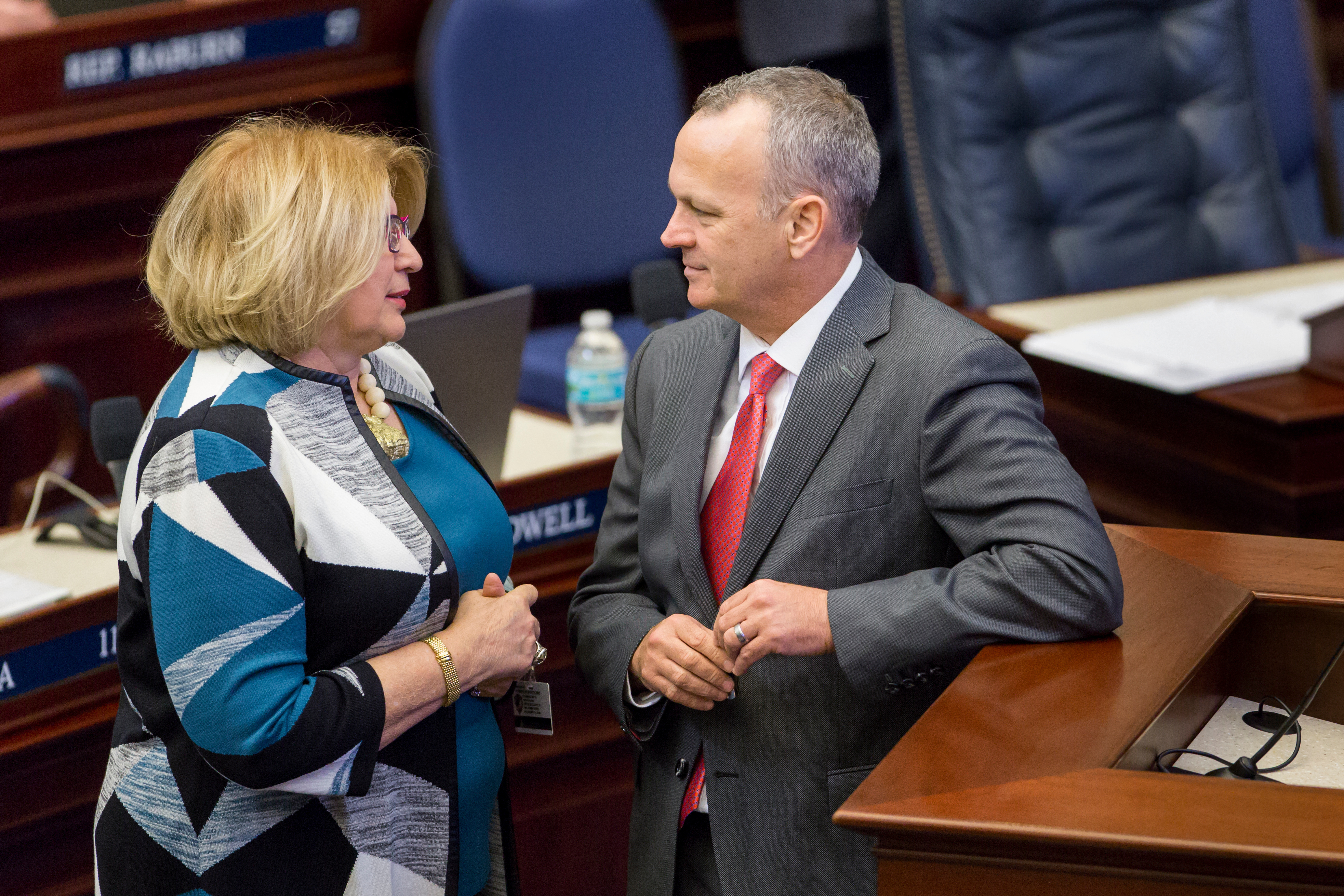 "In its recent statement, AHCA reported that Florida KidCare had received timely October premium payments for over 214,000 children; however, the Agency neglected to note that this represents a net enrollment decrease of 4,151 children, with 97.57 percent of coverage losses occurring in the 48 disaster-declared counties. This is the single largest monthly drop in enrollment in two years. In fact, since October 2015, KidCare has averaged a monthly net enrollment increase of 914 children," the lawmakers said.
The Democrats say waving the premiums will only cost the state $1.30 per child due to federal matching dollars, which amounts to $240,000 in total state funding to grant the waivers.
Able Trust awards The Haven with grant
The Able Trust this week hosted a grant presentation to highlight the $230,931 grant awarded to The Haven's "Careers Without Limits" program.
The Able Trust provides community support to The Haven through its Strategic Employment Placement Initiatives grant, which will go toward providing additional resources to help people with disabilities in postsecondary institutions find a career path and employment, during and following the completion of the postsecondary education.
Sen. Bill Galvano, a Bradenton Republican slated to become Senate President in 2018-20, and representatives of The Haven and The Able Trust, and a client of The Haven, attended the presentation.
"With this grant, both The Able Trust and The Haven are working together to address the key jobs and employment issue for people with disabilities — one that is critical to the growth and stability of Florida's economy," Galvano said.
"This community support from The Able Trust will go a long way toward providing students with unique abilities the opportunity to become valued members of the workplace through job training and career placement," said Brad Jones, president and CEO of The Haven.
Added Dr. Susanne Homant, president and CEO of The Able Trust: "The Able Trust board and staff were impressed with the past successes of The Haven in working on employment opportunities for people with disabilities, and we are pleased to be helping launch the advancement of that work with the 'Careers Without Limits' program."
Galvano to be named President-designate
Speaking of Galvano, he'll be named the next Senate President at a Republican Caucus meeting of the Florida Senate next Tuesday.
The meeting will be in Tallahassee, in the Capitol's Senate Chamber at 11 a.m. Galvano will take the helm for the 2018-20 Legislative Term, following current President Joe Negron.  
The designation ceremony will be streamed live on the Florida Channel's website, www.TheFloridaChannel.org.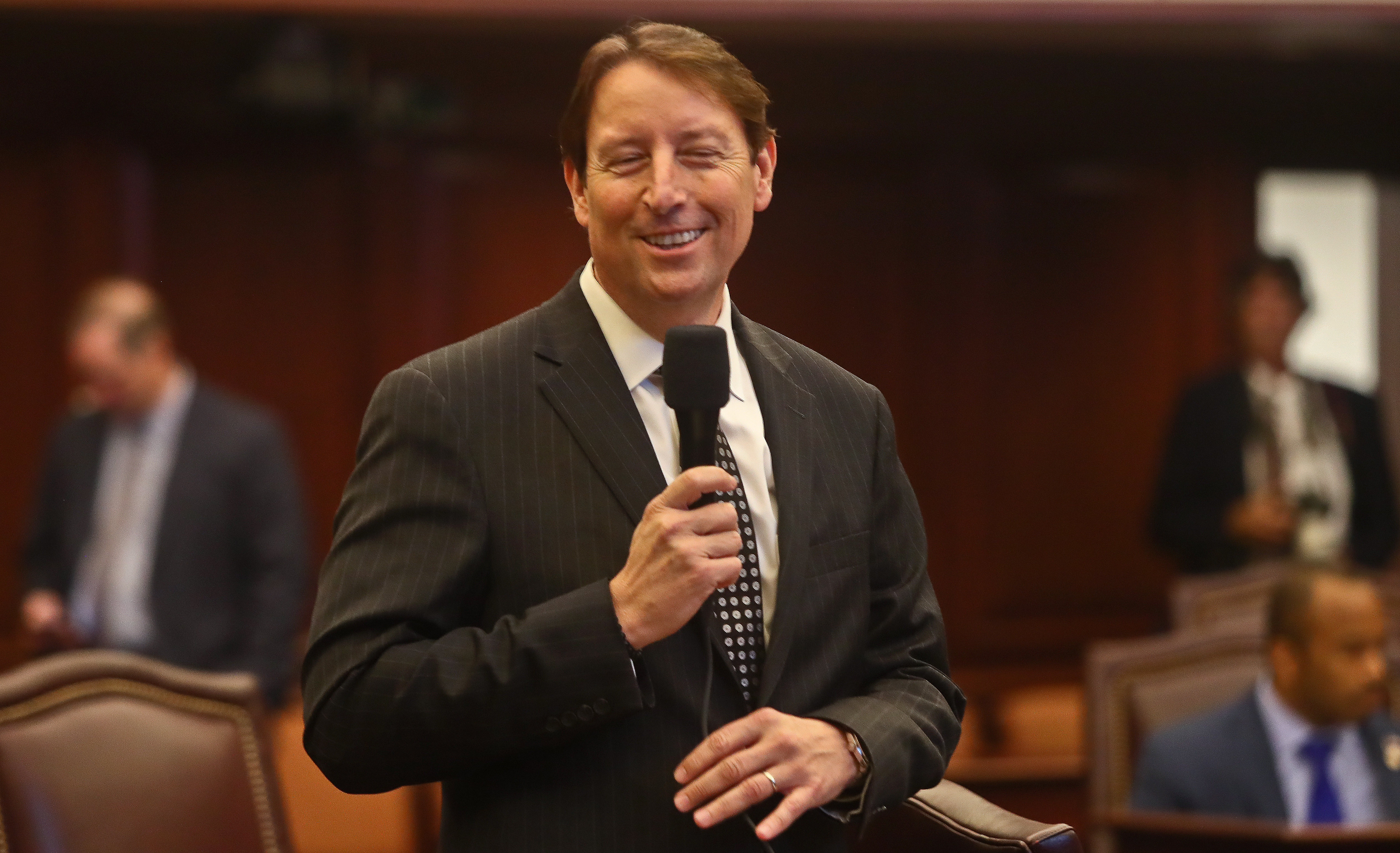 Galvano will hold a media availability on the Senate floor approximately 20 minutes after the conclusion of the designation ceremony.
The designation will actually make Galvano, an attorney first elected in 2012, head of the 40-member Senate's majority of 25 Republicans, but that means, for now, he's a shoo-in to be president of the GOP-controlled chamber.
He previously was Senate Republican Leader in 2014-16, and also served in the House 2002-10.
Galvano, who helped draft the Seminole Compact, has long been a point man on gambling issues. He also is president of the National Council of Legislators from Gaming States.
Forest Service celebrates 'Working Forests Week'
The third annual "Working Forests Week" has come and gone, but Agriculture Commissioner Adam Putnam and the Florida Forest Service spent the week that was celebrating the Sunshine State's 17 million acres of forests.
A "working forest" is one that produces sustainable timber harvests while also supporting the flora and arboreal fauna that call Florida forests home. Such forests are an essential provider of the raw materials used to make not just paper and lumber, but also cosmetics, medicines and fabrics.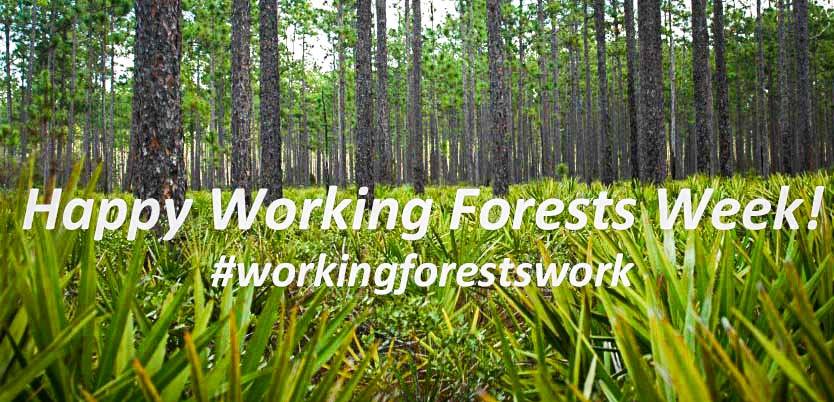 "Florida's forests provide the resources to make more than 5,000 types of products," State Forester Jim Karels said. "Each year, more than 70 million trees are planted to help sustain Florida's working forests."
The weeklong celebration is the joint creation of the Florida Forest Service and the Florida Forestry Association and shares its slot on the calendar with National Forest Products Week. When it rolls around next October, be sure to check the Florida Department of Agriculture and Consumer Services' events calendar for ways to participate.
The week in awards
Scott announced winners for a slate of awards during Monday's cabinet meeting in Tallahassee — one each for the Governor's Young Entrepreneur Award and Governor's Business Ambassador Award, eight Governor's Shine Awards and three Volunteer Florida Champion of Service Awards.
The Volunteer Florida awards recognize exceptional and committed volunteer service and this round went to a trio of individuals who were on the front lines of the Hurricane Irma response and recovery effort. Scott said the three picks "represent the thousands of people who volunteered" during Irma and other recent natural disasters.
The honorees: Maggie Barnick for her work with the AmeriCorps-Disaster Response Teams during her deployment to Lee County; Stephen Rocca of Salvation Army Emergency Disaster Services for handing out hot meals and supplies in Orange County and Naples after the storm; and Scott Lewis for heading to the Keys with the team at his nonprofit to assist moving three flatbed trucks loaded with supplies to the islands.
The Shine Awards for Florida teachers and administrators went to Renee Andrews, an 11th grade teacher at P. K. Yonge Developmental Research School in Gainesville; Mary Cassube Koon, who teaches 7th grade civics and 9th grade algebra at Lafayette High School in Mayo; and Autumn Nicks, who works as a teacher and reading coach at Hilliard Elementary School in Nassau County.
Another five educators who work with visually impaired students were recognized as part of an effort by the Scott Administration to highlight Blindness Awareness Month. Those honorees were Mia Burton of Bay District Schools, Valerie Crenshaw of Escambia County Schools, Maureen Floegel of Orange County Public Schools, Esther Lynn Mauffray of Alachua County Schools and Sharon Walters of Jackson County Schools.
Scott picked Anthony Campana for the entrepreneurship award. The 27-year-old owns Tallahassee-based clothing design company Frostees Apparel and Scott said it was "great to see" his tax policies and regulation rollbacks help businesses like Campana's. The young businessman said he was grateful his business had found success and was "very honored" to receive the award.
Target Print & Mail, also based in the capital, got the business ambassador award in recognition of its "efforts to create jobs and opportunities for Florida families." Scott said businesses like the 35-year-old printing company are the "backbone of our economy." Target's second-generation owner, Tracey Cohen, thanked Scott and said she was honored to continue her mother's work by growing the family business.
Deal protects 2,500 acres near Lake O
Among the agenda items at Monday's Cabinet meeting was a conservation easement deal through the Rural and Family Lands Protection Program aimed at protecting 2,523 acres of environmentally sensitive land in Okeechobee County.
Gov. Scott and the Cabinet approved the $5.7 million plan which they said would protect the land, known as Corona Ranch and owned by a family who fled Castro's Cuba, by preventing future development without halting its current use for agriculture.
"With more than 1,000 people moving to Florida every day, we must continue to prioritize the conservation of our agricultural lands and world-renowned natural spaces," Ag Commissioner Adam Putnam said after the deal was approved. "Through the Rural and Family Lands Protection Program, we're partnering with farmers and ranchers to preserve these invaluable pieces of our rural economy and environment for future generations in a cost-effective way."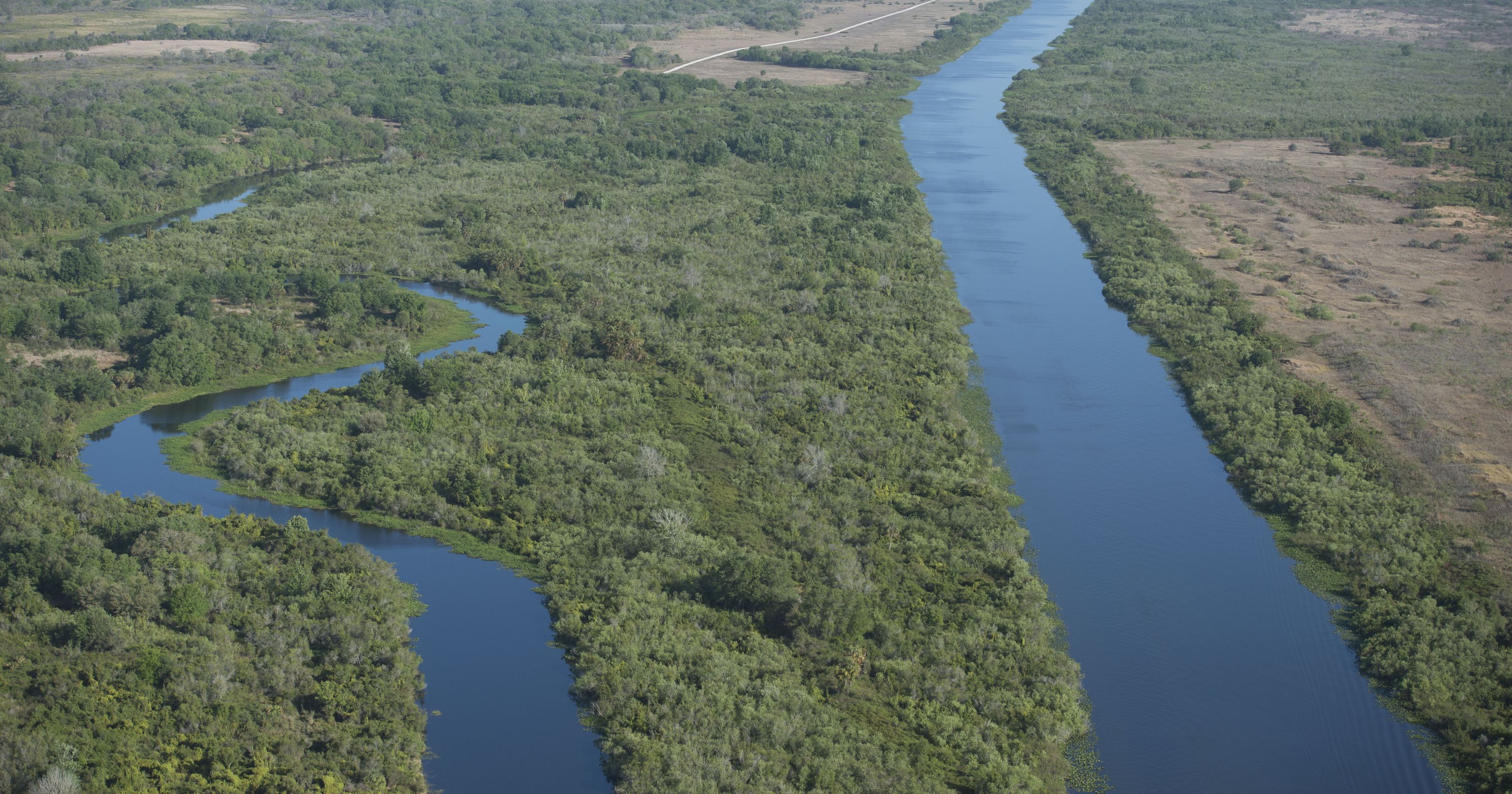 Corona Ranch drains to the Kissimmee River which in turn flows into Lake O. The ranch also sits within several state and federally protected areas and plays host to a variety of endangered Sunshine State flora and fauna, including the gopher tortoise, fox squirrels, burrowing owls and, according to recent sightings by the owners, Florida panthers.
Putnam's office added that the new deal makes for 39,229 acres of land protected through the program since 2001, 35,644 acres of which have been added to the list since he and his cohort took office in 2011.
ICUF helping Puerto Ricans get to class
The Independent Colleges and Universities of Florida said this week that its member schools are helping students who left Puerto Rico and the U.S. Virgin Islands post-Hurricane Maria get back in the classroom through a variety of efforts, including tuition assistance, expedited admissions, fee waivers and scholarships.
"Many of our faculty, students and their families are from the areas affected by Hurricane Maria. To see our schools and students coming together to help our neighbors and families in the Caribbean has been truly remarkable," said ICUF President Ed Moore. "All of the ICUF schools are committed to finding ways to bring relief to those hardest hit by the storm and working to make sure that students from these areas do not lose progress toward their degrees."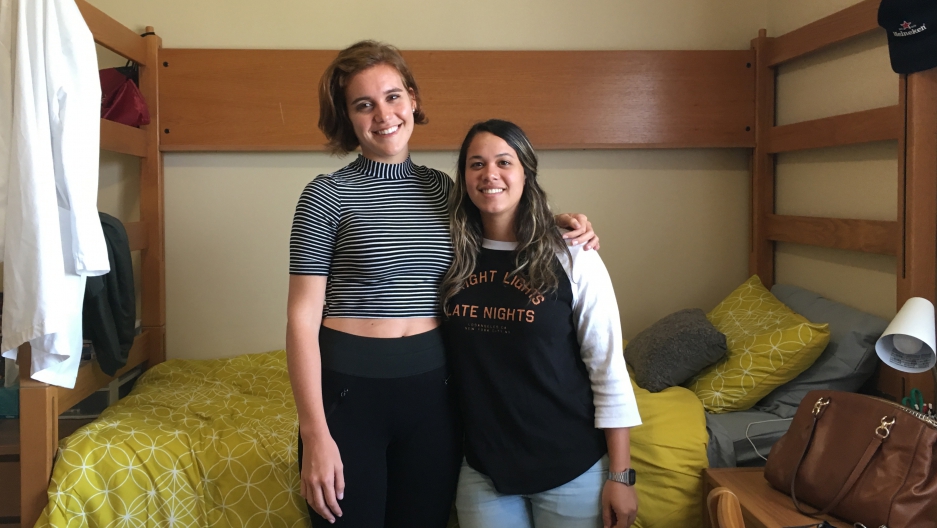 Moore said the extensive damage caused by Maria requires "long-term solutions" and that ICUF's 30 member schools are looking to play a part in creating them.
"By equipping these students with the ability to continue their education with as little interference as possible, our hope is they will be able to use the knowledge gained at our institutions to help rebuild their communities and make them stronger than before," he said.
St. Thomas University, Barry University, Stetson University and a handful of other ICUF schools are offering direct support to displaced students via free room and board, books and meal plans. The University of Miami, the largest ICUF member, said it had about 300 tuition-free slots for affected undergrads until their previous schools reopen.
Others ICUF schools have made efforts to deliver aid directly to the U.S. island territories, including Nova Southeastern University which recently provided 1,500 pounds of medical supplies to Puerto Rico.
Scott announces first round of Florida Disaster Fund grants
Gov. Scott and Volunteer Florida announced the first round of Florida Disaster Fund grant recipients, and 40 organizations made the list this week.
Scott last month activated the Florida Disaster Fund to provide financial support to organizations serving those impacted by Hurricane Irma, and each of the groups in the announcement this week will get a $25,000 grant for their disaster response activities and meeting critical needs in the aftermath of the storm.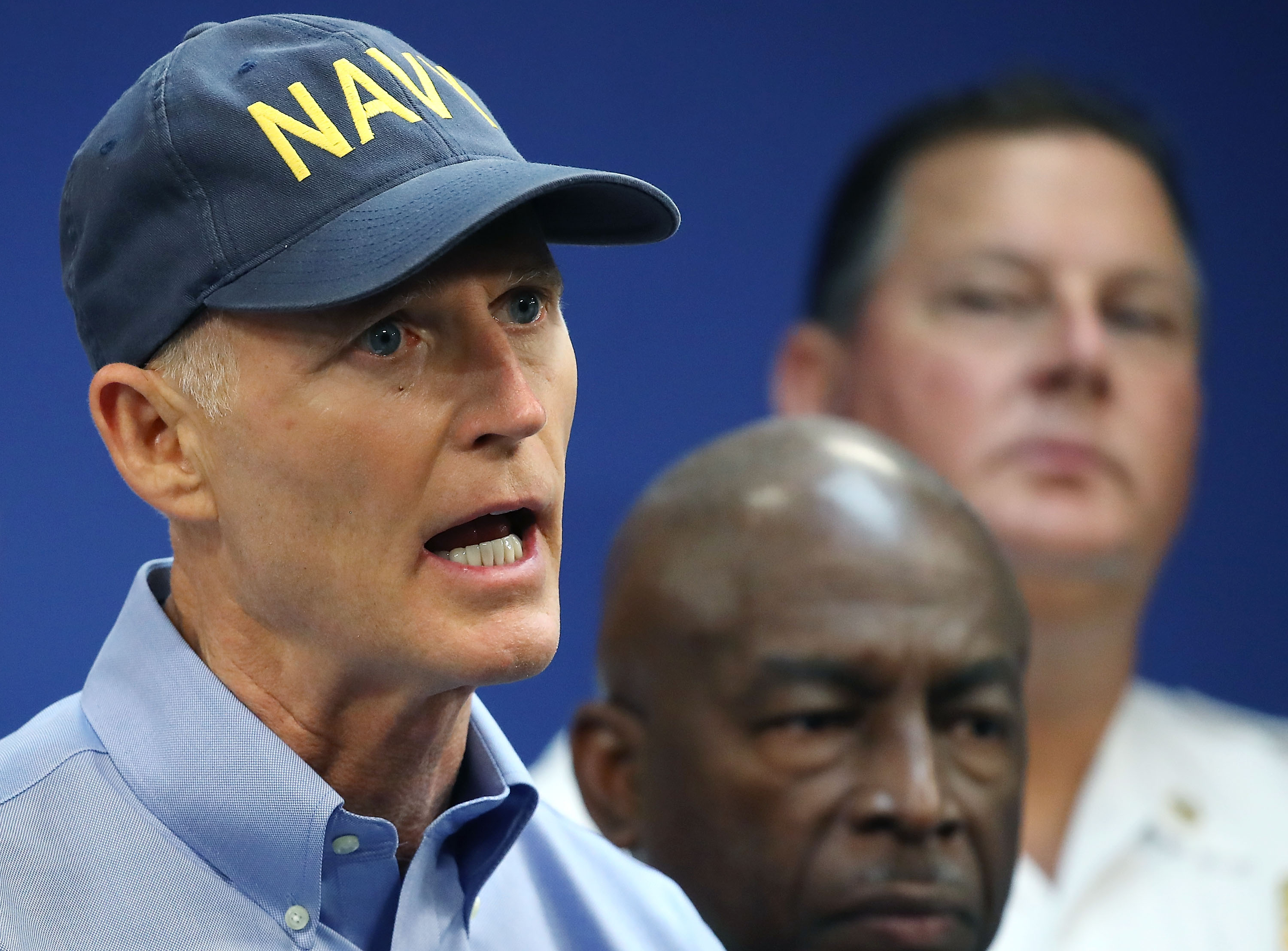 "Volunteer Florida is proud to award this funding through the Florida Disaster Fund so we can continue to serve individuals and families across the State of Florida. These organizations are immediately equipped to assist those impacted by Hurricane Irma," said Volunteer Florida CEO Vivian Myrtetus.
The groups on the list step in to help in a variety of ways — from getting new clothes to those who lost the shirt off their back in the storm, to stepping in with a check to cover rent for Floridians whose employment was affected by Irma.
The announcement also said Volunteer Florida received $8 million worth of support pledges to help those affected by the storm, and that will be announcements in the future of more grants for organizations helping storm victims.
Lineworkers lauded by public power
Public utilities and line workers were recognized this week for getting their job done after Hurricane Irma tore through and left swathes of the state without power last month.
More than 2,000 lineworkers from 170 public power utilities in 24 states came through to help restore power after the storm. Those lineworkers are getting a special thank you from The Florida Municipal Power Agency (FMPA) and the Florida Municipal Electric Association (FMEA) in the form of a sticker — viewed badge of honor among lineworkers — to put on their hard hats.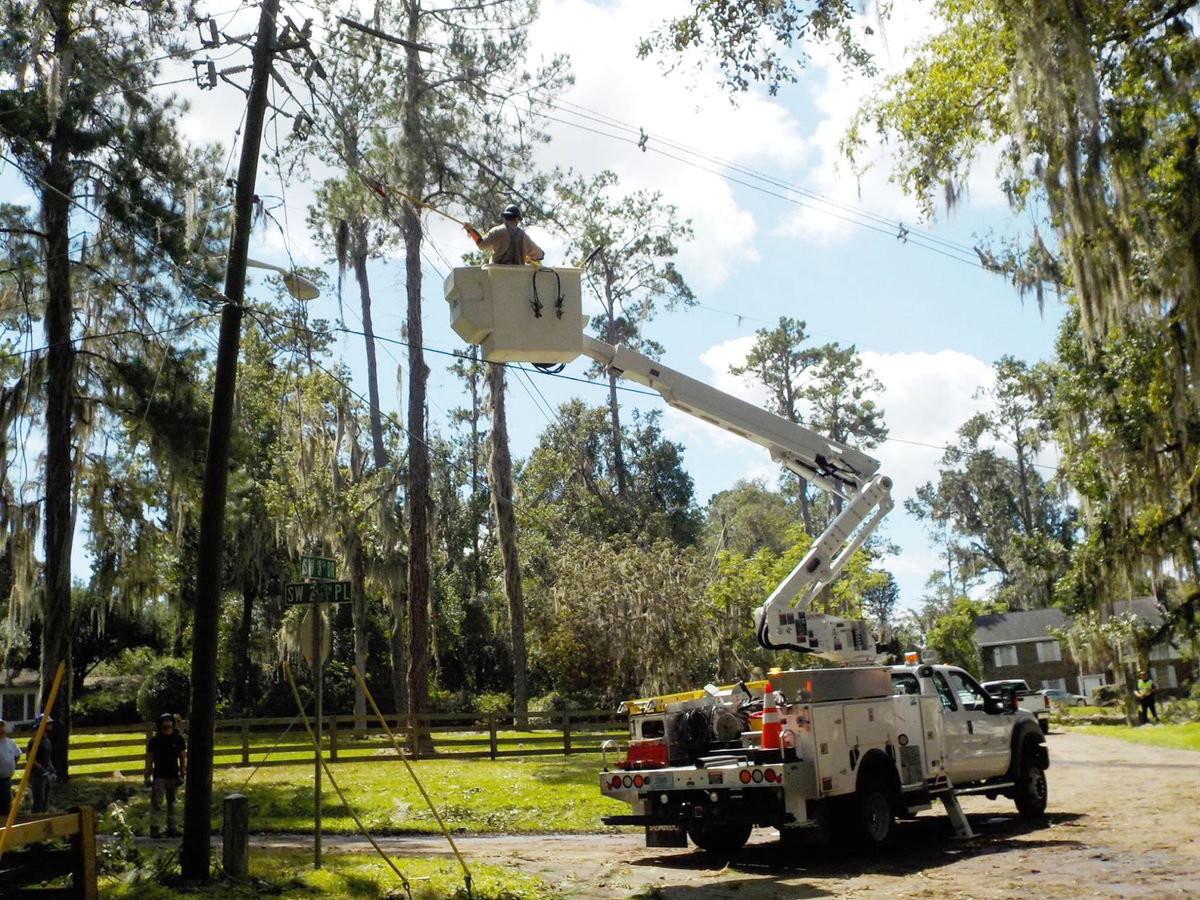 "We called and the lineworkers answered," said Amy Zubaly, executive director at FMEA. "They didn't hesitate to leave their homes and families to rush to our aid. We can't thank them enough."
"People helping people is what public power is all about," said Jacob Williams, FMPA General Manager and CEO. "These lineworkers worked around the clock to get the lights back on in our member cities. We couldn't have done it alone."
Working together, lineworkers were able to restore power within 48 hours to more than 75 percent of Florida's municipal electric utility customers, and 98 percent of customers had their power back on within a week.
The week in appointments
Gov. Scott appointed Rosene Johnson to the Valencia College District Board of Trustees.
Johnson, 40, of Orlando, is the executive director of the Conductive Education Center of Orlando.
She received her bachelor's and master's degree from Michigan State University. Johnson is appointed to fill a vacant seat for a term beginning October 17, 2017, and ending May 31, 2019.
This appointment is subject to confirmation by the Florida Senate.
Scott also announced four reappointments to the Boating Advisory Council.
David Hankla, 62, of St. Augustine, is a self-employed environmental and wildlife conservation consultant. He is reappointed for a term beginning October 17, 2017, and ending September 30, 2020.
Rebecca Bragg, 62, of Arcadia, is the owner of Canoe Outpost-Peace River, Inc. She is reappointed for a term beginning October 17, 2017, and ending September 30, 2020.
Skip Lyshon, 57, of Fort Pierce, is the sales director at Maverick Boat Group. He is reappointed for a term beginning October 17, 2017, and ending September 30, 2020.
Robert Spaeth, 70, of Madeira Beach, is the previous owner of Madeira Beach Seafood. He is reappointed for a term beginning October 17, 2017, and ending September 30, 2020.
The governor made two reappointments and seven appointments to Family Care Councils across the state.
Area Three, Family Care Council
Rebecca Harty, of Gainesville, is the business manager at the University of Florida's Department of Occupational Therapy. She is reappointed for a term beginning October 19, 2017, and ending January 30, 2019.
Area Five, Family Care Council
Christine Ciecierski, of Treasure Island, is an office assistant at Edward Jones Investing. She succeeds Margaret Watkins and is appointed for a term beginning October 19, 2017, and ending November 2, 2019.
Thuy Dang, of Largo, is an office manager for a medical practice. She succeeds Donald Stover and is appointed for a term beginning October 19, 2017, and ending March 29, 2020.
Area Seven, Family Care Council
Susan Moore, of Orlando, is an advocate for persons with disabilities. She succeeds Donald Faller and is appointed for a term beginning October 19, 2017, and ending October 4, 2019.
Area Nine, Family Care Council
Luz Mery Montes, of Boynton Beach, is the senior technical accounting manager for Phoenix Tower International. She succeeds Kristen Zompa and is appointed for a term beginning October 19, 2017, and ending February 17, 2020.
Area Ten, Family Care Council
Marty Norris, of Lighthouse Point, is a self-employed paralegal. She is reappointed for a term beginning October 19, 2017, and ending June 18, 2018.
Briana Roper, of Sunrise, is a customer service representative with United Healthcare. She fills a vacant seat and is appointed for a term beginning October 19, 2017, and ending September 19, 2018.
Susan Krinsky, of Pembroke Pines, is a retired health care professional. She fills a vacant seat and is appointed for a term beginning October 19, 2017, and ending October 19, 2020.
Area Fifteen, Family Care Council
Suzanne Lane, of Port St. Lucie, is the director of family STAR at the Family Network on Disabilities. She fills a vacant seat and is appointed for a term beginning October 19, 2017, and ending October 19, 2020.
Citrus loans OK'd for growers
Citrus growers affected by Hurricane Irma are eligible now for short-term, interest-free working capital loans as part of a $25 million Florida Citrus Emergency Loan Program activated by Gov. Scott and aimed at helping the industry recover quickly.
The program, which is a subset of the Florida Small Business Emergency Bridge Loan Program, is open to qualified citrus businesses that experienced physical and/or economic damage during the storm.
"Governor Scott did a great job of identifying the immediate need some growers are experiencing. This is a lifeline to get growers cash flow while we sort through insurance claims of disaster relief," said Shannon Shepp, executive director of the Florida Department of Citrus. "The program was designed to be a streamlined process for quick relief without many of the requirements other loan programs may have."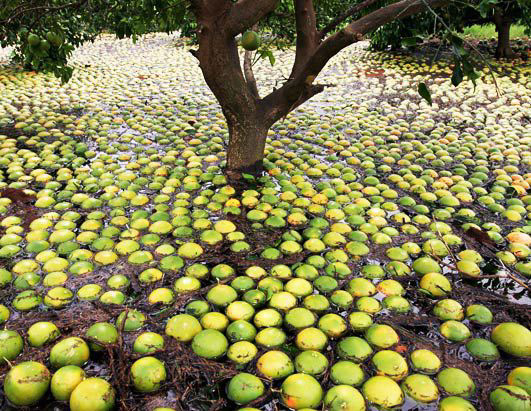 The loans are intended to "bridge the gap" between Hurricane Irma and longer-term recovery resources, which could include federal disaster assistance.
Growers in every citrus-producing county were impacted by Hurricane Irma with losses ranging from 30 to 70 percent, depending on the region.
Citrus groves in southwest Florida were hit the hardest with some growers reporting 100 percent fruit loss and uprooted trees. The USDA estimated a Florida Orange crop this season at 54 million boxes, 27 percent lower than 2016-17. However, that number is in question, with many growers projecting even lower production this season.
For questions regarding the Emergency Bridge Loan Program, growers should contact the Florida Small Business Development Center (SBDC) Network Headquarters at [email protected] or (850) 898-3489. They can also visit floridadisasterloan.org/citrus-growers/citrus-emergency-loan-program/.
Disaster Fraud Strike Team nets contractor
Chief Financial Officer Jimmy Patronis announced the arrest of Oscar M. Palma by the Department of Financial Services' Disaster Fraud Action Strike Team.
Palma, a Fort Myers contractor, was reported to authorities after allegedly making subpar roof repairs to an area apartment complex following Hurricane Irma, a news release said.
Upon launching an investigation, fraud detectives quickly learned that while Palma advertised himself as a licensed and insured contractor, he, in fact, held no workers' compensation coverage and was not licensed as a contractor.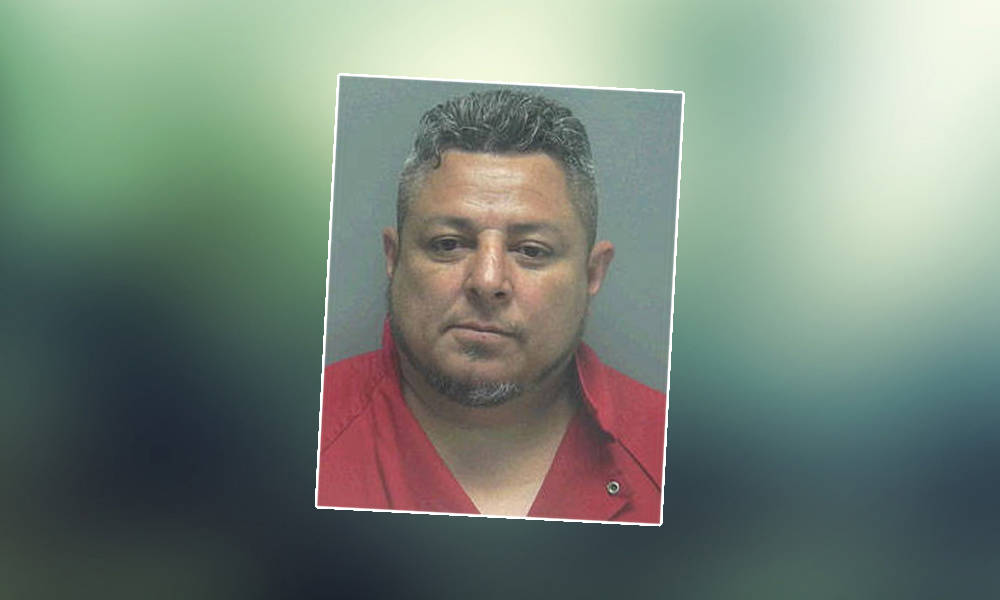 When accidents occur on job sites, workers' compensation coverage protects the property owner and hired employees from being held responsible for paying medical and lost wage costs tied to potential on-the-job injuries. Therefore, Palma put his entire staff as well as his customers at risk by failing to carry proper insurance coverage.
Patronis said, "When contractors fail to secure workers' compensation coverage, myriad risks are presented, and we are sending a message that taking shortcuts will not be tolerated. If any of Palma's workers were to get injured, the property owners, who are already going through high-stress and costly times dealing with Hurricane Irma damages, or the employee themselves are forced to pay out-of-pocket for medical expenses.
"Our efforts are focused on ensuring our residents, consumers and employees don't fall victim to Irma twice, and these types of uninsured activities could cause just that."
The Department's Bureau of Workers' Compensation Compliance received a tip Oct. 12, alleging unlicensed, uninsured and careless roof work was being performed by Palma's company. Investigators visited one of Palma's current work sites and issued a stop-work order upon confirming Palma failed to secure a workers' compensation insurance and Palma's confession to having no professional license.
He was arrested Oct. 13, and transported to Lee County Jail. This case will be prosecuted by the Office of the State Attorney for the 20th Judicial Circuit. If convicted, Palma could face up to five years in prison.
The Department's anti-fraud strike team consists of three groups working in areas heavily impacted by Hurricane Irma including South Florida, Miami-Dade and Monroe counties; Southwest Florida, including Lee and Collier counties; and Central Florida, including Polk and Orange counties. To report suspected fraud, call the Department's toll-free Fraud Tip Hotline at 1-800-378-0445.
Leon County helps bridge skilled-job gap
Building on the success of the last two years, Leon County Government hosted the Leon Works Expo, connecting more than 400 high school students and job seekers with academic institutions, private businesses, nonprofit agencies, and public sector partners. Leon County did so because over the next seven years more than 26,000 skilled careers will become available in the Capital County region.
"For Leon Works attendees, it was a big step toward their future success," said Leon County Commission Chair John E. Dailey. "High paying job opportunities are out there, and the expo's more than 100 exhibitors really demonstrate that."
Skilled careers require more training and education than a high school diploma, but less than a four-year college degree. High-demand, high-wage opportunities include the areas of health, business, information technology, creative, and trade.

Leon County recognizes that the key to a strong community is equipping citizens with the skills necessary to compete in growing and changing skilled job market. The Leon Works Expo builds upon Leon County's continued efforts to develop and sustain a rich local economy filled with the best and brightest workers who choose to define their own success.
Now for the latest edition of Capitol Directions:

The News Service of Florida and The Associated Press contributed to this week's edition, republished with permission.