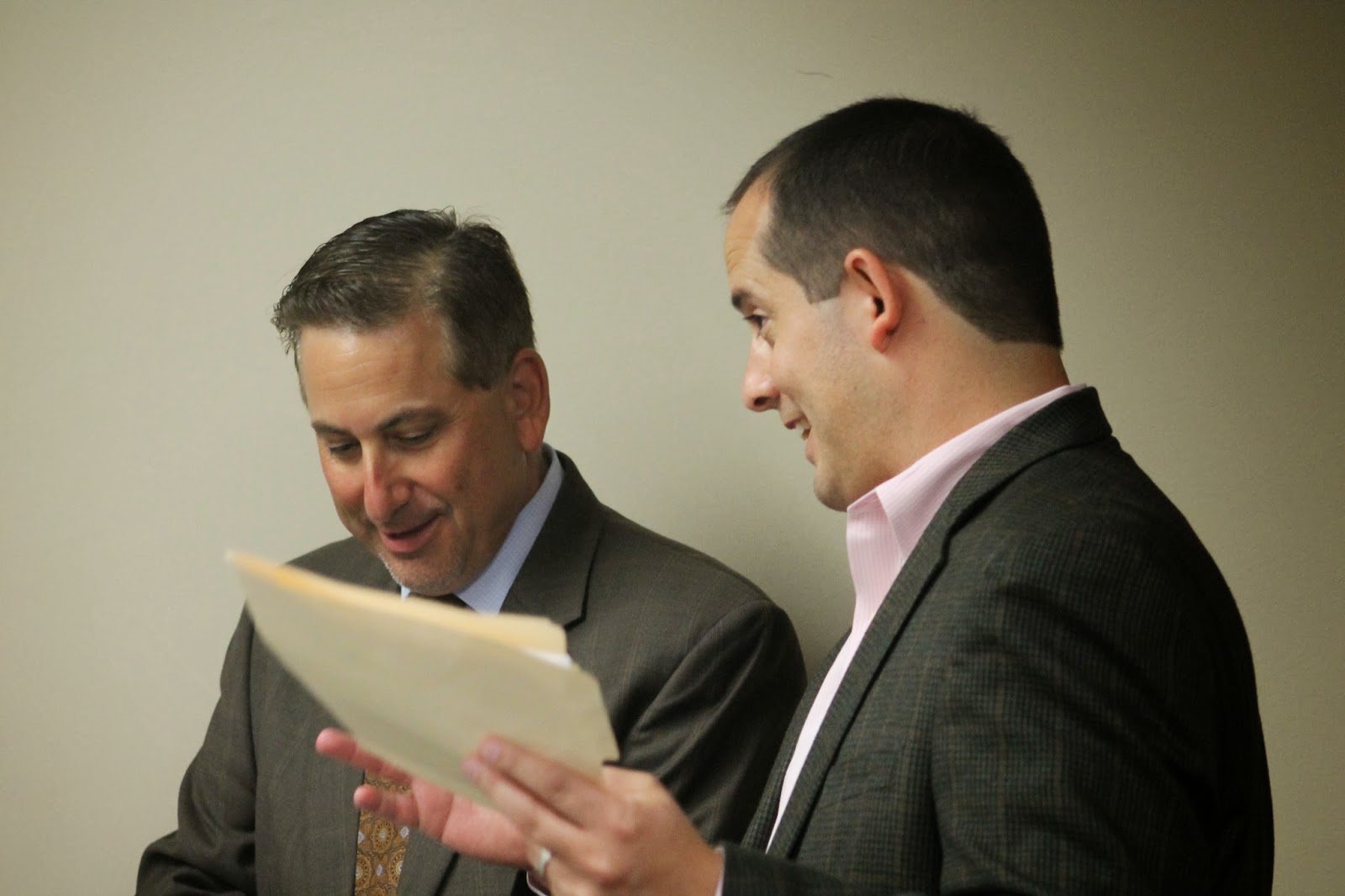 You knew it would come to this.
At some point in the titanic contest between Rick Kriseman and Rick Baker, the race would pivot from a wonky debate about budgets, sewers, and staffing to a bare-knuckled fight for not just who will occupy the mayor's office, but the future of St. Petersburg.
On Wednesday, Baker's political committee began airing a decidedly negative TV ad questioning the judgment of Kriseman for making Kevin King, arrested in 2001 for soliciting two underage students he met as a substitute teacher, his chief of staff.
As direct and as harsh as the ad is, it really comes as no surprise to anyone who follows St. Pete politics closely.
King's criminal history has been written about in the past, but it never became an issue when Kriseman faced incumbent Bill Foster in 2013. The Tampa Bay Times' Mark Puente reported the incident in December 2013 after Kriseman hired King.
Although Baker has been critical of King's performance as chief of staff, he hasn't gone there, including during the primary segment of the campaign.
My sources in Baker's camp, who were all well aware of King's history, tell me that what changed is when they were made aware that King was directly in charge of the city's outreach to the education community.
"You have a guy who was fired from Pinellas County schools for trying to seduce a teenager now in charge of the personnel interacting with Pinellas County schools," said one Baker supporter incredulously.
Baker's camp said it made sure, when producing the ad, not to embellish any of the details surrounding King's past. In fact, the ad doesn't even mention King by name.
"This race has always been about competency and judgment," said Brigitta Shouppe, a spokesperson for Seamless Florida, Baker's political committee. "Kriseman knowingly hired a former substitute teacher to oversee his education policy who was arrested, charged and immediately fired by the Pinellas school district after police said he asked a 14-year-old girl to perform a sex act — how could anyone be OK with that?"
I've always thought King's past could be Kriseman's Achilles' heel.
Personally, I designed mailers attacking Kriseman on this issue (albeit along much different lines), but they were not sent them because the local Republican leaders who would have paid for them thought raising the issue would backfire.
In retrospect, it's doubtful those mailers would have stopped Kriseman from unseating Foster.
The bottom line is Kriseman has not lost a campaign during the time he's worked with King, including the primary election two months ago when he topped Baker, despite public polling that suggested Baker could win the race outright.
The nature and timing of Baker's ad say a lot about the battle of the two Ricks. Perhaps it even defines the entire campaign.
Consider …
— Baker said (at least to me) he would likely have not challenged Kriseman were it not for the 'sewage crisis' that engulfed the Kriseman administration beginning in the summer of 2016.
— The Kriseman administration may very well have avoided the near-fatal public relations hit it took because of the 'sewage crisis' if it had been more upfront and transparent about what had happened to the city's sewer system.
— That lack of transparency can be directly linked to the leadership, or the lack thereof, offered by King. That's not just me saying that. That's also the opinion of some City Councilmembers, other Kriseman allies and the Tampa Bay Times.
— The defensive culture King instilled at City Hall is a DIRECT result of what he experienced during his own trials and tribulations from sixteen years ago. "The guy walks around with a major chip on his shoulder," one key Kriseman staffer explained to me Wednesday. "Even though he's the chief of staff to the mayor, he's been walking around for years waiting for this shoe to fall. Nothing scares him more than the idea that he may cost Rick the election."
A+B+C+D=E.
Baker entered the mayoral race because of the sewage crisis, which was worsened by King's leadership style, which was forged by his arrest in 2001, which is now the weapon Baker is using to bludgeon Kriseman.
The question no one on either side of the race knows is whether the ad will work.
In my estimation, the ad has all the ingredients, but it's not a complete dish. Because Baker's camp was so afraid the ad would be pulled after Kriseman's lawyers challenged it, it's too stark to be effective. The second part of the ad, in which an unnamed woman who the Baker campaign admits is unconnected to the incident says "I'll never forgive Rick Kriseman for this" does not make sense. Who is she to never forgive Kriseman?
It would have been better if the ad closed by hammering home the Tampa Bay Times' extensive criticisms of King's tenure as chief of staff.
That the Baker campaign is launching the ad now — ten days before Election Day — speaks volumes.
Clearly, the Baker campaign believes it is trailing Kriseman. Public polling shows Kriseman and Baker virtually tied, but I suspect Kriseman's internal polling had him pulling away.
But that was before this ad.
The front-page of today's Tampa Bay Times local section gave Baker exactly what he wanted. In fact, today's coverage may be worst for Kriseman than the ad itself. There are probably a lot of Times readers who are Kriseman supporters and were unaware of King's history.
In a race that may be decided by a handful of votes, this ad could be a game-changer.
Last updated on October 25, 2017