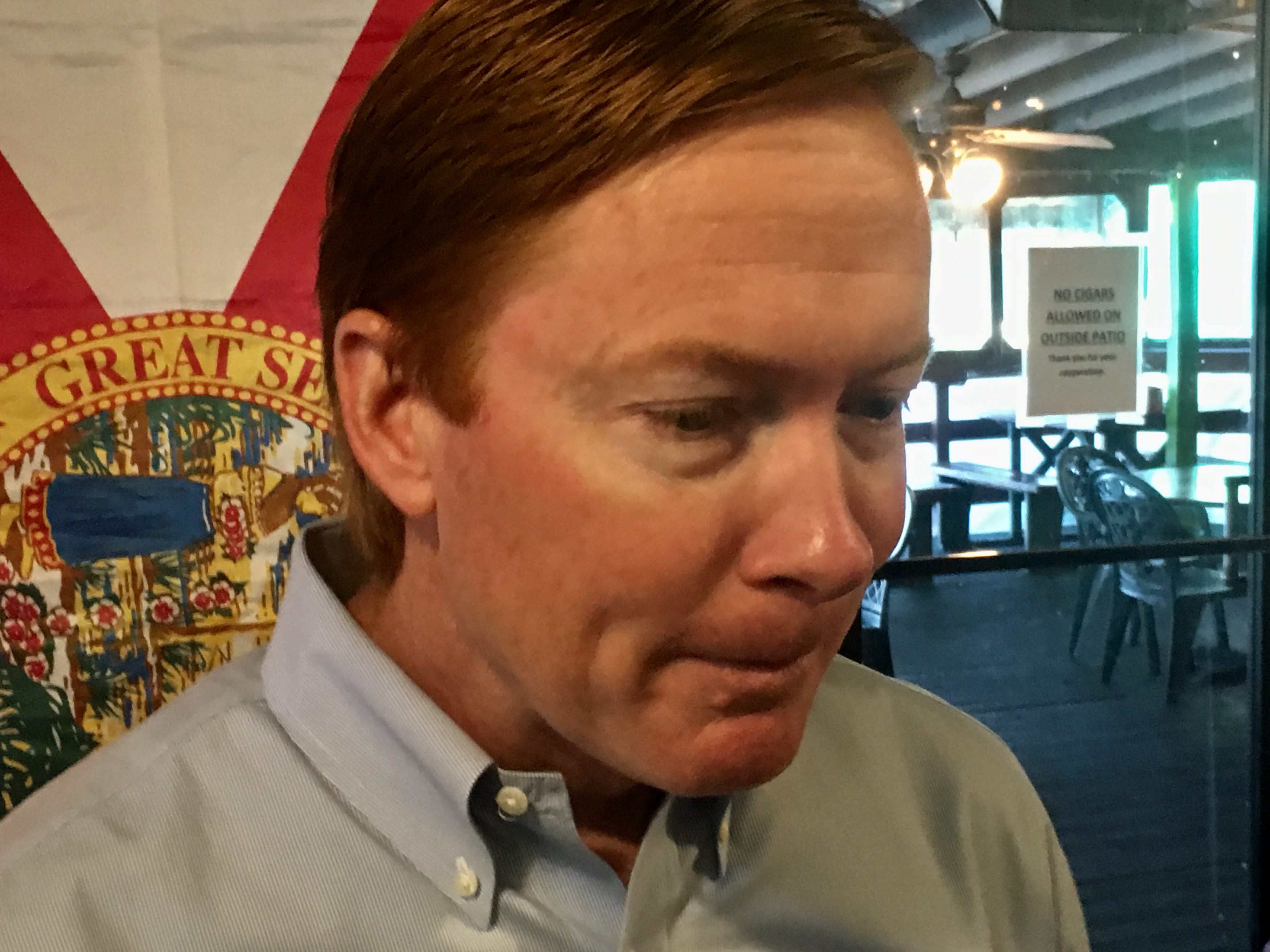 Agriculture Commissioner Adam Putnam attributes his fondness for early starts to being a farmer.
Reporters from the city may be more likely to attribute it to sadism — especially when they drive from Jacksonville before sunrise for an 8 a.m. campaign event in Clay County.
Whatever the motivation, Putnam has shown a propensity for his 'Up and Adam' events, with his latest being Tuesday at Whitey's Fish Camp in Fleming Island.
Putnam carries himself like the presumptive GOP nominee in next year's race for governor — and why not?
His major declared opponent, Sen. Jack Latvala, has been hit hard this week in POLITICO, with reportage on alleged dalliances with female lobbyists.
Putnam didn't want to talk about that in Clay County, punting  the question when asked a couple of different ways. Nor did he want to say anything quotable about Rep. Ron DeSantis, who is eyeballing a November entry to the race.
Putnam was happy, however, to discuss his road-tested vision of Florida exceptionalism — a speech that this writer, despite being tethered to one corner of the state, can recite portions of without any prompting.
In Clay County — now with 200,000 citizens, and many of them deep-red Republicans — that speech worked well.
Putnam extolled the virtues of blue collar work repeatedly in his remarks, rhapsodizing about power restoration crews and debris removal crews, as well as shipbuilders.
He noted that in Panama City, where Coast Guard cutters are being built, that the challenge is finding "enough workers … good, talented workers who don't want a participation trophy for showing up … who can pass a drug test [and get a] security clearance."
Putnam, mindful of the ever-vulnerable right flank, noted that "we don't support men and women who kneel for the National Anthem."
In a different context, that may have been an applause line; weeks removed from the heat of Kneelghazi, early in the morning, it didn't pop the crowd.
No matter — it established the conservative bona fides.
The checklist of right-of-center talking points: an aversion to sanctuary cities, support for Rule of Law, parental involvement in schools — they were all there, as reliable in Putnam's speeches as left-of-center bromides were in the presidential campaign speeches of Hillary Clinton in 2016.
Putnam also extolled Clay County — and St. Johns County — for not having the pressures that Duval County, a largely metropolitan county with the kind of legacy costs older, larger cities have.
He said that the bedroom communities are "taking parents because the schools are so outstanding," with people "voting with their feet."
"Florida will not be a failed state," Putnam said, toward the end of his off-the-cuff but certainly prepared remarks.
The question for any opponent who jumps into this race is a simple one: how to compete with a candidate with nearly $20 million in the bank and — as Putnam himself told this outlet — a history in this race since April.