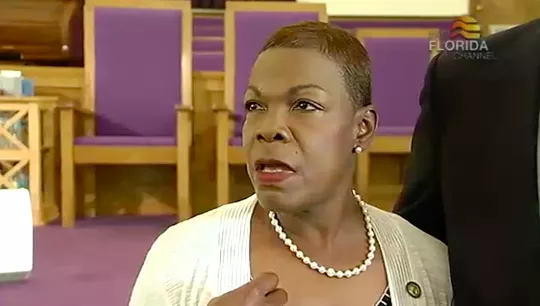 Next week, Florida Senate Democrats look likely to choose Jacksonville Sen. Audrey Gibson as their next caucus leader.
Given the amount of narrative in recent months about Jacksonville not having its voice in leadership, this has to be seen as a positive.
After Wednesday's meeting of the Duval County Legislative Delegation, we asked Gibson if the pledge count looked good.
She noted that it did, and while there is the weekend and Monday to get through, in the coming days she's going to "stay close to those who have committed to support" her, "for all of us to be a team."
Whether Gibson wins as expected or not, she has a vision for what Senate Democrats need to do this upcoming Legislative Session.
"First and foremost, we have to come back together as a unit and wipe away the negative going forward. And we need to go and discuss what our agenda's going to look like," Gibson said.
"The Leader doesn't just say to the members 'this is what we're going to do and everybody just comes along'," Gibson added. "My leadership style is to engage each and every member as to what their priorities are."
One priority "for Democrats in general," Gibson added, is education.
"We need to revisit the funding for our community colleges that provide the workforce for us," Gibson said.
Gibson also added that even on education issues, there is a debate within the party; some Democrats are more open to vouchers than others.
A Gibson priority: not to "ostracize members who may think a bit differently, whose districts may respond to things differently."
Environmental issues, Gibson added, are also a priority for Senate Democrats — and everyone else.
The environment is "not a red or blue issue — it's a Florida issue."
While Gibson has her personal agenda items, she also recognizes the diversity among Senate Democrats both in ideology and priorities.
"Even within our caucus," Gibson noted, "there are individuals who look at policy a little differently."
Conversation moved to what Gibson's ascension would mean for Northeast Florida.
"It puts us in the spotlight in a positive way. I think I always have represented my city very well," Gibson remarked.
"I'm a big ports person, and the ports would be front and center," Gibson said — good news indeed as JAXPORT moves through the early stages of an ambitious, locally controversial, and expensive dredging process that the city is counting on shared costs for.
For FY 18, JAXPORT has $42.1M budgeted for the dredge: $23.3M from its own finance, and $18.8M from the state.
While that's definitely a start for the estimated $484M project, there is no guarantee of recurring funding — a concern of local policy makers.
Gibson also noted that she is pro-business.
"I also believe in a business agenda that we should look at as Democrats — we aren't anti-business."
Gibson noted a conversation with North Florida Democratic Sen. Bill Montford about Leadership, in which they discussed regional priorities.
"We were talking about the fact that it's been — and he raised it — 'South, South, South', and there's been no North Florida focus," Gibson added. "North Florida is just as important as any area of the state."
To that end, Gibson said that North Florida and Northeast Florida will be front and center in budget and policy conversations — something that hasn't always been the case.
Of course, Wednesday's meeting of the Duval County Legislative Delegation was notable in that, for the first year in a long time, there were no local bills — and city leadership had no representation, with most of Mayor Lenny Curry's senior staff in Toronto for a Jax Chamber trip.
Gibson hasn't always lined up with the Curry agenda: she took umbrage last year when she was listed on a mail piece as endorsing the city's referendum to end defined benefit pension plans and pay for them with a tax to be imposed by the year 2030.
Gibson noted that when John Peyton was Mayor, "we would have meetings with him prior to Session starting about city priorities," with staff around the table.
"I think those were valuable because it means that he values our participation and giving us information in a setting that is conversational," Gibson said, thus allowing the Delegation to "divvy up" requests and figure out how they would be carried forward.
"Our city is multi-faceted," Gibson continued, including areas of "extreme need."
"There are big infrastructure issues we need to deal with, including drainage," Gibson added. "We need to have those conversations."
Gibson noted that in 2016, the city's big ask was $50M for Hart Bridge offramp removal and redesign.
She wasn't particularly a fan of the city's approach to selling that project.
"They just walked in with that map, and I thought 'what is that?', and that is not how you relate to the Delegation that you want to carry your water at the state level," Gibson said. "It just shouldn't be done that way."
(Perhaps predictably in retrospect, no one in the Delegation carried the request for $50M, leading the city to redefine the project goals in pursuit of a federal infrastructure grant).
While Gibson has met with Curry senior staffer Ali Korman Shelton before recent Legislative Sessions, she has been frustrated in attempts to "meet with the Mayor directly."
"There should also be that personal conversation with the Delegation. We're making the case here," Gibson remarked.
Gibson is not the only member of the Duval Delegation to complain about the approach of the Mayor's Office to the city's legislative agenda; however, her statements crystallize statements made by both Republicans and Democrats on the body, and bear watching as 2018 approaches and progresses.