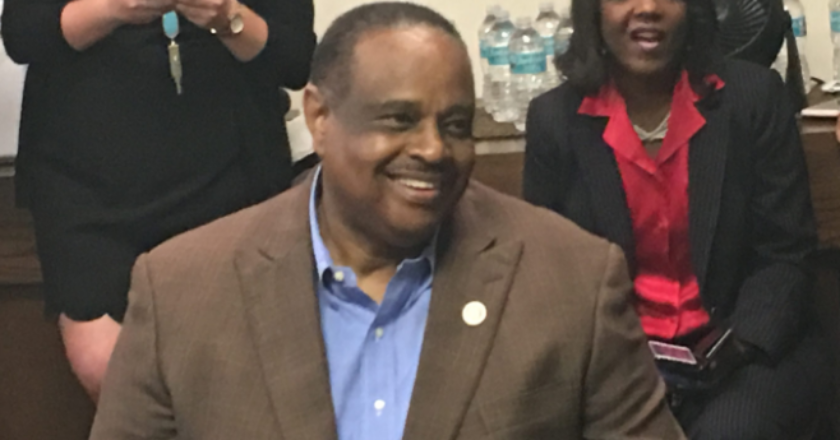 U.S. Rep. Al Lawson represents a big swath of North Florida from Tallahassee to Jacksonville, and in the wake of Irma, the first-term Democrat noted Jacksonville's historic flooding.
Weeks after the waters receded, Lawson moved toward proposing action — and that action could provide relief for much of Jacksonville's propensity toward river-related flooding, the inundation that wreaked havoc as Irma churned through and out of the area.
Lawson wrote a letter to Mick Mulvaney, chairman of the Federal Office of Management and Budget, on Monday that outlined the ask: $79 million for 11 flood and storm surge projects, funding for a US Army Corps of Engineers flood study, and $20 million more for flood resiliency efforts in Jacksonville.
The common thread in the projects: these flooding issues are influenced by the St. Johns River, making them eligible for federal funding. Though legislation has yet to be filed, groundwork is being laid.
Thursday saw Lawson take the case to the House Transportation & Infrastructure Committee — describing a historic impact from Irma being driven by storm surge.
Lawson noted that water levels from the St. Johns River hit a record-high of 5.57 feet in Downtown Jacksonville, impacting some of the area's most iconic buildings, such as the Riverfront Hyatt Regency and the low-lying Wells Fargo tower.
Both of these landmark structures suffered damage that took weeks to remediate, Lawson asserted.
The 12 projects recommended come from Duval County's own mitigation plan.
The McCoy Creek Drainage Improvement Project, for example, would bring relief to an area that has suffered flooding since well before consolidation of the city and county in 1967. McCoy's Creek Boulevard — a cut-through for commuters in North Riverside — would be closed. A retention pond would be created. And repetitive loss properties would be eligible for residential relocation.
Hogan's Creek, another flood-prone tributary of the St. Johns, would see improved conveyance under the Arlington Expressway, and two Regional Stormwater Facilities.
The Moncrief Creek project would abate flooding in the Northside neighborhood, and would offer bank stabilization and a couple of regional stormwater facilities.
Drainage improvements, per the Lawson plan, would be slated for the Emerald Necklace, Dinsmore, and the "Emerald Necklace" area around Hogan's Creek and Springfield.
Money would also be allocated for the Liberty Street bridge project, as well as replacements for 35 drawbridges on evacuation routes.
Additionally, money would be earmarked for studies of stormwater retention and Jacksonville's hurricane risk sheltering program.
Lawson's response to Irma has been robust, starting after the storm when he spent days in the eastern part of his district visiting local shelters, helping to acclimate constituents to the FEMA application process, and building a relationship with Jacksonville Mayor Lenny Curry.
When Florida Politics talked to Lawson in mid-September, he had just left a meeting in the mayor's office — and central to the discussion was FEMA money from Hurricane Matthew.
Lawson and Curry have built a relationship that the Mayor extolled when asked if it would be more advantageous for former Mayor Alvin Brown — a potential primary challenger to Lawson next year — was in office.
"I have a great working relationship with Al Lawson," Curry said.
Lawson has advocated for Jacksonville interests in other ways, including a recent letter of support for Jacksonville's longshot bid for an Amazon Headquarters.
That letter of support nettled, ironically enough, Tallahassee leaders. But Lawson told the Tallahassee Democrat that the Jacksonville Chamber of Commerce — a traditional sinecure of political donors — asked him to push for Amazon to Jacksonville, and he did just that.
Stability in the federal Congressional delegation is particularly important to Mayor Curry, given frayed relations with the Duval County Legislative Delegation.
Delegation members, including state Reps. Jay Fant and Kim Daniels and state Sen. Audrey Gibson, have gone on record complaining that the city lacks follow-through on advancing big-ticket priorities, such as the city's desire to remove the current offramps from the Hart Bridge, routing traffic on surface streets toward the stadium complex and the port.
Gibson, the odds on favorite to be the next leader of the Senate Democrats, noted that she has been frustrated in attempts to "meet with the mayor directly" regarding city priorities
"There should also be that personal conversation with the delegation. We're making the case here," Gibson remarked.
A measure of the difference between the city's relationships with federal and state legislators: While even after a year of trying, the city hasn't found a legislator to carry the water on the Hart Bridge project, Sen. Marco Rubio was very quick to offer a letter of support for the city's pursuit of a $25 million infrastructure grant from the Department of Transportation.
In that context, Lawson advocating Jacksonville's priorities despite being a Tallahassee guy is good politics, both for Lawson staving off a Jacksonville challenge, and for the city's priorities going forward.