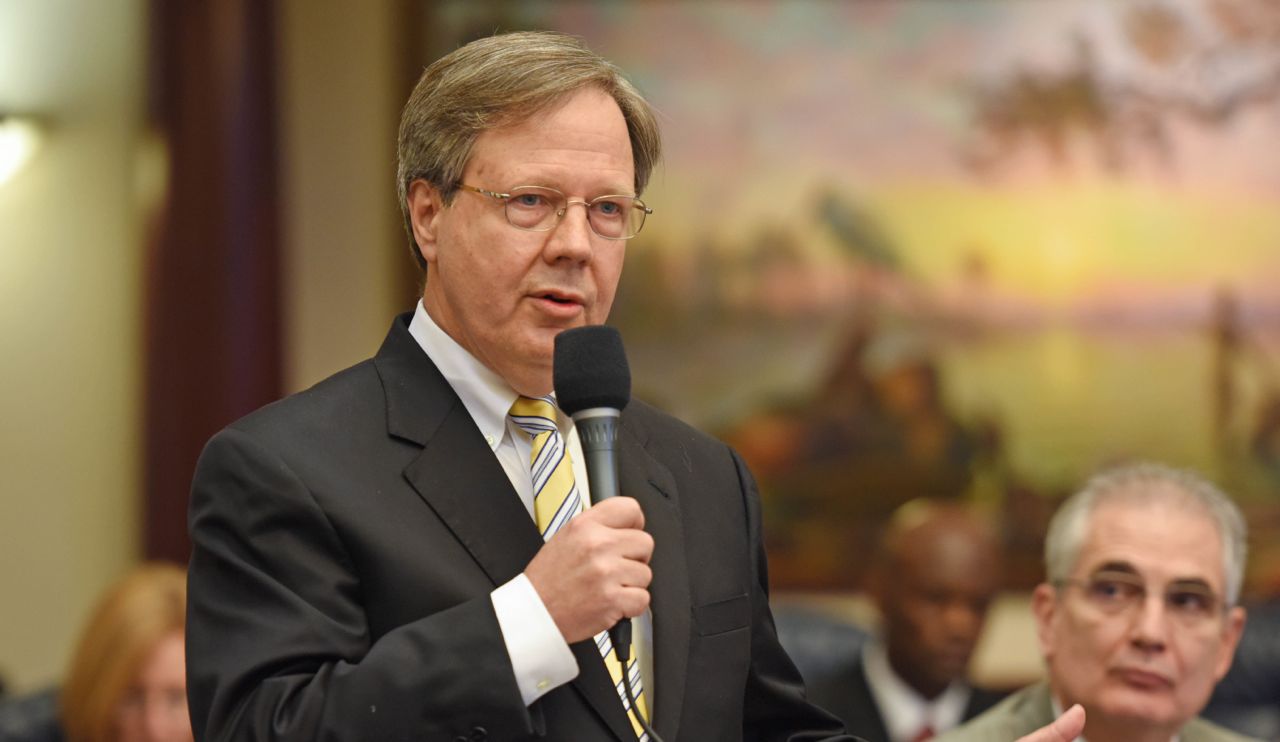 The results of Tuesday night's elections for the Longwood City Commission – with three new commissioners elected to office – has spurred state Reps. Scott Plakon and Bob Cortes to file a bill that would strip cities from having any approval of cardrooms at pari-mutuel facilities such as dog tracks.
Longwood is home to the Sanford Orlando Kennel Club, a dog track that has been pushing for years for the opportunity to open a cardroom, but which has been rebuffed by the Longwood City Commission. The Seminole County Board of Commissioners also is on record opposing any expansion of gambling in the county.
Tuesday's election brought Richard Drummond, Matthew Morgan, and Abigail Shoemaker to the five-member Longwood City Commission. Drummond is security manager at the dog track, and both he and Morgan received $1,000 checks from the Central Florida Greyhound Association for their campaigns.
Drummond said Thursday that he ran with no intent to push for gambling expansion, has made no promises he would support it, and would not advocate it to other commissioners, yet he is open to the prospect, saying it should be up to the citizens of Longwood. He supposed he would have to recuse himself if the matter came up to the commission, though he said that would ultimately be up to the city attorney. He also said if it does come up, he would like to see the issue put before voters in a referendum.
Plakon and Cortes filed House Bill 6029 late Wednesday, which would require the Florida Division of Pari-Mutuel Wagering to require an approving vote of the county commissioners, rather than of a municipal commission, before issuing a cardroom license.
Plakon, of Longwood, Cortes, of Altamonte Springs, and another Seminole County Republican state representative, Jason Brodeur, of Sanford, all openly backed the losing candidates in the three Longwood races, City Commissioners Mark Weller and John Maingot, and Michael Dodane.
Plakon said Thursday he is concerned that, unlike previous Longwood commissioners, Drummond's Morgan's and Shoemaker's positions on gambling expansion are not publicly known.
But Plakon said the point of his and Cortes's bill is the concern that any new gambling has impact far beyond a specific city, and should have at least county-wide review before the state would issue a cardroom license. Currently Florida law allows the division to issue licenses from pari-mutuel facilities if they get approvals from their city commissions, unless the locations are in unincorporated areas, when the law requires approvals from the county commissions.
Drummond said the bill is pay-back for his, Morgan's and Shoemaker's victories over the candidates that Plakon and Cortes backed.
"This needs to be decided at the city level, not at the state," Drummond said. "The only [place] this [bill] is going to effect is the city of Longwood. … I'm very frustrated that they're going to continue to get back at us after their candidates lost the election. It's just sad they want to step in and then use their power and their authority to interfere with local politics."
There are only two pari-mutuels in the entire state that do not have card rooms, The Sanford Orlando Kennel Club and Orlando Live Events, formerly known as the Orlando Jai Alai Fronton, which is in unincorporated Seminole County, in Cortes's district.
"The previous [Longwood] commissioners, to us, had stated very clearly their opposition to expanding gambling in the dog track. But during the election it wasn't entirely clear to us, the now new commissioners, what their position is," Plakon said.
"The well-known deleterious affects of [gambling expansion] go well beyond the borders of that," city, Plakon said. "So we filed this legislation thinking it's more appropriate to empower counties to make this decision since it will likely have an impact on their constituents as well."