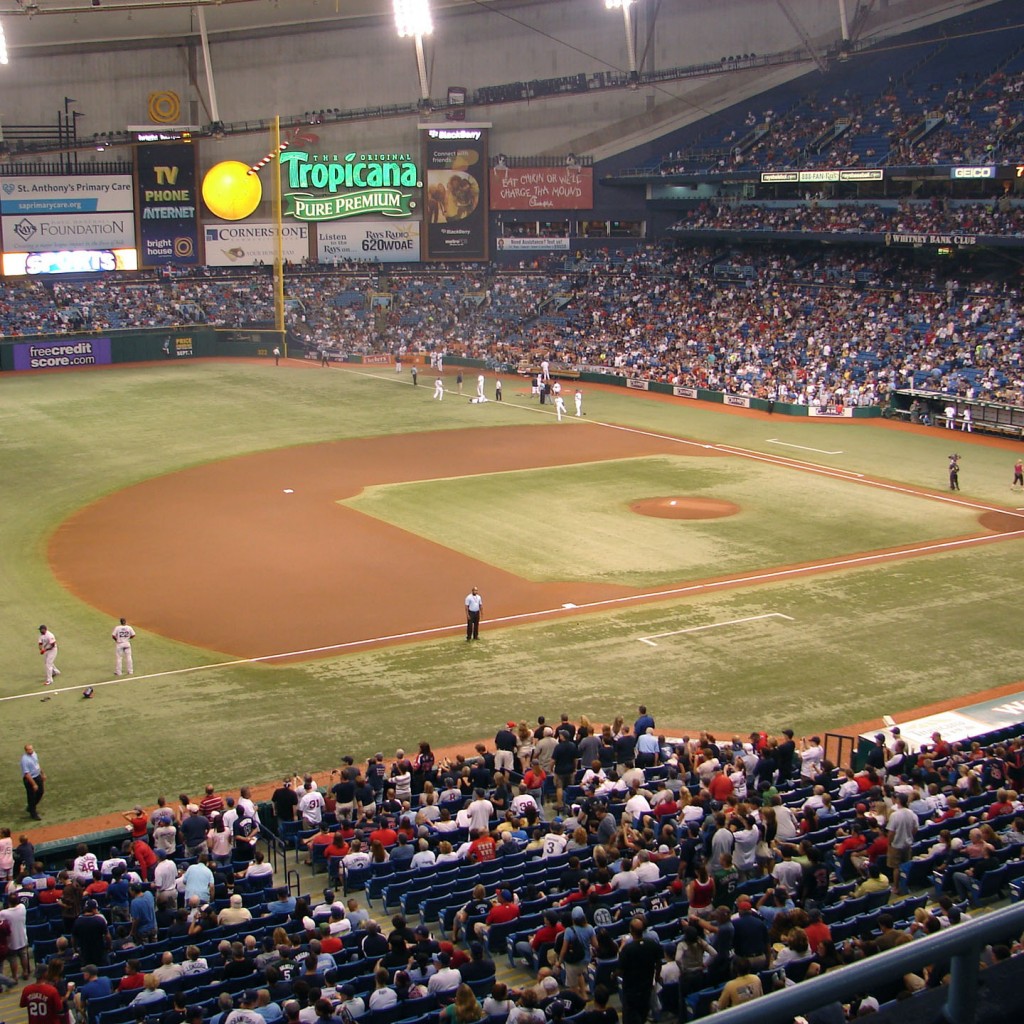 I assume Tampa Bay Rays owner Stu Sternberg was trying to make a joke Wednesday when he said his organization might come up with $150 million to help pay for a new ballpark in Tampa's Ybor City that will cost a lot more than that.
I say that because I literally started laughing as I read his quotes in the Tampa Bay Times.
Speaking to longtime Rays' writer Marc Topkin at baseball meetings in Orlando, Sternberg said, "We've tried to make some guesstimates, some estimates on what would be prudent for us, what would give us the ability to take this step in committing to a physical place for another generation or two, and our thought process is it's probably in the $150 million range. We might find out that's too much. We might find out that we can afford more."
My guesstimate is that with a stadium to replace decrepit Tropicana Field hypothetically priced at $800 million, give or take a luxury suite or two, Sternberg and Major League Baseball can't be seriously thinking of asking/demanding taxpayers to pay the $650 million difference.
As Hillsborough County Commissioner Ken Hagan noted, "I don't know if we'll ever get there."
Hagan, who worked with the Rays on potential stadium sites in Hillsborough, was speaking at a commission meeting that was going on at roughly the same time Sternberg made his opening gambit.
I love baseball and believe the Rays are a major asset to the overall community, but it has limits. What Sternberg offered up sounded more like an extortion note than a pitch for serious public-private partnership.
I believe Sternberg knows that, too. He is a smart man.
As long as we're tossing numbers around, how about these: Major League Baseball's revenues reached $10 billion in 2016, with a goal of topping $15 billion within a few years. The Miami Marlins just sold for $1.2 billion, much of it driven by the team's five-year-old stadium that will cost taxpayers an estimated $2.6 billion by the time it is paid off in 2049.
That made a nice return on investment for former owner Jeff Loria, who bought the team for $158 million in 2002. Sternberg bought a 48 percent stake in the then-Devil Rays in 2004 for a reported $65 million. The Rays are worth a lot more now.
Then, there is this: In 2014, Sternberg said that without a new stadium, he would sell the Rays and the new owner likely would move them out of the area.
That would be bad, but if the alternative is a take-it-or-leave-it pitch to taxpayers, my guess is the Rays will be some other city's problem at some point.
The usual ideas for what laughably is referred to as the public's "contribution" have been floated — some combination of tourist taxes, rental car surcharges, special taxing districts, user fees, and so on.
There are several problems with all those pitches.
First, the mood in Tallahassee has swung dramatically against using any public money to enrich private enterprise. House Speaker Richard Corcoran has been particularly outspoken on this subject.
Second, even if lawmakers would soften their opposition to such solutions, all those sources combined probably would still fall well short of the amount needed to pay for this.
Everyone knows that.
If Sternberg's statement is just an opener to get talks started, OK. But if he's serious about what he says the Rays will pay, then it's over.
That's no joke.