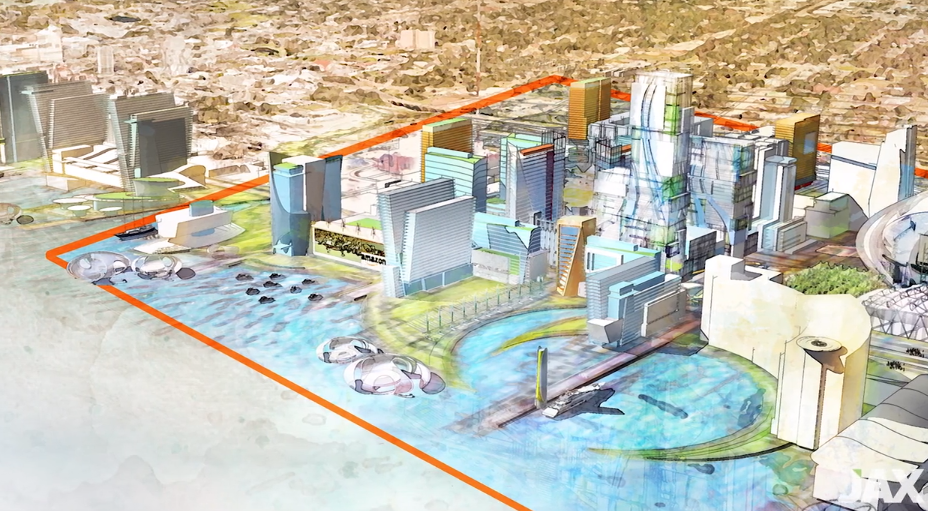 Like many cities, Jacksonville is making a pitch for Amazon's HQ2. The value add locally per a video from Burdette Ketchum: land on the old Shipyards site downtown.
The video, which was first reported by Jenna Bourne of Action News Jax, begins with sprightly acoustic guitars leading into a backing track reminiscent of the Postal Service circa 2003.
It touts Jacksonville as "Amazon-centric," with a "one-of-a-kind urban core campus and transit," and an "inspired year-round coastal lifestyle."
The video also touts Jacksonville's "leading educational institutions and regional partnerships," and Jacksonville itself as an "emerging city inviting your partnership and social impact."
"Just like you, we're customer-centric. So our proposal is built around your team members," asserts a millennial-male voiceover in a crisp tone devoid of a traditional Jacksonville accent.
"Our job will be to attract them here, inspire them, and keep them productive. Like everyone in Jacksonville, they'll love living here," the voiceover adds.
And, asserts the voiceover, they'll love working here: on a "200 acre live, work, and play campus at the heart of our waterfront city, in our urban core."
This relationship, the video continues, is one that no other city can offer. It will allow Amazon to "impact the culture and the social responsibility of our city."
"Shovel-ready land nestled between our established office district and our NFL stadium and amphitheater will be conveyed to Amazon at no cost," the video continues. "We will shape it together as we grow."
The video also promises "innovative public transportation" for "Amazonians," allowing the campus and the city's "upstart downtown" to grow in tandem.
As well, the video pitch promises "aggressive" pursuit of the project, with the most "competitive costs in Florida."
Mayor Lenny Curry offered a statement: "I greatly appreciate and value the work City staff and the Chamber have led on the development of this proposal. Proposals are a first step that communicate our genuine interest, commitment, and vision for a project."
"This Amazon project, like any other project we pursue, will be negotiated against a scorecard to ensure it provides a return to taxpayers and contributes to job growth and economic development. We will continue to work hard on this deal that would result in over 50,000 jobs for Jacksonville," Curry added.