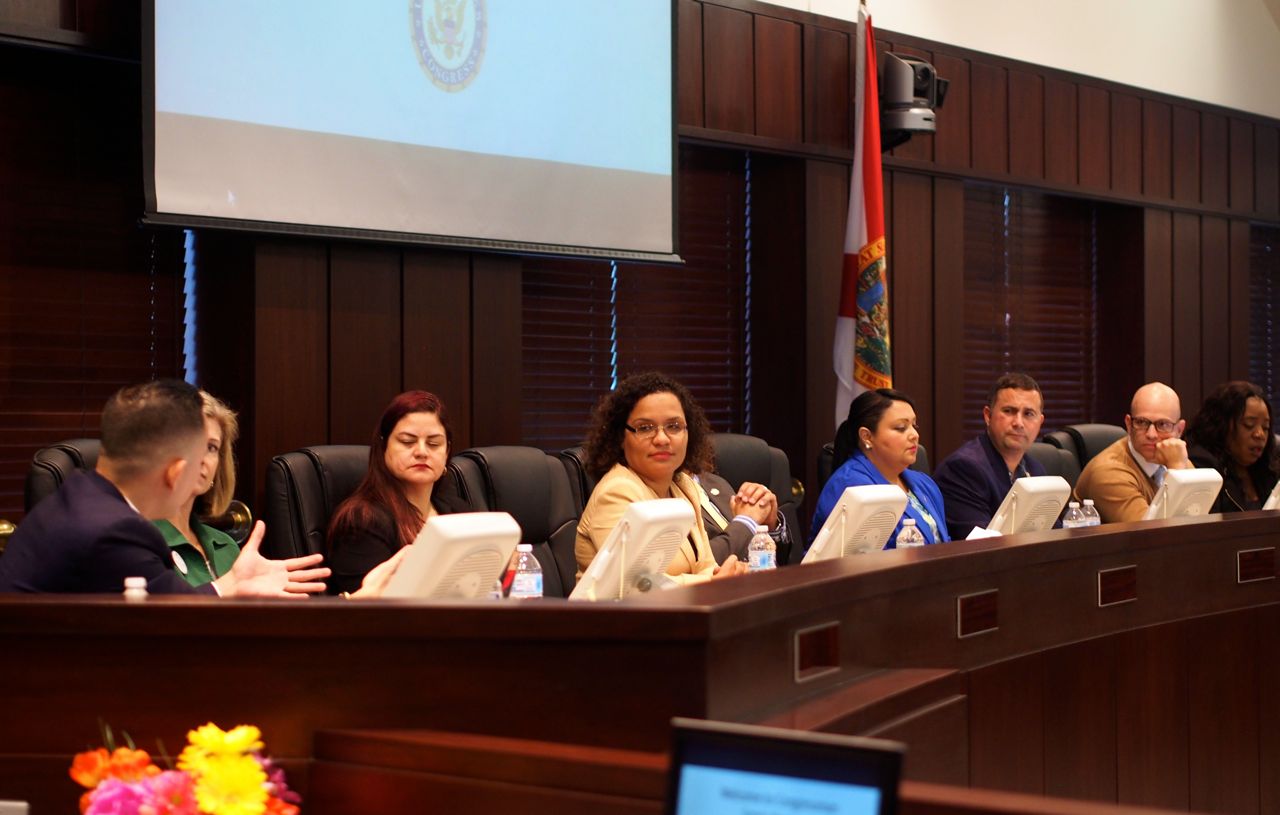 Housing continues to be the toughest challenge and most likely  the biggest long-term challenge as Central Florida absorbs tens of thousands of people displaced from Puerto Rico because of Hurricane Maria, surmised a new task force formed by U.S. Rep. Darren Soto.
There still is no clear idea how many of the more than 260,000 people who've come from Puerto Rico to Florida in the past three months plan to stay, or where Yet several task force members said it is increasingly looking as if many if not most want to make Florida their permanent home.
"I have spoken to many, many, many of these families… and most of the people say they are here to stay, especially those who have children," said Osceola County Commissioner Viviana Janer.
Family and friends' homes, and hotels and motels augmented by Federal Emergency Management Agency vouchers, are temporary housing at best, and many of the displaced Puerto Ricans have nowhere near the $5,000 or so landlords expect for first and last months rents and damage deposits.
Much of Florida, and particularly the Central Florida area, already had a serious shortage of affordable housing before the great migration of late 2017.
At a meeting in Kissimmee, everal task force members, notably state Rep. John Cortes of Kissimmee and Amy Mercado and Carlos Guillermo Smith of Orlando, emphasized the need to see more of Florida's Sadowski Affordable Housing Trust Fund actually go toward affordable housing developments, rather than allowing budgetary raids. Yet all agreed that program would take years to create more affordable housing. And it'll be needed immediately and throughout 2018 as evacuees transition out of brother-in-laws spare bedrooms and motels.
"Before Hurricane Maria, we had a crisis," in affordable housing, Cortes said. "We still don't have affordable housing. They're living in motels. Now we're waiting on FEMA to give them 60 days, maybe more, even 180 days…. The main problem here is we have no housing in our area, or in Seminole, or Orlando. We need affordable housing. We need to do it now. Not later."
Soto organized his regional Task Force on Puerto Rico Arrivals to Central Florida seeking to bring together public officials from throughout Central Florida to talk about local, school district, state, and federal issues, problems such as red-tape for developers, and for different levels of government, and ideas.
"Certainly, we're not going to solve it all today, but there are a lot of solid ideas," Soto said. "This is the first list. It's not the last list."
Some ideas emerged. Osceola County Commissioner Peggy Choudhry said businesses are ready and eager to transform old motels into efficiency-style apartment buildings, but need more waivers and help from local and state government. Others noted the Supportive Housing Program, run by the U.S. Department of Housing and Urban Development, may be able to provide more assistance to people who cannot yet afford, or qualify for apartments, if HUD will provide more flexibility for use of those grants. State Rep. Rene Plasencia noted that there are other places in Florida, such as Marion County, where there are both jobs and housing available, and local officials need to be encouraging evacuees to look there.
"Our ability to provide affordable housing is something that is going to happen over the next two to five years, not over the next two to five months," Plasencia said. "So we need to look at options to help people now, and those options may not be in this particular area."
As promised by Soto's office, the task force took on at least the beginnings of bipartisan participation, with the late additions of Plasencia of Orlando and Seminole County School Board Chairwoman Amy Lockhart. Soto and others said he hopes more will accept invitations to participate, as he expects the task force to have two or three more meetings in coming months.
In addition to dissecting the concerns, Plasencia took the opportunities Thursday to expound on state legislation sponsored by Republican colleague state Rep. Bob Cortes that seeks to provide more affordable housing incentives for local government, to offer insights into what may be available in other parts of Florida, and to offer details on education initiatives being pursued by Gov. Rick Scott and Florida Education Commissioner Pam Stewart. Lockhart explained what she said were the challenges of a school district run by conservatives, as Seminole is cautious about adding school capacity until its needed, and now suddenly with 500 newly-enrolled Puerto Rican children in recent weeks, it's needed quickly.
The Democratic state lawmakers and Plasencia, whose wife Marucci Guzman runs one of the more active non-profits helping displaced Puerto Ricans, LatinoLeadership found plenty to agree upon regarding defining the needs that the Florida Legislature should address, focusing on the housing crutch, possibly starting with including Bob Cortes' House Bill 987.
"I agree with what Rep. Smith said," Plasencia said. "I too believe that the vast majority of people who came here don't want to go back to Puerto Rico. I think the majority will stay here and find a way to get to a certain area probably within close proximity of CF where they can have good jobs, and find affordable housing."