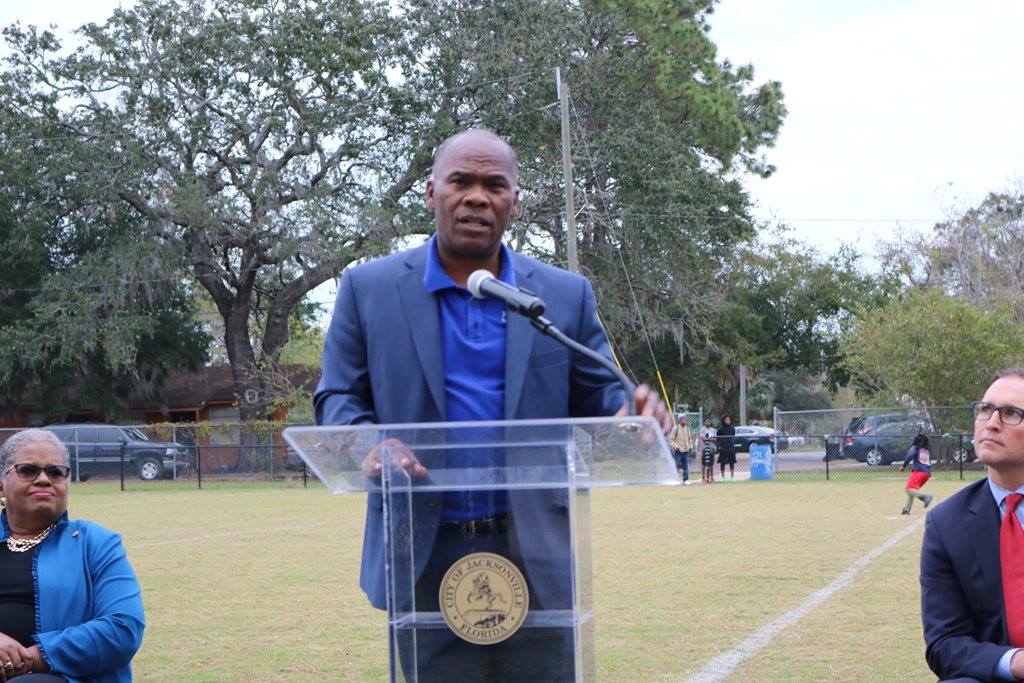 A number of Jacksonville City Council members will face competitive races should they want to be re-elected.
However, in terms of sheer amount of opponents, no one faces more competition than Jacksonville City Councilman Reggie Gaffney, who has four opponents already filed to face him in 2019.
The Democrat, representing a district that sprawls from Downtown toward the airport, has dealt with legal scrapes in the past ranging from Medicaid overbilling (an issue in the campaign) to double dipping on homestead exemption claims (an issue while in office).
Gaffney, a former close associate of Corrine Brown during her scheme to enrich herself via siphoning contributions from a sham educational charity, is not running a mea culpa campaign, however.
Rather, he is running on his record.
Gaffney is a strong supporter of Jacksonville's Republican Mayor Lenny Curry, standing by Curry even when many other council members cast aspersions, and the councilman hopes that a record of tangible achievements in his district outweighs negative press.
Gaffney is billing himself as a "strong advocate for Special Needs citizens," and saying that he "assisted" in bringing 6,420 jobs to Jacksonville.
A recent video, cut with an unseen interviewer, reveals more about Gaffney's platform.
"District 7 is a very large district," Gaffney said. "I like to think of District 7 as three different communities all with different needs."
While there are many "priority projects" he could cite, Gaffney says that Amazon — "because it's about jobs" — is number one.
Meanwhile, Gaffney takes credit for fixing the collapsed Liberty Street Bridge, calling it his "first project."
Gaffney also takes credit for compelling Curry to address drainage issues in the flood-prone Lower Eastside.
Gaffney then asserted his key role in getting money for the stadium improvement projects (amphitheater, covered practice field, and club seat renovations) approved in his term.
"The mayor said 'I need your help'," Gaffney said, and he was willing to give it — as it meant "jobs" for his district.
"I said 'let's make it happen'," Gaffney related.
Gaffney also credits himself with having "saved the JIA CRA" — the community redevelopment area near the Jacksonville International Airport.
"That's dollars that I could use for infrastructure improvement for the Dunn Avenue area going to Oceanway," Gaffney said, noting road improvements and LED lights in the targeted area.
"That's big," Gaffney said.
Gaffney is not the most polished legislator on the council, though he is comfortably within the top 20.
That said, his strong working relationship with Curry — who takes Gaffney at his word ahead of a tough vote — has helped him compile a list of tangible improvements.
Perhaps part of the reason Gaffney has launched his active campaign earlier than his colleagues: the sheer number of opponents, which could theoretically preclude him winning outright in March's first election (essentially an NPA "blanket primary") and avoiding the May general election.
While Gaffney (with over $13,000 banked at the end of November) isn't exactly lighting it up in terms of campaign finance, his opponents have done even worse in fundraising.
Recurrent candidate Marc McCullough reported $1,800 raised.
And three other opponents raised nothing.