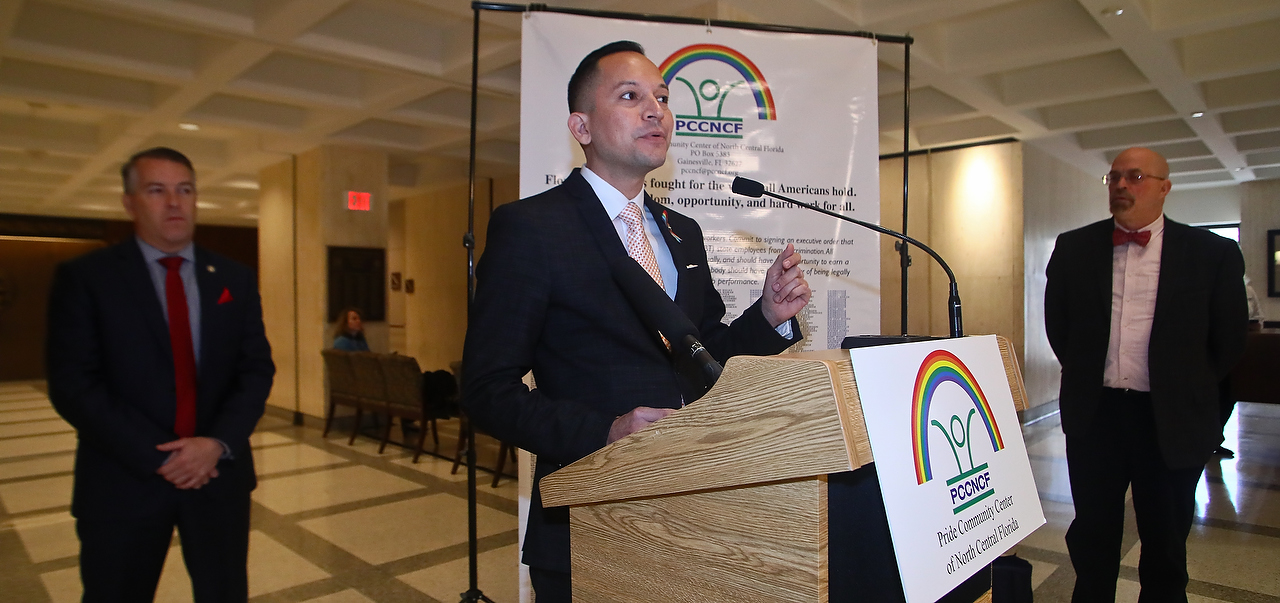 There was a slew of committee meetings at the Capitol Thursday, but the public stage outside committee halls belonged to those pushing for LGBT protections in private businesses and state offices, two arenas where such discrimination is not explicitly barred by state law.
A sizable group of bipartisan lawmakers attended a press conference on Thursday in support of the Florida Competitive Workforce Act. Shortly after some demanded Gov. Rick Scott issue an executive order preventing state offices from discriminating against LGBT employees. 
Competitive Workforce Act sponsor Ben Diamond, a St. Petersburg Democrat, said the legislation would expand the 1992 Civil Rights Protection Act — which prohibits discrimination based on race, color, religion, sex, pregnancy, national origin, age, handicap, or marital status — to include protections for the LGBT community.
Diamond said the initiative enjoys healthy support, and many are unaware of the lack of LGBT protections and surprised when they discover otherwise.
"When I talk to folks in my district on this bill, they're surprised to learn that Florida law does not already protect LGBT individuals in these important areas," Diamond said.
Diamond said there are economic benefits from extending the civil rights protections. He said when large companies search for locations — such as Amazon's continuing quest for a second headquarters — the companies factor employment laws into their decision.
Amazon announced Thursday a shortlist of 20 companies its considering for a new location. Miami is the only Florida city on the list.
Orlando Republican Rep. Rene Plasencia is co-sponsoring the legislation with Diamond. He's done so with similar legislation in the past and said the protections for the LGBT community are long overdue.
The bipartisan group of lawmakers — including notable conservative Sarasota Rep. Joe Gruters — touted the bill's universal appeal. But there is another state House bill that could undermine the LGBT protections proposed by the Act.
Rep. Jay Fant, a Jacksonville Republican vying for the state's Attorney General post, filed the Free Enterprise Protection Act last month. Fant's bill would prevent government discriminatory actions toward businesses — a provision that in practice would bar the government from enforcing laws guiding internal policies such as the employment of LGBT personnel.
Fant has asserted businesses have a First Amendment right to practice freedom of religion and the government cannot infringe upon that right.
When asked about the First Amendment argument, Diamond said, "From our perspective this is not about the First Amendment — this bill does not impact that. This bill is about prohibiting discriminatory conduct." He added that supporters of the Competitive Workforce Act believe the provisions are consistent with the Constitution.
Ocala Republican Sen. Dennis Baxley has filed a companion bill for the Free Enterprise Protection Act.
According to Florida Competes, a group of more than 450 state businesses pushing for the Competitive Workforce Act, many pockets in the state have already taken steps to extend similar Act provisions locally. Dubbed Human Rights Ordinances, 12 counties and 30 municipalities, including Jacksonville, Orlando, Tampa and Miami, have HROs, or resolutions in support of LGBT protections.
In total those provisions cover more than half of Florida's population.
Pushing the Competitive Workforce Act has been an uphill battle for supporters. In the 2017 Session the Act never got a hearing. In 2016 the legislation died in a Senate committee.
This year Florida Competes authored a letter to House Speaker Richard Corcoran and Senate President Joe Negron encouraging support for the Competitive Workforce Act.
One portion of the letter reads, "It is time to send the message that all Floridians deserve the same basic civil rights."
The letter was signed by major business leaders in the state representing AT&T, Carnival Cruises, Florida Blue and Raymond James, among others.
Following the Competitive Workforce Act conference Democratic Reps. Carlos Guillermo Smith of Orlando and Matt Willhite of Wellington urged Gov. Scott to sign an executive order protecting LGBT workers in state offices.
Smith, who also attended the Competitive Workforce Act conference, told Florida Politics the Act would protect LGBT personnel in state offices if passed, but Gov. Scott could preemptively issue an executive order that provides for state workers the same protections included in the Act.
Smith said that would "send a message to the Legislature." 
The Pride Community of North Central Florida hosted the second conference, touting a petition with more than 700 signatures from citizens in 13 typically conservative counties.
The Orlando Sentinel reported that Scott walked back on a promise he made to issue such an order following the Pulse nightclub massacre. His office argued LGBT protections are guaranteed because the state and federal government "doesn't tolerate discrimination in any form."
Smith said Scott's response doesn't carry any weight in light of U.S. Attorney General Jeff Sessions' move to encourage federal agencies to exercise religious freedom, something LGBT advocates consider an "undercutting" of Equal Employment Opportunity guidelines.
Smith said those guidelines could be "pulled out from under us at any moment."