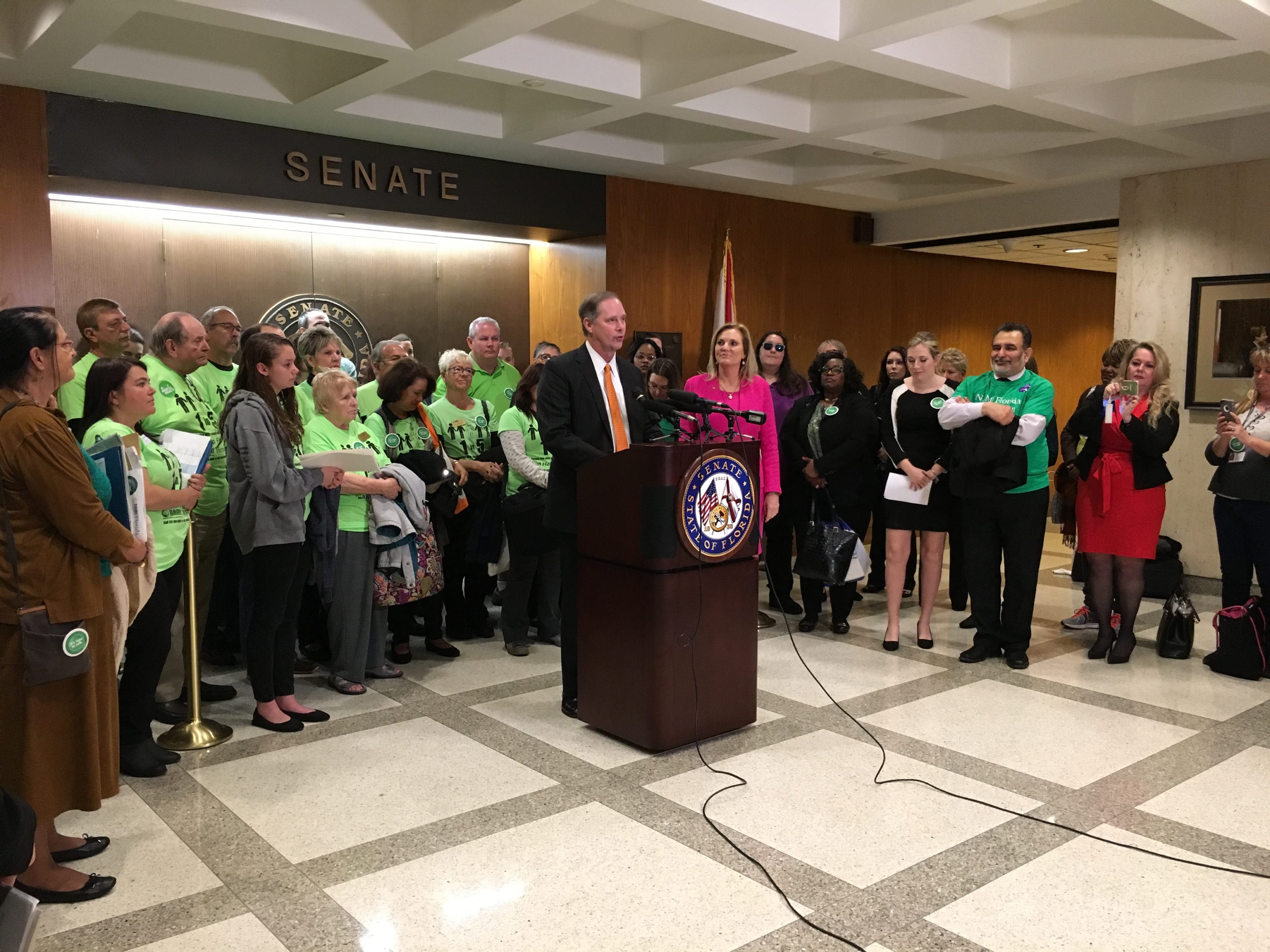 More than 150 mental health advocates visited the Capitol Wednesday to urge lawmakers to pass a slate of bills and approve funding requests covering a wide range of mental health issues, including the opioid epidemic.
"Behavioral Health Day at the Capitol allows, peers, caregivers, friends and family to unite to talk about mental health issues and work with lawmakers to find solutions," said Alisa LaPolt, Executive Director of NAMI Florida. "With the current dialogue in the state around the opioid epidemic, it is important that we also address the prevalence of mental illness with opioid addiction and substance use disorder. These issues go hand-in-hand in the majority of cases; we can't treat one without the other."
Along those lines, the National Alliance on Mental Illness Florida is in favor of proposals by Sen. Lizbeth Benacquisto and Rep. Jim Boyd (SB 8/HB 21) that would revamp the Prescription Drug Monitoring Program and limit opioid prescriptions in Florida to a three-day supply or a seven-day supply if deemed "medically necessary."
The group is also looking for the state to commit $25 million in funding to expand services and the authorization to spend another $27.1 million in federal State Targeted Response funds, a request they share with Gov. Rick Scott.
Sen. Wilton Simpson and Rep. Heather Fitzenhagen both spoke during a Wednesday press conference for Behavioral Health Day, and each encouraged their colleagues in the Legislature to set aside any stigma and start talking openly about mental health.
"Many people are afraid to talk about mental illness because they are afraid to be judged. It's time that we set aside the stigma and address something that affects nearly every Floridian – moms, firefighters, students, families – it is time that we address the opioid epidemic and mental illness, which often goes hand in hand," Simpson said.
He added that he was "proud to report" the Senate has advanced SB 8 as well as SB 434, which would set up a pilot project to treat infants who were exposed to drugs in the womb before birth, and SB 440, a bill co-sponsored by Simpson that would establish the "Florida Veterans Care Program" to provide an alternative to VA medical care for veterans.
Fitzenhagen added that she "looked forward to changing some of the statistics" on mental health in Florida during the 2018 Legislative Session.
Other priorities of NAMI include bills that would provide workers' compensation coverage for first responders suffering from PTSD (SB 376/HB 227); mental health services in public schools (SB 1434); inmate reentry programs (SB 1222/HB 1409); and psychiatric medications for inmates who are being held in Florida jails due to being adjudicated incompetent to proceed in with court hearings (SB 960/HB 721).