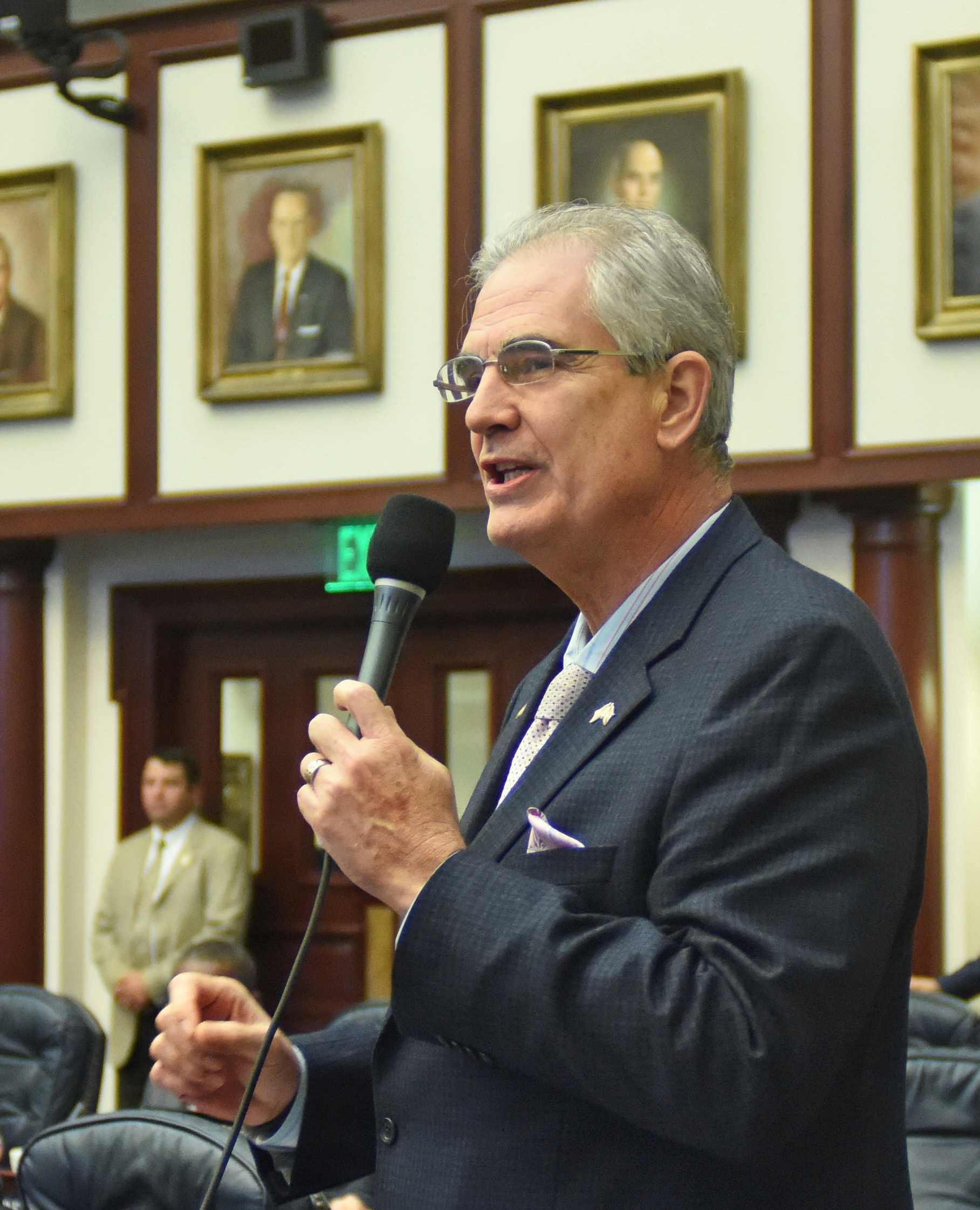 In a speech to the Flagler County Tea Party this week, former state Rep. Fred Costello explained why he stayed in the 2016 race against incumbent U.S. Rep. Ron DeSantis.
Costello, running now as he did then for the Republican nomination in Florida's 6th Congressional District, was one of two candidates who didn't back out of the race when DeSantis reversed course from his U.S. Senate bid in the summer of 2016.
Costello finished a distant second to DeSantis in the primary, garnering 24 percent of the vote.
Costello's recollection: that DeSantis told him he wasn't getting back in the race, and that Costello relied upon that guidance when he abandoned his spot in the state House. When DeSantis reversed course, Costello felt bound to honor his commitment to follow through on the race.
DeSantis' team demurred comment on this version of events
"I support Ron DeSantis as an outstanding member of Congress," Costello said, "but I'm going to tell you the truth."
"I contacted Ron DeSantis and said 'my understanding is you're running for Senator'," Costello continued. "If Marco Rubio gets back in this race, are you going to get back in the congressional race?"
"The answer was quote 'it will not happen'."
"So I left the Florida House and ran for Congress. Then when Marco Rubio got back in the Senate race, Congressman DeSantis got back in the congressional race," Costello asserted.
"Many people think that's just politics," Costello said.
"I chose to keep my word," Costello added, to current Rep. Tom Leek, who launched a run expecting the House seat to be open.
"I figured I was out of politics and that's fine," Costello continued, "then I hear that Ron is running for Governor. So I wait and find out that he is going to run for Governor."
"I believe I am the guy who can best represent us at the federal level," Costello continued, "so I got back into this congressional race."
In 2016, Costello maintains he was not running against DeSantis; rather, he "did what [he] told people he was going to do."
"We had zero doubt we were going to lose … but my choice was to either do something I said I wasn't going to do, or do something I said I was going to do."
Costello has been eying the Congressional seat for some time, and when running in 2016, he said he was "in it to win it" even after DeSantis made his bid for re-election.
"DeSantis' decision to back out of the U.S. Senate race and enter the Congressional District 6 race rather than run in Congressional District 4 where he lives does not in any way change my focus," Costello said.
"In spite of the odds favoring a candidate with over $3 million in the bank, I will enthusiastically continue my campaign to serve as our District 6 Congressman, where I have lived for 39 years, as I said I would do," Costello added.
Costello went on to contrast himself, "a candidate with a solid conservative record as a state representative who is focused on the needs of our community and our great nation," versus the incumbent, "a candidate who is not a part of our community and has already demonstrated he is more interested in raising his national profile as a career politician in preparation for higher office than serving his constituents as their Congressman."
Costello, a former Ormond Beach mayor, added that unlike, "DeSantis, who lives near Jacksonville outside District 6 and has already demonstrated he is looking toward the next step in his political career, I will be fully focused on Congressional District 6 for the next eight years should the voters give me the honor of representing them as their member of Congress."
Costello maintains he timed his launch to ensure that DeSantis was running for Governor before jumping in; however, that narrative is disputed by one Federal Elections Commission complaint.
The charge: Costello had campaigned before becoming a candidate, telling potential voters and media in Florida's 6th Congressional District that he was the "best candidate" and outlining his policy platform since Summer 2017 — months before DeSantis launched his campaign for Governor.
Costello believes the complaint is without merit, as any comments pre-candidacy were predicated on a condition.
"I am fully confident I always said I would be a candidate "IF" Congressman DeSantis runs for Governor instead of re-election to Congress. And it was not out of concern for the FEC. I always said "IF" to assure friends that I would not run against Congressman DeSantis because we all like him. If necessary I can provide names of attendees at various meetings who will state that when candidates were invited to come up and speak, I did not go up and speak until the presider added a comment such as 'and those thinking of running are also invited to speak' at which time I would go forward and relate that I would run IF Congressman DeSantis did not run."
Costello has two primary opponents of note: businessman John Ward and former Green Beret Mike Waltz.