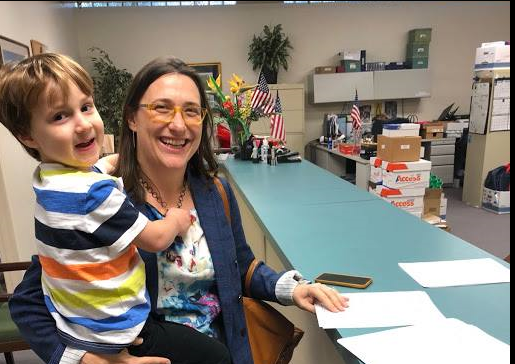 Democrat Sunny Gettinger entered the race in Jacksonville City Council District 14 Thursday.
Gettinger, a former Chair of Riverside Avondale Preservation, has an impressive résumé.
Gettinger, professionally a communications manager for Google Fiber, began working for Google in 2006. Additionally, she served as associate director of press advance and Florida recount media coordinator for the DNC after the 2000 election
Gettinger has a Bachelor's from Yale, and Master's Degrees in Public Policy from Harvard.
As an indication of her bona fides, Duval Democratic Party Chair Lisa King welcomed Gettinger to the race Thursday.
"Ok, Democrats! You've been asking for a candidate in District 14 and now we have one! So proud Sunny Gettinger has taken this big step. She's SUPER qualified to serve us," King posted to Facebook.
Gettinger's husband, Trey Csar, likewise is well-known in Jacksonville as president of the Jacksonville Public Education Fund.
Gettinger posted her filing to her personal Facebook page Thursday, and the response was huge.
"Humbling, shocking, surprising," was the candidate's description.
Gettinger, though "proud" of being a Democrat, knows that "city politics at its best is non-partisan" and that "no one has a monopoly on good ideas."
Gettinger even respects Mayor Lenny Curry, at least in terms of his "get it done" spirit.
A previous chair of the Riverside Avondale Preservation board, Gettinger is obviously interested in the elements that make a neighborhoods work. She worked with current Councilman Jim Love on that board, and appreciates Love's ability to "find solutions" and avoid the "nuclear option."
"His leadership style has done a lot for this community," Gettinger said.
With RAP Board experience and on the Google Fiber project, Gettinger has an especial interest in zoning and permitting, topics that aren't of interest to everyone on the City Council as a candidate.
"PUD after PUD," Gettinger noted, sounding like former Council President Lori Boyer. "Maybe the zoning code doesn't work."
Building along waterways strikes her as a dubious strategy, given back to back years of intense storms.
Gettinger's entry into the District 14 race will ensure the debate is among the most elevated in any Jacksonville City Council district. She is a serious Democratic candidate who will have support from the community and access to fundraising that will make her competitive in the Jacksonville district spanning from Riverside and Avondale through Ortega to NAS Jax.
A serious Republican candidate, Randy DeFoor, entered the race in September 2017. It will be interesting to see how DeFoor and Gettinger, two accomplished candidates, debate the issues of the district, which is less a cohesive whole than a collection of neighborhoods with their own sense of place and priorities.
DeFoor, a senior vice president for the National Agency Counsel at Fidelity National Financial in Jacksonville, is running as a Republican, and her campaign is being run by Tim Baker, one of Mayor Lenny Curry's political advisors.
DeFoor has already raised over $100,000, setting a bar that Gettinger will have to match early on.
Gettinger knows and likes DeFoor, and is "excited about the conversation between two female candidates."
Of course, the race won't be so binary in the end. Nine candidates ran in 2011, the last time the seat was open.
And other candidates, who will inevitably make forecasting the race challenging, have and will continue to emerge.
Gettinger and DeFoor are not alone in the race: there is also a male candidate running, Republican Earl Testy, who presents a decided contrast.
Testy has raised $164 so far; however, he has garnered earned media via a series of opinions that are nightmare fuel for many readers.
In the midst of the #MeToo movement emerging last year, Testy asserted that sexual harassment was the fault of the female "libido."
We are hearing that a second Democrat will get into this race, though that Democrat's strategist is mum on identifying him.