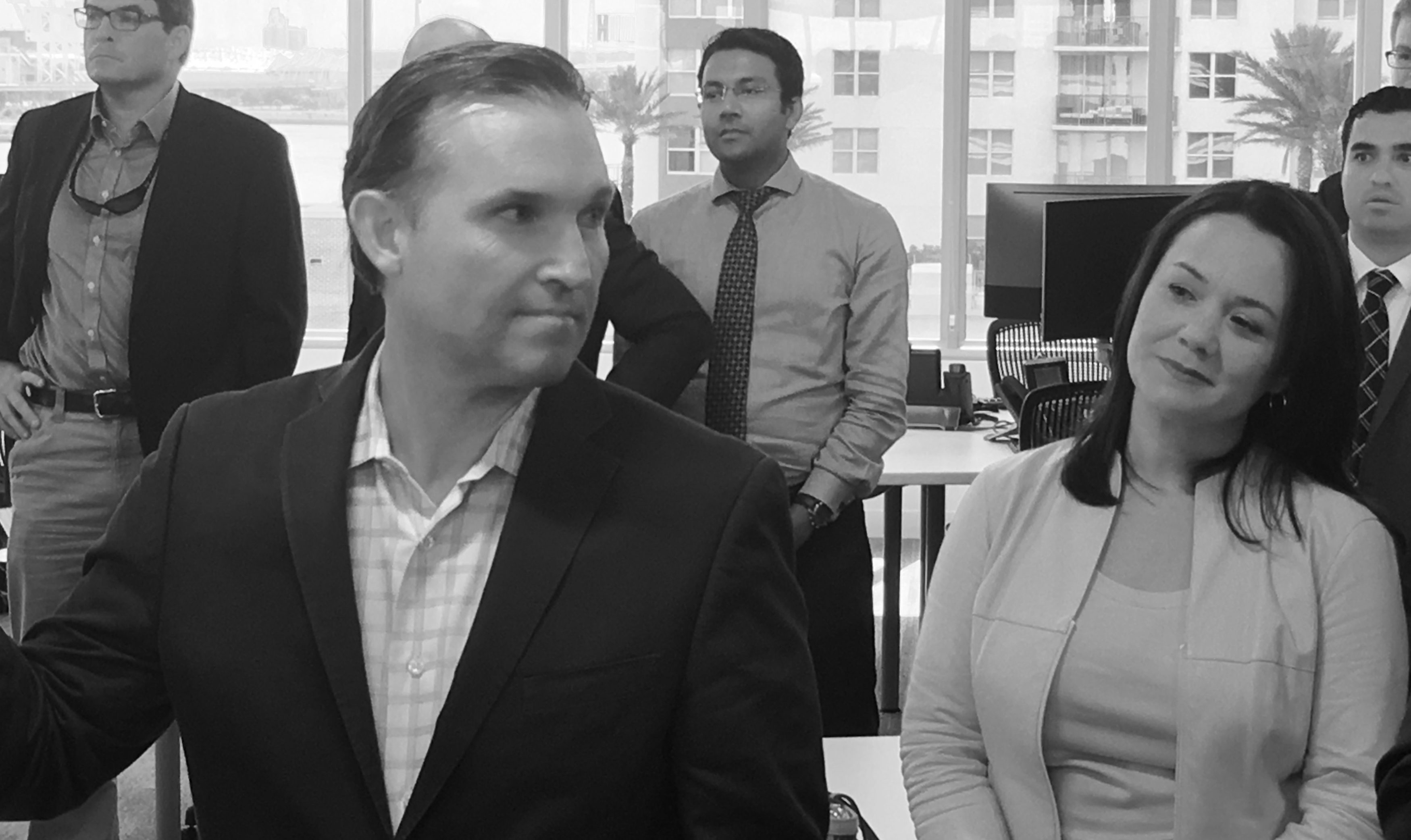 A power struggle between Jacksonville Mayor Lenny Curry and City Council President Anna Brosche continued Monday.
The latest field of battle for the two Republican CPAs: the JEA valuation study that will be finalized Wednesday.
Brosche rebuffed JEA Board Chair Alan Howard's call for a special Council meeting that day to discuss the study, which will suggest exploring the true market value of Jacksonville's public utility. So Curry called the meeting.
The two have very different narratives, continuing a leit motif established throughout the Brosche Presidency.
Brosche contends the mayor's office wanted "emergency legislation" passed. Curry vigorously denied that assertion, and slammed Brosche's assertion as one in a series of falsehoods.
"Her suggestion that me or a member of my administration wanted emergency legislation, to push forward something without public input is disgraceful, irresponsible, ridiculous, and consistent with what she did when she made those slanderous allegations about a member of my staff during the Kids Hope Alliance [debate]," Curry said.
"We all have resumes, we all have histories. We can evaluate people on how they've acted, not [just] what they've said. Hopefully the two are consistent," Curry continued.
"Two and a half years in office, campaigned before that. Said what I was going to do in office. Pursued those issues in a very public way. Town hall meetings on tough issues, pension reform — a referendum and a very public discussion. Kids' reforms — a very public discussion," Curry added.
"This is consistent with how I and my team have operated for two and a half years in office. I'll let our action speak for itself," Curry said.
In an op-ed over the weekend, Brosche indicated interest in a voter referendum; it's unclear if that referendum could be binding, given the General Counsel's position is against referendums that assume a super-legislative role.
"I'm not opposed to a referendum. I don't flinch at a referendum. I had a very big issue on the ballot that folks said 'you shouldn't do this now. You shouldn't do this in your first year.' I did it. I looked the people in the eye. Described the problem and together me and the people of Jacksonville and the City Council got it done," Curry said.
"All options will be on the table should there be next steps," Curry said. "I think the question for the Council President though is when you throw a position out there, specifically what does that mean?"
"Is she suggesting a referendum now that asks the people of Jacksonville should we consider a sale, or a referendum in the event we get a buyer and work out a transaction? Those are two very different scenarios with two completely different outcomes and approaches. I've not heard any specificity," Curry said, noting there would have to be a charter change.
"This call for 'transparency' from the Council President is completely inconsistent with not agreeing to this meeting," Curry added. "It is consistent with what happened with children's reform," Curry added, when Brosche called a meeting and cancelled it.
Curry noted that, despite "a year of a Council President that has chosen to oppose many of the things that we put forward, that's the Council President's prerogative."
Curry, vowing to "take all the information available and making it public" for "ratepayers and taxpayers," said his office would "facilitate a way to make sure that you and everyone in Jacksonville" have an opportunity to see what's being laid out Wednesday by the utility.
"I'm going to facilitate that," Curry added. "I think it's important that the public, the city council, the media all absorb this information at the same time. There may be next steps, there may not. We'll have to see."
There will, Curry affirmed, be no action items in this meeting.
In comments Monday, Curry noted two questions to be answered: "Is it good for ratepayers and taxpayers in Jacksonville? And is it good for JEA — the thousands of employees that put literally their careers and families invested in this organization to serve the people of Jacksonville."
"We can't answer those questions until we see the results of the study and the report that's been done, and follow the process from there like I've done everything in the two and a half years I've been in. And do it in a way that communicated with the public," Curry said, as his administration did with pension reform ("a very public discussion that I led for a very long time").
"I believe that the public, the media, my administration — that we should all see this report when it's available," Curry said.
Reporters asked why the Council president would obstruct that process.
"I can't speak to why the Council President would do that," Curry answered. "It's unfortunate, but I'm working right now to facilitate, to make sure this information is public when it's available, and it looks like it's going to be available Wednesday."
"I haven't seen the report. I think we should all see it at the same time," Curry said, adding that "talk is cheap. Rhetoric is easy. I'm all about action."
Curry and Brosche have clashed on issues before.
Brosche led in calling for the removal of Confederate monuments, an issue on which Curry didn't take a position.
And Brosche was not as enthusiastic about pension reform as Curry would have liked.
And the aforementioned children's reform issues.
On this issue, as previous ones, there is daylight between the leader of the City Council and the leader of the city.
"Clearly we have different interests or different plans … I don't know what drives him," Brosche said. "I can't speak to what motivates him. I can only speak to what motivates me."
Developing story … updates to come.