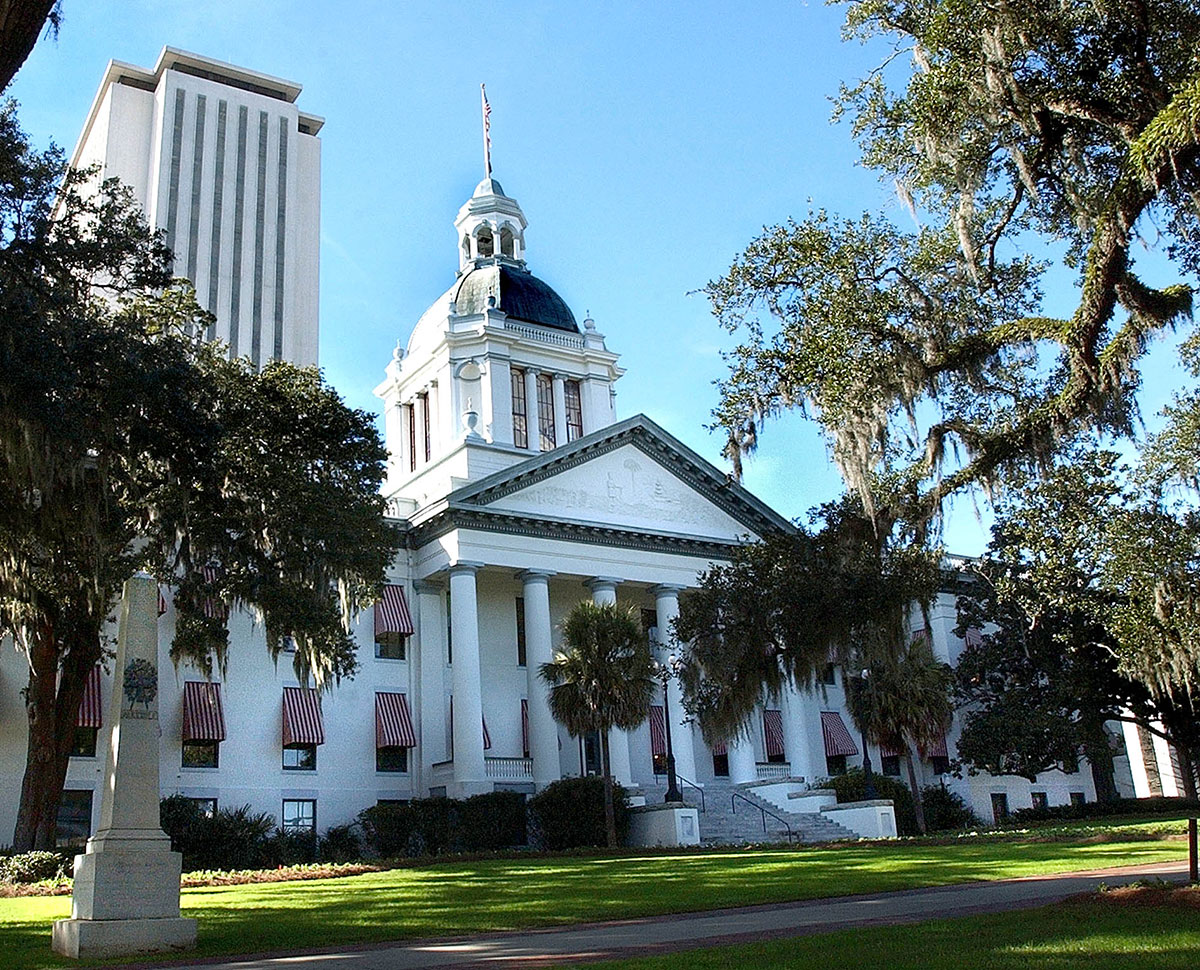 Sunburn – The morning read of what's hot in Florida politics.
By Peter Schorsch, Phil Ammann, Ana Ceballos, Daniel McAuliffe, and Jim Rosica.
Of the thousands who flocked to Tallahassee Wednesday to ask lawmakers and state officials for an answer to gun violence, one man stood out.
There, among a sea of young faces, was Sidney Walton.
Sidney, a 99-year-old World War II veteran, carried a sign that said "Disarm Hate." Sidney and his son Paul are based in San Diego, California.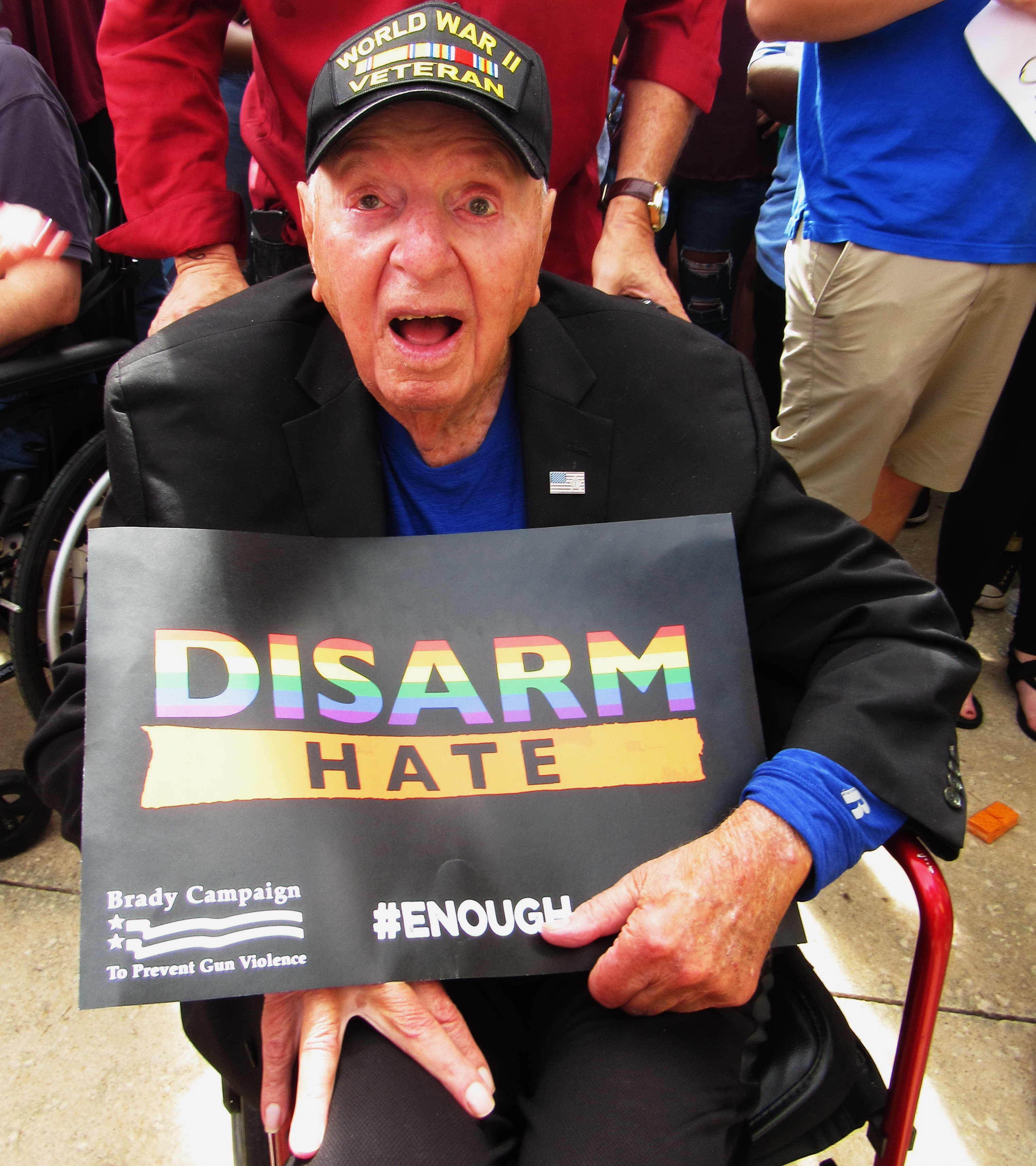 They travel the world advocating for good causes. The San Diego Union-Tribune reported last year how the duo had "crisscrossed America and traveled to 29 countries in the past four and a half years."
"They are on a nonstop marathon to scratch everything off their bucket lists and then some," the paper said. "They've seen four U.S. presidents, gone to the Oscars, Emmys and Tony awards, watched Super Bowls, NHL Stanley Cup playoffs, the London Olympics and a U.S. Open."
"Along the way they've met Prince Harry, the Dalai Lama, Katy Perry, Usher, John Legend, Nicole Kidman, James Corden, Chef Gordon Ramsay, Lady Gaga, Vin Diesel, Beyoncé, Jay Z and Lady Gaga, to mention a few.
"Rihanna even saluted Sidney, wearing his WWII visor, during a concert."
Paul told us they came to Tallahassee from a visit in South Florida to join in the rally without so much as a second thought.
"I carried a machine gun defending our great country in Europe, but I hate the thought that we have to defend our children from guns here in our schools," Sidney explained. "That's sad and must be stopped."
— SITUATIONAL AWARENESS —
— @RealDonaldTrump: I will always remember the time I spent today with courageous students, teachers and families. So much love in the midst of so much pain. We must not let them down. We must keep our children safe!!
— @MichelleObama: I'm in total awe of the extraordinary students in Florida. Like every movement for progress in our history, gun reform will take unyielding courage and endurance. But @BarackObama and I believe in you, we're proud of you, and we're behind you every step of the way.
— @MarcACaputo: Whether you believe in gun control or not, the testimony of the Marjorie Stoneman Douglas HS mas shooting survivors is as powerful as it is tragic. And if you think these kids are actors, you suck
— @RadioRicko: One hell of a turnout for the gun-control rally in Tallahassee. Haven't seen this many TV cameras since the recount of 2000
— @AmberMariano: For those of you confused and upset about yesterday — we are confused and upset too. When lives are at stake 'procedural games' are not the answer. Looking forward to working on BIPARTISAN gun reform & policy change on this issue.
— @NewsBySmiley: Emotional moment at the BB&T Center in Sunrise where CNN is holding its town hall. Bob Runcie has all the Stoneman teachers stand up for an ovation
— @EricWemple: This @cnn town-hall event on gun violence is riveting. Great format, perfect timing. Crowd won't allow a single equivocation, as Sen. Rubio is learning with every utterance.
— @Eosnos: Watching a teenager fundamentally challenge Rubio's talking points feels like watching a generation call B.S. on a whole form of politics. For years, Rubio's weakness has always been inauthenticity, but no journalist (including this one) has evoked it as vividly.
— DAYS UNTIL — 
Winter  Olympics Closing Ceremony – 3; Last day for regularly scheduled legislative committee meetings – 5; Disney Epcot International Flower & Garden Festival – 7; Last day to take up Special Order Calendar – 11; Deferred Action for Childhood Arrivals program termination begins – 11; Sine Die (maybe) — 13; St. Patrick's Day – 23; March For Our Lives gun violence protest – 30; Major League Baseball Opening Day — 37; Easter – 38; NFL Draft begins – 63; Close of candidate qualifying for federal office – 71; Solo: A Star Wars Story premier — 90; Close of candidate qualifying for statewide office — 120; Primary Election Day — 187; College Football opening weekend – 191; General Election Day — 257; 'Hamilton' comes to the Straz Center — 355.
***Today's SUNBURN is brought to you by Spectrum Reach, the marketing platform of choice, connecting you to your target audience on TV, digital and mobile. With access to our powerful data and insights, solutions for every screen, and the best programming content on the top 50+ networks, we'll help you reach the right customers for your business. SpectrumReach.com #NeverStopReaching***
— THE RALLY —
"Demands for action intensify at huge rally at Florida's Capitol" via Steve Bousquet, Lawrence Mower, Emily L. Mahoney and Mary Ellen Klas of Tampa Bay Times — Florida became the epicenter of a historic debate over gun violence … a week after the massacre in Parkland. … thousands of people, many of them students, militantly demanded action by legislators in the last two weeks of the session or risk being thrown out of office … "They were students and teachers and coaches and they died because you failed," student Sheryl Acquaroli said of Florida's leaders, "and they are bigger heroes than you will ever be." … Hundreds of students walked the Capitol's halls in an outpouring of grief, anger and determination, shouting chants outside the doors of the House chamber. … Local high school students were excused from classes and adults arrived in buses from across the state. … Across the state of Florida Wednesday, students walked out of classrooms to protest gun violence.
— THE STUDENTS —
"Richard Corcoran to teens: Gun legislation 'on the table' " via Jim Rosica of Florida Politics – House Speaker Corcoran told a group of Marjory Stoneman Douglas students Wednesday "how guns are treated is absolutely on the table" for bills that are in the works. Corcoran, a Land O' Lakes Republican, and other House members met with dozens of teens who attend the Broward County high school in a midday meeting on the House floor. Lawmakers are now struggling to come up with a legislative response to last Wednesday's Parkland high school shooting. The 2018 Legislative Session is slated to end March 9, just two and a half weeks away. Many in the audience seemed boggled at the state's approach to gun control, with some asking how people are able to get assault rifles and what lawmakers plan to do, if anything, about it.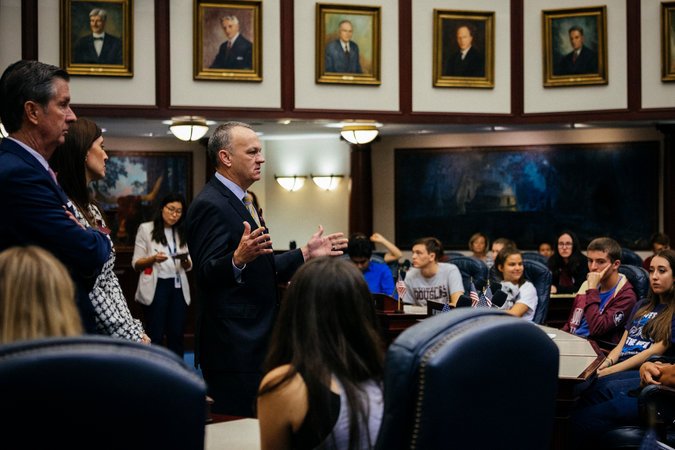 "Florida students began with optimism. Then they spoke to lawmakers." via Julie Turkewitz of The New York Times – A week after a shooting rampage killed 17 at their high school, the students headed for the capitol … They had come to urge lawmakers to impose new restrictions on guns, including a ban on the sale of military-style firearms like the AR-15 used in the rampage at their school. Inside, the students divided into groups of 10. Sen. Lauren Book, a Democrat, had helped the students arrange meetings with lawmakers in both parties, and the groups were supposed to meet with some 70 elected officials. Group Six crammed into the elevator with two parent chaperones. They met with Rep. Patricia Williams, a Democrat, and Sen. Debbie Mayfield, a Republican. Mayfield said that changes were needed, perhaps including raising the minimum age to buy powerful weapons, but she rebuffed criticism from a student, Daniel Bishop, 16, that such a change would not actually prevent deaths. "We can't stop crazies," she told the group. Afterward, Amanda De La Cruz, 16, looked distraught. "I want the ban on semi-automatic weapons," she said. "I don't care about the crazies."
"Donald Trump: Florida shooting response 'not going to be talk'" via Cristiano Lima of POLITICO Florida – Trump vowed to take action in response to the Florida high school shooting during a listening session with students, families and school officials, saying the administration will be "very strong" on background checks for gun sales and on mental health. "It's not going to be talk like it has been in the past," the president said at the White House event alongside Vice President Mike Pence, Education Secretary Betsy DeVos and other administration officials. "It's been going on too long, too many instances, and we're going to get it done." Some students from the Parkland high school where the shooting occurred have become outspoken critics of existing gun restrictions. Trump this week urged the Justice Department to finish reviewing a possible ban on a weapons accessory used in last year's Las Vegas shooting, though the moves he's endorsed so far have been backed by the National Rifle Association. "We're going to be very strong on background checks. We'll be doing very strong background checks, very strong emphasis on the mental health of somebody," the president said.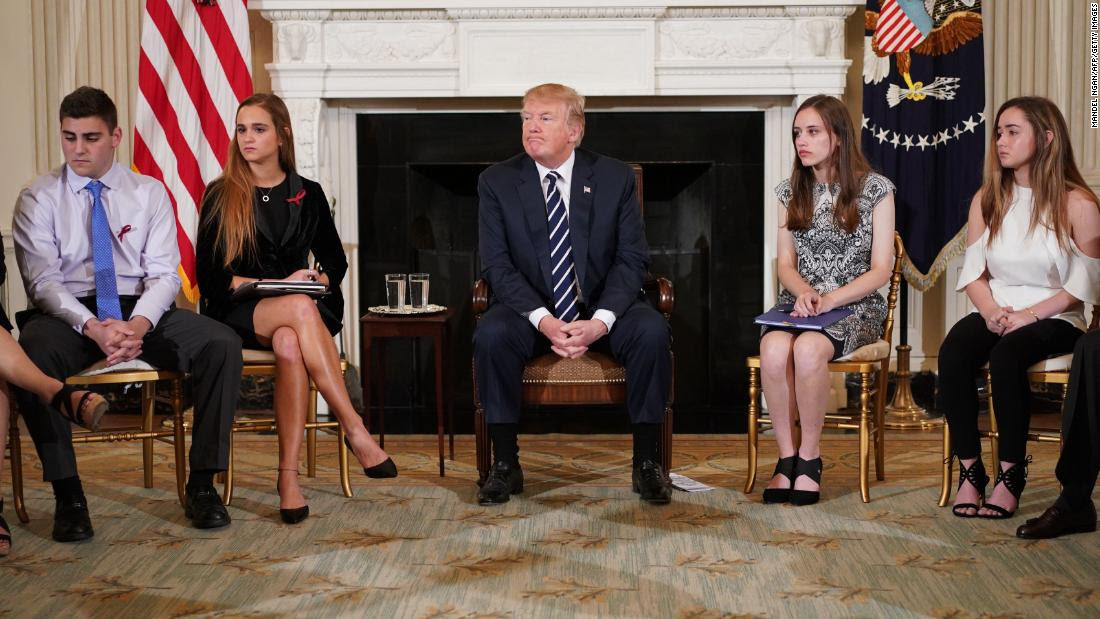 "Treating the victims, and the teenager accused of gunning them down" via Sheri Fink of The New York Times – As the frequency of mass shootings rises, the arrival of a captured gunman in a hospital remains unusual — studies show the majority die at the time of the crime. Many commit suicide … Some are killed by those trying to stop them … Occasionally, however, the very medical staff tending to victims of a mass shooting are called on to treat the suspect. "They called in with a gunshot wound," Dr. Igor Nichiporenko said. "He stated that he was shot, so everybody thought he was injured." A team of four was assigned to treat Cruz in the emergency room — two nurses and two doctors, including Nichiporenko, the hospital's trauma director, who trained as a trauma surgeon at St. Vincent's Hospital and Medical Center in New York and hails from Moscow. "We just picked people we know can stay cool," Nichiporenko said. "We chose the ones who wouldn't get emotional about it." The hospital had already been locked down — its entrances, exits and trauma rooms were guarded by security staff.
— THE TOWN HALL —
"CNN Parkland town hall crowd expresses powerful gun control message" via Scott Powers of Florida Politics — If the crowd at the Wednesday night's gun discussion at the BB&T Center in Sunrise was indicative of more than just a normally Democratic community now suffering from one of the most horrific school massacres in history, then Republicans such as Sen. Rubio and staunch 2nd Amendment advocates can find little place there.
In the CNN post-Parkland massacre town hall meeting show "Stand Up," televised live Wednesday night, students', teachers', family members' and others' anger and conviction over the mass murder at Marjory Stonemand Douglas High School was clearly focused on gun control, on banning assault weapons, universal background checks and other gun laws.
That left Rubio, who joined Democratic U.S. Sen. Bill Nelson and U.S. Rep. Ted Deutch, often in the spotlight of anger and pleading survivors, family and friends, as he defended 2nd Amendment positions opposing many of the gun restrictions the crowd was professing.
The trio of federal lawmakers found their roles well defined from the start, and found that the questioners, including teenagers, harbored no fear or intimidation whatsoever in pressing powerful members of Congress.
"I want to like you. Here's the problem: Your comments this week, and those of our president have been pathetically weak," Rubio was told by Fred Guttenberg, whose 14-year-old daughter Jaime Guttenberg was killed last week.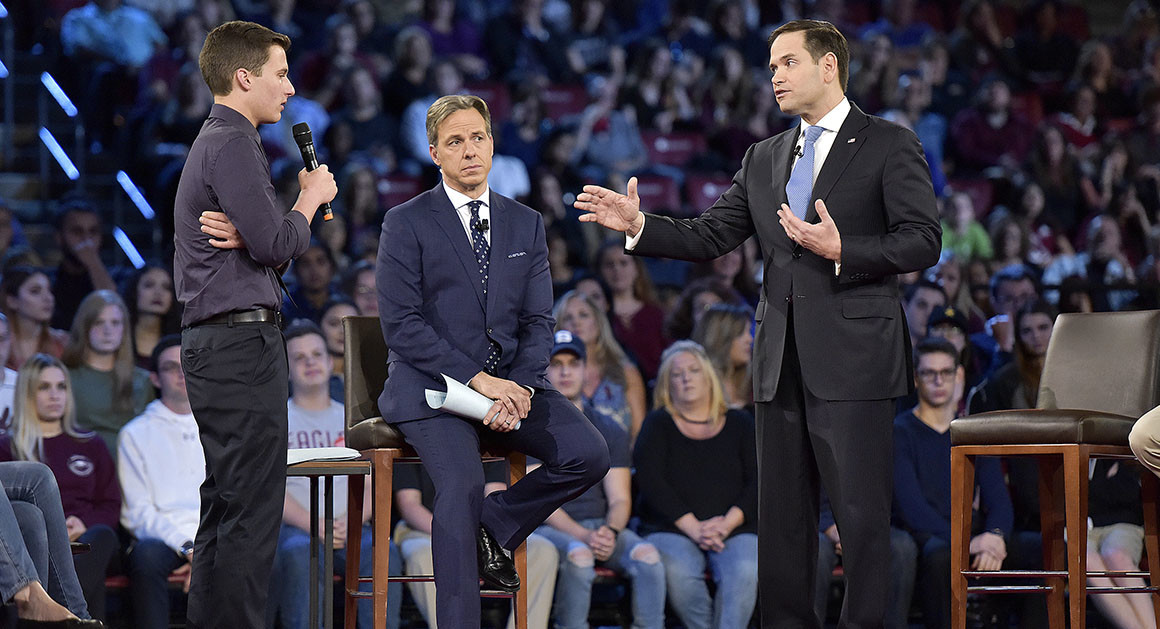 "Rubio shifts on guns during tense forum" via Marc Caputo of POLITICO Florida — Jeered and booed by the crowd, buffeted by tough questions, Rubio stood alone as the only Republican onstage, in purple Florida's liberal bastion of Broward County. He broke with President Trump on whether to arm teachers. Rubio said it was a bad idea. He said he would favor raising the minimum age to purchase an assault rifle from 18 to 21. And he said he would consider restricting the size of magazines for firearms.
It was a striking turnabout for Rubio, who never met a gun-rights bill he didn't vote for in the Florida Legislature and, later, in Congress. But Rubio said he wanted to prevent another massacre and said it was time for everyone to start rethinking their positions. … The crowd, though, didn't seem to agree.
— THE POLITICS —
"Rubio faces backlash from students, gun control advocates after shooting" via Sean Sullivan of The Washington Post – Rubio has become the face of congressional inaction on tougher gun restrictions. … In the hours after the Parkland shooting, Rubio stood on the Senate floor and said that most of the tougher gun restrictions that others have proposed wouldn't have prevented it. The state's highest-profile Republican lawmaker has faced an intense backlash from Americans demanding new regulations on firearms. "Shame on you Marco Rubio & NRA," read a banner that was flown over the South Florida coastline. The liberal advocacy group Avaaz parked three trucks with large red and black signs near a local Rubio office in a nod to the Oscar-nominated movie "Three Billboards Outside Ebbing, Missouri." "I think he's the symptom of a problem, and he represents an opportunity," Avaaz Deputy Director Emma Ruby Sachs said.
"Speaker pulled from panel alongside CPAC over Florida shooting controversy" via Cristiano Lima of POLITICO Florida – Jim Hoft — founder of Gateway Pundit, a conservative site that has previously shared false stories — was slated to speak on a panel on "Social Media Censorship." The panel was organized by the think tank American Principles Project and other groups and was to occur on the sidelines of the annual summit of conservative political figures. American Principles Project Foundation executive director Terry Schilling said Hoft was pulled from the lineup after Gateway Pundit suggested without evidence that students from Marjory Stoneman Douglas High School were coached to criticize Trump's response to the shooting. "The reason that Jim Hoft is not allowed to be on this panel is because of his unfair and distracting coverage of the Florida shooting," Schilling said. Hoft said the breakout session at CPAC had been "canceled," but Schilling said it hadn't yet been called off.
"Despite U.S. sanctions on Russia, Rick Scott offered tax breaks to manufacturer of AK-47 assault rifles" via Dan Christiansen of Florida Bulldog – Scott's administration offered $162,000 in state tax breaks to bring to South Florida the manufacturer of the Kalashnikov AK-47 assault rifle, even though the U.S. had imposed sanctions against Russian-made military assault weapons. The Department of Economic Opportunity signed the tax refund deal with the owner of Kalashnikov USA – RWC Group LLC – in October 2015. Taxpayer money was offered under the department's qualified target industry program that looks to create jobs in exchange for state benefits. In this case, the target industry the governor was trying to attract is listed as "small arms manufacturing." Since Scott's first year in office, the governor has sought to bring gun makers to Florida. In 2011, for example, he promised $1.6 million in incentives to Colt Manufacturing Co. to open a plant and add 63 jobs in Osceola County to build AR-15 rifles, like the one police say was used in last week's slaughter at Marjory Stoneman Douglas High School in Parkland.
"Pro-gun Legislature nears deal on sweeping gun reform bill" via Marc Caputo and Matt Dixon of POLITICO Florida — In a major and unprecedented move toward gun-control in the Republican-led Florida Legislature, the outlines are forming of a deal that would call on age limits and waiting periods for so-called assault rifles as well as a new program to arm school personnel to prevent future classroom slaughters. … "When the people clamor at the rate that they have in the shadow of a terrible massacre like we saw, you see a reaction that you otherwise would not see," said Miami Lakes Rep. Jose Oliva … Oliva said he's not locking down Republican members to vote for the legislation … "it's a conscience vote and a Constitutional issue that every member has to decide." … Sen. Bill Galvano … said that removing schools as so-called gun-free zones has gone a long way to bringing Republicans along to support age and wait period increases for semi-automatic rifles, such as AR-15's. … Still, Speaker Corcoran, who wants to run for governor in a three-way GOP primary, has been uncharacteristically quiet and been put in a no-win situation politically, allies say … "The smart ones are watching what Scott does and what President Trump does and they'll see today that the president is talking about age limits," said a top Republican ally of the speaker who's familiar with his thinking. "If you're Richard Corcoran, you wait and you don't say anything so you can embrace Donald Trump and Rick Scott," the source said.
"Senate Democrats vow to attach gun legislation to moving bills" via Bruce Ritchie of POLITICO Florida — Senate Democrats on Wednesday said they would attach gun legislation — including a ban on assault rifles — to any viable legislation as the end of the 2018 session nears. "So long as assault rifles like the AR-15 are legally sold in this state, so long as they are not banned, their threat to civilians will remain in every school, every mall, every movie theater, every nightclub and in every place the public gathers," state Sen. Oscar Braynon, the Senate Democratic leader, said in a statement.
"Jared Moskowitz rips fellow Democrats for 'procedural games' on guns" via Steve Bousquet of the Tampa Bay Times – Moskowitz criticized his fellow Democrats for their unsuccessful procedural move to force a House floor debate on an assault weapons ban. Republicans blocked the maneuver, and news of it created a social media firestorm. Moskowitz was one of five Democrats recorded as not voting on the motion. He was attending the funeral service for Peter Wang, one of the victims of last week's massacre at Marjory Stoneman Douglas High School in Parkland. Moskowitz is a 1999 graduate of Stoneman Douglas and the school is in his district. Moskowitz said: "I didn't expect the Democratic leadership to expose one of their own members while I was at a funeral paying respects."
"Chris Latvala proudly touts getting a 'D' rating from the NRA on CNN" via Brad Reed of Raw Story – Speaking with CNN's Wolf Blitzer, Rep. Latvala boasted of getting bad grades from the NRA when it comes to his votes on gun-related issues. 'I'm proud to be the lowest rated Republican by the NRA," he said. "I have a 'D' rating." Latvala went on to say that, even though most of his Republican colleagues were to his right on gun issues, he was still optimistic that he could get some of them on board with a bipartisan gun bill that would improve safety for Florida school students. "I think there are numerous, you know, conservatives, numerous Republicans that see these common-sense gun measures, and they certainly will support them," he said. "I think the bills that you will see introduced this week will be bipartisan in nature."
"On gun ban, Kathleen Peters stands her ground" via Florida Politics – Peters doesn't want her vote related to the House's assault rifle ban to be seen as siding with any political faction. "Although I do believe we need common sense gun reform, I voted down on the motion because I am not that narrowly focused," she said. The Treasure Island Republican was one of 71 members who voted against a procedural move sponsored by Democrats to pull the gun ban out of its committees of reference and onto the floor for debate and a vote. "I want real reform, not only to stop mass shootings but to stop all gun violence," she said. "If we just banned assault weapons and did nothing else, we would have done little to protect our citizens in a meaningful way. I do not want to lose another life to gun violence; not through a mass shooting, domestic violence or suicide."
— THE DEBATE —
"Trump on course for clash with House GOP over gun control" via Rachael Bade and Elana Schor of POLITICO Florida – The White House is signaling support for a bipartisan bill that would enhance reporting of violent criminals to the FBI's background-check database in order to stop them from buying firearms. But House conservatives are unwilling to sign on unless the measure is coupled with so-called concealed-carry legislation backed by the NRA. Combining the two ideas would have the net effect of loosening gun controls. The House in December passed a bill that yoked the pair of proposals. Before the vote, House GOP leaders promised conservatives that they would not decouple the background-checks bill from the concealed-carry language, according to four leadership and conservative sources familiar with the whip effort. That sets up the possibility of a clash between House and Senate Republicans. Trump will likely have to decide how hard he wants to push for the stand-alone background-checks bill, at the risk of antagonizing his pro-gun base and GOP allies in the House.
"NRA influential in Florida, but not through campaign money" via Langston Taylor of the Tampa Bay Times — In a state where top Republican lawmakers have pushed bills to make it easier to get guns and shied away from calling for drastic gun control measures, some have assumed Florida's legislators are reliant on money from the National Rifle Association. But that's not how it works. … they don't spend much at all on individual statehouse campaigns. … since 2000, the NRA's donations to current members of Florida's House and Senate amount to a grand total of zero. … For a while, it still bankrolled candidates through their party. From 2005 through 2013, the NRA paid the Republican Party of Florida $85,000 … peanuts to a party that raised $23 million for 2016's election and $51 million for 2012's. Other states' politicians aren't getting more than Florida's. The New York Daily News and The Trace found the NRA has achieved policy successes across the country without spending much at all at the state level. In lieu of contributions, the NRA rewards legislators it likes with letter grades, visible to all of its members.
"Why arming teachers is highly unlikely" via Benjamin Wermund of POLITICO — Trump said that the White House is "very strongly" considering the possibility of arming teachers and other school staff — but the reality is that won't happen anytime soon, even in states that would allow guns in schools … education groups are virtually unanimously opposed to the idea, which they say is asking teachers and principals to do too much. "This is bar none, the worst theory of action I've ever heard," Shanna Peeples, a former National Teacher of the Year award winner, wrote on Twitter. In the days since the Florida tragedy, conservative commentators like Rush Limbaugh and Newt Gingrich as well as some Republican state lawmakers have said teachers, principals and staff should be allowed to bring guns to school. … "There is not a schools person I know who would make this case in any credible manner," said Randi Weingarten, president of the American Federation of Teachers. "Anyone who suggests this has no real understanding of what goes on in schools, or worse doesn't care, and is more focused on the needs of gun manufacturers and the NRA than of children."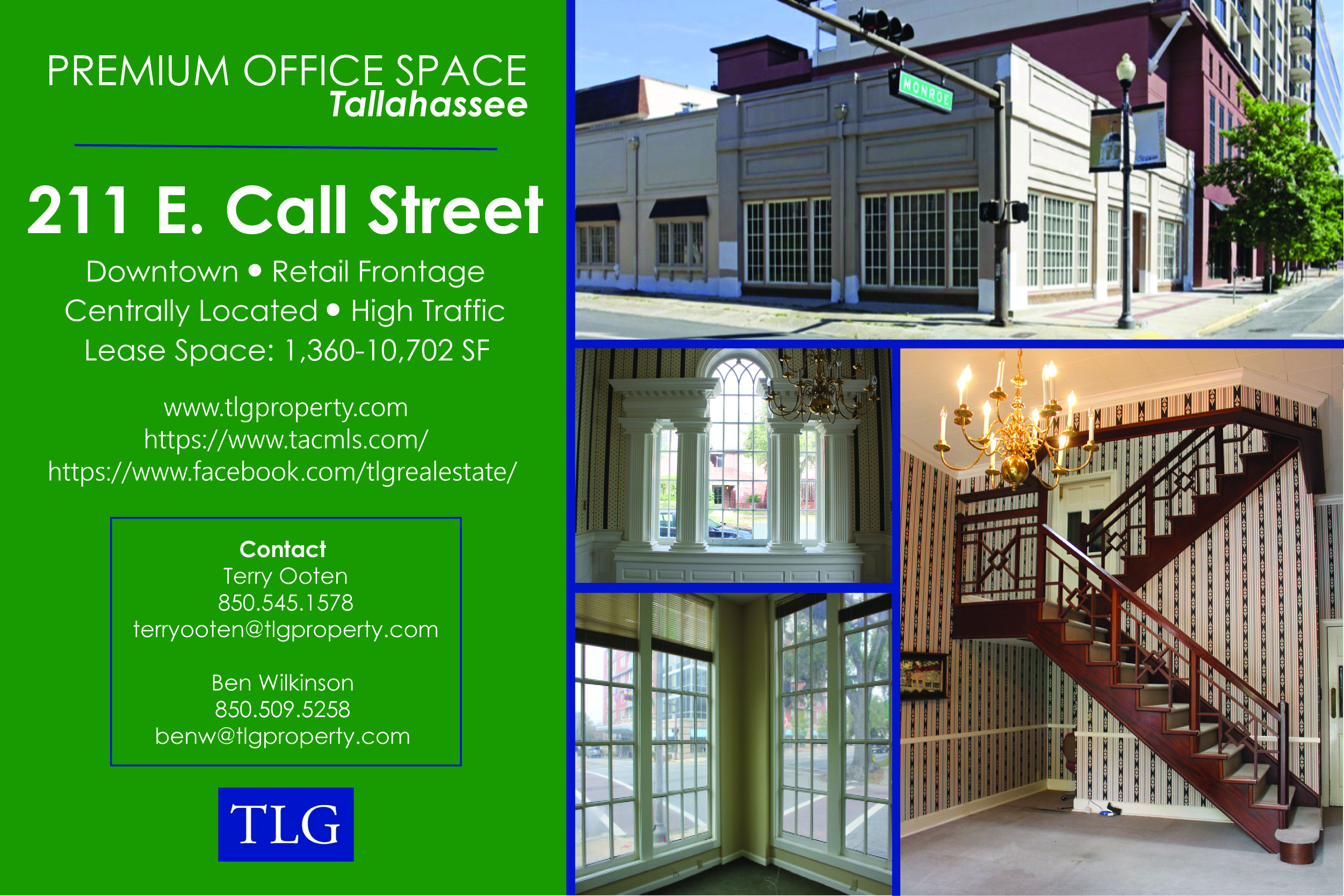 — CAPITOL INSIGHT —
"Lawmakers back move to revise tuition penalty" via Lloyd Dunkelberger of the News Service of Florida –  The House Education Committee amended an "excess" credit hours bill (HB 565) to bring it in line with a Senate proposal (SB 844). The measure would give first-time-in-college students up to 12 extra hours, penalty free, if they graduate within four yearsafter enrollment. Under the current policy, which has been in place since 2012, university students who take more than 132 credit hours of classes for a major that typically only needs 120 credit hours face an excess hour surcharge. It means those extra classes result in students paying double the normal tuition, which averages more than $210 per credit hour at the major universities. The House and Senate bills would let students who take up to 144 credit hours receive a refund for 12 credit hours if they graduate within four years.
"House adds exceptions for opioid limits" via the News Service of Florida — People with cancer or terminal illnesses and certain trauma patients would be exempted from opioid-prescription limits being considered by lawmakers, under a bill approved Wednesday by a House health care panel. The amended bill would limit to three days opioid prescriptions for patients suffering from "acute pain," which is defined as the "normal, predicted, physiological, and time-limited response to an adverse chemical, thermal, or mechanical stimulus associated with surgery, trauma, or acute illness." Unlike an earlier version of the bill, the latest iteration includes exemptions from the limits for cancer patients, people who are terminally ill and those who are receiving palliative care. Trauma patients who meet certain criteria for severity of injuries also would be exempt from the limits. Despite the changes, the bill continued to face concerns from doctors.
"Senate panel pushes criminal justice overhaul bill" via Ana Ceballos of Florida Politics – The measure would require the Department of Corrections to use risk-assessment instruments that can identify the appropriate intervention and program for an offenders in an effort to reduce recidivism. Sen. Jeff Brandes said his bill (SB 1218) could be used as the foundation for "meaningful" criminal justice reform in the future. Lobbyist Barney Bishop told the panel he is in favor of bolstering data collection on the criminal justice field, but said it will cost the state a "good chunk." According to staff analysis, that "chunk" would amount to nearly $1.1 million — nearly $764,000 of which would go to technology-related costs for the assessment system. The Senate Appropriations Subcommittee on Criminal Justice Subcommittee cleared the measure unanimously before adjourning for the 2018 legislative session. "This remains a work in progress and we will continue to work on it," Brandes said. "It's amazing to see the shift we are seeing in the Senate and the Legislature as a whole."
"Prospects for PIP repeal dive as Senate panel disdains the legislation" via Michael Moline of Florida Politics – PIP repeal is not officially dead, but it wasn't looking at all well after a key Senate committee adjourned its last meeting of Session without taking up the matter. "It is referenced to this committee, but was not on this agenda. In theory, it makes the prospects of that policy change happening obviously very hard between now and Session ending," said Miami Republican Anitere Flores, chairwoman of the Appropriations Subcommittee on Health and Human Services. "But anything is possible," she said.
"Transmission line measure goes to Scott" via the News Service of Florida — Trying to undo a 2016 court ruling in a case involving Florida Power & Light, the state Senate on Wednesday overwhelmingly approved a bill that deals with approval of electric transmission lines. The 34-4 vote by the Senate sends the bill (HB 405) to Gov. Scott. The House voted 105-2 to approve the measure last month. The issue stems from a 2016 ruling by the 3rd District Court of Appeal in a dispute involving local governments in Miami-Dade County and FPL about a proposed project that would add two nuclear reactors at the utility's Turkey Point complex. Scott and the state Cabinet approved the project in 2014 in their role as a state power-plant siting board. But the appeals court overturned that decision … the bill approved Wednesday would make changes that would effectively revert to an approval process.
Governors Club Thursday lunch buffet menu – Mixed green salad with assorted dressings; macaroni salad; cucumber tomato salad; potato leek soup; rosemary chicken; grilled salmon Puttanesca; Risi Bisi rice; Tuscan white beans; Italian squash; Panna Cotta flan for dessert.

— NOTES FROM THE CAMPAIGN TRAIL —
"Tom Rooney is leaving Congress because he no longer wants to be 'selfish'" via Ledyard King of News-Press.com — "When you're a congressman, you have to be extremely selfish to be successful and extremely ambitious too," the Okeechobee Republican and father of three boys said in his first media interview since announcing he won't seek re-election to a sixth term in November. "But I just got to a point where my oldest is 16, I have a 14-year-old and an 11-year-old, and I can sense my selfishness is having a negative effect on them because I'm not allowing them to shine," he said. "They need to be selfish now. They need to be ambitious. And it's almost like until I stop doing it for myself, they can't do it." It wasn't the only reason cited by Rooney, 47, who became the latest GOP lawmaker to exit Capitol Hill in a year where many analysts expect Democrats to retake control of the House. He mentioned as contributing factors the prospect of having to raise hundreds of thousands of dollars for re-election, his frustration with Congress' inability to get much done, and his close brush with danger — having just left the scene — during practice for a congressional baseball game in June when a gunman opened fire wounding House Majority Whip Rep. Steve Scalise, and four others.
"Is Donna Shalala 'dominating' the CD 27 field?" via Florida Politics — Well-regarded research strategy firm Bendixen and Amandi International released a poll of the CD 27 Democratic field showing as-yet-unannounced candidate Shalala holding a solid lead among likely primary voters. First, let me say this: I have no qualms about the poll. What I do have a problem with, however, is the editorialized interpretation of the findings by POLITICO Florida, which dubbed her lead as "dominating." It was a respectable, solid, hey-I'll-take-it 24 percent for Shalala. State Sen. José Javier Rodríguez came second with 10 percent, and the rest of the mostly unknown field was in the low single digits. A full half said they "don't know." Is 24 percent a "dominating" lead? Shalala should be holding a comfortable lead. In fact, she should be "dominating" the field, but alas, she is not … she is tied with the rest of the field and is losing to "Race? What race?" by a 2-to-1 margin.
— STATEWIDE —
"Scott's trip to lure Louisiana companies appears fruitless" via Greg LaRose of The Times-Picayune — Tom Leonhard, president and CEO of HRI Properties, said he was originally scheduled to meet Scott last year about a possible development in Tampa. That meeting was canceled when Hurricane Irma led to a state of emergency. "When (Scott) came back to Louisiana for his company recruitment, we talked about our project in Tampa, and he suggested we look at developing property in Jacksonville and in Miami. He never suggested that we move from Louisiana into Florida, and that's clearly not something we intend to do." HRI Properties specializes in historic commercial building restorations for residential and hotel projects. Will Scott, CEO with Search Influence, said he was also contacted "out of the blue" about a visit to his internet marketing company. The governor did most of the talking, pitching Florida's population growth and its lack of a state income tax, he said. "We'd need a lot of incentive to move, but he did make a pretty compelling case," Will Scott said, adding that the governor's "main point was political and that the sales pitch was more of an excuse."
"John Morgan questions whether vaccines, childhood mood drugs create 'monsters'" via Scott Powers of Florida Politics — Orlando lawyer John Morgan, who earned national leadership credibility as a proponent for marijuana while leading the approval of medical marijuana in Florida and nearly ran for governor, has blasted childhood vaccines and mood stabilizing medications for creating "monsters," and linked the prospect to the Parkland shooter. Morgan sent out a flurry of tweets on Twitter and posts on Facebook Tuesday evening … "When you think of all these school shootings by kids think of this … Our children are doped up and drugged their whole life" … "Some of our children are zombies who turn into monsters. I am not surprised." … "Why is there so much autism today? Vaccines are vital but they are administered way too quickly or in such large doses. A discussion is warranted." … Wednesday morning Morgan sought to clarify that he does not want to suggest that vaccines have caused autism. And he apologized for offending anyone.
"'PIP' payment dispute goes to Supreme Court" via the News Service of Florida —  After a divided appeals court ruled against it, Progressive Select Insurance Co. has gone to the Florida Supreme Court in a dispute about how much it should pay to a hospital for treating a man injured in an auto accident … the case deals with calculation of payments under the personal injury protection auto policy of Progressive customer Jonathan Parent, who was injured in an auto accident. Parent's policy had a $1,000 deductible, and his total hospital charges were $2,781, according to the appeals-court ruling. In seeking payment from the insurer, the hospital first subtracted the $1,000 deductible and then calculated the amount owed using a formula in the state's so-called PIP law. The hospital billed the insurer for $1,068. But Progressive used a different method that first applied part of the formula to reduce the overall $2,781 charge. The insurer then subtracted Parent's $1,000 deductible from the reduced amount, made another calculation under the formula and said it owed $868 to the hospital — $200 less than what the hospital billed.
"Disney adding solar farm: Reedy Creek signs easement for 50MW facility" via Paul Brinkmann of the Orlando Sentinel — Reedy Creek Improvement District signed an agreement and easement with Miami-based Origis Energy to build the facility, near ponds that are just east of the toll beltway and just west of Disney's Magnolia and Palm golf courses. The facility will provide renewable solar power to the Reedy Creek Improvement District, and ultimately to Disney World. The complex will sprawl across 270 acres on the western edge of Disney's property with 518,000 solar-panel modules. It's expected to create up to 300 jobs during construction, which is anticipated to start by late spring and be completed by year's end.
"Sarasota commissioner says new $130 million mote aquarium plan is unacceptable" via Chris Anderson of the Sarasota Herald-Tribune — The announcement that Mote Marine Laboratory plans to build a new aquarium outside of the city limits has rankled city Commissioner Hagen Brody, who took his frustrations out on city manager Tom Barwin during a heated meeting … Brody blasted Barwin for not intervening and doing enough to keep Mote from leaving its existing location on City Island and moving to a parcel of land between the Nathan Benderson Rowing Park and University Town Center mall in 2021. The discussion was tense from the start, and at one point Brody said to Barwin, "I really don't think you have been engaged in this all along." When Barwin tried to respond Brody yelled, "Can you let me finish, please?" At that point, Sarasota Mayor Shelli Freeland Eddie interceded to restore order. Still, it didn't take long before Barwin took a shot at Brody. Barwin criticized Brody by saying the commission was unable to schedule weekly meetings until recently because Brody could never attend. Brody, later in the meeting, said to Barwin, "I don't meet with you because I don't trust you."
"Study calls for expansive help for Florida's springs" via Amy Green of WMFE — A joint study by the University of Florida and the St. Johns River Water Management District found nutrient pollution isn't the only factor behind algae blooms in Florida springs. Casey Fitzgerald of the St. Johns River Water Management District says the springs suffer from slower water flows and that light and temperature also are important factors. "And we discovered once established these very large mats of nuisance algae that rest on the bottom persist because very few aquatic animals actually feed on them, and they are actually a biological dead end. So, they aren't adding anything positive to the ecosystem."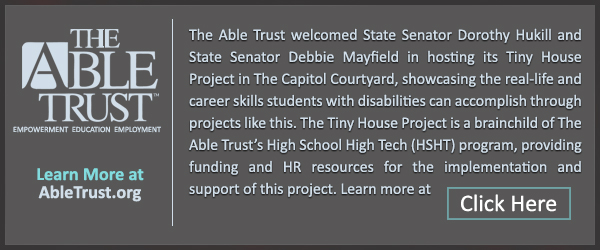 — OPINIONS —
"Joe Henderson: only lowest of low would spread lies about Parkland students" via Florida Politics — What kind of vermin would say two Parkland students grieving from last week's massacre at their high school were really actors who were being paid to make gun owners look bad? I think we can all agree this represents the lowest of the low. Helping spread that lie is why Benjamin Kelly lost his job Tuesday night as an aide to Republican state Rep. Shawn Harrison of Tampa. Kelly sent an unsolicited note that said, "Both kids in the picture are not students here but actors that travel to various crisis when they happen." When Leary asked for proof, he was provided with a link to a YouTube conspiracy video. Not long after, Kelly was out of a job. Back in the day, I can remember having a good chuckle at headlines on tabloids like the National Enquirer as I stood in the grocery store checkout line. That was about as crazy as it got. Now, there is a whole industry devoted to tin foil hats and deranged conspiracies. This might be a good time to remember that then-candidate Trump helped further that when he told chief kook Alex Jones that his reputation is "amazing." In their world, truth is whatever they want it to be. Facts are lies. Everything is a cover-up.
"Peter Schorsch: Why the politics of Parkland reminds me of this one scene from The Hunt for Red October" via Florida Politics — Benjamin Kelly, Tampa Republican Rep. Shawn Harrison's district secretary, prompted outrage after telling a Tampa Bay Times reporter that two Parkland students who had appeared in a TV interview were, in fact, "actors" who "travel to various crisis when they happen." "You know you got a shit storm brewing?" I texted him in the late afternoon. Harrison told me then he had "no idea what" was going on, but, to his credit, he moved swiftly and made sure the Speaker of the House fired Kelly as quickly as they could push through the paperwork. "This business will get out of control. It will get out of control and we'll lucky to live through it." Those were the words of Admiral Josh Painter after an F-14 crashes onto the deck of an aircraft carrier in a scene from "The Hunt for Red October." Now, no one involved in the debate about what the Legislature should do in response to Parkland is an F-14 or a Russian jet. But, when you put politicos, like Harrison's aide, in proximity to situations with which they are unfamiliar, if not afraid of, they will react and, react poorly. Or, and this is also likely, they will reveal some part of the true self they would prefer not to have on display. That makes what is happening now amazing to witness: Republican lawmakers (as well as some Democrats), for years protected by several institutional advantages, are running headlong into the politics of Parkland.
— MOVEMENTS —
Rest in peace — "Former Florida Rep. Robert Wallace jumps from Tampa overpass" via Jonathan Capriel and Tony Marrero of the Tampa Bay Times — Wallace ended his life by jumping from a Dale Mabry Highway overpass, records show. He was 65. At least one witness saw Wallace plunge 40 to 50 feet onto Gunn Highway, according to a Hillsborough County Medical Examiner's report. A 911 call came in at 7:02 p.m. and first responders found his body lying on a rock surface next to railroad tracks. The report lists the manner of death as suicide. Wallace, known to many as Rob, served in the state House representing northwest Hillsborough and northern Pinellas counties, beginning in 1994 when he collected signatures to get on the ballot and then beat an incumbent who outspent him. He rode a Republican surge to Tallahassee in the midterm period of the Clinton administration.
"UNF chooses Cincinnati dean as new president" via the News Service of Florida — The University of North Florida Board of Trustees has chosen a University of Cincinnati business-school dean to become the Jacksonville school's next president. The board selected David Szymanski, who is dean of the Carl H. Lindner College of Business and a professor of marketing at the University of Cincinnati, to become UNF's sixth president. The board authorized Chairman Kevin Hyde to negotiate a contract with Szymanski, whose appointment also is subject to confirmation by the state university system's Board of Governors.
Appointed — Felipe Colon and Mark Aesch to the New College of Florida Board of Trustees.
Appointed — Eric Grant to the Tallahassee Community College District Board of Trustees.
New and appointed lobbying registrations:
Douglas Bruce, Colodny Fass: Materials Lifecycle Management Company
Bert Lewis Combs, Radey Law Firm: Auto-Owners Insurance Company
Christopher Finkbeiner, Heather Turnbull, The Rubin Group: Guest Services
Jodi James: Florida Cannabis Action Network
Manuel Reyes, Pereira Reyes Consulting: Florida Onsite Wastewater Association
Sydney Ridley, Southern Strategy Group: The College Board
Katherine San Pedro, Ballard Partners: Epilepsy Foundation of Florida, Mount Sinai Medical Center
— OLYMPIC NOTEBOOK —
"Winter Olympics ratings down, but not exactly on thin ice" via Frank Pallotta of CNN — NBC is still averaging about 20 million prime-time viewers, which not only beats its rivals but it's a ratings windfall that only live events can deliver. Mark Lazarus, the chairman of NBC Broadcasting and Sports, said last week that the network sold over $900 million of advertising for Pyeongchang. The ratings drop is reflective of the "changing TV landscape," according to Stefanie Morales, director of audience intelligence at Magna, a company that monitors audience trends. She said network prime time TV is down across the board so if "you're compounding that loss over four years then these numbers don't look as bad."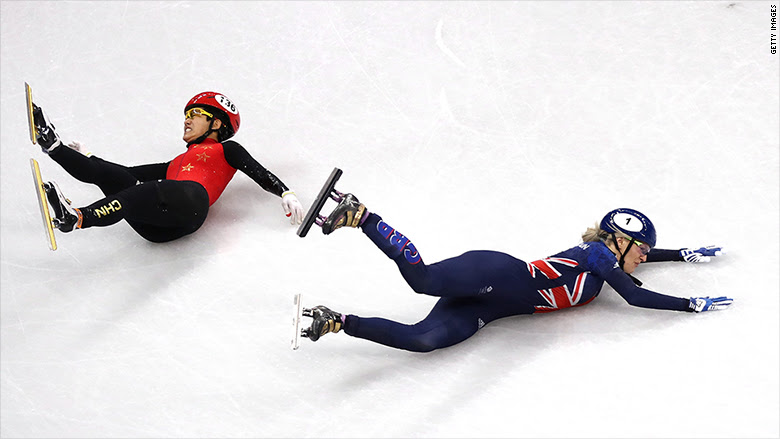 "They left their slower teammate behind. Now their country's fans want them banned." via Chelsea Janes of The Washington Post — Noh Seon-Yeong's tears have mobilized the hosts of the PyeongChang Olympics, marring the Games for a nation that prides itself on sportsmanship and civility. Noh, a long-track speedskater, cried in the infield of the Gangneung Oval after being humiliated by her teammates in the quarterfinals of the team pursuit. Kim Bo-Reum and Park Ji Woo walked by their distraught teammate, unmoved, after abandoning her in an event that is defined by cooperation. Only one person on the Korean team comforted her: Coach Bob de Jong, a four-time Olympic medalist for the Netherlands. Koreans were so angered by the display that a petition was started on President Moon Jae-in's website asking that Kim and Park be banned from the national team because "It is a clear national disgrace that such people with a personality problem are representing a country in the Olympics." By Wednesday, that petition had 400,000 signatures.
— ALOE —
"Florida earns top spot on list of most sinful states" via Samantha Putterman of the Bradenton Herald — Florida has another first place ranking under its belt. But this time the honor isn't so, well, honorable. WalletHub appointed Florida as the most sinful state in the U.S. … the Sunshine State ranked supreme overall, achieving high scores in a number of "low" categories, including vanity and lust. Florida narrowly beat out California for the top spot and surprisingly pulled ahead of No. 3 Nevada, home to Sin City itself. … WalletHub compared states based on seven "sinful" behaviors: anger and hatred, jealousy, excesses and vices, greed, lust, vanity and laziness. … Florida ranked No. 1 in jealousy, No. 4 in vanity, No. 7 in laziness and No. 8 in lust. But, we weren't *so* terrible in the anger and hatred metric, landing in the middle at No. 24. Florida apparently isn't too greedy either, according to the survey, coming in at No. 38. But unfortunately, those other high marks sealed Florida's sinful fate.
"Uber broadens roll out of ultracheap carpool service" via Axios — After recent testing in San Francisco and Boston, Uber is expanding the rollout of UberPool Express, its cheaper carpooling option that requires riders walk a block or two to a convenient pickup location. … Despite the jokes that these companies are reinventing busses, it's already been proven that in some cities there is a demand for private alternatives to public transit.
Happy birthday to Southern Strategy Group's Nelson Diaz.