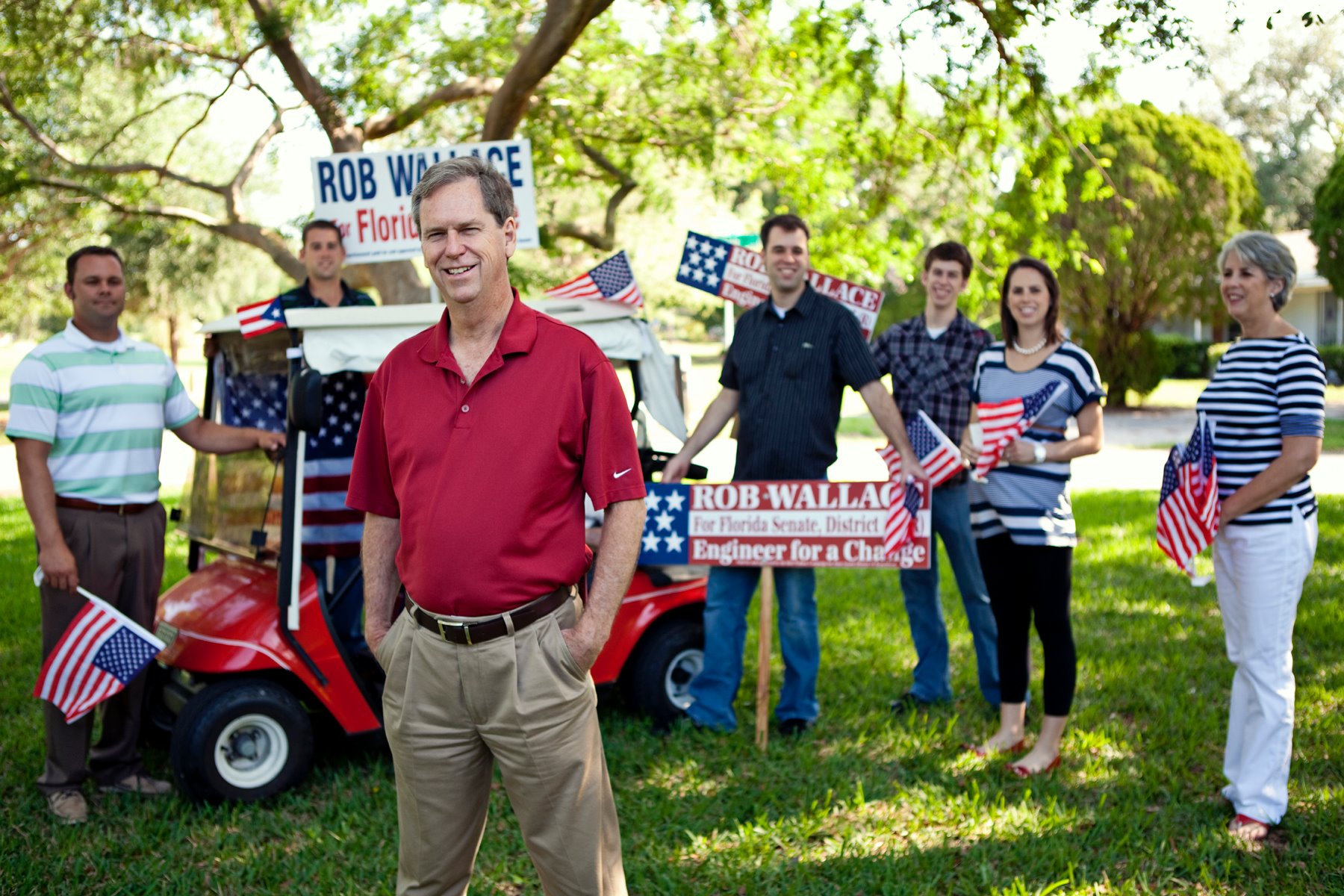 Rob Wallace, a Republican who served in the Florida House of Representatives from 1994 to 2002 representing Pinellas and Hillsborough counties, died on Monday, jumping from a Dale Mabry Highway overpass.
Wallace was 65.
At least one witness saw Wallace plunge 40 to 50 feet onto Gunn Highway, according to a Hillsborough County Medical Examiner's report. A 911 call came in at 7:02 p.m., and first responders found his body lying on a rock surface next to railroad tracks.
Quoting a medical report, the Tampa Bay Times reported that Wallace had been suffering from depression "for the past several years."
Former state Sen. John Grant worked closely with Wallace for about eight years and said he was saddened by news of his death.
"This just proves how much we don't know about how to fight mental illness," said John Grant, who served in the Legislature with Wallace. "It's not like other medical problems where you can get an MRI and find out what is wrong."
After serving eight years in the Florida House, he was thought done with politics but came back unexpectedly in 2010. That's when Hillsborough and Florida Republicans were scrambling for a candidate to replace Jim Norman in the Senate District 17 race in Hillsborough and Pasco Counties.
Norman was kicked off the ballot less than a month before he was expected to win the seat following a trial filed by the Republican he had defeated in the primary that August, Kevin Ambler.
After Ambler lost to Norman, he filed a lawsuit seeking to overturn his loss, arguing that Norman was not qualified to run because he failed to disclose a gift for an Arkansas vacation home on his state ethics forms.
Tallahassee Circuit Judge Jackie Fulford ultimately found Norman's explanation that he knew nothing about the house "patently absurd," and ordered him off the ballot.
Then six Republican representatives from Hillsborough and Pasco counties selected Wallace to replace Norman on the ballot. Norman appealed that verdict, and ultimately got back on the ballot, and was elected to the Senate.
In 2012, after Norman opted not to run for re-election for the Senate seat, Wallace filed to run in the Republican primary that year, where he ended up losing to John Legg. He complained to this reporter that year that the GOP establishment in Tallahassee had intervened in the primary.
"I have no problem with people like (Richard) Corcoran, (Mike) Fasano, (Will) Weatherford, " he said of Pasco area Republicans who were endorsing Legg in the SD 17 race, which encompasses parts of both Pasco and Hillsborough counties.
"They know Legg, they want to work with him, that's fine. But for Tallahassee to come in, that's wrong. In the long run, it hurts the party. It may be expedient in this case or a couple of cases around the state, but they really need to stay out of it."
Wallace attended Tampa Catholic High School and was a USF graduate in 1974, majoring in civil/environmental engineering. In 1979, he founded Environmental Engineering Consultants, Inc.
He said that he got into the environmental business in the early 1970s at a time when the Environmental Protection Agency had just been formed and was dealing with air and water issues on a national basis.
"I came to the belief that man can cause problems and man can solve those problems, and I wanted to be on the cleanup team," he once said.
A memorial service will be held at St. Timothy Catholic Church in Lutz on Monday at 1 p.m.
"He was a true family man who loved and cared deeply for his community," said Wallace's daughter Amber Loper.
In addition to his daughter, Wallace is survived by his sons, Robert, Scott, and Connor Wallace, and his wife, Ann. He had three grandchildren.