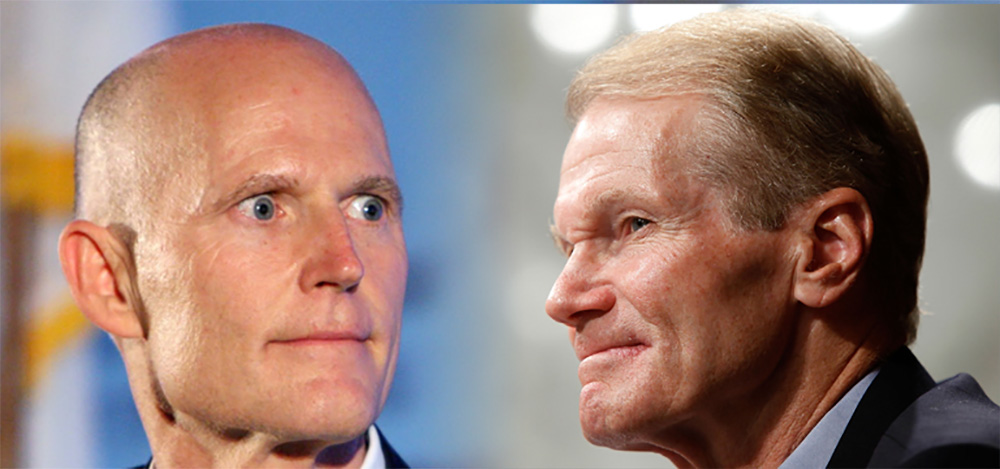 A new poll of the 2018 U.S. Senate race shows Gov. Rick Scott with a two-point lead over Democratic U.S. Sen. Bill Nelson.
The Clearview Research poll contacted 750 likely voters by phone between March 1 and March 7 and found Scott with a 43-41 advantage with 15 percent undecided.
Where the poll differs with other recent head-to-heads is the turnout model, which estimates Republicans will make up 41 percent of the electorate, while Democrats take a 39 percent share and no-party and third-party voters make up the rest.
"A few recent polls released to the media have shown samples that seem to anticipate more Democrats voting than Republicans," said Steve Vancore of Clearview Research. "While that could possibly be the case, we see little evidence for it at this time."
The poll shows Scott with a 50-36 lead among white voters and a 48-41 lead among Cuban Hispanic voters, while Nelson holds a dominating 72-12 lead among black voters and leads 40-32 among non-Cuban Hispanic voters.
Scott also holds the edge among voters aged 35 and older, while Nelson wins the 18-34 age bracket by 7 percentage points. The poll estimates the under-35 age group will make up about 13 percent of the electorate in November.
Scott's edge falls well within the margin of error for poll, which is set at plus or minus 3.58 percentage points at a 95 percent confidence level.
Still, the poll is one of a very few to show Scott with a lead over Nelson, who is running for his fourth term in the Senate.
Other polls have either shown the two in a dead heat, or shown Nelson with a slim lead.
Clearview says the two-point advantage for Republicans is consistent with the past few election cycles.
In 2016, Republicans outpaced Democrats at the polls by 0.6 points, a first in modern history for a presidential race, and in 2014 there was a four-point turnout margin on election day.
The 2014 election, also a midterm, is the most comparable to the 2018 election.
Other recent polls have given Democrats a better share of turnout.
"Historically, Republicans have enjoyed a turnout advantage in midterms, but with the current mood of the country, and a large number of Republican retirements, Democrats are optimistic about an impending blue wave," said Michael Binder, faculty director of the Public Opinion Research Lab at UNF, in a February poll release.
Despite claims of a "blue wave" in 2018, and some evidence of its existence in special elections since 2016, Clearview also points to new voter registrations in the Sunshine State, which show more Republicans signing up to vote than Democrats.
The polls only matter if Scott files for the seat, which he's remained coy about.
Scott said after the 2018 Legislative Session wrapped Sunday that it'll be another few weeks before he announces his "future plans," though most have had him penciled in for the contest for more than a year.
Count Nelson in that group. The incumbent lawmaker has been sending out campaign fundraising emails for months foretelling Scott's candidacy, and in the post-Parkland CNN town hall, he dogged Scott's non-appearance at every opportunity.
Here is the full polling document:
Results of Florida poll from Clearview Research by Peter Schorsch on Scribd