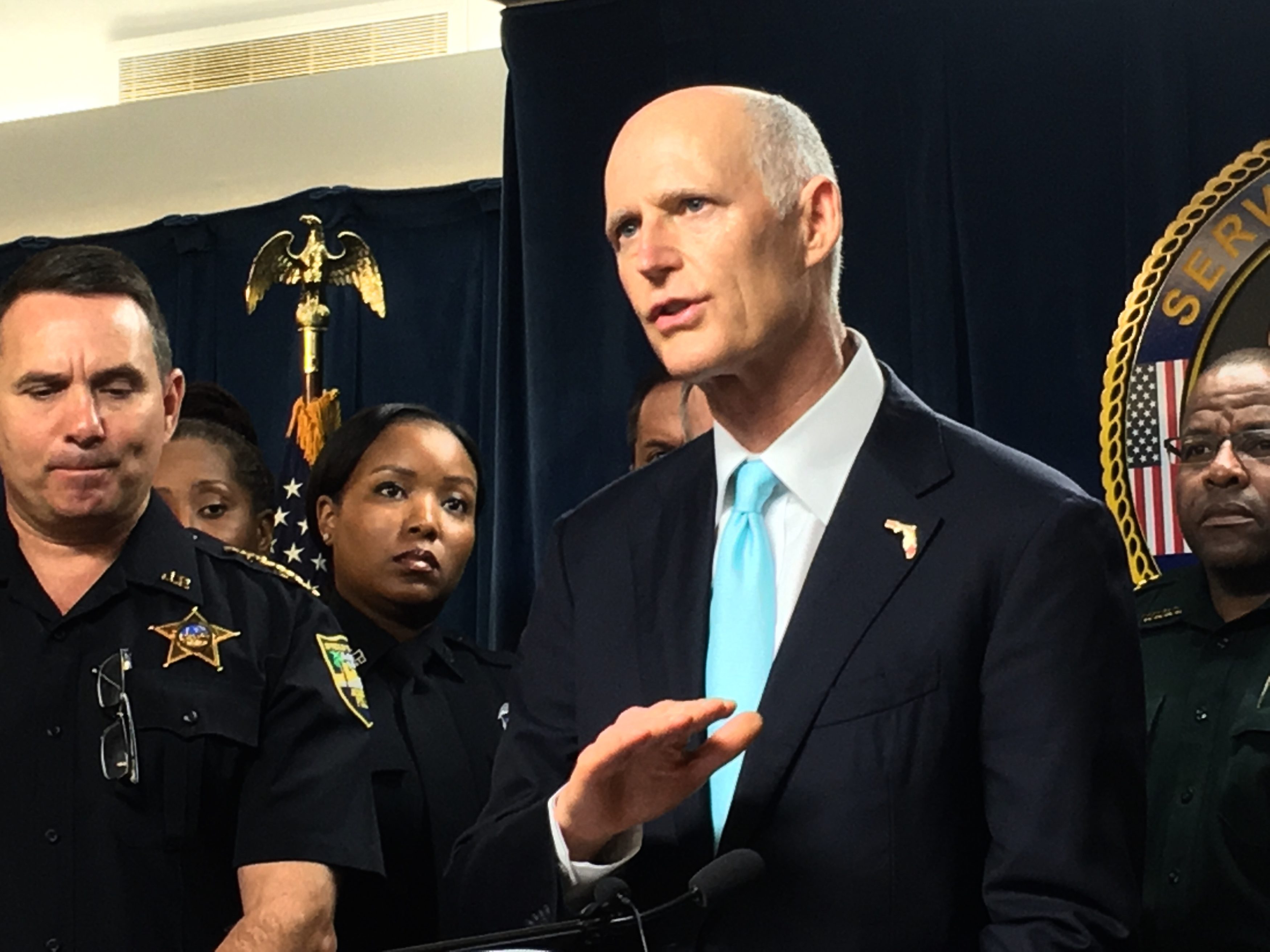 The Legislative Session ended with a flourish from the National Rifle Association: a lawsuit against the state for the newly-passed Marjory Stoneman Douglas High School Public Safety Act.
The law bars most groups of people under 21 from buying guns, mandates a three-day waiting period before buying a firearm, bans bump stocks, could arm some school personnel, mandates a law enforcement presence in schools, and allows police to confiscate guns from people perceived to be a threat.
Gov. Rick Scott, up until the bill passed, enjoyed NRA acclamation; in the wake of the bill signing, Scott has been criticized from the right for what is perceived to be gun control legislation.
In Jacksonville on Tuesday, Scott stood his ground.
"I'm proud of what the Legislature did," Scott told reporters. "I worked with the Legislature to pass a bill that would improve school safety. I asked them to come back with a bill that is going to increase the amount of law enforcement officers at schools. All schools will have law enforcement officers. They did that."
"I said I need a bill that's going to increase hardening in our schools, safety in our schools; they did that. I said I need a bill that's going to say we're going to have more mental health counselors to help the individuals struggling with mental illness in our schools. They did that," Scott said.
"I also said that if you are an individual struggling with mental illness, or you threatened others or yourself, you shouldn't have access to a gun. They did that," Scott added.
"I'm an NRA member. I'm going to continue to be an NRA member. I believe in the Second Amendment," Scott continued. "There's three branches of government. I'm going to continue to fight for this legislation."
In addition to fighting for the legislation despite the NRA legal challenge, Scott is also attempting to get help from U.S. Senate Judiciary Committee members today regarding inaction on tips about Parkland shooter Nikolas Cruz.
"The Governor spoke to members of the Senate Judiciary Committee to urge them to push for answers from the FBI on their inaction after receiving multiple, credible tips regarding Nikolas Cruz. The FBI has failed to hold anyone accountable. The Governor strongly believes that victims and their families deserve answers," said McKinley P. Lewis, Scott's Deputy Communications Director
Also on hand at the Jacksonville event: Rep. Jay Fant, a candidate for Attorney General who opposed the bill in the Legislature.
Fant said the bill presents a "true constitutional question."
"As Attorney General, my policy would be to see that portion of the law rescinded," Fant said.
The age restrictions strike Fant as the most "inflammatory" part of the legislation.
"From a leadership standpoint, I've not been a big fan of that aspect of the school safety bill. We'll have to see what happens," Fant said,
Fant noted that, as opposed to his position on the legislation, the current Attorney General was "quite favorable toward the bill" before it became law.
"These are true constitutional issues. These aren't regular bills. These are the Bill of Rights. So it's a different stratosphere for analysis," Fant added.