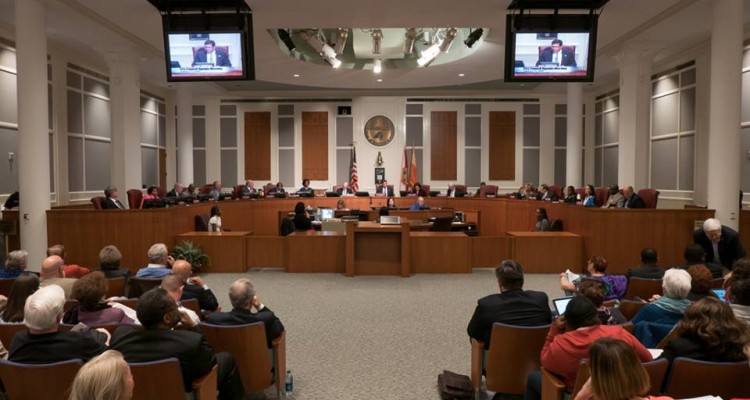 Wednesday saw a Jacksonville City Council committee delve deeper into the concept of using local inmate work crews to clean up city streets.
The concept is not a new one. A Jacksonville Sheriff's Office undersheriff noted just last year that there were plenty of inmates, but a surfeit of supervisors in the budget.
At the time, the JSO voiced a preference for correctional officers as supervisors, as civilians "don't look at the dope man and say 'hey, get away from my crew'," and because sexual contact had occurred in recent months between women inmates and civilian supervisors.
In recent months, Jacksonville City Council members have become enthused with the concept, as a corrective to blight issues.
This set up Wednesday's panel discussion on "utilization of inmates with tipping communities."
Chairman Reggie Brown asked "wouldn't it be nice to get inmates … to clean up the area" in downtown and other parts of town.
Assistant JSO Chief Claude Colvin noted that since 2008, the move has been toward four 10 hour days, a response to budget cuts after the recession.
He has one officer and four inmates at his disposal; the inmates are a rotating crew, Colvin noted, and often require training and specific classifications. 100 inmates currently qualify. Violent offenders or pedophiles do not qualify.
Colvin noted that, despite these budget cuts, inmates have been used for labor that has achieved budget cuts. After a hurricane, they were even involved in demolition of a barge.
Colvin would like two more community officer positions, to augment the current one he has access to.
"We actually have less inmates this year than what we had last year," Colvin said, though he eventually would like to have five officers to command the crews, with a priority toward clearing areas used for drug dealing and the like.
Council members lamented that they couldn't earmark officers toward this specific purpose, as use of appropriations is up to the sheriff's office; however, they sought to explore alternative supervisory setups, such as the Salvation Army.
"We had this very conversation with the sheriff last year," said Councilwoman Lori Boyer, "and he did not want us directing the use of his resources."
Leasing officers was another potential mechanism explored.
While part-time positions have been allocated in the budget ($17.25 per hour), Chief Colvin noted that officers "don't want to come out of retirement to manage inmates," and they didn't want to work in the elements, so they went unfilled. [One suggestion from the chair: to hike the pay to $25 an hour.]
Inmates are already going out with other city entities, such as right of way and grounds for ditch cleanup and the like, which Colvin said "does enhance the city of Jacksonville."
Council members located $45,000 in a local law enforcement trust fund, and Councilwoman Boyer noted that cleanup crews would fall under the aegis of safer neighborhoods.