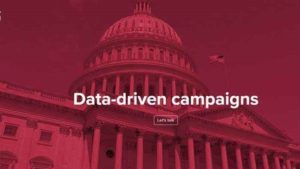 Have you heard of Cambridge Analytica or psychometrics?
I weighed in on the topic in 2017 after the election. Psychometrics follows online traits and data collection from social media versus old-school methods of gathering information like a questionnaire. The goal of gathering this info is to develop predictive models of behavior so that you might be able to know who someone was going to vote for etc.
You can dive into my 2017 column here.
Cambridge Analytica is back in the news this week; apparently, they were up to more than originally suggested during the election.
It's all going back to how Facebook data was allegedly used and collected. Cambridge Analytica says it properly obtained user data from a psychology professor who then passed it to them. They say the data was deleted when it was discovered that they should not have had it in the first place. Others say it was used improperly.
The UK government is on the case and pushing hard.
According to CNN and the BBC: "UK cyber officials are asking for a warrant to enter Cambridge Analytica's offices in London and audit its data." They are also examining Facebook's response to the unauthorized use of its data.
"We're looking at whether or not Facebook secured and safeguarded personal information on the platform and whether when they found out about the loss of the data they acted robustly and whether people were informed," Information Commissioner Elizabeth Denham told BBC radio Tuesday.
Regardless what happened, it was alleged and Facebook is taking the hits. They are hosting an employee Q&A event this week, so staff can ask questions. Meanwhile, the stock price has fallen approximately 10 percent.
Other reports allege the last U.S. president's team was doing the exact same thing, but with Facebook's blessing.
Former Cambridge Analytica employee Christopher Wylie speaks his mind.
Rumors are flying left and right (no political pun intended whatsoever J) and it will take months to get to the bottom of this. Where there is smoke, there is fire and the Facebook brand is looking these days like a smoking section in the Atlanta airport.
___
Blake Dowling is CEO of Aegis Business Technologies. He can be reached at dowlingb@aegisbiztech.com.