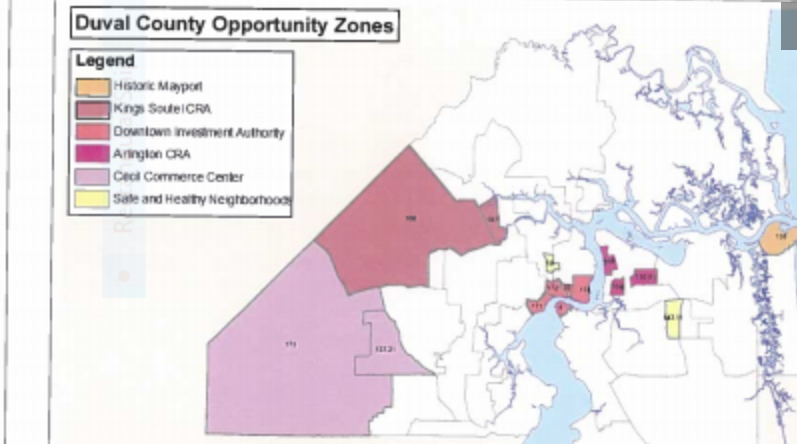 The City of Jacksonville last week advanced suggestions to the Florida Department of Economic Opportunity for Opportunity Zones, each with an urban core focus.
Per Neighborhoods Director Stephanie Burch, five census tracts have been chosen in the downtown area, within the aegis of the Downtown Investment Authority.
The areas chosen have extant infrastructure, can absorb private capital, and have community redevelopment agencies, Burch wrote in a letter to DEO Director of Strategic Development Michael DiNapoli.
The other tracts selected are done so for strategic reasons: two are in the Cecil Commerce Center area; two more are part of the Jacksonville City Council's focus on "safe and healthy neighborhoods"; others include tracts in the Arlington CRA, Kings/Soutel in Northwest Jacksonville, and beleaguered Mayport.
Regarding the downtown tracts, Burch's letter promises hiring from economically disadvantaged communities and locals. Among the incentives used to push downtown development: sale of city owned properties and commercial incentives, including a sale/leaseback program and a Commercial Revitalization Program.
The city also cites various investments from the private sector: 200 Riverside, the Cowford Chophouse, Unity Plaza Hotel, and — purportedly — Jacksonville Landing Redevelopment.
Areas like the downtown area that encompasses City Hall and the Riverside area that includes the Five Points commercial district are lauded for their walkability, even as the proposal from the city points out a housing crisis; for example, in largely gentrified Five Points, just 11 percent of two bedroom units are affordable at 50 percent of the area's median income (just over $45,000).
Other areas, such as the census tract encompassing State and Union Streets from the old city cemetery to Confederate Park, have theoretically affordable housing (with median rents of just $250), but with median household incomes of just over $12,000, the need for economic development is clear.
The Eastside is also primed for opportunity, with a median household income of just over $24,000.
San Marco's Southbank likewise is on the list, even as metrics show a real upswing, with an unemployment rate of just 2 percent (down from 32 percent in 2000). Curiously, the opportunity zone there overlaps with the District development, which could see $26 million in infrastructure spending and an additional $56 million in REV grants from the city, benefitting political powerbroker Peter Rummell's long delayed development.  
Gov. Rick Scott will nominate these areas by Apr. 20; ultimately, it will be the federal Department of Treasury's decision. Areas chosen will be eligible for tax breaks that are expected to spur private investment and economic growth