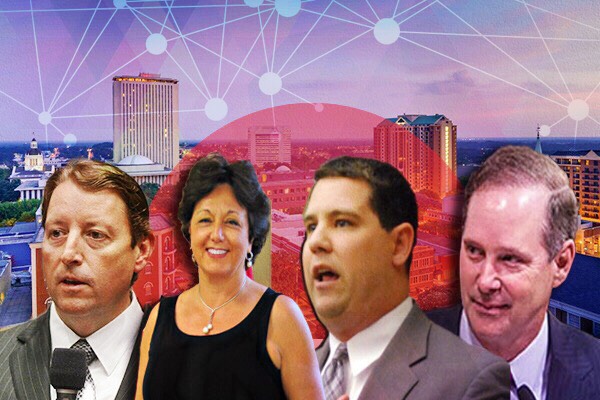 For the first time this decade, a race to one day lead the Florida Senate is not confined to an intra-party scrum among Republican lawmakers.
And while Naples Republican Kathleen Passidomo is now the slight front-runner to hold the gavel beginning in 2022, she and her GOP colleagues must first navigate two election cycles in which control of the Senate could be at stake.
Passidomo is emerging as the leading candidate to succeed Senate President-designate Bill Galvano and Majority Leader Wilton Simpson after Tampa Republican Dana Young declared that she would not pursue the Senate presidency. That left Passidomo and St. Augustine Republican Travis Hutson as the two contenders for the position.
Based on not-for-attribution conversations with at least four members of the 2016 class of the Florida Senate, other Senators, and key staff and lobbyists close to Passidomo, Hutson, Galvano, and Simpson, it appears that Passidomo holds a one-  or two-vote lead over Hutson within the nine-member class of Republicans.
In addition to Passidomo, Hutson, and Young, the other Republican members of the 2016 class are Dennis Baxley, Doug Broxson, George Gainer, Debbie Mayfield, Keith Perry and Greg Steube.
Steube is exiting the Senate to run for Congress, so he's not part of the math here.
Almost all of those tracking the race peg the vote at 5 to 3 for Passidomo with Baxley, Broxson, Gainer and Young behind her. Hutson can count on the support of Perry and Mayfield.
The consensus that Passidomo is leading the race gelled last week when Senate leaders and elite-level lobbyists raised money for the Florida Republican Senatorial Campaign Committee at a series of events in Nashville. According to an itinerary obtained by Florida Politics, lawmakers were treated to a private concert by Phil Vassar at the Loveless Barn and a songwriters luncheon at the famous Bluebird Cafe.
With the twang of country music in the background, a handful of Senators and other Adams Street players talked openly about two factors driving the race in Passidomo's direction.
The first is Young bowing out of the race and squarely backing Passidomo. Sources close to both Passidomo and Young say that the Tampa Republican has, indeed, signed a pledge card for Passidomo.
The second factor has a tinge of post hoc ergo propter hoc, specifically that since Hutson was not able to win his own class, he could not win the race at large.
"If you can't even win your own class, your butt has no business being up there [in the president's rostrum]," said one member aligned with Passidomo, who asked to speak without attribution so as to provide clearer insight into the workings of the Senate.
Hutson has told a handful of Republican lobbyists and donors that he expects the contest between him and Passidomo to be a "long slog" and may involve the votes of members from the incoming class of Senators.
However, Hutson's position runs counter to what President-designate Galvano and Leader Simpson have reportedly told other members. Fearing a repeat of the kind of race between President Joe Negron and Jack Latvala, which divided the chamber for years, the incoming leaders want the matter settled before the November elections.
This said, Galvano and Simpson are both said to want to be careful about not interfering in the Passidomo vs. Hutson contest. They, like other Senators, prefer not to openly discuss leadership races other than to note that the Senate conducts its business differently than the Florida House, which has endured back-to-back internal conflicts about who will lead the chamber after Jose Oliva.
Yet what is really concerning Galvano, Simpson, and other GOP members is not which Republican will follow them, but whether it will even be a Republican.
With Lantana Democrat Lori Berman's unsurprising win Tuesday night in a special election for a seat in the Florida Senate, the chamber is now divided 23 to 16 between Republicans and Democrats.
As previously reported on Florida Politics, state Democrats are systematically laying out a plan to recapture the upper chamber. They hope to win at least four of seven battleground seats on the ballot in 2018.
To that end, Rep. Janet Cruz has entered the race for SD 18, where she will try to pick off Young and trial lawyer Carrie Pilon has filed to challenge incumbent Jeff Brandes in SD 24. The party likes its chances with the campaigns of Kayser Enneking and Bob Doyel, two first-time candidates challenging Republican incumbents Keith Perry and Kelli Stargel, respectively.
It is also recruiting former state Rep. Amanda Murphy to run for the open seat in Senate District 16, once held by Clearwater Republican Jack Latvala and Alex Penelas, the former mayor of Miami-Dade County, to run for SD 36, where Republican Rene Garcia is term-limited.
On Wednesday, Democrats were relieved to learn that Jose Javier Rodriguez will remain in SD 37, giving the party a better shot of funding those campaigns.
Even if Democrats fall short of winning control of the Florida Senate, the results in these competitive seats could impact Passidomo vs. Hutson (assuming Passidomo doesn't have the race locked-up by November. If Perry loses his re-election bid, Passidomo would have a hammer-lock on the contest, but her chances could be hurt if Young were to lose.
All the more reason for Passidomo to conclude her business by the summer.