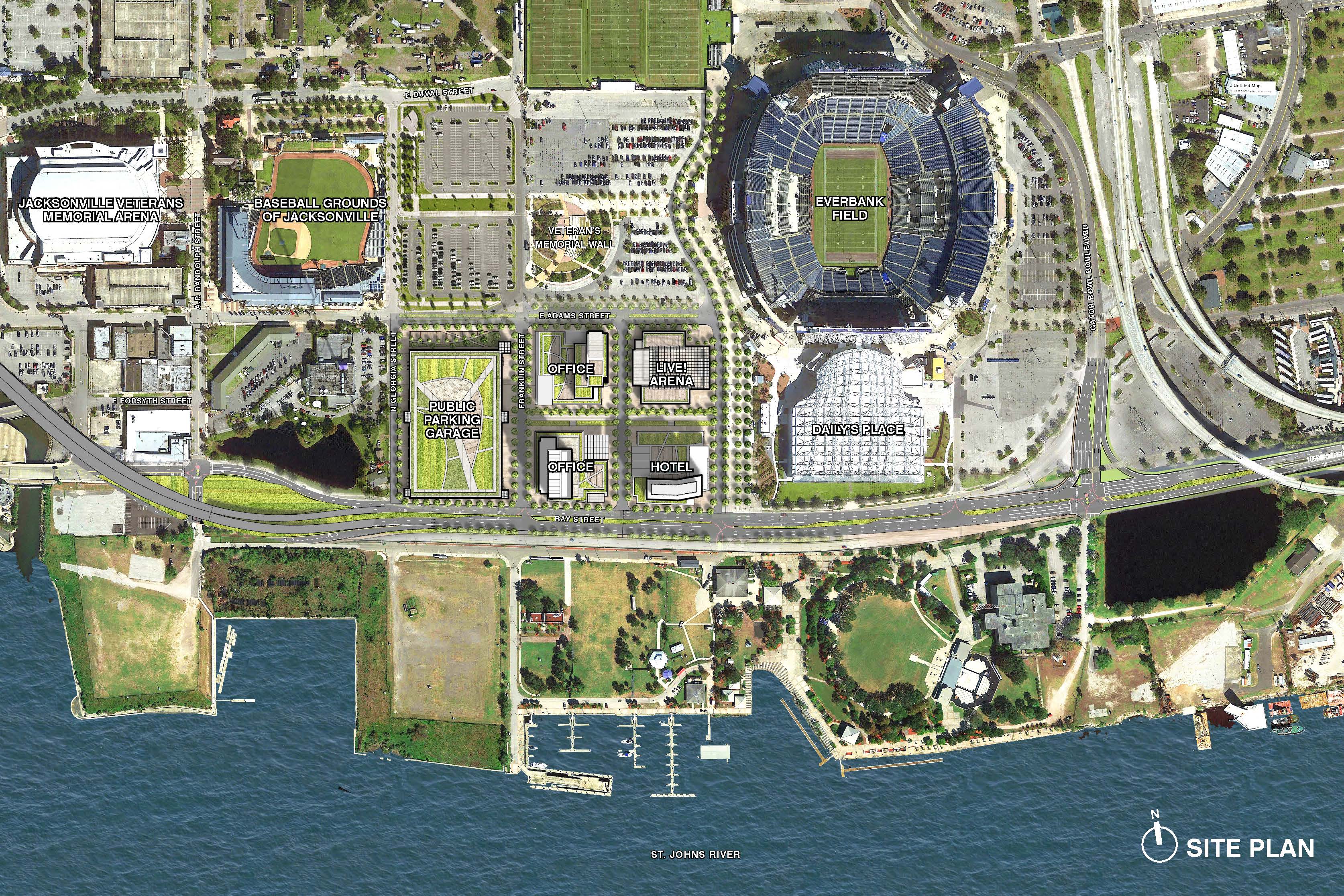 Some clarity emerged Thursday from the Jacksonville Jaguars on the future of the Sports Complex.
The Cordish Companies was announced as the development partner for what a media release calls "a $2.5 billion world-class, mixed-use district in the downtown sports complex."
If this pans out, it could be an important missing piece.
"The development will create a vibrant, mixed-use neighborhood dedicated to bringing first-class amenities and experiences together 365 days a year just feet away from EverBank Field, Daily's Place, Veterans Memorial Arena and the Baseball Grounds of Jacksonville," per the media release, which adds that Jacksonville could see "4.25 million square feet of best-in-class dining, entertainment, retail, office, hotels and luxury residential living."
"The Cordish Companies understand the challenges and, therefore, the opportunities in reimaging downtown districts and entertainment complexes throughout the country," said Jaguars Owner Shad Khan. "There are many qualities that make Cordish our choice in Jacksonville, but one in particular is the company's ability to customize and tailor its approach to the property it will develop while being very mindful of the community it will serve."
For those following the story closely, Cordish was not a surprising choice.
Back in July, Khan took Jacksonville Mayor Lenny Curry and Chief Administrative Officer Sam Mousa on a tour of Cordish developments in Baltimore and St. Louis.
Curry emailed Mousa while on the trip: "Let's debrief quickly after today's St Louis trip and tomorrow's Baltimore on downtown development. We need to discuss design, finance, infrastructure."
Curry has also done his part to try to redirect the Sports Complex into a destination beyond football games and arena events.
In recent years, Jacksonville taxpayers have authorized $88 million of city-funded capital improvements to the Jaguars' stadium: $43 million for the world's biggest scoreboard during the Alvin Brown administration, and under the Curry administration, half of a $90 million buy-in that secured a new amphitheater, a covered practice field, and club seat improvements.
As plans proceed apace for the Sports Complex, expect traffic to be redirected in that direction soon.
The state allocated in March $12.5 million for Jacksonville's Talleyrand Connector, an ambitious reconfiguration of Hart Bridge offramps that would route traffic on surface streets by the stadium and toward the port. Jacksonville is also pursuing $25 million in federal money.
This project was originally pitched to the Duval Delegation in 2016 as a way of activating the property near the Sports Complex, a burgeoning entertainment district. Further studies in 2017 found benefits in terms of routing traffic to and from the port.
Khan isn't the only member of Jacksonville's donor class rolling out an impressive proposal.
Politically connected developers Peter Rummell and Michael Munz are looking to develop The District, pending City Council approval of the terms, which include $25 million in infrastructure spending and up to $56 million in REV Grants.
If this all comes together, it will be a development legacy for the Curry administration, kickstarting areas of the city that have languished for years.