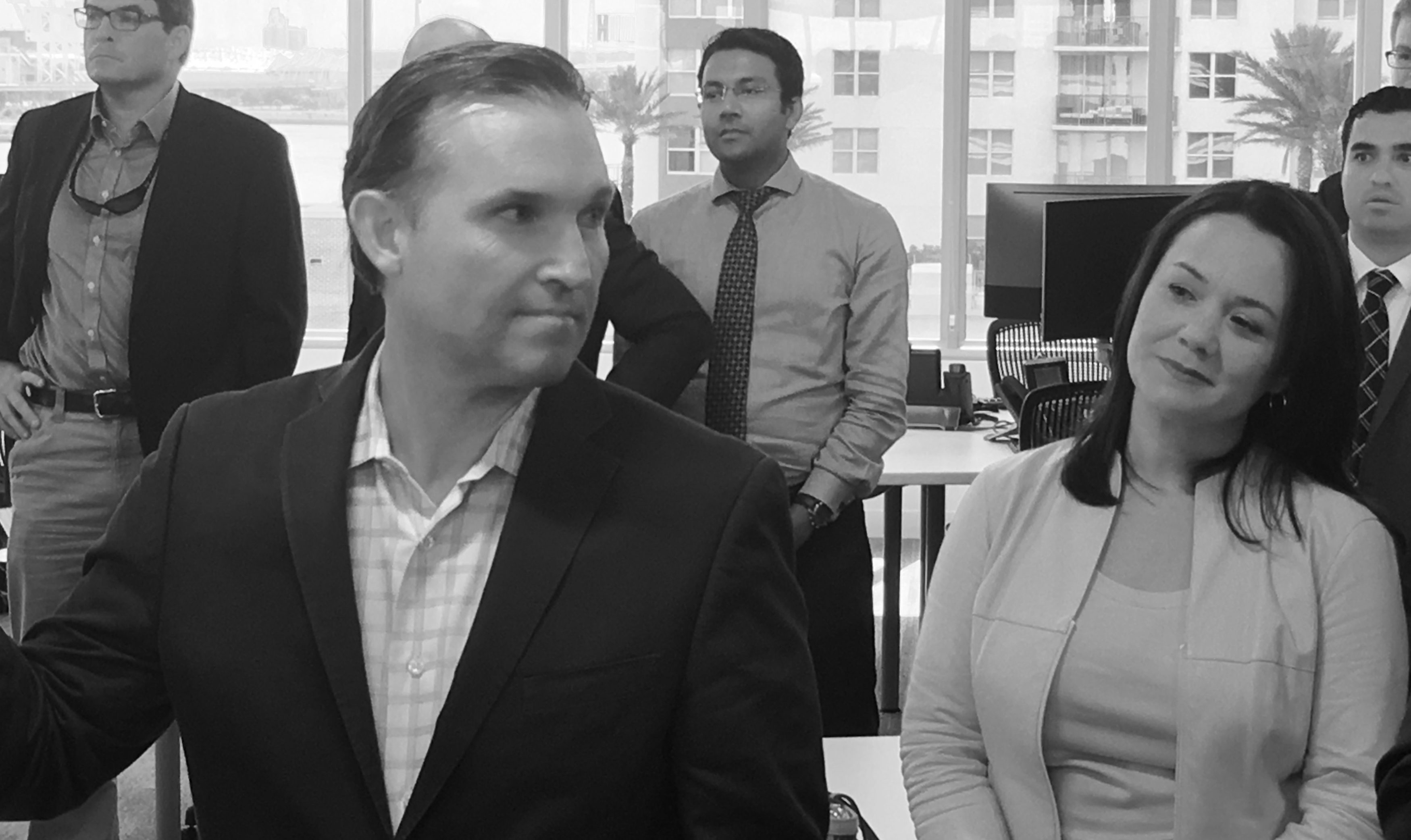 On Wednesday's episode of First Coast Connect on Jacksonville's WJCT-FM, Jacksonville City Council President Anna Brosche charged that her meetings were being followed and that someone in city government was snooping on the computer of her Council assistant.
Citing a "trust issue," Brosche mentioned that she was "not allowed to have meetings with department heads without clearing things with the Mayor's Office," that her "meetings with people in the community" were followed up upon by "contact from the Mayor's Office," and that her "assistant's computer is being monitored."
When asked by host Melissa Ross if she and her staff were "being spied on," Brosche said it was "difficult not to reach that conclusion."
On Friday, the Mayor's Office offered its perspective, one that drew different conclusions entirely and again delineated a toxic dynamic between Jacksonville's mayor and leader of the City Council.
Brian Hughes, the chief of staff for Jacksonville Mayor Lenny Curry, asserted Friday that "once again the Council President and her staff have made false and wholly unfounded claims about the administration."
"So let's be clear, no one in the mayor's administration, at any level, has 'monitored' or followed any Councilmember or staff. Similarly there has never been any surreptitious, intentional or unintentional interference or monitoring of any electronic devices of members or their staff," Hughes asserted.
"The requested data in the email shows that the aide's computer had three other logins since last Fall. One by the Council President, one by Council Member [Garrett] Dennis, and one by a staff member of ITD who is a professional IT service specialist for the entire COJ," Hughes added.
The email to which Hughes referred followed from an inquiry from Chief Administrative Officer Sam Mousa, which revealed those three logins, as well as another six dates in which Brosche's assistant, Jeneen Sanders, had password issues.
Mousa was "very concerned" and opted to "investigate these allegations," but the inquiry found that the only documented logins beyond Sanders were those of Brosche, Councilman Dennis, and the Council's "IT guru."
For Hughes, Brosche's comments are part of a pattern.
"CP Brosche's pattern of cryptic charges with zero basis in fact is both irresponsible and absurd. Giving voice to such nonsense demonstrates a willingness by her and her staff to simply lie in order to score points in some twisted political game."
"Either way," Hughes added, "casting such charges at the hard working men and women of this administration is inappropriate."
The sharp differences between Hughes and Brosche on this issue again reveal a larger disconnect.
In mid February, a week before the city's IT specialist logged onto Sanders' computer, Hughes and Sanders had a verbal encounter that Sanders reported as Hughes having "accosted" her. However, the city's general counsel concluded that no laws were violated.
Brosche, as one would expect, stood by her claims despite Hughes' assertions.
"When my off site meetings and whereabouts are being reported back to those with whom I'm meeting, and when my assistant receives a message when trying to log off her computer that she cannot do so because someone else is on her machine, I stand by my suggestion that her machine is being monitored. When it comes to truth, honesty, and transparency, I'll let the people decide who they believe," Brosche said.
Brosche emphasized that her concern was "remote monitoring while [Sanders] is actively using the machine," a concern elided from Mousa's inquiry into logins and password issues.
The logins under Brosche's name were, she said, to give Sanders "access she didn't have for something [Brosche] needed" and are "not common practice."
And Dennis told the Daily Record that the login under his name was at the time he was without a Council assistant.
As this continuing drama between the Republican Mayor and the Republican Council President unfolds, there is a real possibility that Brosche may run for Lenny Curry's job.
As we reported Wednesday (news broken first on WJCT), Brosche is mulling a run for Mayor.
While she is "focused" on her "responsibilities as Council President and some important initiatives launched recently," Brosche notes that once her term ends, she will have "the opportunity to get clarity on [her] next steps."
Curry has described Brosche at various times as "disgraceful, irresponsible, ridiculous … slanderous," suggesting that her communications with the Mayor's Office and other entities are driven by "public relations" concerns.
Along those lines, Brosche has described "the dynamic of [a] unhealthy relationship" with Curry.
The relationship appears to be unsalvageable.
If Brosche is to run for Mayor (and really, given that Curry's political machine is gunning for her, she might as well), she will need to cultivate serious financial backing.
In two months as a candidate, Curry has raised $1.75 million between his political committee (and transfers from another committee of his) and his campaign account.
Brosche, who was backed by the Curry-friendly Chamber and other establishment groups as she ran for the City Council in 2015, may need to cultivate backing outside those groups for any 2019 campaign she runs.