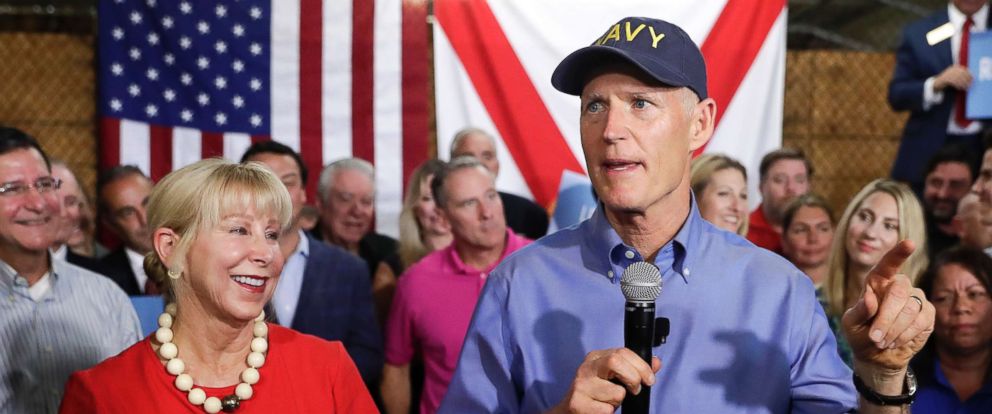 A Sarasota Democratic leader is targeting Gov. Rick Scott, accusing his month-old U.S. Senate campaign of violating federal election law.
Sarasota County Democratic Executive Committee chair JoAnne DeVries filed the Federal Election Commission complaint Tuesday, claiming Scott hid campaign donors and therefore leading to conflicts of interest.
According to the complaint, Scott's campaign emailed donors as early as March 29, asking for donations for his as-of-yet-unannounced Senate bid, in addition to not filing the financial report for the first quarter of 2018, which ended on March 31.
The email in question sought $5,400 from individuals or $10,800 from couples. If an individual did contribute that amount – thereby reaching the $5,000 threshold for federal candidates – Scott would be required to file a quarterly financial report for the first quarter by April 15. The complaint notes that he has not.
"Complainant respectfully requests that the Commission promptly act to ensure that Mr. Scott stops hiding his campaign activity from the general public and starts following the reporting requirements imposed by the Act and Commission regulations on every single candidate for federal office," the paperwork says.
"Rick Scott is not above the law," DeVries said in a statement. "He coordinated illegally with his Super PAC, has refused to disclose his secret financial account that would show the extent of his conflicts of interest and now, he is skirting more laws to keep Floridians in the dark on what he's done as governor and as a Senate candidate."
DeVries notes that it is "especially alarming" for Scott, particularly after he became "$46 million richer as governor while hiding his secret account from the people of Florida." She also suggests those donors might have business interests before Scott as Governor.
Both the complaint and exhibits submitted to the FEC can be viewed here.