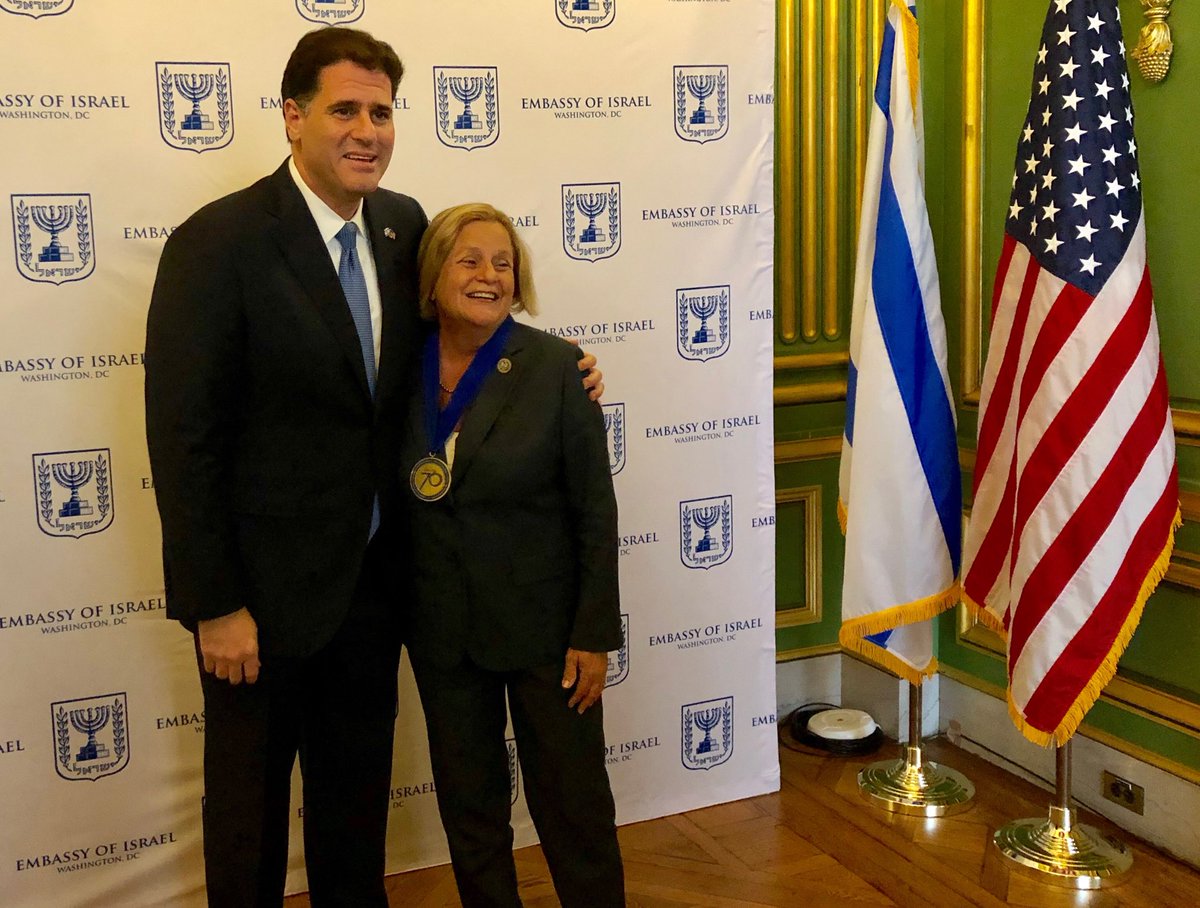 U.S. Rep. Ileana Ros-Lehtinen was one of 70 Americans honored by Israel, as the country celebrated its 70th year of independence Monday night.
The South Florida congresswoman was among honorees at a ceremony at the Andrew W. Mellon Auditorium in Washington, D.C. Accompanying the designation was a video address from Israeli Prime Minister Benjamin Netanyahu in which he had high praise for the longtime Republican House member.
She's the longest-serving member of Congress from Florida, the most senior Republican woman in the U.S. House, and the first Cuban-American elected to Congress.
"I've known Ileana for many years. She's outstanding," Netanyahu said. "I don't think Israel has ever had a better defender. I don't think the truth has had a better defender."
I'm incredibly honored to be one of 70 Americans selected by @Israel in making a unique contributions to the special relationship between our two nations. Thx again @netanyahu for this beautiful video earlier this year pic.twitter.com/QFeQjdB8uN

— Ileana Ros-Lehtinen (@RosLehtinen) May 14, 2018
Last night's honors were reserved for Americans past and present "who have made a uniquely valuable contribution to Israel or its alliance with the United States."
Along with Ros-Lehtinen, Albert Einstein, Elie Wiesel, Frank Sinatra and the late President Harry Truman were also honored.
Ros-Lehtinen has been a staunch supporter of Israel. She has critiqued the United Nations in the past when it has sought to sanction Israel.
Ros-Lehtinen has also repeatedly pushed for sanctions on Iran and opposed the Obama Administration's nuclear deal with Iran, as did Netanyahu. President Donald Trump recently announced he would withdraw America from the deal. Ros-Lehtinen praised that decision.
Netanyahu was thankful for Ros-Lehtinen's support: "She stands up for Israel and stands up for the truth. I've found this to be true at all times, but especially in hard times."
Ros-Lehtinen called the award "an amazing honor." It will serve as a sendoff to the congresswoman, who has said she will not run for re-election in 2018 after decades of service.
Despite her decision to step aside, Netanyahu says Ros-Lehtinen will continue to make an impact because of her passion and integrity.
"A person with your internal fire will continue to serve the cause of freedom, the cause of truth and the cause of the state of Israel. The state of Israel is very, very grateful to you."