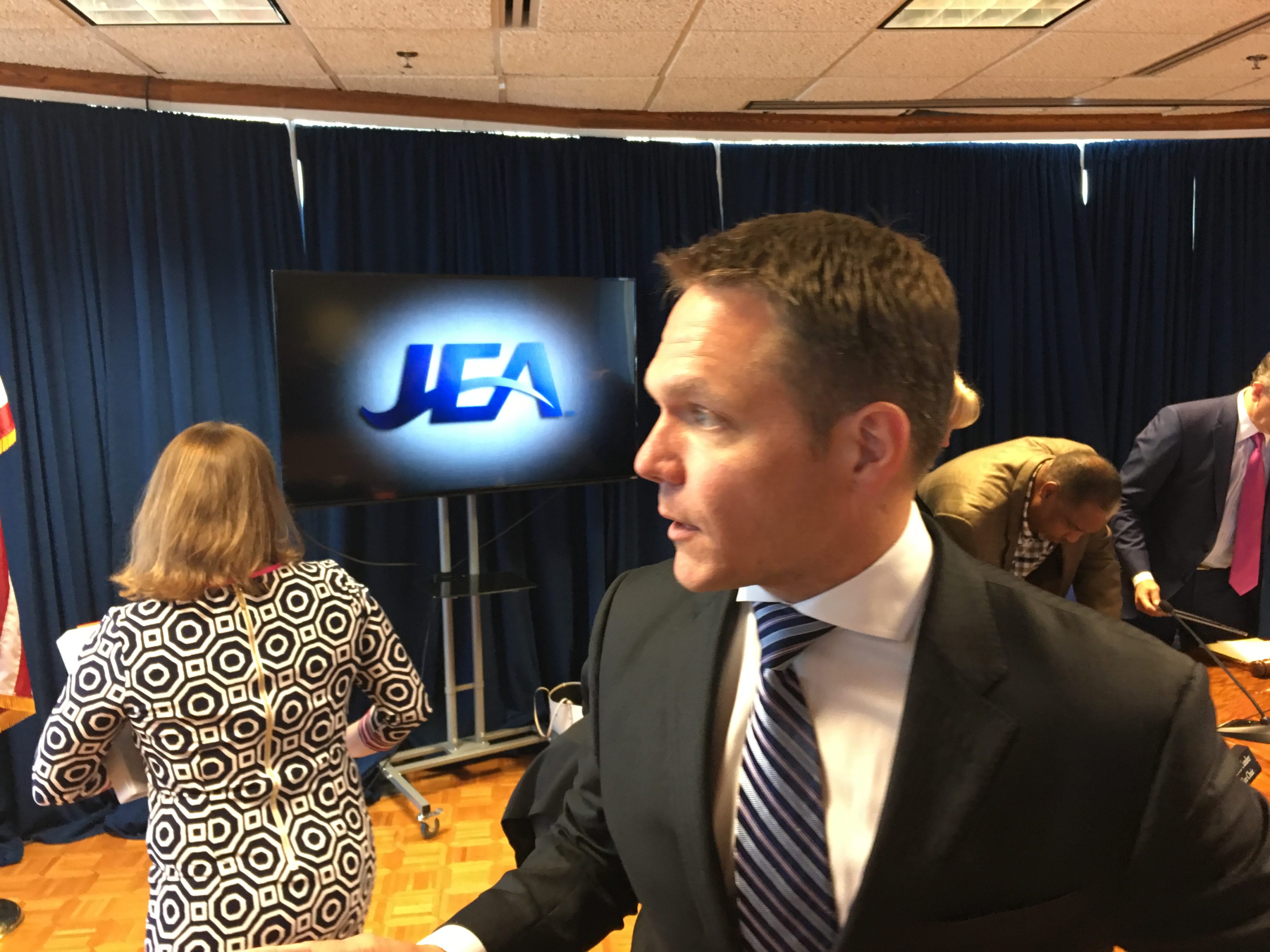 On Tuesday evening, the Jacksonville City Council approved incentives for The District, a 30-acre Southbank development on the site of the former JEA Southside Generating Station.
As part of that deal, developers Peter Rummell and Michael Munz have a deal via their Elements Development to buy the land for $18.6 million from the JEA Board.
JEA interim CEO Aaron Zahn, in a letter sent to the Mayor's Office Tuesday, proposed that at least some of the proceeds be earmarked to deliver municipal sewer services to underserved communities, including older neighborhoods that have been waiting for those amenities since Jacksonville and Duval County consolidated 50 years ago.
"I recommend JEA reserve a portion of the proceeds from the Elements transaction to engage the best and brightest engineering and commercial minds to study the issue and propose previously unconsidered solutions. Additionally, I recommend JEA consider offering the balance of the proceeds (~$15-16 million) to the City as a one-time contribution to support important community goals like septic tank phase out," Zahn wrote.
JEA and the city have collaborated in recent years in phasing out septic tanks in these older neighborhoods, with a shared $30 million burden codified in the last JEA Agreement, forged in 2016 and running to 2021.
However, that money is a small fraction of the hundreds of millions of dollars needed for the project.
Previous estimates ranged from $300 million to $1 billion, but per Zahn's letter, that estimate is optimistic: "This subject has been studied and partially addressed over a number of years through traditional means and methods and with a seemingly insurmountable expense (>$2.5 billion)."
Zahn, who wants to be permanent CEO for Jacksonville's public utility, has faced political resistance from some Councilors (notably Garrett Dennis) in that quest.
Dennis sees the proposal as vindication for JEA remaining a public utility.
"I applaud our city owned utility for putting its ratepayers first.  This is why I have been adamantly against any plan to privatize JEA.  The consideration to invest the proceeds to infrastructure and septic tank phase out would not have been on the table with a private company," he said Wednesday.
Likewise, Council President Anna Brosche has been a fierce critic of Zahn and of the city incentives on the sale of the Southside Generating Station.
However, Brosche was amenable to Zahn's proposal, calling it "a welcome contribution toward a likely $1 billion problem that has plagued our community for decades and stems from promises made during consolidation."
"It is also an example of the benefits of the partnership the City of Jacksonville has enjoyed with JEA under our current independent authority structure," Brosche noted.
Zahn's proposal would be discussed by the JEA Board June 19.