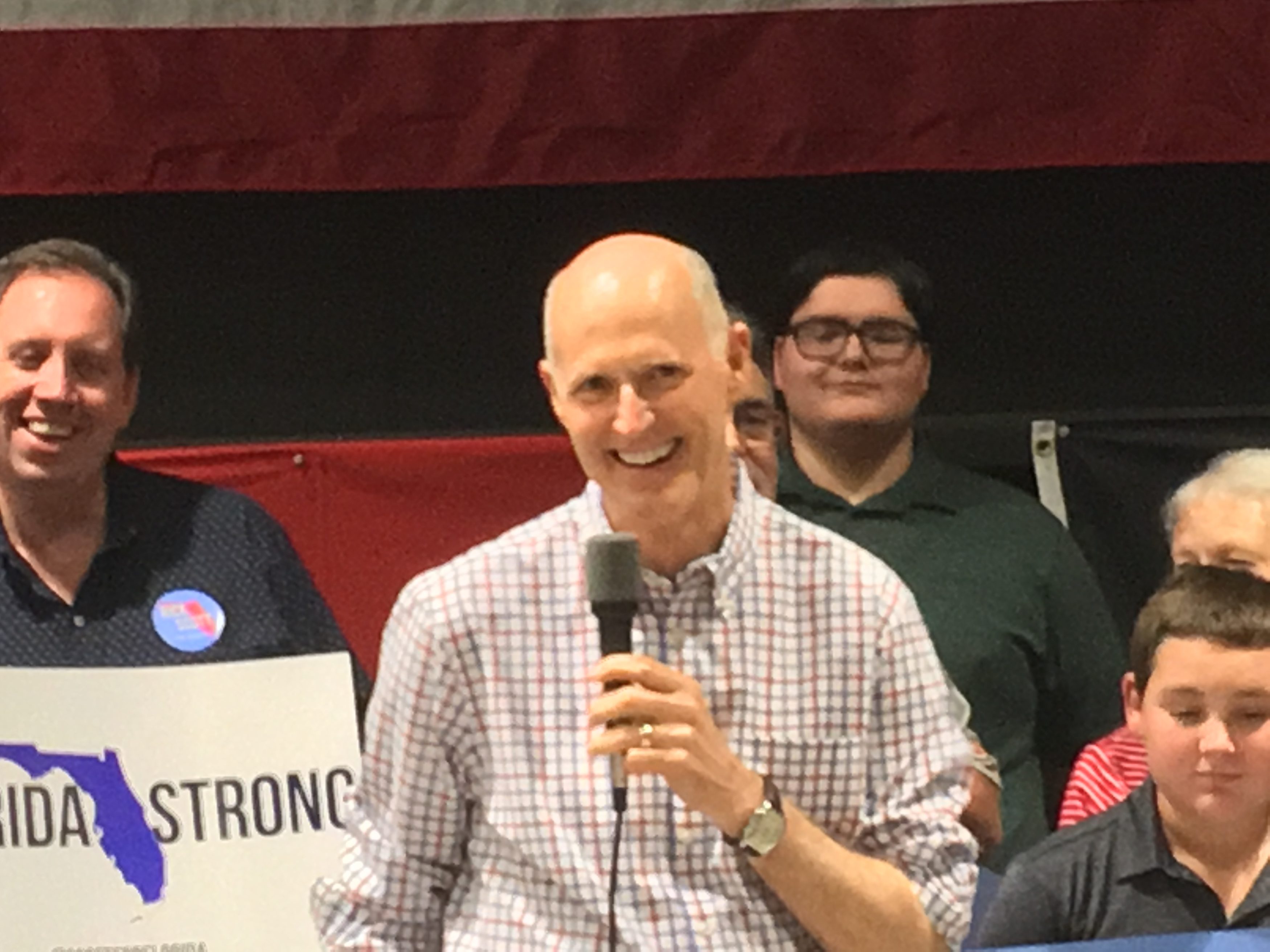 Gov. Rick Scott suspended two Jacksonville City Council Democrats, Katrina Brown and Reggie Brown, June 1, after the federal government indicted the duo for a scheme to defraud the Small Business Administration.
Since then, applications have poured in for the Governor's perusal, and the latest list shows many veteran politicians with an urge to serve.
Among the latest applicants last week: three Republicans who ran for State House but fell short in 2016. None of these candidates had demonstrated an interest in running for election for these seats, and all waited until late in the process to apply.
Terrance Freeman, who finished second in a five-man primary in the Southside's HD 12 is one. Rev. Mark Griffin, who lost a surprisingly competitive race in the HD 13 general election, a second. And Chris Whitfield, thumped in the general election in HD 14, is the third.
In Jacksonville Tuesday spotlighting a reform proposal on his Make Washington Work tour, Scott wouldn't commit to any of these names, noting that people are still proposing potential fill-ins even today.
"We are going through the appointment process now," Scott said. "People have told me they have interest. I've had people today who've told me ideas, who they think I should pick."
Many wonder if Mayor Lenny Curry has weighed in. In a manner of speaking, Scott did not deny the Mayor's Office had interest.
"They haven't [weighed in] to me, but they could have called somebody in my office," Scott allowed.
If the Mayor's Office were to weigh in, there is reason to believe they might want one of the aforementioned Republicans.
Freeman, a former aide to Council President-designate Aaron Bowman, "would consider [the appointment] the opportunity of a lifetime."
If appointed, he vows to offer "a strong voice in local government" and to "work collaboratively with the Mayor's Office and Council leadership to represent the District with honesty, integrity, and honor, ensuring that I'm leading discussions that are beneficial for the district and the City of Jacksonville as a whole."
Whitfield, who lost by 40 points to Democrat Kim Daniels in the 2016 general, couched his interest in similar terms.
"I threw my name in the hat to ensure the hardworking citizens of either district had reliable and trustworthy representation until they can elect a permanent representative," Whitfield said.
"A safe community, potholes, flooded streets and food deserts don't care about Republican or Democrat. Integrity and honesty matter and the people deserve that and need someone who will make their needs a priority, even in the interim," Whitfield said.
We asked Whitfield if he thought his chances were improved by being a Republican.
"No, I don't think party will matter. From my interactions with the mayor and governor, I believe they care about the citizens and what's best for them and the governor will select the person he feels will best represent those citizens until they can make their voices heard on election day," Whitfield predicted.
The late Republican applications came after many Democratic candidates and former candidates had already indicated interest.
Among the hopefuls: former and current District 10 candidate Joseph Willis; former school board chair Brenda Priestly Jackson; former at-large candidate Ju'coby Pittman; current candidates Tameka Holly and Celestine Mills; Terry Fields, former state Representative and a 2015 City Council candidate; former House candidate Rahman Johnson; current candidate Kevin Monroe; former Councilwoman and obelisk aficionado Pat Lockett-Felder; former candidates James Breaker and Mincy Pollock.
It remains to be seen whether the Governor will consider party loyalty before making these appointments, but the three Republicans who filed last week all have connections the Democrats lack.