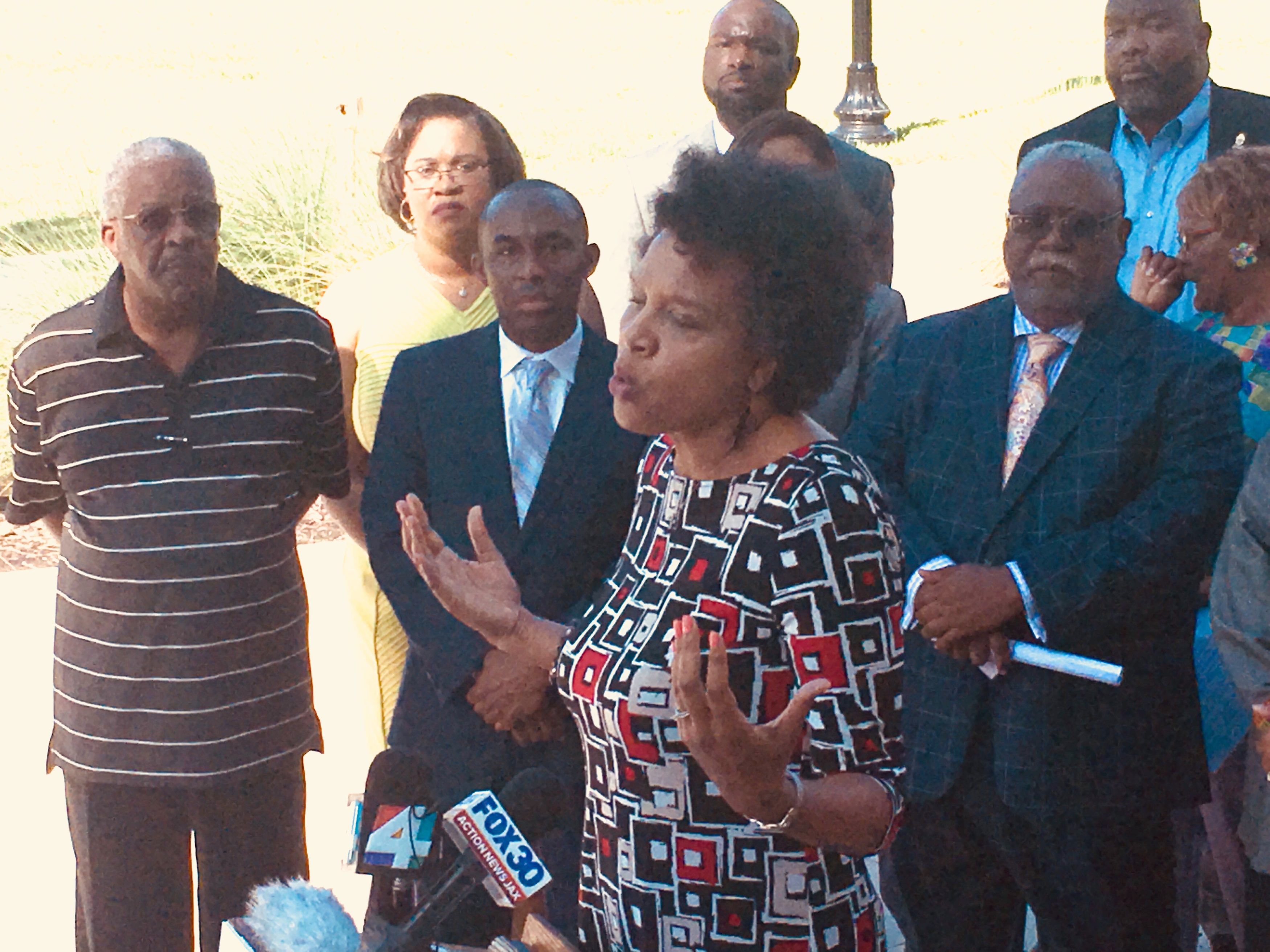 On Monday morning, as District 10 Republican Jacksonville City Councilman Terrance Freeman settled in for his first committee meeting after being named last week to the board, a group of Duval County Democrats is asking for emergency relief from Gov. Rick Scott's appointment.
If granted, that relief would stop Freeman from taking action as a councilman until legal proceedings wrapped regarding his residency.
The presser at the Duval County Courthouse was in support of a petition (16-2018-CA-004630-XXXX-MA) by Brenda Priestly Jackson, a Democrat and former Duval County School Board chair who was passed up for the appointment to fill the unexpired term of suspended incumbent Democrat Reggie Brown.
Priestly Jackson and other Democrats charge that Freeman, who established residency in the district by renting two rooms in a private home the day he was appointed last week, was not a legitimate pick because he moved to Northwest Jacksonville solely to serve on the Council.
The Governor signaled his thoughts on this challenge even before Monday by opting to host a Senate campaign event in Freeman's district on Monday afternoon. However, a united group of Democrats pushed back on what they believe was an illegitimate selection.
Duval Democratic Chairwoman Lisa King slammed Scott for having "chose to pick someone who lives 20 miles away" to represent 10. Vice Chair Daniel Henry blasted Freeman for "just show[ing] up, trying to rent two rooms" to establish residency. City Councilman Garrett Dennis bemoaned the "cronyism City Hall has been plagued with the last three years." And State Sen. Audrey Gibson blasted a "tainted process" that led to a "blatantly wrong appointment," noting that she could "write the script" on what Scott would say.
Priestly Jackson noted that of "over 50 applicants, approximately 15 to 20 lived in District 10."
Both Priestly Jackson and her attorney, Leslie Jean Bart, noted that their preference would have been for a special election. However, Councilman Reggie Brown (the suspended indictee) maintains his innocence, and this put the fill-in slots in the Governor's court.
The legal filing contends that at the time the Governor's appointment became official, Freeman still homesteaded and was registered to vote in Mandarin. The city's position is that Freeman was not a Councilman until his swearing-in ceremony, maintaining what could be called a Councilman-select status.
Democrats, while up in arms over what they see as the Lenny Curry administration stealing a seat from their party, nonetheless lack a credible, well-funded challenger to Curry on the 2019 ballot.
Help may not be on the way. When we asked about that lack of real challenge, we were told the presser was not the place for that question.
Meanwhile, Duval Republicans blasted the Democrats for objecting to Freeman, with Chair Karyn Morton suggesting that "We urge Democrat Party Chairman Lisa King to end her partisan attacks on Councilman Freeman and instead focus on keeping her own elected officials from becoming felons."
King responded that the pushback isn't about whether Freeman is Republican, but it's about his "residency" — something attorney Jean-Bart isn't prepared to say has been established even now, with Freeman leasing two rooms in the district.