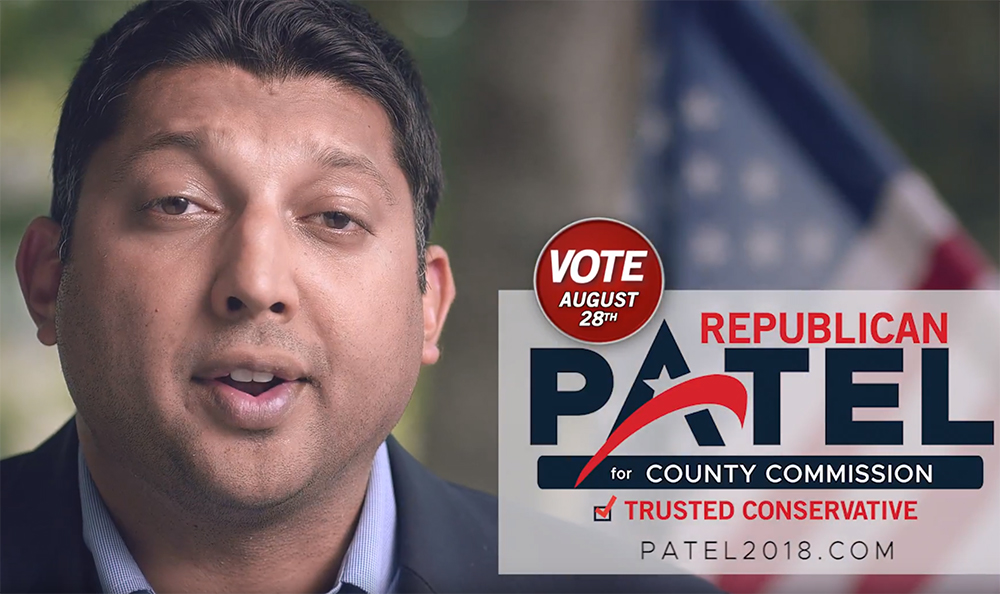 I started the phone conversation Tuesday afternoon with Aakash Patel by asking, "If you are elected to the Hillsborough County Commission…"
He interrupted.
"You mean when I'm elected," he said.
The man may be a first-time political candidate, running as a conservative Republican for a countywide District 7 seat, but he is not going into this venture at anything less than full speed and full confidence.
He knows what he wants to emphasize as a commissioner and anyone who knows him understands this simple truth: He will not be out-worked.
He released his first TV ad Tuesday, a 30-second spot called "A Better Hillsborough." It's a slick, well-produced pitch on some of his major themes: fresh voices, education, transportation and jobs.
He said those are the things voters have stressed are important to them, so they are important to him.
"I was just out in Sun City Center for three hours in the broiling sun, knocking on doors," he said. "People tell me they're tired of the same old people running. They want new ideas. When I tell them I'm a small-business owner, they tell me that's exactly what they're looking for – someone who can provide business solutions."
Patel is one of only two Republicans in the Aug. 28 primary. He has raised more than $364,000 so far compared to nearly $109,000 for his opponent, Todd Marks. If Patel wins the primary, in November he'll face the winner of a Democratic scrum that currently has four candidates.
Patel doesn't sound like the stereotypical Republican that has dominated Commission politics for years. For starters, he said the decision by the Commission to keep the "Go Hillsborough" transportation sales tax referendum off the ballot in 2016 was a mistake.
He called it a "botch of resources" and added that of all the issues facing the Commission, he believes "transportation is the biggest."
He believes it's important to address the kind of runaway, unplanned development that has turned much of east and south Hillsborough into a chock-a-block mix of big-box and convenience stores.
How does that happen?
"For some reason, some parts of government aren't talking to other parts," he said.
The Commission could also face decisions on funding for a new Tampa Bay Rays baseball stadium. A plan was unveiled last week for $892 million, and team owner Stu Sternberg has said the team is unlikely to come up with even half of that cost.
Patel is a member of Rays 100, a local civic group dedicated to helping get the stadium built. But if that solution includes using tax money, Patel said to count him out.
"I want the Rays to stay here," he said. "But I don't think public dollars should be used. We want to see dedication from ownership on this."
Would that position include standing against the use of tourist taxes to help pay for the stadium? That depends on what local tourism officials decide.
"My opinion is, they will have a hard time coming to a consensus on it," he said.
If that is true, does he believe the business community and Rays ownership can figure a way to get the stadium built?
"Absolutely," he said.