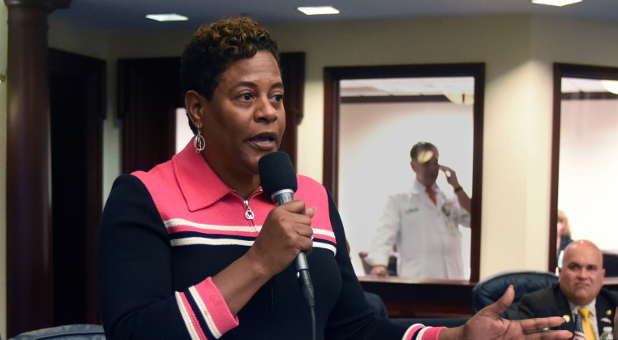 As of July 20, the last date for which campaign finance data is available, House District 14 incumbent Rep. Kim Daniels is still well ahead of Democratic challenger Paula Wright.
In the money chase ahead of the open Democratic primary, Daniels raised $7,642, and spent $13,420, between July 7 and July 20. She has just over $21,500 on hand.
Of the contributions, $5,000 came in five $1,000 checks from a North Miami Beach address housing a gaggle of dialysis companies. Also contributing: former Republican candidate for 4th Circuit State Attorney Wes White, as well as Harry Rummell of the Peter Rummell family.
Of the over $13,000 spent, the majority was on campaign materials, food for workers, et al. Daniels is also employing a consultant with some name value, former state Rep. Terry Fields, who was paid $1,700 during the period.
Wright, whose fundraising was slow out of the gate, showed some improvement on the last report filed in June.
The Duval County School Board chair raised $5,364 and spent $1,020. All told, she has roughly $7,000 on hand.
Unions backed Wright — a local electricians union and a buildings-and-trades political action committee each contributed $1,000, as did local trial lawyer Wayne Hogan.
Meanwhile, Wright got a trio of key endorsements over the weekend, according to Jacksonville political commentator Fred Matthews.
Tracie Davis, Audrey Gibson, Garrett Dennis gave a full throated endorsement to Paula Wright in her race against Mike Mike's Momma at Abysinnia Baptist church this morning!

— Frederick D Matthews (@FMATT99) July 29, 2018
This campaign has already gotten ugly: an un-bylined piece in The Florida Star made scurrilous charges against Wright, who was not given an opportunity to respond before publication.
It took the paper a week to retract the article.