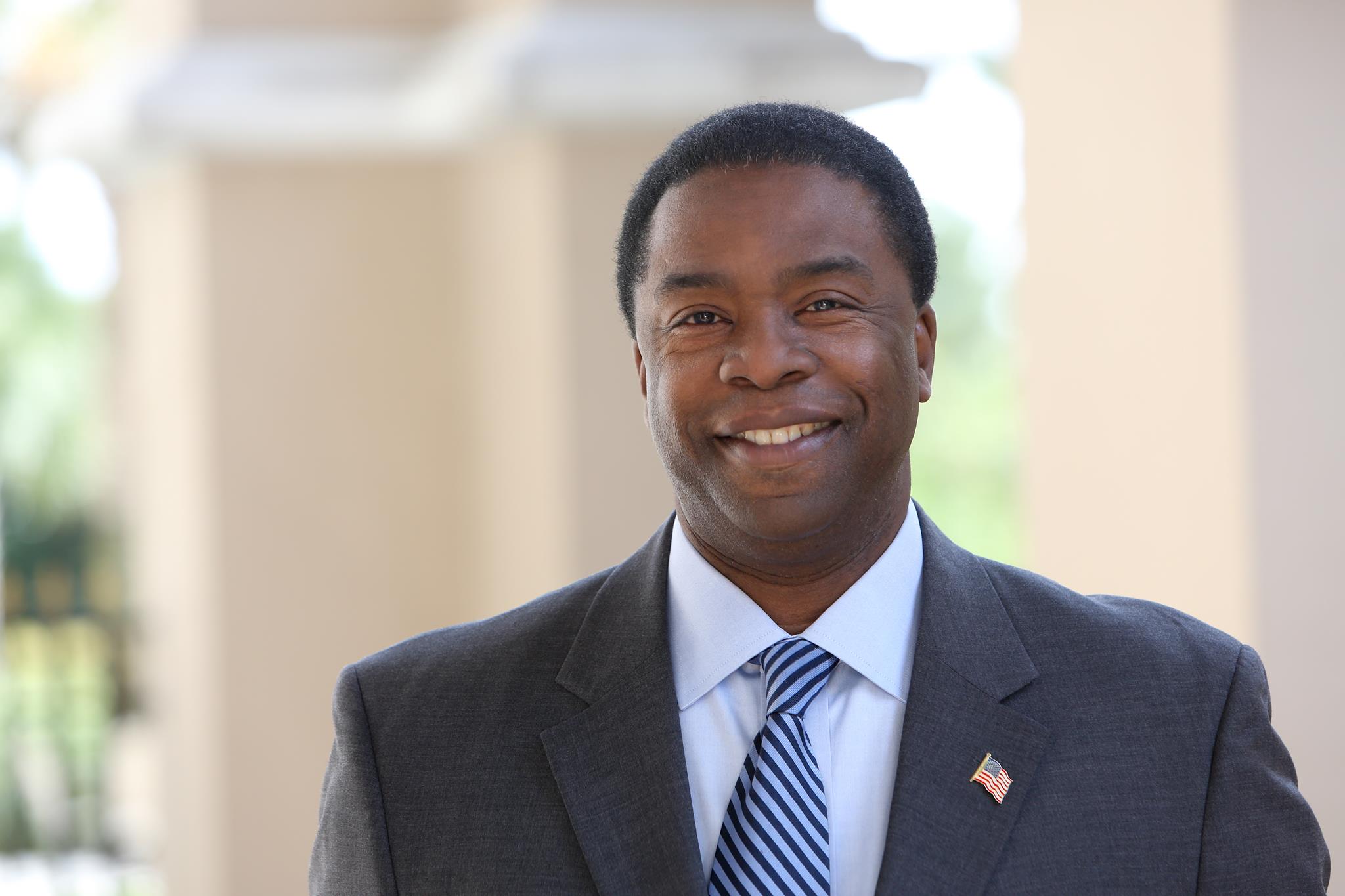 Former Jacksonville Mayor Alvin Brown continued his recent media blitz on Jacksonville outlets by taking calls on WJCT's First Coast Connect Tuesday morning.
Brown, who had managed not to say anything newsworthy in two television appearances over the weekend, described himself as "the Democrat who's going to stand up to Donald Trump" and "challenge the status quo" — a marked shift from four years in City Hall where he offered little challenge to extant paradigms.
And ultimately, as was the case when we interviewed him in late June, questions about his tenure in City Hall still loom over his campaign for the 5th Congressional district, three years after he left the St. James Building.
When confronted by host Melissa Ross with a quote from his opponent, U.S. Al Lawson, saying that Brown's record as mayor was subpar and that Brown called him and said "he wanted to be just like me," Brown dodged the question, returning to talking points like "36,000 new jobs" familiar to those around in his 2015 re-election bid.
Brown was also asked about his pivot to the left from a "conservative Democrat" posture he asserted as recently as the 2015 reelection bid, including a failure to get Human Rights Ordinance expansion through after a 2012 vote against LGBT rights expansion.
Brown said he "focused on the issues that mattered the most," which involved the economy and pushing for a "living wage," again dodging the question that nettled LGBT and progressive voters in Jacksonville.
When asked if his move left was genuine, Brown dodged that question too, saying that he opposed "bullying, discrimination, and violence," and that he enacted LGBT protections in City Hall.
"I never went against the community," Brown said.
Brown then pivoted to accusing Lawson of being "Trump's favorite Democrat," citing Lawson's vote against abolishing ICE (even as Brown said he wanted to "reform" not abolish the agency) and alleged support for the National Rifle Association.
The HRO issue came up on the first call, with a caller saying Brown "did nothing to support the HRO" despite assurances in 2011 to the contrary, and that he couldn't believe anything Brown says because of that.
"I don't have an issue with the gay community," Brown said, adding that he supported their right to marry. "I don't know what more I can say."
"You've got to build trust. It takes time," Brown, who has been courting Jacksonville voters for the better part of a decade, said.
Brown also had to address not appearing at a Barack Obama rally, saying he wasn't in town when Obama rallied locally, but that he was a delegate to the 2012 convention and did appear with Obama at JAXPORT.
"I supported the President. I voted for him," Brown asserted. "Was a delegate for the President."
Brown, when asked about his strategy in the sprawling east/west 5th Congressional District, noted he's been campaigning "in all eight counties … a grassroots campaign."
Endorsements thus far have been elusive from those counties, most of them won handily by Lawson against Corrine Brown in 2016.
As well, Brown has faced a cash deficit: Brown announced Friday that he had raised over $165,000 in the second quarter, and had $144,360 cash-on-hand. Lawson, according to his FEC report, kept pace with $136,514 raised — and more importantly, holds an edge with $219,272 on hand.
Ironically, for a candidate running to the left of the incumbent in a Democratic primary, much of Brown's support has come from Jacksonville Republicans, including but not limited to Jacksonville Jaguars owner Shad Khan — a big backer of Republicans like Jacksonville Mayor Lenny Curry and Gov. Rick Scott.