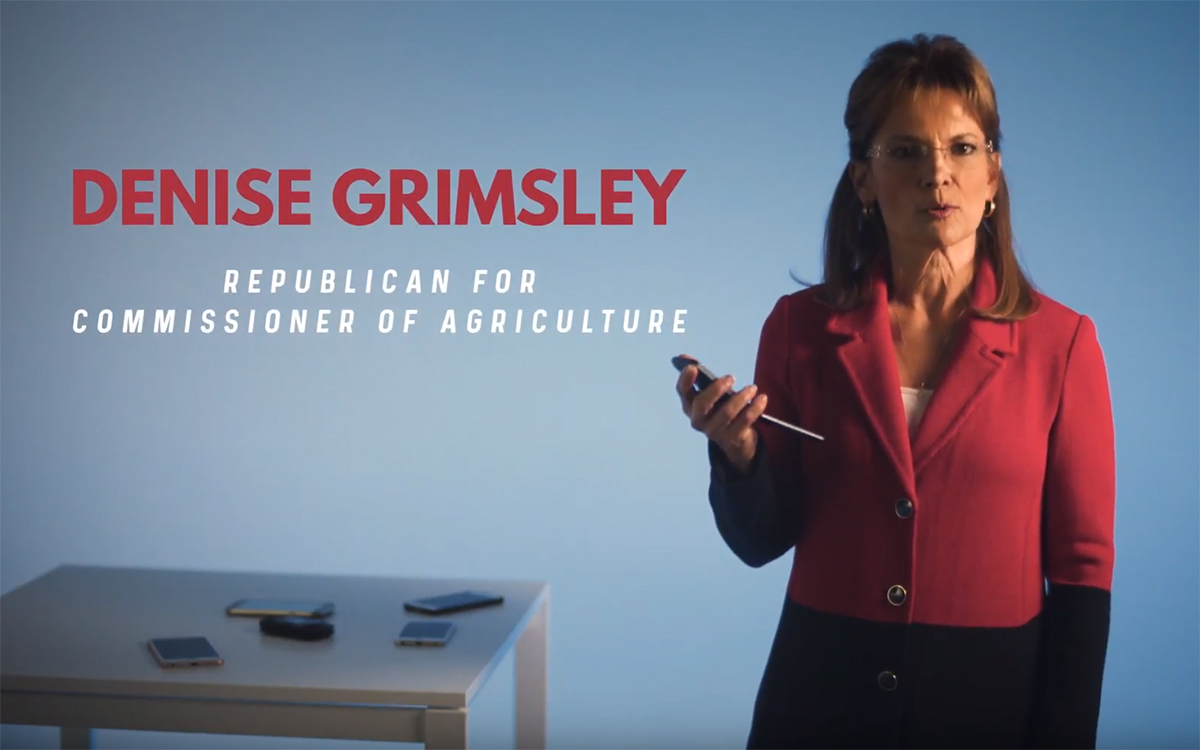 Sebring Sen. Denise Grimsley has started hitting the airwaves four weeks out from the Republican primary to replace term-limited Agriculture Commissioner Adam Putnam.
Her first ad, titled "Get it Done," opens with Grimsley addressing one of the lesser-known responsibilities of Florida's Agriculture Commissioner — putting a lid on those annoying scam calls.
"At first these fake calls were frustrating. Now they're infuriating," Grimsley says before snapping a cellphone in half and making a pledge than anyone who has fallen victim to the friends and neighbors scam can get behind. "I'm Denise Grimsley, and I'll fight to stop these calls and put the crooks behind them behind bars."
A narrator then takes over to herald Grimsley's many endorsements from law enforcement and firefighters before touting her as a "conservative" who is "pro-life, pro-gun and anti-tax."
"She's a third generation farmer, first generation nurse whose raised cattle, run a business and saved lives," the ad continues. "Denise Grimsley for Commissioner of Agriculture."
Grimsley faces Lehigh Acres state Rep. Matt Caldwell, former state Rep. Baxter Troutman, and retired U.S. Army Col. Mike McCalister in the Aug. 28 Republican primary. The winner of that contest will go up against one of three Democratic hopefuls: Nikki Fried, Jeff Porter and David Walker.
Grimsley and Caldwell have been the standouts on the Republican side, with each raising more than $2 million between their campaign accounts and political committees. As of July 20, the pair were virtually tied in cash on hand with just over $1 million banked each.
Troutman, meanwhile, has self-funded to the tune of $3 million while McCalister has only barely cracked $10,000, with most of his funds coming in through candidate loans.
Grimsley's ad is below: