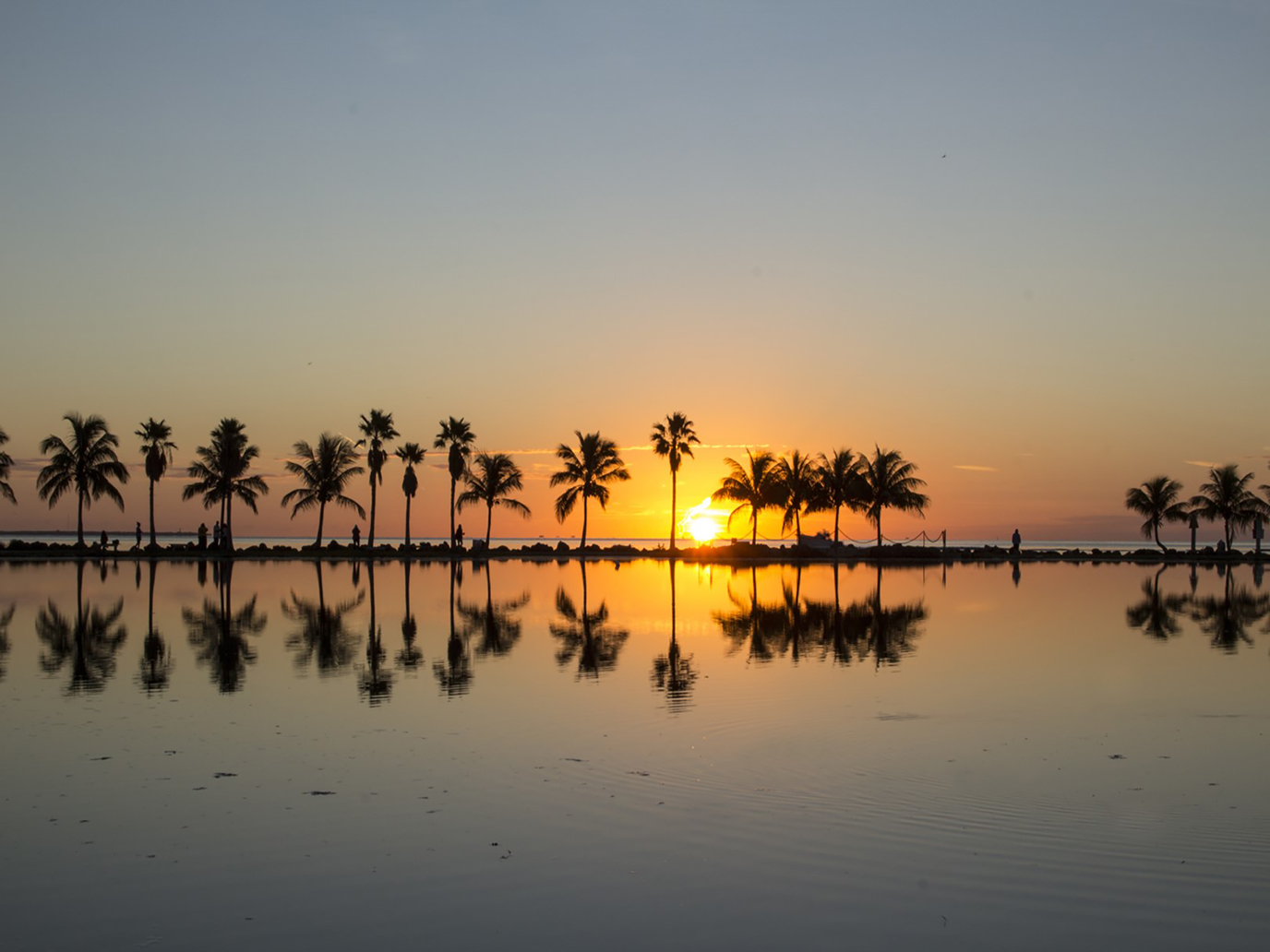 Sunburn — The morning read of what's hot in Florida politics.
By Peter Schorsch, Phil Ammann, Daniel McAuliffe, Joe Henderson, Jim Rosica, and Drew Wilson.
If you heard a pounding sound in the early evening Tuesday that sounded like tap … tap … tap …
BANG!
Don't fret.
That was just the sound of the coffin being nailed shut on Adam Putnam's hopes to be Governor of Florida.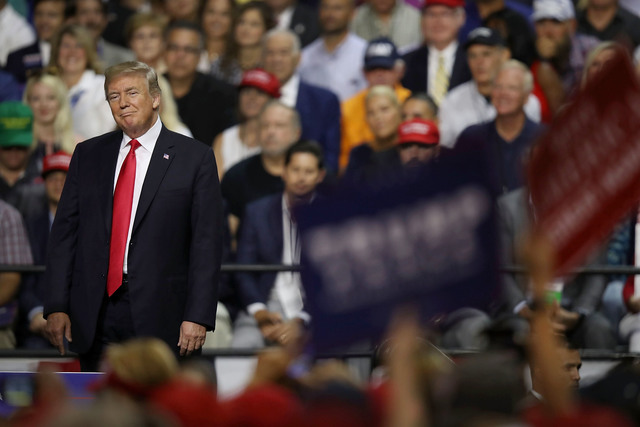 The hammer was being swung by President Donald Trump during a rally Tuesday in Tampa at the Florida State Fairgrounds, driving in the nails in Putnam's campaign at a venue that is under the umbrella of, um, Florida Agriculture Commissioner Adam Putnam.
But there it was, for an audience of true believers in the president's agenda.
Trump was effusive in his praise of Ron DeSantis, the darling of Fox News and Putnam's opponent in the fight to win the Republican nomination for Governor on Aug. 28. Never mind that Putnam is a child of Florida, with a history in Florida, is generally well-liked in Florida, and … oh, never mind.
Fox likes DeSantis.
Ergo: the president endorses DeSantis and, well, that's that.
Besides that, what could we take away from the president's in-and-out visit to Tampa?
Same ol', same ol' – to be honest.
It was a rally, so we expected Trump to touch all the talking points and he didn't fail.
I'll sum it up: Democrats, BAD!
Me: GOOD! No, wait…GREAT!
Well, we'll see about that come November.
"Putnam supporters mull jumping ship as Trump rallies for DeSantis" via Matt Dixon of POLITICO Florida – Trump's strong backing for DeSantis in the Republican primary has helped the three-term congressman overcome what was once a double-digit lead for Putnam, who has also enjoyed a large money lead. Meanwhile, behind the scenes, donors who have long been with Putnam were meeting with the DeSantis campaign, the first signs of a coming peace treaty between Florida's big political donors and DeSantis if he wins the nomination. "In Tampa today, we met with multiple people who have been supporter of Putnam who now know the race was over," said a GOP consultant affiliated with the DeSantis campaign. When pressed for specific names, the person responded, "all the smart ones."
Rick Scott highlights new bill inked by Trump — Gov. Scott may not have turned out for the Trump rally in Tampa yesterday, but he did put in some face time with the president. Scott, who is running for U.S. Senate against incumbent Democrat Bill Nelson, was at the White House to watch Trump sign the "Strengthening Career and Technical Education for the 21st Century Act," which continues reauthorizes a program allowing states more authority in deciding how to federal spend money allocated for local technical education. The pair then headed back to the Sunshine State and while en route discussed the White House's approval of the EAA Reservoir to store more water South of Lake Okeechobee as well as foreign policy plans related to Nicaragua and Cuba. After arriving in Florida, Scott and Trump held a joint event at Tampa Technical High School to tout the new education bill.
— SITUATIONAL AWARENESS —
—@RealDonaldTrump: I don't care what the political ramifications are, our immigration laws and border security have been a complete and total disaster for decades, and there is no way that the Democrats will allow it to be fixed without a Government Shutdown …
—@OneUnderScore_: Just did a Qanon segment for Nightly News and watching every producer and cameraman look at me with "what in the Sam fuck is this dude talking about?" looks on their faces for 10 solid minutes as I explained it to them was one of the purest joys of my lifetime.
—@LearyReports: As Trump preps for rally, @MarcoRubio on Senate floor pushing bill that would sanction Russia for 2018 midterm interference.
—@CODonnell_Times: John Lennon's "Imagine" now playing inside Florida Fairgrounds to crowd waiting for Trump. Some irony here.
—@Fineout: [email protected] says Florida need to stop "Common Core" in its classrooms. Repeating: Common Core was put in place in Florida by @FLGovScott & GOP-controlled Fla. Leg. They just changed the name to Florida standards.
—@SContorno: FYI Trump said there are thousands of people outside who couldn't get in watching the rally on large TVs with speakers. Our reporters on the ground outside couldn't find evidence of this.
—@MarcACaputo: If Gov Rick Scott is keeping his distance from Trump … Trump is making sure to remind the crowd he's running for US Senate against Sen. Bill Nelson, whom he basically calls an absentee senator
—@DavidJollyFL: Trump calls Trumpism the greatest movement in the history of the United States. I might cast my vote for the civil rights movement. Maybe the abolition of slavery. Maybe women's suffrage. Just saying.
—@MDixon55: Believe @adamputnam avoided direct hit from @realDonaldTrump, but overall this was a very bad night for his long-planned bid for governor
—@NoahPransky: I have to wonder, does "Who is America" shoot so much in Georgia only because it has easy targets? Or is it also because the state offers it cash incentives to shoot there? Which really makes me wonder, how are those incentives benefiting the people of Georgia??
— DAYS UNTIL —
'The Race for Governor' Democratic gubernatorial debate in West Palm Beach — 1; Florida's back to school sales tax holiday begins — 2; Republican gubernatorial debate in Jacksonville — 7; School begins in the first 19 Florida districts — 9; Start of the U.S. Open — 26; Primary Election Day — 27; College Football opening weekend — 29; Labor Day — 33; NFL regular season starts — 36; Future of Florida Forum — 56; 'Before You Vote' Florida U.S. Senate debate — 83; 'Before You Vote' Florida Governor debate — 84; General Election Day — 97; Florida Chamber Insurance Summit — 118; 'Hamilton' comes to the Straz Center — 195; 2019 Legislative Session starts — 216; 2020 General Election — 825.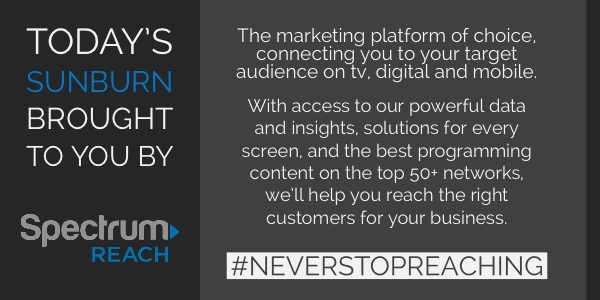 — TOP STORY —
"Facebook has identified ongoing political influence campaign" via Nicholas Fandos and Kevin Roose of The New York Times — In a series of briefings on Capitol Hill this week and a public post, the company told lawmakers that it had detected and removed 32 pages and accounts connected to the influence campaign on Facebook and Instagram as part of its investigations into election interference. It publicly said it had been unable to tie the accounts to Russia, whose Internet Research Agency was at the center of an indictment earlier this year for interfering in the 2016 election, but company officials told Capitol Hill that Russia was possibly involved, according to two officials briefed on the matter. Facebook said that the accounts — eight Facebook pages, 17 Facebook profiles, and seven Instagram accounts — were created between March 2017 and May 2018 and first discovered two weeks ago. Those numbers may sound small, but their influence is spreading: More than 290,000 accounts followed at least one of the suspect pages, the company said. Between April 2017 and June 2018, the accounts ran 150 ads costing $11,000 on the two platforms.
— NOTES FROM THE CAMPAIGN TRAIL —
"Americans For Prosperity 'encourage(s) voters to remove Bill Nelson'" via Scott Powers of Florida Politics — "Nelson has a record filled with contempt for qualified jurists, support for a broken health care system, and an affinity for the tax and spend philosophy synonymous with D.C.'s swamp culture," AFP-Florida declared in a news release. "His empty rhetoric for moderate policymaking is overshadowed by decades of contradictory action. AFP-FL's hallmark grassroots teams will mobilize across the state to educate Floridians about his broken promises and failed agenda to encourage citizens to vote Bill Nelson out of office." No commercials or other advertisements are being immediately launched, but they will be forthcoming.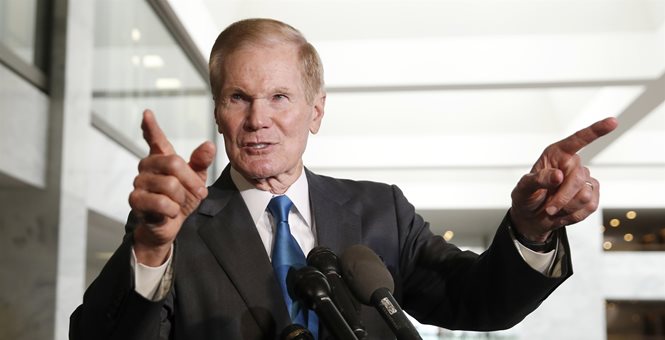 "Andrew Gillum cancels Democrat editorial board meeting" via Jeff Burlew of the Tallahassee Democrat — Gillum was supposed to meet with the board at 4 p.m. for a live-streamed round of questions and answers. Geoff Burgan, his campaign spokesman, canceled in an email to the Democrat sent shortly before 9 a.m. "I'm really sorry, but we're going to need to reschedule the mayor's visit today," Burgan said. "Let's circle back on some dates in the coming days. I apologize for the inconvenience & hope all is well at the Democrat!" Burgan said in a subsequent email the meeting had to be canceled because of a scheduling conflict. He was asked but did not elaborate on what the conflict was.
"Jeff Greene: Nominating me gives Democrats better chance of winning Florida Senate" via Steve Contorno of the Tampa Bay Times — Greene said he would use his personal wealth to help usher a Democratic wave into office along with him if he's the nominee. "If I'm the head of the ticket, then I'm sort of in a way the head of the party," Greene said in a meeting with the Tampa Bay Times editorial board. "So now I'm going to be very, very focused on bringing a Democratic Senate with me to Tallahassee." And if he's not the nominee? "Am I going to make it my life's work? Probably not as much."
San Juan Mayor Carmen Yulín Cruz Soto endorses Philip Levine — In her video endorsement, Cruz talked about when Levine reached out to her, offering support during the recovery efforts immediately following Hurricane Irma, when he loaded a cargo plane up with supplies and flew to San Juan: "And then out of nowhere, I got a phone call from this guy I had never heard of, that I had never met. 'Hi Mayor, my name is Philip Levine' … So, here's this guy that doesn't know me, that felt our pain, and was willing and able to use the power that he had in Miami to make sure that we were taken care of in San Juan and other cities of Puerto Rico. And he just said, 'This is from the people of Miami Beach, to the people of Puerto Rico.'"
To watch the video endorsement, click on the image below:
Assignment editors — Putnam will join Lee County Republicans for a grassroots meet-and-greet, 4:30 p.m., Lee County REC Headquarters, 7050 Winkler Road, Suite 103, Fort Myers.
First in Sunburn: Denise Grimsley launches initial ad in Agriculture Commissioner race — In "Get It Done," Grimsley talks about her approach "in life and as a public servant," with a focus on fighting telephone scamming criminals that "plagued us and our loved ones." She vows to do all she can as Agriculture Commissioner to stop them.
To watch the ad, click on the image below:
Assignment editors —Grimsley will attend "The People's Choice," candidate meet-and-greet, 5:30 p.m. Eastern time, Gaspar's Patio Bar & Grille, 8448 N. 56th St., Temple Terrace.
Florida Builders endorse Ashley Moody for AG — Republican Attorney General candidate Moody is receiving the endorsement of Associated Builders and Contractors of Florida. "Her steadfast support of reducing barriers to increase innovation and promote job creation, will make her an excellent partner to the Commercial Construction industry. These contractors are not just employers but are also the lifeblood of Florida's growth," said George Cuesta, 2018 Chairman, ABC Florida.
— NOTES FROM THE CAMPAIGN TRAIL, PART 2 —
"Matt Gaetz, polo players endorse greyhound racing-ban" via Florida Politics — The Protect Dogs-Yes on 13 campaign announced endorsements from leaders of the equine community, including world-renowned polo champion Mike Azzaro and two other Hall of Fame inductees. Joining them were Congressman Gaetz, a Northwest Florida Republican, and others. The campaign is promoting passage of Amendment 13, put on the November ballot by the Constitution Revision Commission (CRC). The proposal, which needs at least 60 percent approval to be added to the state constitution, aims at ending commercial dog racing in the state. "As world-class equestrians, we fully support Amendment 13," Azzaro said in a statement. "We would never treat our horse athletes the way greyhounds are treated. Greyhound racing isn't a sport. It is cruel and inhumane, and should end."
"Law enforcement makes plans ahead of Donald Trump Jr., Gaetz, Ron DeSantis visit" via Annie Blanks of the NWFDailyNews.com — Trump, Jr. will be at the Northwest Florida State College arena to stump for Gaetz and DeSantis. The President has endorsed both Gaetz and DeSantis, and large crowds are expected to gather — both to support and to protest the rally. NWFSC spokeswoman Kelsey Doar said the arena's seating capacity is 2,442, including handicap areas. Tickets are available for free on Eventbrite. Doors open at 5:30 for the event. "The college is planning on having extra security measures, including additional police officers and medical personnel on site, metal detectors upon entry to the event and designated areas for protests," Doar said. "Florida Highway Patrol will also be on campus working along College Boulevard and at all entrances to campus."
Happening today — Republican candidates for Florida's 6th Congressional District will debate in a forum sponsored by The Daytona Beach News-Journal. Participants include Fred Costello, John Ward and Michael Waltz, 6:30 p.m., the News-Journal Center at Daytona State College, 221 North Beach St., Daytona Beach.
"David Shapiro's first CD 16 commercial has him taking on bullies" via Scott Powers of Florida Politics — The 30-second spot, "Vowed," is being placed on broadcast and cable television in the Tampa-St. Petersburg market … The vow is the promise that Shapiro said he made to himself as a 10-year-old to stand up to bullies, with the implication that it led him to become a lawyer who "stood up to insurance companies and greedy corporations." That sequence first shows a dramatization of a young boy watching in fear as bullies push around another boy, and then shows the adult Shapiro talking at a trial. "Now Washington politicians are bullying seniors, cutting Social Security and Medicare, and breaking the promises we made to our veterans," he continues in the spot. "I'll protect seniors and make sure veterans get the services they've earned."
To view the ad, click on the image below:
"New ad hits Vern Buchanan for yacht purchase" via Zac Anderson of the Sarasota Herald-Tribune — The Democrat-aligned group Floridians for a Fair Shake is paying for the ad, which repeats a dubious claim from an earlier ad that "most Americans will pay more" under the GOP tax legislation. "Most Americans will pay more in taxes, Vern Buchanan gets a new yacht," the ad states. The ad references a report from the Tax Policy Center to justify the statement. But that report found that the legislation will reduce taxes for the vast majority of taxpayers over the next decade, and by about $1,600 on average in 2018. The Tax Policy Center does predict that 53 percent of taxpayers will pay more in 2027.
To view the ad, click on the image below:
"What former HHS Secretary Donna Shalala says she did with profits from UnitedHealth stock" via David Smiley of the Miami Herald — A newly filed financial disclosure shows that Shalala, a leading Democrat in the campaign to replace U.S. Rep. Ileana Ros-Lehtinen in Congress, continues to hold as much as $1.1 million in stocks and options in UnitedHealth Group. Though her relationship with UnitedHealth is well-known, the extent of Shalala's continued investment in the company — and her sale of more than $100,000 in UnitedHealth stock last year — was detailed for the first time when she filed her federally required financial disclosure. Shalala bristled when asked if her financial stake in the industry influenced her public positions. Shalala wasn't sure exactly how much stock she continues to own in UnitedHealth but said it's much closer to $500,000 than $1 million. She said the money she made from selling company stock last year — listed between $100,000 and $1 million — was not pocketed, but "donated to a variety of different charities or individuals who I was helping to go to school." … "I gave it away. I gave it to lots of people. Lots of people," she said. "I've given away my fees for years."
"Belinda Keiser pours another $225K into SD 25 campaign" via Florida Politics — During the reporting period covering July 7 through July 20, Keiser brought in just $10,600 in outside cash while boosted her campaign fund with another $225,000 in candidate loans. To date, the Broward County Republican has put up $925,000 of her own money and raised about $98,000 for a total campaign fund of more than $1 million. The majority of that cash has been spent on consulting contracts a torrent of direct mail campaigns.
"Jason Pizzo pours more money into Senate bid" via the News Service of Florida — Trying to unseat Sen. Daphne Campbell in the Aug. 28 primary, North Miami Beach Democrat Pizzo has put another $125,000 of his own money into the race … Pizzo made $125,000 in loans from July 7 to July 20, bringing to $275,000 the amount he has loaned to his campaign in Miami-Dade County's Senate District 38. As of July 20, Pizzo had raised $111,271 for the race, loaned $275,000 and spent $265,555, the report shows.
"Central Florida lawmakers raising re-election cash Wednesday night" via Florida Politics — A joint fundraiser for four Central Florida Republicans is set for Wednesday evening at the Rosen Shingle Creek in Orlando. The 5:30 p.m. event will benefit the re-election accounts of Altamonte Springs Rep. Bob Cortes, Winter Garden Rep. Robert "Bobby O" Olszewski, Longwood Rep. Scott Plakon and Orlando Rep. Rene Plasencia. The four incumbents will be joined by incoming House Speaker Jose Oliva as well as Palm Harbor Rep. Chris Sprowls and Palm Coast Rep. Paul Renner, who are in line to succeed Oliva as House Speaker following the 2020 and 2022 elections, respectively … All four lawmakers will face a Democratic challenger in November, while Plasencia will have to win elections in both August and November to earn another two years in Tallahassee.
"Mike Beltran gaining traction in HD 57 race" via Florida Politics — Lithia Republican Beltran is starting to gain some traction in his bid to succeed Republican Rep. Jake Raburn in House District 57. The attorney has piled on endorsements from staunch conservative groups Florida Right to Life and the Florida Family Policy Council and his pro-gun views have earned him an "A" rating from the National Rifle Association. The 34-year-old Harvard graduate has also found some success on the fundraising trail. Through one month in the race, Beltran has brought in $25,207 in outside money and kicked in another $100,000 in candidate loans. As of July 20, he had more than $107,000 in the bank. That gives him an edge over his Republican primary opponent, businessman and U.S. Army veteran Sean McCoy, who has bested him in outside fundraising with nearly $40,000 raised but has so far only put up $2,000 of his own money. As of July 20, McCoy has about $38,250 in the bank.
Tommy Gregory releases new ad in HD 73 race — Gregory's campaign announced "Patriot," a new spot that highlights his 20-year career in the U.S. Air Force as well as endorsements from law enforcement and the National Rifle Association. "Everything I've had the opportunity to do in my career up to now has prepared me well to tackle the big issues facing Florida," he said. "I'm up for the challenge and would consider it a huge honor to serve my friends and neighbors in District 73 in Tallahassee." Gregory is a Republican seeking the seat currently held by state Rep. Joe Gruters, who is running for the Florida Senate.
To view the ad, click on the image below:
"Lauren Book endorses Andrew Dolberg in crowded HD 98 primary" via Florida Politics — Small business owner Dolberg has earned a high-profile endorsement in the packed primary for House District 98, as state Sen. Book announced her support for the Dolberg campaign … "Andrew is exactly the kind of bold and fresh-faced leader we need in Tallahassee," said Book on her decision to back Dolberg. "In the Florida House, I know that he will be a strong ally on women's issues, a champion for children, and a fierce advocate for Florida's public schools. I look forward to working with him to deliver results for the residents of Broward County." Dolberg, a Plantation Democrat, is one of five Democrats competing for the nomination in HD 98, making it one of the most competitive Florida House races this election cycle. The district covers parts of Davie, Plantation and Sunrise.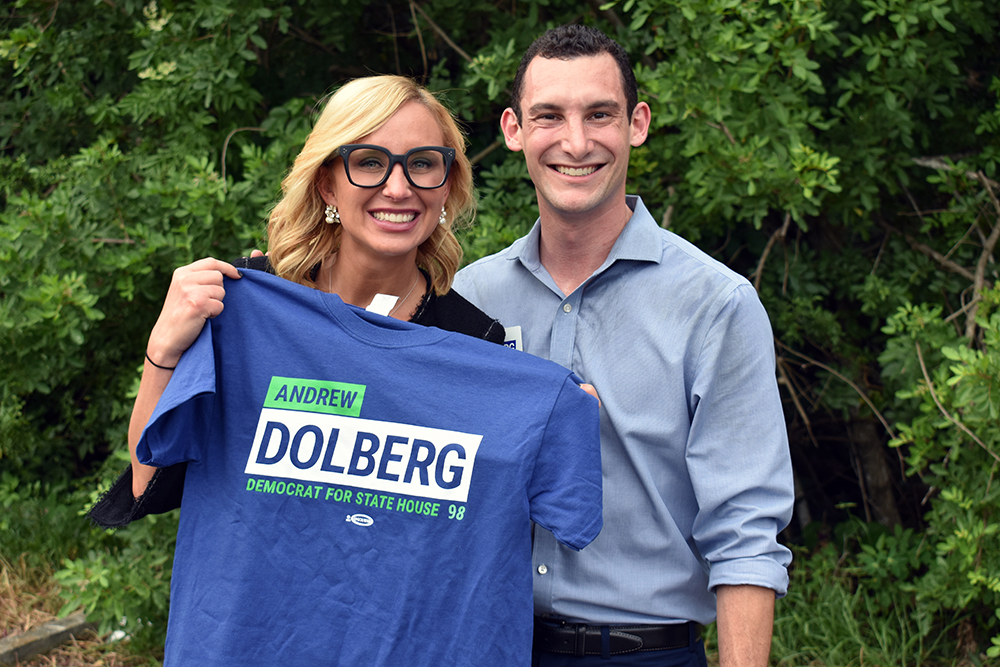 Happening today — Miami Democratic Rep. Robert Asencio, who is running for re-election in House District 118, appears at a meet-and-greet event hosted by SAVE Action PAC, 6 p.m., CIC Miami, 1951 N.W. Seventh Ave., sixth floor, Miami.
— ENDORSEMENT ROUND-UP —
The Tampa Bay Times editorial board is recommending state Sen. Denise Grimsley in the Republican primary for Agriculture Commissioner, citing the "breadth of her professional experience and her interest in improving consumer services and protections." Grimsley's toughest challengers are state Rep. Matt Caldwell and former state Rep. Baxter Troutman, who both "have a firm grasp of the issues," the editorial team notes. On the Democratic side, the Times recommends Nikki Fried, an attorney and lobbyist who has worked extensively advocating for marijuana expansion in the state. "She wants to elevate the consumer services side of the position, which tends to be overshadowed by issues like citrus production and water management," according to the Times. Fried faces environmental advocate Roy David Walker. The Sun Sentinel editorial board is recommending Democrat Kristin Jacobs in her re-election bid for House District 96, claiming Jacobs is a "knowledgeable legislator capable of dealing constructively with the Republican majority." She faces ballot newcomer Saima Farooqui.

— STATEWIDE —
Assignment editors — Gov. Scott will highlight the back-to-school sales tax holiday, which runs from August 3-5, with a news conference, 2:30 p.m., LR Uniforms, 8591 Coral Way, Miami.
"Florida's property tax outlook: 'No bad news coming' " via Florida Politics — Property tax revenues will remain stable during the next few years, according to state economic forecasters — meaning no big surprises there when the Legislature gets to work on the next state budget. The Florida Revenue Estimating Conference met Tuesday morning to review trends in "ad valorem" tax receipts. Final numbers were expected later in the day. "We went through all the components in the forecast, and even though some of them shifted a little bit, the result's going to be pretty much similar to what we forecast back in January," said Amy Baker, coordinator for the Office of Economic and Demographic Research. "In terms of legislative expectations, there's not big changes coming out of today," she said. "At least for ad valorem, there's no bad news coming."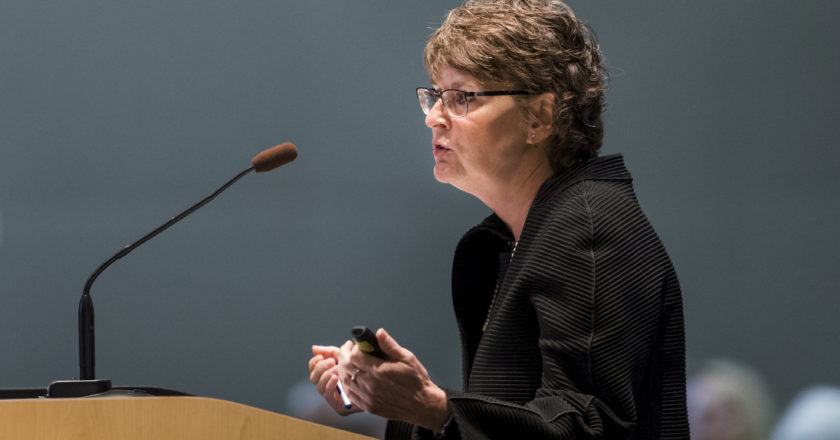 "Reproductive rights advocates meet in Tallahassee to demand scrutiny of 'fake' women's clinics" via CD Davidson-Hiers of the Florida Phoenix — A law that went into effect July 1 mandates that state government fund a network of not-for-profit women's clinics known as the Florida Pregnancy Care Network, Inc. Amy Weintraub, Progress Florida reproductive rights program director, said that 105 of these 190 clinics are "fake" and work to lure vulnerable women into their facilities just to shame for their reproductive choices. The clinics staff untrained counselors who offer "advice" and will use biased, nonmedical language when talking to women and girls, she said. Representatives from Progress Florida, Planned Parenthood, the Florida League of Women Voters and other reproductive rights groups showed up to support the more than 5,500 signed petitions that were delivered to the governor's office. Gov. Scott declined to meet with the groups.
"38 Florida Democrats get 'F' grade from conservative 'Florida family action' legislative scorecard" via Mitch Perry of the Florida Phoenix — Conservative activist John Stemberger's Florida Family Policy Council has released its 2018 state legislative scorecard, and it includes failing grades for dozens of Democratic legislators. The group scored each member of the 2017-2018 legislative body on ten issues of "life, family, religious liberty and related matters." Overall, 38 Democrats received an "F." Sixty-three Republican lawmakers and three Democrats received perfect "A" scores. Eleven Republicans and one Democrat received a "B" grade. Five Republicans received a "C," while two Republicans and one Democrat received a "D." The report begins by blasting a bill that hasn't even come before the entire Legislature — The Florida Competitive Workforce Act — which the group lambastes as "the worst bill in the world." Three Republican lawmakers — state Sen. Dana Young from Tampa, and Reps. Bill Hager from Boca Raton and Rene Plasencia from Central Florida received "D" grades. All three support the Florida Competitive Workforce Act.
"'In God We Trust' coming to schools across the state" via Eryn Dion of the Panama City News-Herald — The directive comes as part of a change to Florida State Statute 1003.44 covering patriotic programs, part of the controversial omnibus education bill HB 7055 passed last legislative session, requiring the display of the Florida state motto, which happens to be "In God We Trust." The statute comes with little direction, saying simply the motto must be displayed in a "conspicuous" location. There are more than 4,000 public schools in the state of Florida. In Bay District, the decision of how and where to display the motto will be left up to the school principals … Superintendent Bill Husfelt said he knew the administrators would make the right decision for their schools.
ICYMI from last night's 'Last Call' via Florida Politics — A Tallahassee judge now will decide whether the state should turn over records related to a pedestrian bridge that collapsed in March at Florida International University, killing six people. Circuit Judge Kevin Carroll on Tuesday heard from lawyers for The Miami Herald, the Florida Department of Transportation, and the U.S. Attorney's Office for northern Florida … Herald attorney Scott Ponce of the Holland & Knight law firm told Carroll the records sought were "undeniably" public before the accident, and shouldn't now be shielded just because they were provided to a federal investigative agency. But (Assistant U.S. Attorney Andrew) Grogan referred to an NTSB regulation that prohibits the state from releasing the records. And under the Constitution's Supremacy Clause, that trumps any state law requiring disclosure, such as Florida's public records law. Carroll did not rule immediately, but did ask for proposed orders to be filed with him by Thursday.
"Lawyers seeks dismissal of NRA lobbyist suit" via the News Service of Florida — A California attorney accused in a federal lawsuit of sending harassing emails to National Rifle Association lobbyist Marion Hammer argued in a court document that he should be dropped from the case. Lawrence Sorensen, a Camarillo, California, attorney who works as a mediator and arbitrator, contended in a motion to dismiss that a federal court in Florida does not have "personal jurisdiction" over Sorensen. The argument is based on Sorensen saying he lacks any substantial connection to Florida and arguing that two emails he sent to Hammer in March do not provide such a connection. "Mr. Sorensen simply sent two email in one half-hour in March to an email address that was published to the world on the internet," the motion said. "That email address, on its face, gave no indication that it was in Florida. Nothing in the text of the email mentioned or suggested a connection to Florida. In today's age, those two emails could have been opened anywhere."
"Power outages reduced, storm hardening works, PSC says" via Florida Politics — The Public Service Commission (PSC) on Tuesday issued its report on electric utilities' hurricane preparedness and restoration actions and "found that, overall, the length of power outages was reduced, indicating that storm hardening practices work." In 2006, the PSC ordered electric utilities to implement extensive activities to improve system resilience. That was followed by 10 years without a major storm landfall in Florida, making the 2016 and 2017 hurricane seasons the first opportunity to gather performance data. "For more than a decade, the PSC has worked to strengthen the state's electric infrastructure, while keeping costs down for customers," PSC Chairman Art Graham said. "This report confirms that our storm hardening rules are working and also identifies areas that can be improved, such as utilities' undergrounding programs, customer communications, and tree-trimming coordination with local governments."
"St. Augustine mayor severs ties with blogger who sent racist email" via Ryan Benk of WJCT — St. Augustine Mayor Nancy Shaver said she's discontinued their professional relationship and condemned the "name-calling." The subscriber, Daniel Carter, used profanity in an email asking to unsubscribe to Historic City News after he was sent a message asking him to support city commission candidate Jill Pacetti. "Calling out a news outlet for being a racist piece of sh** and in turn, the editor-in-chief responds with overt racist remarks confirming that he is, in fact, a racist piece of sh**," Devon wrote on a post on his Facebook including screenshots of the email. According to his website, Michael Gold, who also consults and does campaign outreach for political candidates, began the blog as an email newsletter in 2000 and over the years it morphed into a city news site that includes public announcements, entertainment and local politics. Historic City News often publishes far-right letters to the editor and opinion pieces and Gold generally supports more conservative candidates.
— GUNSHINE STATE —
"Color of Change opens state-level political committee for 'Stand Your Ground' fight" via Florida Politics — Color of Change, which bills itself as the "nation's largest online racial justice organization," launched its campaign to "Stop 'Stand Your Ground'" after the recent killing of Markeis McGlockton in Clearwater. As part of Color of Change's effort, it has filed paperwork to open a political committee, ColorOfChange PAC. The committee will allow it to accept contributions and use that money to influence state-level races. The committee is chaired by Arisha Hatch, the managing director of campaigns for Color of Change. The group's CFO, Ismael Savadogo, is listed as treasurer, and Tallahassee attorney Jennifer Blohm is listed as the registered agent.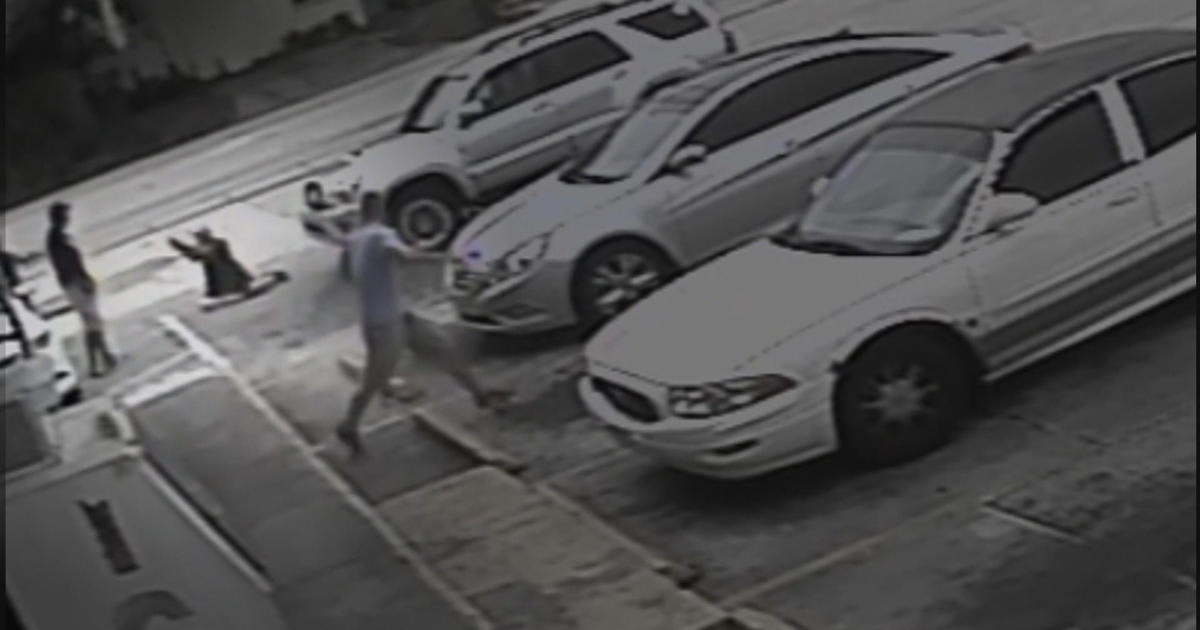 "Al Sharpton coming to Clearwater to rally for Markeis McGlockton" via WFLA — He will be holding a rally with the National Action Network at St. John Primitive Baptist Church in Clearwater. The rally is set for Sunday, August 5 at 4 p.m. McGlockton's death has made national headlines because the man who shot him was not charged. Deputies say it falls under Florida's controversial "Stand Your Ground" law that grants immunity to anyone who uses deadly force if they can reasonably claim they were defending themselves. Since McGlockton's death, protesters have called for the law to be repealed. The NAACP is urging the state attorney's office to file charges against Michael Drejka. Sen. Bill Nelson has signed a letter asking the Justice Department to investigate the shooting.
— PUBLIC NOTICE OF THE DAY —
Due to the unprecedented volume of dead sea life currently washing up on the shores of Sanibel, as of Saturday, July 28, 2018, the City of Sanibel is collecting and removing dead sea life from our Gulf and Bayside beaches. In addition to City crews, the City staff is being augmented with contractual labor. Currently, City crews are collecting the entire length of the beaches. However, due to the frequency, magnitude and volume of the current deposits, private property owners are also hereby authorized to collect dead fish from their beaches as well. Dead sea life collected can be doubled [sic] bagged and placed into the property owners' commercial dumpsters.
— D.C. MATTERS —
"Trump administration considers tax cut for the wealthy" via Damien Paletta of The Washington Post — The Treasury Department is considering a tax cut for the wealthiest Americans through a change that would not need approval from Congress, officials said, a move that would follow a package of tax cuts last year that also benefited the super-rich. The agency is studying whether to allow investment income, known as capital gains, to be adjusted for inflation in a way that shields more of it from taxation. Most capital gains are paid by wealthier Americans, who disproportionately hold large portfolios of investments. But the use of executive power on such a significant change to the tax law would be highly unusual and could be vulnerable to a legal challenge. Senior administration officials have discussed whether to proceed but have not concluded they have the legal authority to do so. The move was rejected during the George H.W. Bush administration because it was seen as outside the scope of Treasury's authority and only attainable via an act of Congress.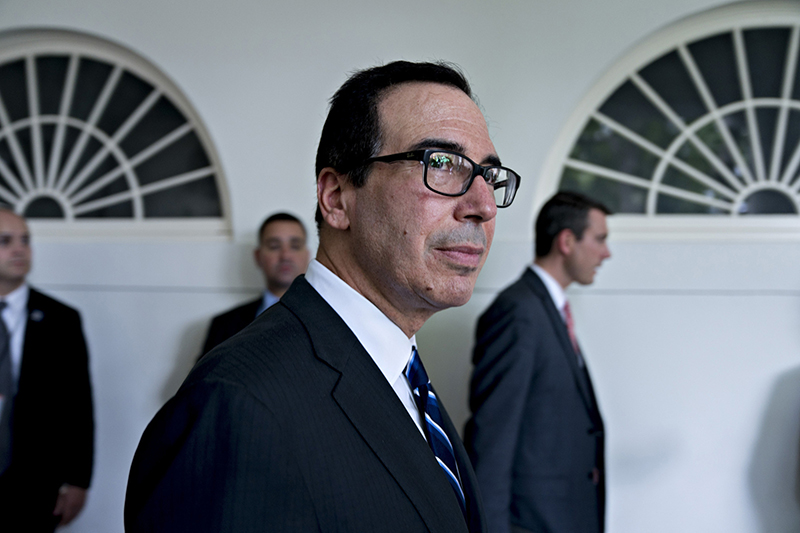 "Trump signs bill extending National Flood Insurance Program" via Alex Leary of the Tampa Bay Times — The program was due to expire at midnight, but the Senate on Tuesday followed the House in approving the extension, the seventh such short-term reauthorization amid ongoing criticism over cost. "While this four-month extension was crucial, we cannot keep kicking the can down the road and delaying much-needed reforms," said Republican Sen. Marco Rubio, vowing to address "the fundamental flaws of the program, which will allow the NFIP to move forward on a path to affordability and sustainability." If lawmakers failed to act Tuesday, people could not obtain new flood insurance policies or renew those that expired. The National Flood Insurance Program covers 5 million homeowners and business owners nationally, including nearly 1.8 million in Florida. Rocked by a series of big storms, it is more than $20 billion in debt to the federal treasury, despite a $16 billion bailout from Congress last year.
"Marco Rubio to introduce paid family leave plan" via Alex Leary of the Tampa Bay Times – Rubio on Wednesday will finally reveal his paid family leave proposal allowing parents to draw from future Social Security benefits. "Our proposal would be a consistent application of Social Security's original principle — to provide assistance to dependents in our care — to the challenges of today," Rubio writes in a USA Today op/ed. He is introducing the bill with Rep. Ann Wagner. Democrats have already criticized the plan, which Rubio has talked about for months, because it affects Social Security. People would delay future benefits in order to draw them for family leave.
"Crackdown on dirty money shook Miami real estate. Now, Rubio wants to take it national" via Kevin Hall and Nicholas Nehamas of the Miami Herald — In a move with significant implications for the U.S. housing market, Rubio is seeking to take a Treasury Department crackdown on dirty money in luxury real estate and expand it from a few high-priced enclaves to the entire nation. Rubio says his proposal is an attempt to root out criminals who use illicit funds and anonymous shell companies to buy homes — a form of money laundering that hides the cash's tainted origin from law enforcement and banks. The widespread practice enables terrorism, sex trafficking, corruption, and drug dealing by providing an outlet for dirty cash, according to transparency advocates. Through an amendment to an unrelated major spending bill, Rubio will ask Treasury to study whether government regulators should force shell companies that buy homes priced at $300,000 or more in cash nationwide to disclose their owners. That could be a figure as high as 10 percent of the nation's real estate deals.
Assignment editors — At the Young America's Foundation (YAF) 40th Annual National Conservative Student Conference, Rubio will discuss the unique challenges and opportunities young conservatives face in America, 8:15 a.m. Eastern time, JW Marriott Hotel Grand Ballroom, 1331 Pennsylvania Ave. NW., Washington D.C. Rubio's remarks will be livestreamed here.
Assignment editors — U.S. Rep. Kathy Castor will mark the 65th anniversary of the Small Business Administration, joined by local small businesses, which were helped by the SBA, 10 a.m., 1101 Channelside Dr., #210, Tampa.
"Brian Mast to file bill seeking federal money in toxic blue-green algae fight" via Tyler Treadway of TCPalm — Mast plans to introduce legislation to make federal funding available to communities impacted by harmful algal blooms and to increase the federal focus on combating the water crisis plaguing the Treasure Coast. The Palm City Republican will announce his plans to introduce the bill at 11 a.m. at the St. Lucie Lock and Dam, where blue-green algae in water discharged from Lake Okeechobee enters the St. Lucie River. Some of it is toxic. "The federal government, through the Army Corps of Engineers, has played a huge role in perpetuating the human health crisis caused by Lake Okeechobee discharges," Mast said in a prepared statement, "and they need to take responsibility for the damage by helping to pay for the cleanup." The government, Mast said, also needs to "stop prioritizing special interests over human health and put an end to the crisis once and for all."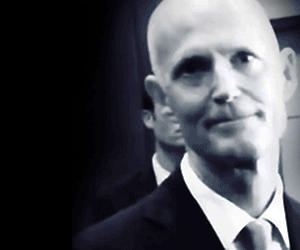 — OPINIONS —
"Ashley-Britt Hanson: Avoid unnecessary risks on health care — keep fixing the ACA" via Florida Politics — While the idea of a "Medicare for All" health care system may sound appealing to Floridians in theory, I fully recognize that the only legitimate path to improving our broken health care system in the immediate future is to amend the already existing legislation known as the Affordable Care Act. As an attorney in Florida, one of the biggest complaints I hear from my clients regarding health care is a lack of stability. Millions of Americans may have access to health care as a result of the Affordable Care Act, but inaction by politicians in Washington have led to higher premiums and instability in the marketplace. With so many Americans depending on the protections provided by the ACA, inaction is political malpractice. It's well past time for our elected leaders to put partisanship aside and get to work on improving the Affordable Care Act.
"'Stand Your Ground' has become a get-out-of-jail-free license to kill" via Benjamin Crump for the Tallahassee Democrat — As has happened before in Florida, "stand your ground" is being appropriately scrutinized in the aftermath of the shocking shooting death of Markeis McGlockton, an unarmed black man who was gunned down for trying to protect his family — including his young children — in a dispute over a handicapped parking space. Originally, Florida's stand your ground law emerged as an outgrowth of the traditional "castle doctrine," which allowed individuals to defend their home with whatever force was necessary. Somehow that concept has been warped into a virtual get-out-of-jail-free card that is essentially a license to kill. Too often in today's society, people act first and think later. The most common place for this is on social media. In the real world, this mentality is leaving corpses in its wake … Had McGlockton been the one to pull out a gun, there is no way stand your ground would have been extended to him, a man of color. He would have been charged with murdering a white man.
— MOVEMENTS —
"Miami-Dade is almost ready to buy its first electric buses. Enter the lobbyists" via Douglas Hanks of the Miami Herald — Miami-Dade County wants to create a new fleet of modern electric buses, but the act of purchasing the quiet and smog-free vehicles seems to be skidding into an old-fashioned procurement fight. County administrators have recommended buying nearly three dozen 40-foot electric buses from Proterra, a California company that has sold or leased electric buses to governments across the country … With the estimated $23 million deal awaiting a final signoff from Mayor Carlos Gimenez, a losing bidder is urging Miami-Dade to throw out the recommendation and buy its vehicles instead. "We are submitting this letter to, again, express concern regarding the County's decision to engage in negotiations with Proterra," lobbyist Alexander Heckler wrote Gimenez on behalf of New Flyer, a bus maker based in St. Cloud, Minn., that also bid on the electric-bus contract. "The flaws in Proterra's buses will not only delay their delivery, but it will also expose the County to significant risks."
Personnel note: Nancy E. Paton named UF's VP for strategic communications, marketing — Paton will be responsible for "leading the communication of UF's accomplishments and goals within the university community, nationally and globally, and guiding UF's strategic initiatives to build its stature and reputation," a news release said. She starts Oct. 1 in the newly created position. "Nancy is a communications leader who brings exceptional knowledge and experience to this position," UF President Kent Fuchs said. "She understands the challenges facing higher education, has a proven track record of effective leadership and offers a refreshing new perspective on traditional and social media, as well as marketing." Her appointment concludes a national search. Paton was named the Higher Education Marketer of the Year by the American Marketing Association in 2017.
New and renewed lobbying registrations:
David Szymanski, The Fiorentino Group: University of North Florida
Candice Ericks, TSE Consulting: Correct Care Solutions
Darrick McGhee, Johnson & Blanton: Chrysalis Health
Spotted at the #MAGA rally in Tampa: Ballard Partners' Brady Benford:
Spotted this past weekend at Miami International Airport, waiting on a flight to Tallahassee after taking a tour of UM with Connor, his college-bound son: Jim Daughton of Metz Husband & Daughton.
— ALOE —
"Florida Poly students to participate in $280M U.S. Air Force project" via Janelle Irwin of the Tampa Bay Business Journal — Draken International provides pilots flying military-grade jets to serve as the enemies in training exercises. The Air Force awarded the Lakeland-based company a $280 million contract to provide adversary air services at Nellis Air Force Base near Las Vegas through 2023 earlier this year. Students and faculty are providing support in the areas of high-tech applied research, the school announced. Florida Polytechnic students will be able to apply for internships with the company this summer and fall, according to the school. Those opportunities are expected to continue indefinitely.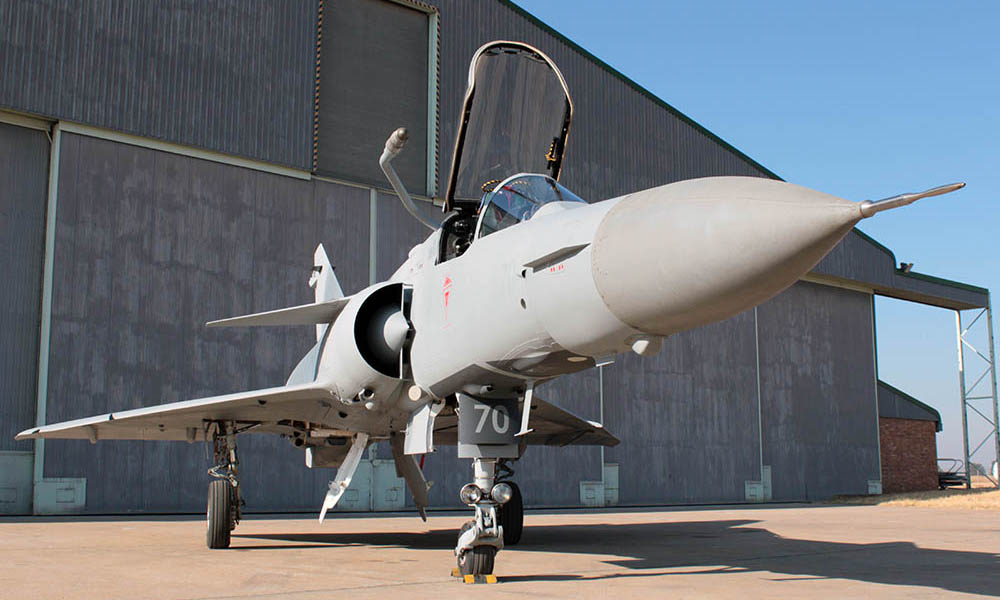 "SeaWorld Orlando's Aquatica water park to get a new ride" via Ashley Carter of Spectrum News 13 — A new permit filed Tuesday points to plans for a new water attraction at Aquatica Orlando. The permit was filed by SeaWorld Entertainment, Aquatica's parent company, for a project named "AQO Project 2019." The project would be located in an area "southwest of the existing beach area, west of an existing slide attraction, and north of an existing employee entrance roadway," according to the filing. Plans call for the demolition of existing pavement and curbing, as well as the construction of a water attraction, concrete pavement and associated utilities and pumping equipment. The addition of another water ride falls in line with SeaWorld's strategy of opening more attractions at all its parks.
Happy birthday to Rep. Jennifer Sullivan, former lawmaker Garrett Richter, as well as the super smart Ashley Kalifeh, the super smart Kartik Krishnaiyer, the super smart Dan Nordby … the super smart Karen Unger … heck everyone born today is super smart, even Brian Shuford.