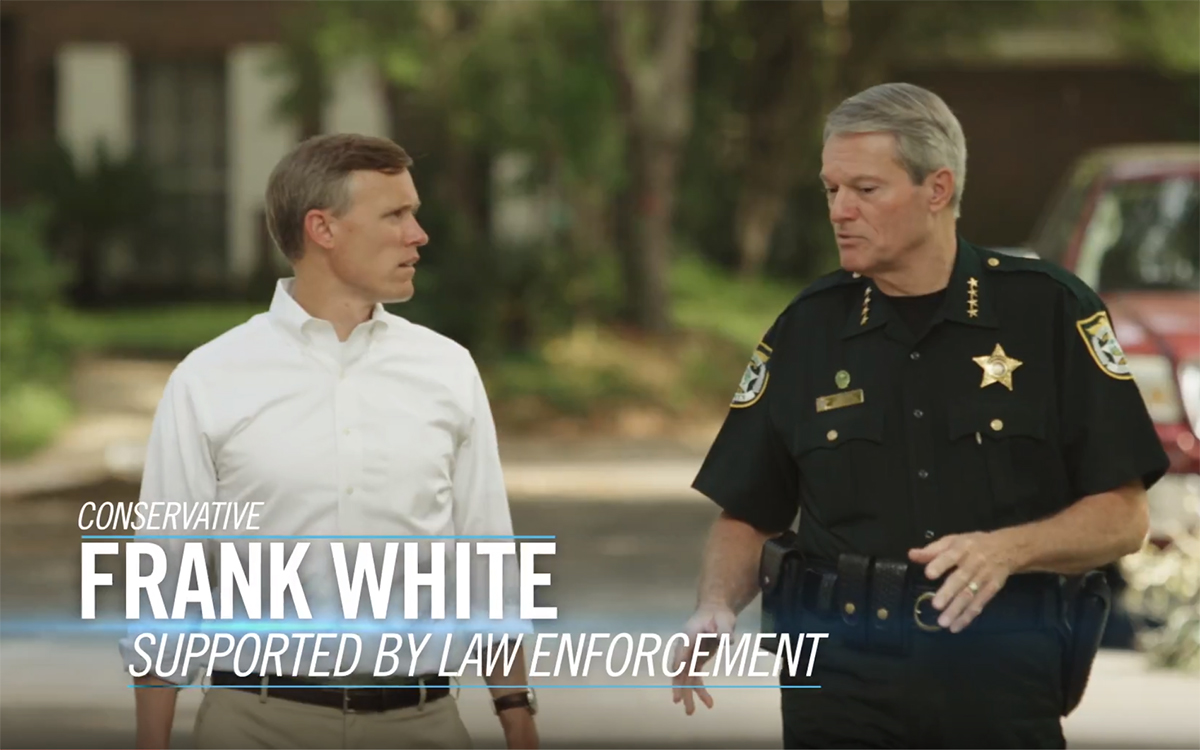 Attorney General candidate Frank White is rolling out a new TV ad Monday saying he, not fellow Republican Ashley Moody, has a record county sheriffs can trust.
The 30-second ad, titled "Florida Sheriffs Support Frank White," apes a recent TV ad by Moody by bringing in some backup from county sheriffs who are backing his campaign. Moody, a former circuit court judge and prosecutor, touted her law endorsement endorsements and another from Attorney General Pam Bondi, in an ad released last week.
White's handful of sheriff backers were used to the same effect in the new spot.
"Florida Sheriffs agree that for Attorney General, Frank White has the conservative record we can trust," a narrator says before three county sheriffs — Escambia Sheriff David Morgan, Okaloosa Sheriff Larry Ashley and Santa Rosa Sheriff Bob Johnson — split the next three lines of the script.
"That's why Frank White stood with President [Donald] Trump against illegal immigration and voted to outlaw sanctuary cities in Florida. And why Frank has the highest NRA A+ rating for defending the Second Amendment. Frank White has worked with us in law enforcement to increase penalties on child predators and strengthen the death penalty," the sheriffs say.
"Frank White. Tough. Effective. Conservative. For Attorney General," the narrator says in closing.
The ad is the latest in a string of ads the White campaign has released since early June, when he kicked off an 80-day advertising plan with a $1 million ad buy well before the "lowest unit rate" rule kicked in 45 days out from Aug. 28 primary election.
If polls are any indication, White's strategy is paying off. A recent measure from St. Pete Polls shows him with a double-digit lead over Moody among likely Republican primary voters, and his lead is similarly high among each slice of the GOP electorate barring Hispanic Republicans and those living in South Florida.
Still, two weeks are left, and Moody's campaign has shown no signs of slowing down.
For the week of July 28 through Aug. 3, she added another $233,630 between her campaign and political committee, Friends of Ashley Moody, while White tacked on $106,000 between his campaign accounts and United Conservatives political committee.
As it stands, Moody has brought in more than $3.86 million between the two accounts and had $1.43 million in the bank on Aug. 3. White, who has put $2.77 million of his own money behind his bid and has received at least $400,000 from his family, has a to-date total of 4.64 million with $1.18 million at the ready.
The winner of the Aug. 28 primary election will likely face Tampa Democratic Rep. Sean Shaw in November.  A pair of polls, now somewhat stale, showed Shaw with an edge no matter which Republican he faces on Election Day.
For his part, Shaw showed $115,885 received in his new report. He has now raised more than $1.15 million since entering the race early this year and had $676,795 in the bank on Aug. 3.
White's ad is below.