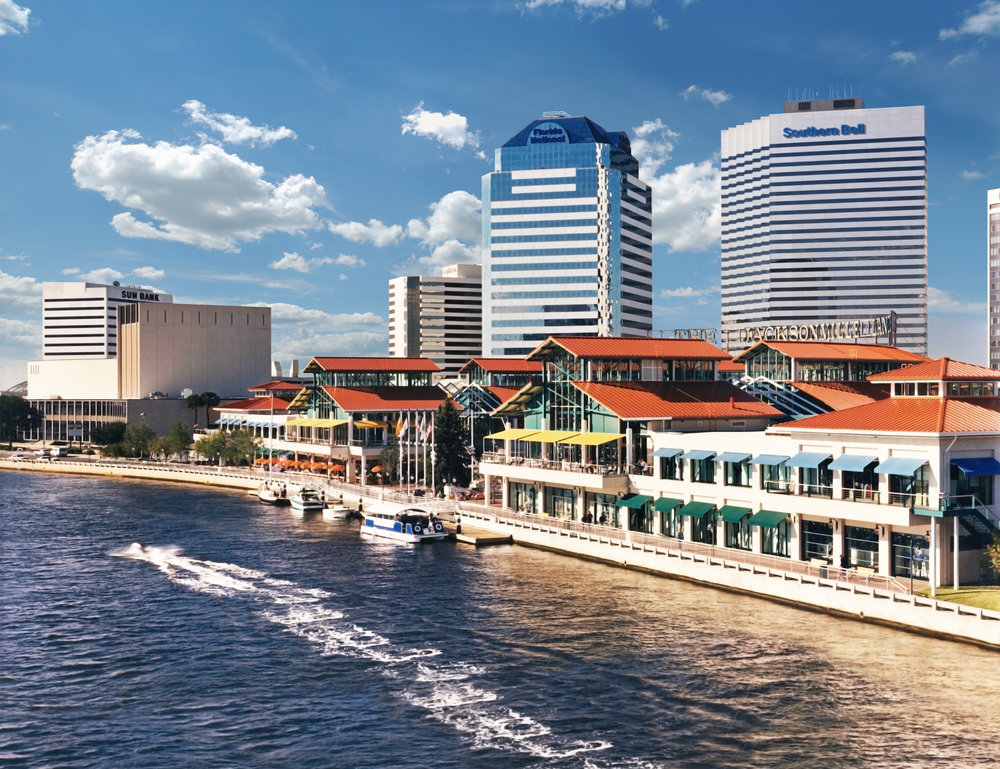 Florida elected officials and politicians, as well as politicians and celebrities outside the Sunshine State, are responding to reports of multiple people dead and injured after a mass shooting Sunday afternoon at Jacksonville Landing.
Ivanka Trump
As we await further details, our hearts are with Jacksonville and all those affected by today's tragic mass shooting. ♥️

— Ivanka Trump (@IvankaTrump) August 26, 2018
Texas Gov. Greg Abbott
I spoke with Florida Governor Rick Scott and offered any aid and assistance they might need in dealing with this tragedy. Texas stands ready to help our friends in Florida respond to #TheLandingMassShooting in Jacksonville.

— Greg Abbott (@GregAbbott_TX) August 26, 2018
Gov. Rick Scott
I've spoken to @JSOPIO Mike Williams to offer any state resources he may need. FDLE is currently responding, and I have spoken to FDLE Commissioner Rick Swearingen regarding the shooting in Jacksonville. We will continue to receive updates from law enforcement.

— Rick Scott (@SenRickScott) August 26, 2018
Attorney General Pam Bondi
Praying for Jacksonville and the victims of this horrific attack. My advocates are there assisting @JSOPIO—helping the victims.

— Fla. AG Pam Bondi (@AGPamBondi) August 26, 2018
U.S. Sen. Bill Nelson
https://twitter.com/SenBillNelson/status/1033801265082519552
U.S. Rep. John Rutherford
Horrified by what has transpired at The Landing. As we pray for the victims and all the emergency personnel responding to this tragedy, please follow guidance from @JSOPIO as they work to secure the area.

— Rep. John Rutherford (@RepRutherfordFL) August 26, 2018
U.S. Rep. Al Lawson
Our community is shocked & saddened by the news of today's mass shooting at the Jacksonville Landing. This news never gets easier. This is another hit to our community following Friday's shooting at the Raines v. Lee football game. @wjxt4 @ActionNewsJax @FCN2go

— US Rep. Al Lawson Jr (@RepAlLawsonJr) August 26, 2018
Mayor Lenny Curry
Please follow the Sheriff's instructions and avoid downtown tonight.

— Lenny Curry (@lennycurry) August 26, 2018
Republican gubernatorial candidate Rep. Ron DeSantis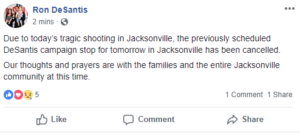 Republican gubernatorial candidate Adam Putnam
Our prayers are with the families of the victims in Jacksonville. Please continue to follow @JSOPIO for updates and cooperate with first responders and law enforcement at the scene.

— Adam Putnam (@adamputnam) August 26, 2018
Democratic gubernatorial candidate Andrew Gillum
We don't know a lot about this shooting yet, but I do know this gun violence epidemic must stop. We simply cannot let this become the new normal. Too many lives are being snuffed out far too soon. We lift these families up in prayer as we fight to end this epidemic. https://t.co/kKxmCGb9iP

— Andrew Gillum (@AndrewGillum) August 26, 2018
Gillum offered a statement later Sunday afternoon: "This gun violence epidemic must stop, and we simply cannot let this become the new normal. Too many lives are being snuffed out far too soon in everyday places like our high school football games, movie theaters, shopping malls, and public schools."
"As long as we let this absurd status quo continue, in which the gun lobby controls our elected officials, this bloodshed will continue. I will lift the victims' families up in prayer tonight, and as our next Governor, I will do everything in my power to finally pass the common sense gun safety laws we so badly need in the Sunshine State," Gillum added.
Democratic gubernatorial candidate Philip Levine
"I am horrified and I am furious. The shootings are too many to count — in our schools, neighborhoods and nightclubs. Our thoughts are with the victims, but we should all be outraged. Too many lives are destroyed, while leaders take no action. It's time for new leaders."
Democratic gubernatorial candidate Gwen Graham
"I am tired of hearing 'when is enough going to be enough.'I am tired of hearing 'thoughts and prayers' from those who do nothing," Graham said. "We need to end these mass shootings — and the only way to do that is to vote out the politicians complicit in this cycle of death."
Alyssa Milano
It's happened again in Florida. At least 4 dead. At least 11 injured.

Florida's primary elections are Tuesday. #Vote.

Honor these victims by voting for candidates that reject the @NRA.

Be a hero. #JacksonvilleLanding #NoRA

— Alyssa Milano (@Alyssa_Milano) August 26, 2018
This is a breaking story and will be updated as reactions come in.