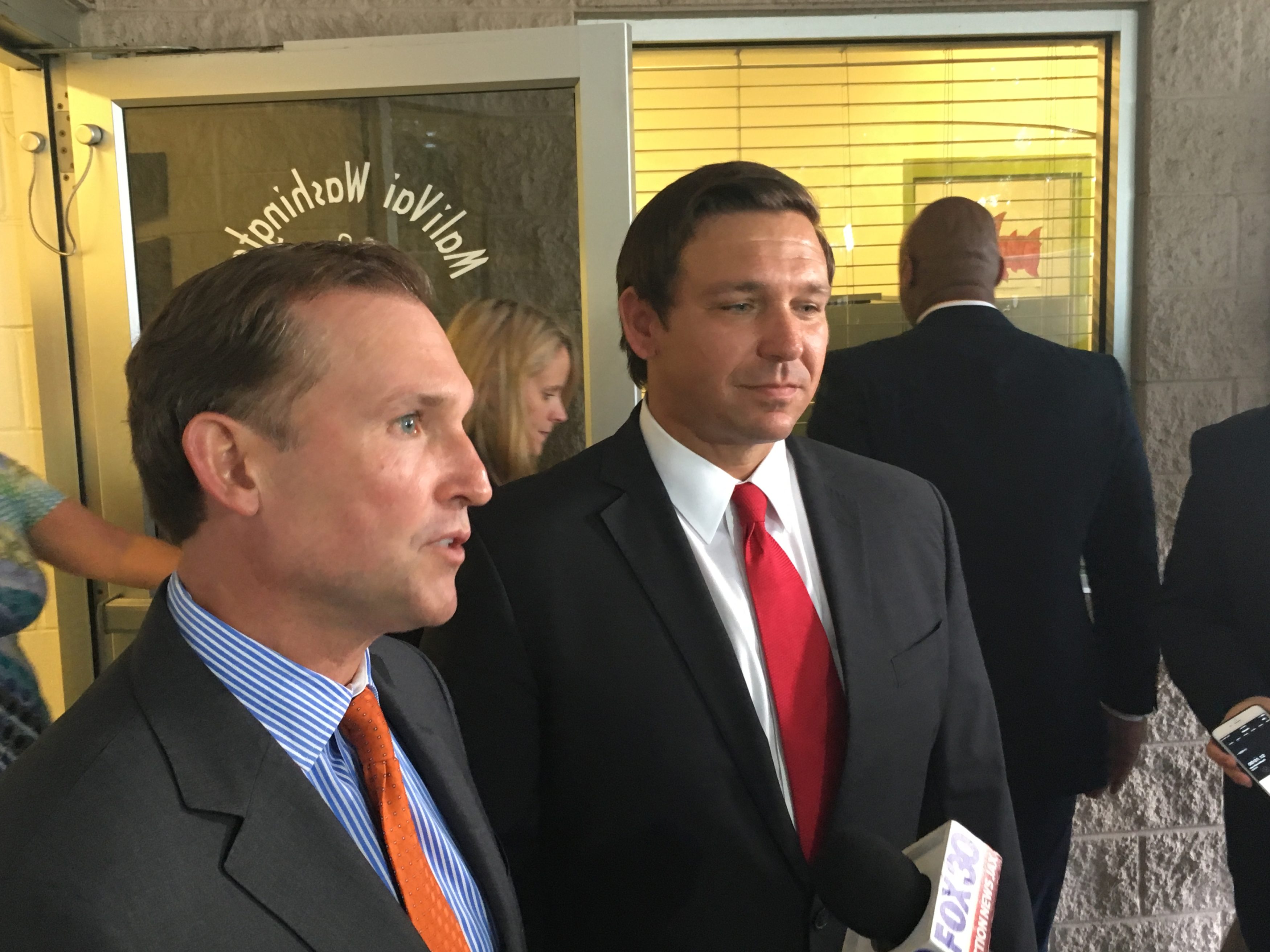 Mercifully, primary Election Day is upon us in Northeast Florida, the culmination of months of spirited campaigning, big time spending, and the occasional calumny or two.
And now that it's finally Tuesday, we will see the resolution of a number of narratives that have percolated for these many months.
Moving from the top of the ticket down, here are a few storylines worth watching.
Establishment picks in Governor's races
By and large, the Jacksonville political establishment settled early behind its presumptive nominees: former U.S. Rep. Gwen Graham on the Democratic side, Agriculture Commissioner Adam Putnam for the Republicans.
Despite the twists and turns in polling, the Democrats have not indicated buyers' remorse. Though there is still room for the myriad polls that show Graham ahead to be belied, the Graham campaign has weathered heavy ad buys from opponents and their friendly committees, and seems headed toward a strong finish.
Less certain is Putnam's fate. Despite endorsements from U.S. Rep. John Rutherford, state Sen. Aaron Bean, Jacksonville City Council President Aaron Bowman, and various of Bowman's colleagues, Putnam has been down in most polls (including a 23 point deficit in the latest St. Pete Poll).
Endorsements down the stretch went to DeSantis. Jacksonville Sheriff Mike Williams endorsed, and then said he wasn't interested in the Lieutenant Governor gig. Mayor Lenny Curry endorsed, calling DeSantis a "brother from a different mother." From Clay County, Senate Appropriations Chair Rob Bradley and Rep. Travis Cummings likewise endorsed.
The proxy battles haven't spilled out into public view, and with Jacksonville having been racked by high-profile mass shootings after a high-school football game and a Madden video game tournament  this weekend, the focus of the governing class may be on governing. Still, it will be interesting to track Putnam's performance in Duval Tuesday, and how it tracks compared to the rest of the state.
Endgame for Alvin Brown?
Months back, former Jacksonville Mayor Alvin Brown launched a Democratic primary challenge to U.S. Rep. Al Lawson.
The idea was to take back a "Jacksonville seat" from the Tallahassee Democrat — U.S. Rep. Corrine Brown lost to Lawson, months before an even more catastrophic loss (numerous guilty verdicts in a federal fraud trial).
However, it wasn't quite that clean: Lawson enjoyed a number of important Jacksonville endorsements, critical to his race against former Mayor Alvin Brown. The local Fraternal Order of Police and Jacksonville Association of Fire Fighters endorsed him, as did state Rep. Tracie Davis and the Florida Times-Union.
The latest polls suggest that Brown couldn't make the sale. Surveys from University of North Florida and St. Pete Polls suggest this is a 20 point race, with Lawson having all the momentum west of 295, and with Brown unable to consolidate his Jacksonville base.
This may not be a 20 point race in the end, of course. Duval still holds the population edge, and Brown has been a frequent and vocal presence this weekend, in the wake of the aforementioned violence in Jacksonville.
If Brown does not win tonight, what's next for him? That's the open question. There are those who see his evolution into a "pragmatic progressive" on the campaign trail as real. BUT would the Lenny Curry machine let him back into City Hall?
Demonbuster busted?
One of the most competitive races on a Jacksonville ballot Tuesday: HD 14's Democratic two-way between challenger Paula Wright and incumbent Kim Daniels.
Notable: this is an open primary, so Republicans and NPAs can vote — and on both sides, GOP donors are expressing preferences.
Beyond that particular anomaly, it will be interesting to see if Wright can pull it off. A political committee ("New Direction Now") put $40,000 into advertising on her behalf. A poll commissioned by parties friendly to Wright showed the race as a dead heat a couple of weeks back; when the push poll type questions were asked to gauge how oppo hit Daniels, Wright was up.
For a recent review of anti-Daniels oppo, check out Matthew Isbell's article on the subject.
But oppo goes both ways.
Daniels, as has been the case throughout the campaign, has gone light on ad spends, though she did spend $1,000 on an ad in the Florida Star — notable for running a vicious piece against Wright weeks back that Wright said was libel.
Meanwhile, district residents have received robocalls slamming Wright, hitting many of the same themes in that Star piece.
The case for Wright over Daniels comes down to cohesiveness with the rest of the delegation. The working relationship between Daniels and the other Duval Democrat in the Legislature, Tracie Davis, is not exactly functional.
How dysfunctional? Davis (and Sen. Audrey Gibson) back Wright. And they had salient reason to, as Daniels allies teased primary challenges to each of them — challenges that ultimately did not materialize.
Can a lobbyist win? 
HD 14's Democratic donnybrook isn't the only state House race of note. The three-way GOP race in Westside Jacksonville's House District 15 between Wyman Duggan, Joseph Hogan, and Mark Zeigler is also of interest.
The race devolved into a series of recriminations and character assassinations, with two relatively underfunded candidates scoring some hits against Duggan, the candidate backed by pillars of the Jacksonville Establishment ranging from the Mayor to the Chamber.
One talking point: Duggan lobbying for Emera, a company that engaged him contemporaneously to a discussion of privatizing Jacksonville's public utility JEA. This concept, favored by many close to the mayor's office, has yet to get traction with ratepayers — and voters.
Duggan's television ads have had over $100,000 behind them, but have not been dynamic. The Duggan appeal been branded around Mayor Curry, with assurances that Duggan will be a stalwart for public safety and that he opposes what clearly is the biggest threat to such: sanctuary cities.
In the end, the election may be uglier than the 2014 Special Election primary clash between incumbent Rep. Jay Fant and then-challenger Paul Renner, a two-vote win for Fant after a campaign that got more personal and bitter as it went on.
The irony is that this divisive battle may make post-primary healing a tough sell, at a time when there is a very serious general election challenger.
Democrat Tracye Polson has roughly $150,000 in hard money and another $55,000 in the committee account. She will have buy-in from the state party and has personal resources that just might be able to match whatever buy-in the Jacksonville business community would offer Duggan.
If one of the other two candidates wins, it likewise is far from certain that financial support would be as robust as it would for Duggan.
The district is almost perfectly purple: of the 103,293 voters in HD 15, there are 39,997 Republicans and 40,323 Democrats. The rest are third party and NPA, and one wonders how receptive they will be to Republican messaging against a Democratic pragmatist who has support from Jacksonville's public safety unions and even Republicans like Audrey Moran.