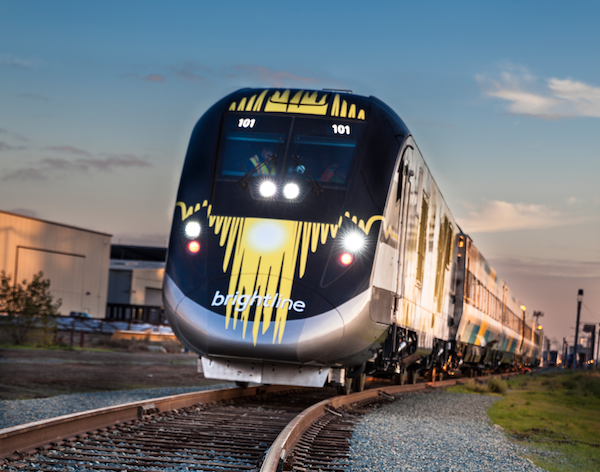 Commuter passes will be available for high-speed rail travel between Tampa and Orlando if the route comes to fruition.
Brightline Vice President of Government Affairs Bob O'Malley said the private company would consider monthly packages similar to what it offers in South Florida, which cost $300 a month for unlimited rides.
Such a transit amenity could create a super-region by allowing businesses to easily connect between two cities once seen as inconvenient to access. Driving takes from 90 minutes to three hours, depending on traffic. A Brightline ride would take one hour, guaranteed, he said.
O'Malley, however, said the price for Orlando to Tampa passes hasn't yet been determined.
"It sounds expensive," O'Malley said during a presentation at Café Con Tampa Friday. "Unless you're from the Northeast. Then it sounds cheap."
Commuter passes are often a value for people who regularly commute between cities in which it's too far to drive, but too close to fly. They can save on parking, gas, and wear and tear on their vehicles, and avoid the hassle of traffic and free up time to get work done or to relax.
Brightline is in a bidding process with the Florida Department of Transportation to lease the publicly owned right-of-way in the Interstate 4 corridor. The space in the median had been designated for public high-speed rail, but Gov. Rick Scott canceled that project in 2010, saying it would require too great a public subsidy.
Now Brightline is taking the financial risk. The company sold $600 million in private bonds, not backed by any government entity, in order to build its Miami to West Palm Beach route.
Brightline plans to sell another $1.75 billion in private bonds to fund the connection from West Palm Beach to Orlando.
The connection to Tampa is not set in stone, though O'Malley said the company was committed to making it happen. The project is contingent on striking a lease deal with the state. Political will, or rather the lack thereof, also could get in the way.
"We build roads without even thinking about it. But if it's rail, it's like a lightning rod for controversy," O'Malley said.
The company hopes a change of leadership in Tallahassee won't create any additional barriers, but he acknowledged it is a possibility. He said executives with Brightline have spoken with both gubernatorial candidates, Democrat Andrew Gillum and Republican Ron DeSantis, and they're "fairly confident" both will support the Tampa to Orlando project.
Orlando's connection with West Palm Beach already is secured.
The company identified five possible sites for a station in Tampa. All are either in downtown, Ybor City or in between.
One of the possibilities is Ybor City's historic Union Station. O'Malley said that site would require some additions and retrofits to meet the company's needs, but would maintain the building's historical significance.
"When we choose our site in the Tampa area it's going to be very important to us to be sensitive to the surrounding communities," O'Malley said. "You have to make sure [the station] fits well or the community is not going to be supportive of it."
The company doesn't have any plans to offer a direct connection to South Florida without going first through Orlando. Under the company's current plan, the Brightline Orlando station would be at Orlando International Airport. The company is already renting space there.
O'Malley said the company is considering another stop somewhere in the Orlando area, but he wouldn't say where.
If the Tampa connection becomes a reality, O'Malley said the company may someday add a stop in Lakeland, but it would likely be a secondary stop that didn't have the same level of frequency as Tampa and Orlando. Trains would run 16 times a day between the two main stations.
The company recently announced plans to install a route between Los Angeles and Las Vegas. O'Malley said other connections are being considered between Atlanta and Charlotte and some routes into Washington, D.C.