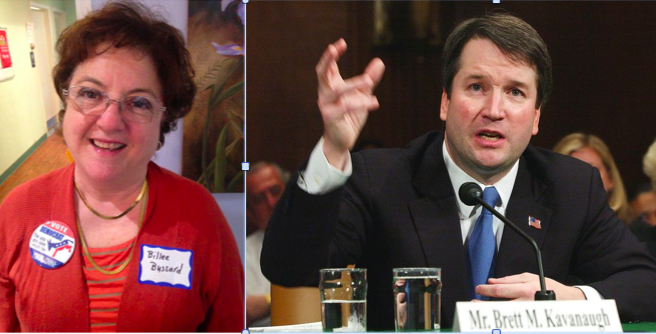 The oldest woman running for the Florida Senate this year wants male candidates to get with the times on acknowledging sexual assault.
Billee Bussard, the Democratic challenger in Senate District 4, issued a press release Sunday titled: "Do Florida's GOP Male Lawmakers Believe ALL Teenage Boys Commit Sexual Assault?"
The missive came after a former (female) congressional candidate, Gina Sosa, defended Supreme Court nominee Brett Kavanaugh on CNN by saying: "Tell me what boy hasn't done this in high school. Please, I would like to know."
Bussard, a 73-year-old Democrat challenging incumbent Sen. Aaron Bean, wants to know if that's true and says male candidates can shed light on the matter.
"Did state Sen. Aaron Bean sexually assault a teenage girl when he was a 17-year-old, and does he believe it is something ALL boys do in high school?" the release says.
"I don't think all boys do that," Bussard told Florida Politics. "It's now fair game to ask all Republicans."
In fact, she thinks Gov. Rick Scott, a candidate for U.S. Senate, and Ron DeSantis, Republican nominee for Governor, should weigh in as well.
Kavanaugh's Supreme Court confirmation hearings became ensnared in controversy after Palo Alto University professor Christine Blasey Ford publicly alleged he assaulted her in high school.
Ford told The Washington Post that when she was 15 and Kavanaugh was 17, he pinned her in a bed, tried to take her clothes off and held his hand over his mouth when she tried to scream. Ford agreed to testify to U.S. senators this Thursday.
A CNN video of Republican voters, including Sosa, defending Kavanaugh went viral this weekend.
Bussard, previously an editorial writer for the Florida Times-Union, said the issue should be relevant in her state legislative race because her opponent remains an "avid opponent of a woman's right to choose even if she should become pregnant as a result of a sexual assault and rape."
"Sen. Bean was instrumental in the state funding and establishment of women's clinics, which discourage abortion as a choice for an unwanted pregnancy," Bussard said.