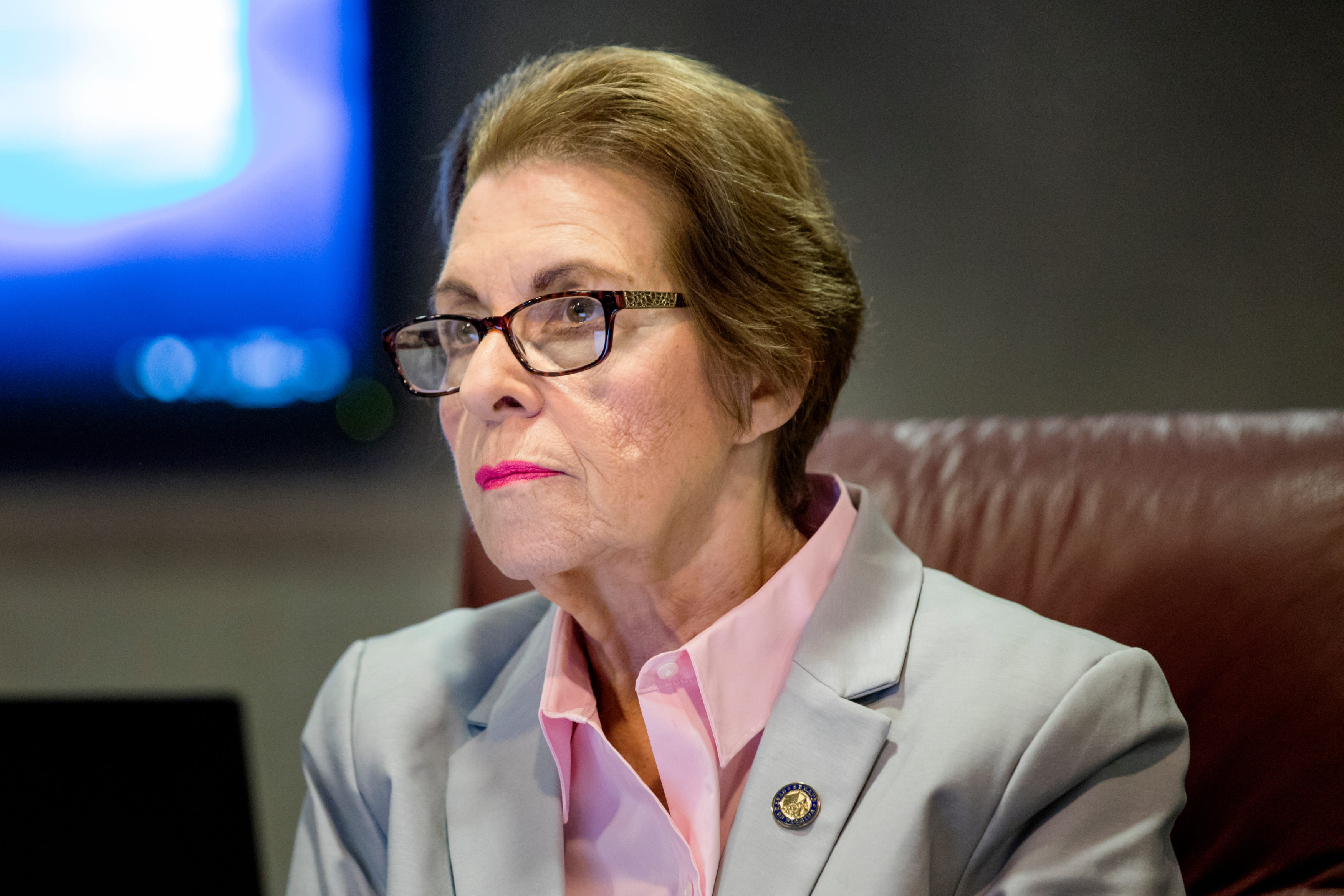 Florida Democrats touted some impressive poll numbers in Republican-leaning state Senate races last week, but now that the sunshine pumping has worn off it looks like there's some serious flaws in those numbers.
To recap, the Florida Democratic Party pointed to a handful of Change Research polls that showed showing Melissa "Mel" Martin leading incumbent Sen. Dorothy Hukill by a couple points in SD 14; Faith Olivia Babis leading Republican state Rep. Joe Gruters in the race for SD 23 by 3 percentage points; and Robert Levy only trailing state Rep. Gayle Harrell by a few points in SD 25.
Change Research has been given some credibility as of late for being the only pollster to correctly predict Andrew Gillum's win in the Democratic primary for Governor. Of course, that feat is seldom mentioned alongside the disclaimer that Gillum's campaign cut a check for $4,600 to commission that poll.
That doesn't necessarily mean there's something nefarious going on with the DC-based polling outfit, but for a company that pitches itself as providing precise measures on the cheap thanks to online polling, those state Senate results deserve some extra scrutiny.
Take SD 14, for example. Republican Sen. Dorothy Hukill absolutely destroyed her Democratic challenger two years ago, earning more than two-thirds of the vote in the Brevard- and Volusia-based seat on Election Day. But in 2018, Martin is supposedly leading Hukill by a basket in a seat that also voted for Donald Trump carried the by 17 points.
No offense to Hukill, whose 14-year career in the Legislature shows she's tuned in to her constituency, but a tomato can with an "R" next its name on the ballot could probably hang on to SD 14.
According to the Survey Monkey poll that produced Martin's lead, it seems that's pretty close to what happened: The one question that truly mattered in the poll — whether voters prefer Hukill or her opponent — mislabeled their party affiliations.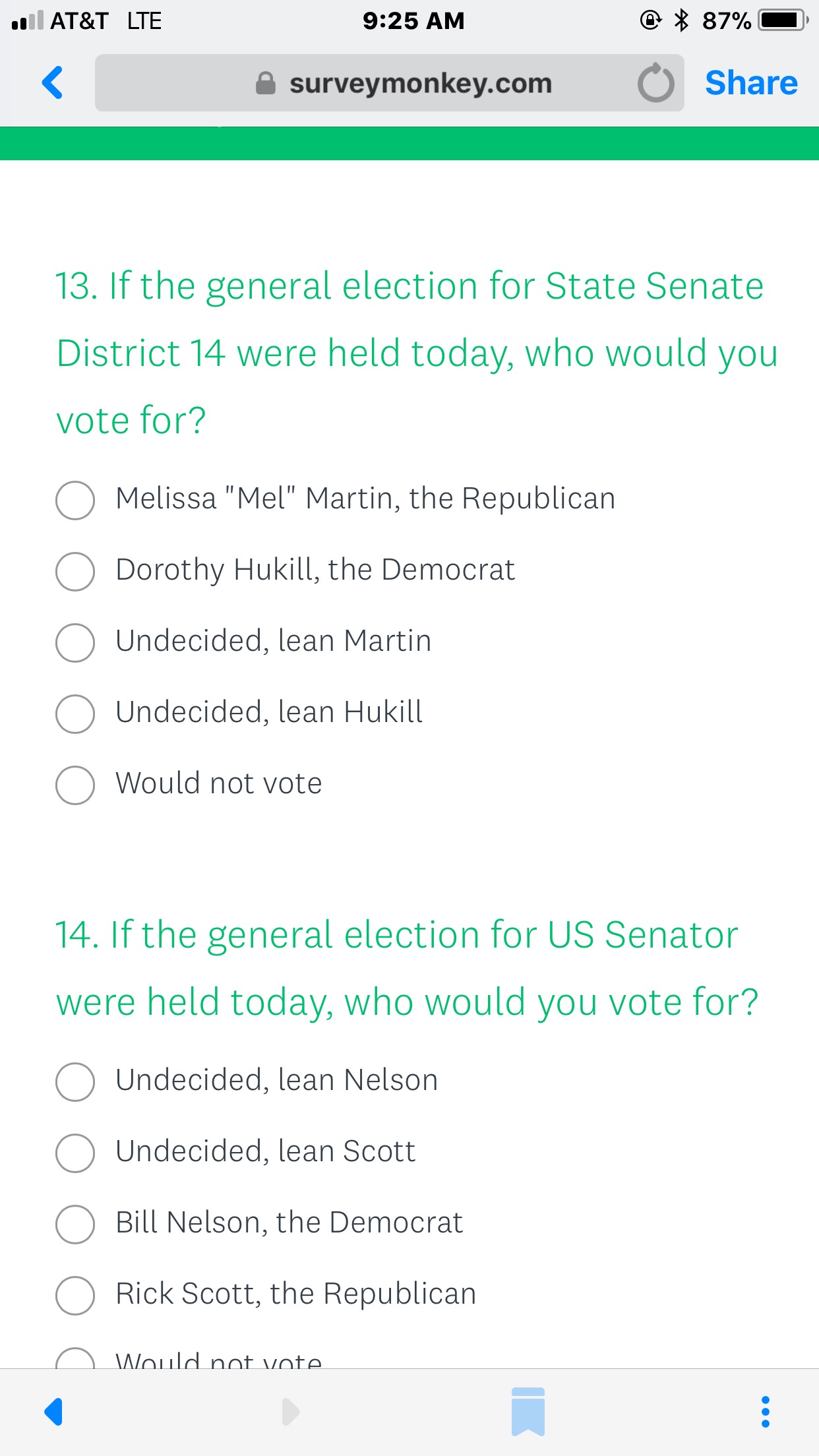 Then there's the Change Research poll that showed David Holden "within striking distance" in his bid to oust U.S. Rep. Francis Rooney in Florida's 19th Congressional District.
Holden's campaign issued a necessary disclaimer — one week after touting the results — that the race was only close "after people were informed of Frances Rooney's record and David Holden's plans and positions. Before receiving that information the poll showed people favoring Holden by 42 percent to Rooney's 51 percent."
Whether Florida Democrats knew about the screwup in the SD 14 poll or were oblivious, it's kind of hard to understand their optimism for a clean sweep of the Senate when public polls of their absolute top targets show their recruits are, at best, trading blows with the Republicans they're looking to unseat.
Even Ft. Lauderdale Sen. Gary Farmer is drinking the Kool Aid — and spending beaucoup bucks chasing rainbows.
Lots of spin & bad polls out there with bad data samples & over or under-sampling, but reliable polls by .@FlaDems & RPOF show .@DoyelForFlorida .@AmandaMurphyFL .@RepJanetCruz & .@LindsayCrossFL either leading or w/in margin of error & other D's gaining!! 🌊 #FlipFloridaBlue

— Senator Gary Farmer (@FarmerForFLSen) September 19, 2018
That's not an outlandish statement when it comes to Amanda Murphy, who barely trails Ed Hooper in SD 16, nor Janet Cruz, who was three points back from Tampa Sen. Dana Young in the last measure of SD 18.
But Lindsay Cross? She is in no way, shape or form leading or within the margin of error in SD 24. The most recent public poll of that contest found St. Pete Sen. Jeff Brandes up 2-to-1 over Cross, who, to her credit, wasn't planning on running for public office a few months ago.
There were glimmers of hope for Carrie Pilon, who polled well enough when Election Day was six months out, but she never broke through the margin of error in SD 24.
With Election Day only six weeks away, it might be time to stop talking about expanding the map and start helping out the candidates who stand a chance.