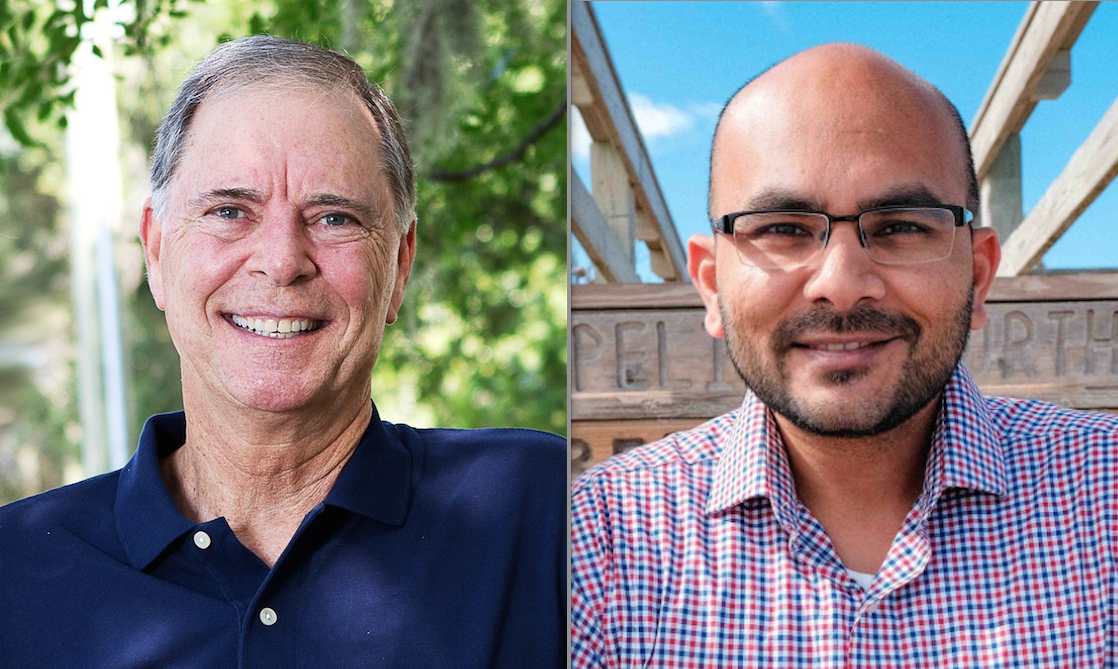 Republican U.S. Rep. Bill Posey went to Facebook Tuesday night to apologize for comments he made last week disparaging supporters of Sanjay Patel, his Democratic opponent in this fall's election in Florida's 8th Congressional District.
At a Trump Club meeting in Brevard County on Sept. 19, shown in a video posted on Youtube.com and since taken down, Posey declared, "I know most of my opponents signs. I can pick out the house without the sign, 'cause it's the dumpiest house in the neighborhood."
Patel responded by noting that Posey also said other disparaging things during the speech, including calling unhappy constituents "the damned deplorables." Patel said it was "deeply troubling" that Posey would insult constituents, "but his comment clearly captures his condescending attitude toward those in his district who struggle to make ends meet."
Patel's supporters reacted in the past few days trying to start a Twitter campaign of comments under the hashtag of #dumpyhouse, though it hasn't really caught on.

In a Facebook statement he posted last night, Posey owned up to the comment, said it was not reflective of the kind of person he is, and apologized.
"In this intense campaign it is all too tempting to make comments that are less than articulate, and at time offensive. To err is to be human," Posey wrote. "That said, I am not the kind of person that intentionally divides people in order to achieve a political victory, in fact my career has been characterized by bringing people together to get results. I apologize for my comment regarding my opponent's supporters."
Most of Posey's comments at the Trump Club private meeting, in a copy of the video obtained by Patel's campaign and provided to Florida Politics Wednesday morning, cover praise for President Donald Trump, discussion of general congressional activity, and Posey's efforts on issues ranging from Kennedy Space Center funding to flood insurance reform. But toward the end he turns his attention to his campaign. Among his other comments, he makes the "dumpiest house" statement and says of people who post crude insults about him, "They're the damned deplorables."
Wednesday morning Patel said Posey's apology is appropriate and appreciated, but charged that congressman's comments were "typical of his disrespect for his constituents, especially those of us who disagree with him on issues.
"This wasn't simply a slip of the tongue; even in this one conversation, he went on to refer to us as the 'bad guys' and the 'damned deplorables,' Patel said in a written statement to Florida Politics. "This needless division is exactly what's wrong with our politics. It's part of the divide and conquer strategy that is tearing communities apart. Perhaps if Posey would host town halls and listen to his constituents, he'd actually be able to understand and help folks with the issues they face, rather than insulting them."
Posey's office did not respond to an inquiry Wednesday from Florida Politics.
Posey, of Rockledge, is a five-term congressman and former state lawmaker who has never been seriously challenged in re-election, in a district that is strongly Republican. CD 8 covers all of Brevard County, a piece of east Orange County, and a piece of northern Indian River County. It's an area where 43 percent of voters are registered as Republican, 31 percent as Democrat, and 26 percent as other or independent. Posey has won each of his last four elections by more than 20 points.
This year Patel, a business consultant from Satellite Beach, is turning some heads though. He and his wife Stacey Patel took leadership of the Brevard County Democratic Party in 2016 with the goal of creating an effective grassroots network. In the most recent reported quarter for federal campaign finances, Patel outraised Posey, bringing in $101,000 in campaign contributions, while Posey raised $68,000 during the period. Overall, Posey remained in a dominant position to spend money this fall, as his re-election campaign entered the third quarter of 2018 with $642,000 in the bank compared with Patel's $160,000.