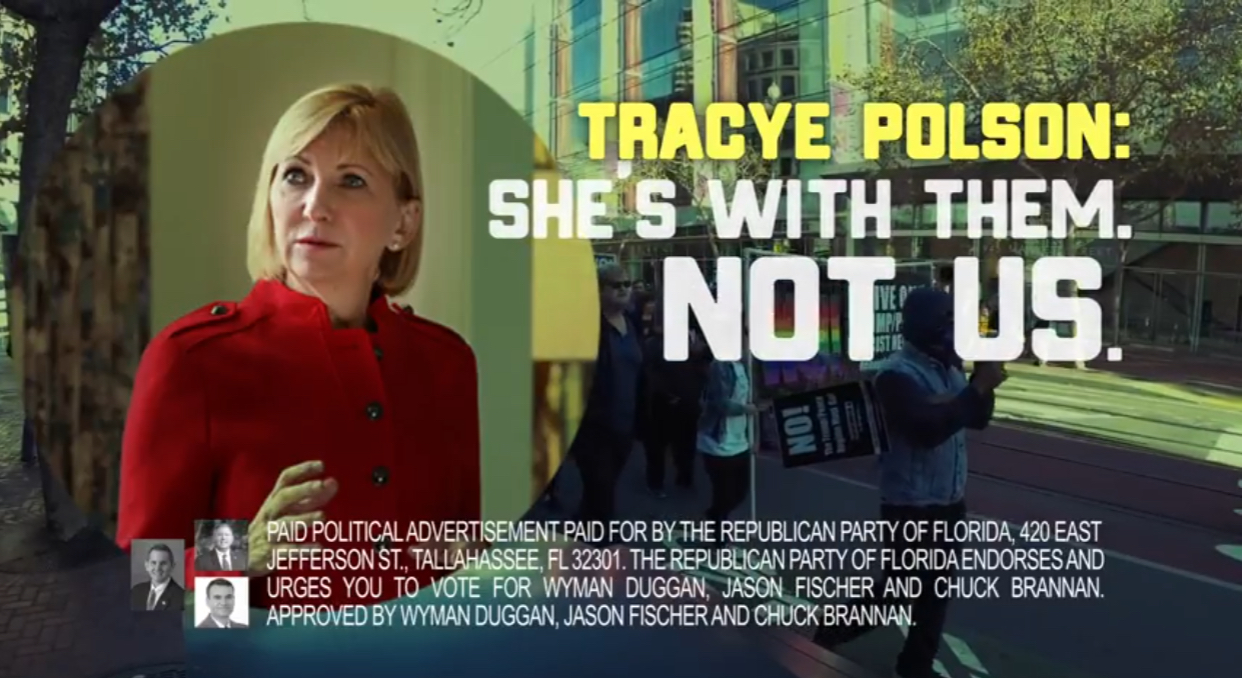 The race to replace outgoing Rep. Jay Fant in Westside Jacksonville's House District 15 has become an air war, and the latest sortie from Republican Wyman Duggan means incoming for Democrat Tracye Polson.
"Not with Us," a 30-second spot from Duggan's campaign, paints "political insider" Polson as too radical for the district.
"Polson actually stands with out-of-state donors," the voiceover bemoans, "pouring tens of thousands of dollars into her campaign."
(An irony of sorts: Duggan was pilloried in the primary for getting an inordinate number of donations from outside the district.)
As a series of vivid images ranging from resistance marches to what may be archival footage of a flag burning flash onto the screen, the voiceover depicts Polson as a devotee of "socialized health care, job-killing taxes, and big government education," including but not limited to "putting unions ahead of students."
Florida House Victory slammed the spot Friday afternoon.
"Wyman Duggan's GOP donors saw their own interests take a nosedive when Tracye Polson started to rise in the polls, so they gave Duggan's campaign a lifeline with this new ad," asserted spox Marisol Samayoa, who called Duggan a "self-serving lobbyist."
The Duggan spot serves as a sharp-elbowed response to a Polson spot bringing up his lobbying, including advocacy for selling JEA, and advocacy he made for an appointed school board in 2010.
"Whose side is lobbyist Wyman Duggan on … My opponent can stand with the other lobbyists. I'll always stand with Florida's families," Polson said.
The candidates are going negative early for good reason: Polling shows the race as a virtual tie.
An internal Polson poll from SEA Polling and Strategic Design showed Duggan up two points (41-39) in what Democrats see as a swing district. There are polls, we are told by Republican operatives not aligned with Duggan, that also have Polson up.
The resource battle is worth watching down the stretch, and as of Sept. 14 it's favorable to the Democrat: Duggan has under $23,000 on hand after a bitter primary battle, putting him well behind Polson's $116,000-plus, in a district that has a slight Democratic plurality.
The Republican Party of Florida is involved; this is a three-pack with HD 16 Rep. Jason Fischer and HD 10 candidate Chuck Brannan.
The seat did go for Donald Trump two years ago, though Democrats haven't fielded a candidate in HD 15 since it was redrawn ahead of the 2012 elections, so its lean in down-ballot races hasn't been tested.