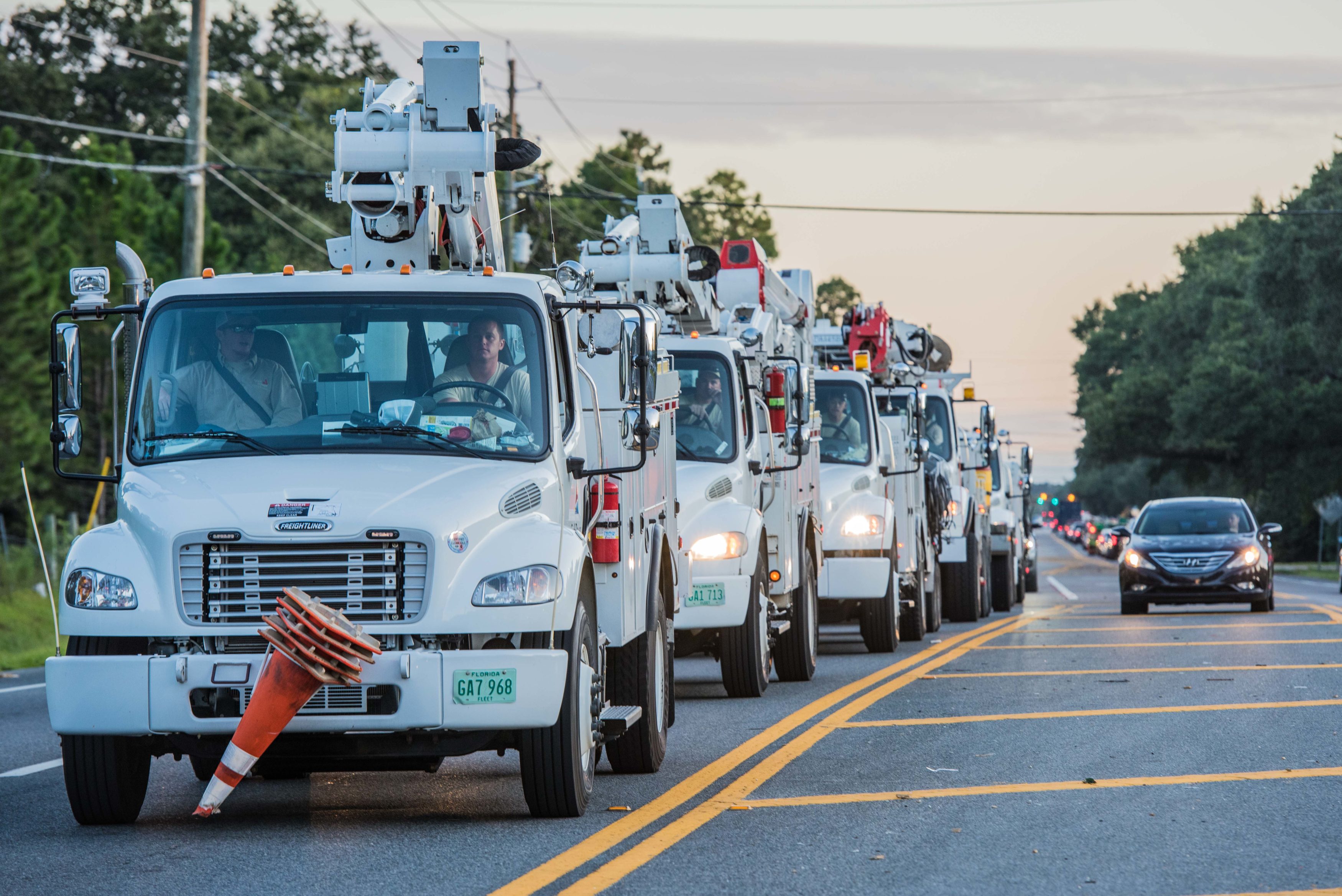 Panhandle utility company Gulf Power announced Sunday evening that all of its Panama City Beach customers west of Highway 79 have been restored.
The company said the announcement represents power restoration to more than 10,000 customers living in that area of the city, which was one of the hardest hit by Hurricane Michael. The update came a few hours after the utility company announced that it's on track to restore power to all customers affected by the storm by midnight on Oct. 24.
Customers residing east of Highway 79 to the Hathaway Bridge in Panama City Beach can expect their power to be restored by midnight, Oct. 15.
"This is a massive, well-coordinated effort to bring power and hope back to these communities, families and businesses. We are pleased to be making steady progress as thousands more lights are shining tonight," said Adrianne Collins, vice president of power delivery. "It is great to reach this milestone, and we will not stop until the work is complete."
In the wake of the Category 4 hurricane, Gulf Power's nearly 1,200 employees and 300 contractors were been joined by a platoon of out-of-state linemen and electrical professionals. The company said Sunday evening that it now has more than 6,000 people working around the clock to restore power.
Gulf Power also warned ahead of the Michael's landfall that it expected much of its infrastructure would have to be rebuilt as it worked on restoring power to its customers.
It said that effort could take "weeks," and according to the timely it unveiled earlier Sunday, it expects to get its ginal customer back on the grid just over two weeks after the hurricane ravaged the Panhandle.
Gulf Power's outage status as of 5 p.m. Central is as follows: 58,171 customers in Bay County, where Panama City is located are still without power; 4,935 customers in Washington County are without power; and Holmes and Jackson counties are each home to about 500 customers apiece who have not had their power restored.
The current timetable estimates Bonifay, Chipley, Caryville, Graceville and Campbellton customers will be back online by midnight, Oct. 17; Vernon, Sunny Hills and the surrounding area can expect their power back by midnight, Oct. 18; and those in the Cypress and Apalachee areas with a Sneads, Fla., mailing address should be back on the grid by midnight, Oct. 19.
The final batch of customers on the timetable — those living in Downtown Panama City, Callaway, Parker, Lynn Haven, Youngstown and surrounding areas — should have their power back by midnight, Oct. 24.
All Gulf Power customers Escambia, Okaloosa, Santa Rosa and Walton counties have had their lights come back on. Gulf Power customers can monitor power restoration progress in their area through the company's Facebook, Twitter and Instagram feeds as well as its outage map.