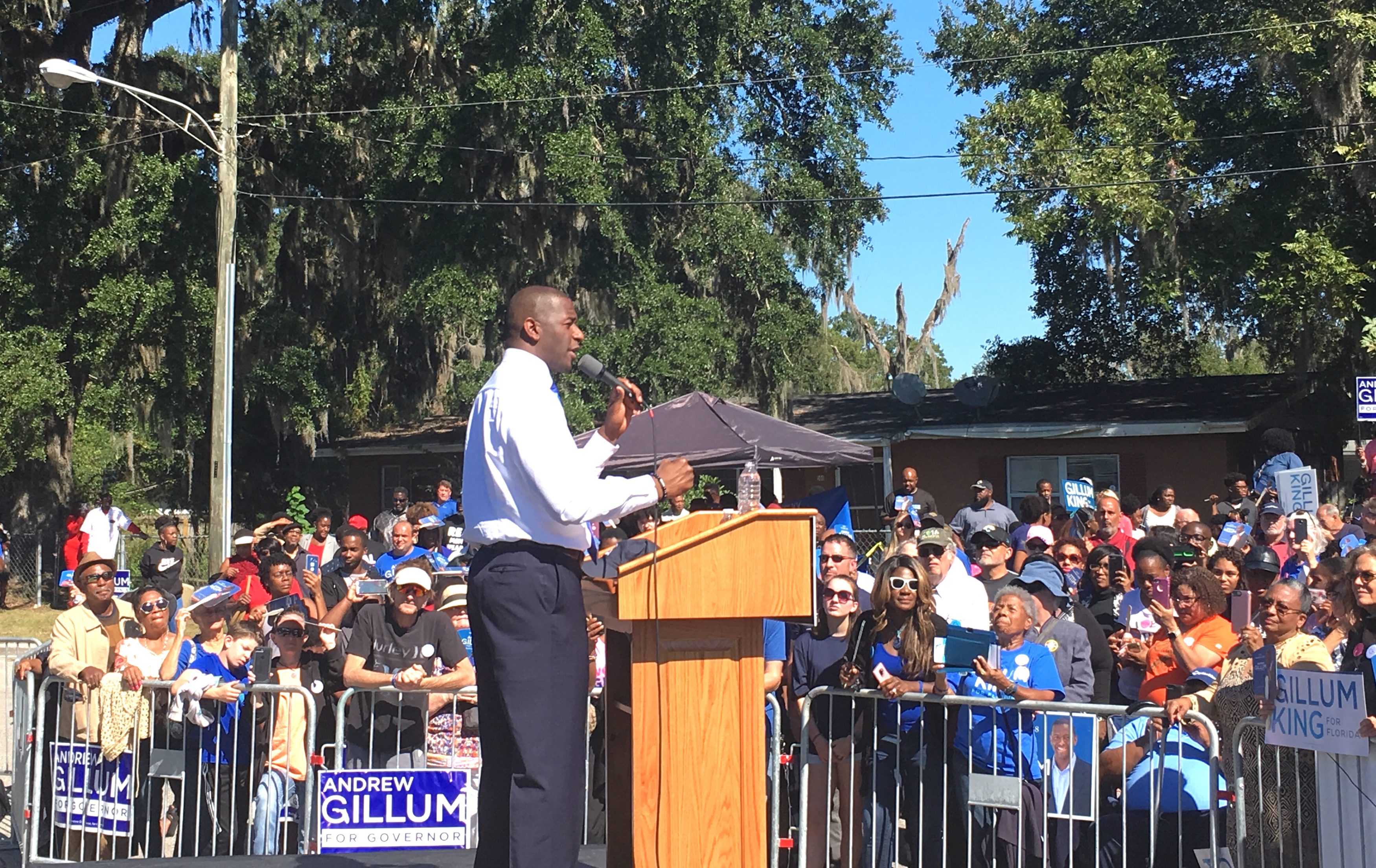 Over the last week, Clay County Sheriff Darryl Daniels has increasingly taken the regional lead in excoriating Democratic gubernatorial nominee Andrew Gillum.
Sunday saw Gillum come to Clay County and plead for civility and dialing down violence in political rhetoric, again establishing contrast between his campaign and that of his opponent.
The Ron DeSantis campaign has messaged heavily against Gillum aligning with the "anti-police" Dream Defenders. Sheriff Daniels, an African-American Republican, has been particularly valuable in undercutting Gillum's credibility.
Thank you Sheriff Daniels! As Governor, I'll always defend and support law enforcement policies that keep Floridians safe. pic.twitter.com/pN1tBLwsDC

— Ron DeSantis (@RonDeSantisFL) October 22, 2018
"I can't get behind him. Not as a man. Not as a sheriff. Not as a politician," Daniels lamented. "I can't get with you, Mr. Gillum."
On Sunday afternoon, Gillum found himself in the heart of Daniels' jurisdiction, speaking to a crowd of a few hundred people outside a cinder block community center in Green Cove Springs.
The crowd size was comparable to the Vice President Mike Pence rally in Jacksonville for Republican Ron DeSantis a few days prior, an interesting metric for enthusiasm for the respective campaigns.
Gillum's campaign has a heavy narrative investment in drawing big crowds in traditionally Republican sinecures, and Clay County is exhibit A for that voter concentration; the county is 53.7 percent Republican.
"I don't have to win this county, I just have to lose it by less," Gillum said late in the speech, noting that Democrats hadn't made serious efforts in Clay and other rural North Florida counties in many election cycles.
"Clay County matters to me," Gillum added.
In the wake of the mass murder at a synagogue in Squirrel Hill, PA, on Saturday, Gillum offered a plea for tolerance and restrained discourse: an especially meaningful goal given how pitched racialist rhetoric has been used by the right to define Gillum.
"I hope that from this moment, everyone of us is double checking our own selves, our own rhetoric," Gillum said. "How we talk to each other. How we treat each other."
"We can debate political and policy differences without resorting to political violence," Gillum said. "Violence has no place in our politics. It has no place in our American society."
Gillum urged political leaders to avoid "inspiring and inciting violence."
"We must decry it at every turn," Gillum said.
Of course, Gillum came under fire by Ron DeSantis for his comment in Wednesday's debate that a hit dog will holler, which DeSantis claimed was Gillum saying he was a dog.
Gillum, in stump remarks, did not address the substance of that claim.
"I didn't know when I was a kid that one day I'd be repeating my grandmother's words in a debate," Gillum said. "That flooded to the top of my mind."
As did another grandma-ism, "Never wrestle with pigs."
"I didn't understand it then, but I'm learning in this political climate," Gillum asserted.