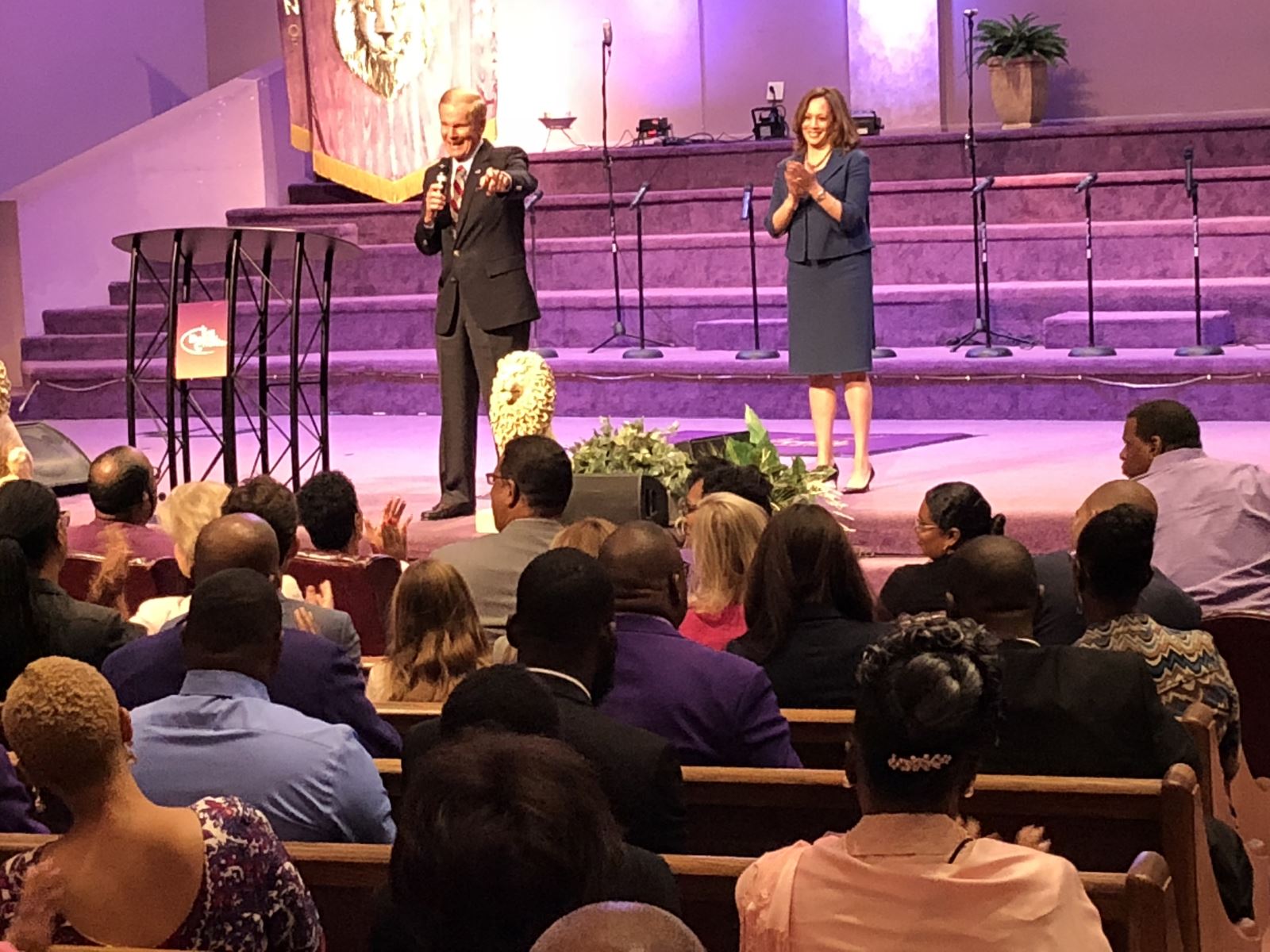 California Sen. Kamala Harris stumped in Miami today for her Florida colleague, Sen. Bill Nelson. The Democratic senators visited worshippers in four black churches in an effort to galvanize the vote.
"It's wonderful to be here this morning, this Sunday morning, and particularly, in support of my colleague and my friend Bill Nelson," said Harris during a stop at the Second Baptist Church.
The pair also visited with congregations at Sweet Home Missionary Baptist Church, Bethel Church and Covenant Missionary Baptist Church.
Nelson remains locked in the tightest re-election battle of his Senate career, against Republican two-term Gov. Rick Scott. The RealClearPolitics polling index right now shows with less than a 3-point average lead in the polls.
"The stakes could not be higher," Harris said. "What you do in Florida is going to impact the rest of the country."
Harris, the second black women ever elected to the U.S. Senate, comes to South Florida as rumors swirl the freshman senator may challenge President Donald Trump in 2020.
But the visit also comes days after a Plantation man allegedly sent a makeshift bomb to her and other Democratic leaders and Trump critics.
The circumstance made certain comments to congregations ring with new resonance.
"Our vote is our voice," Harris said.  "Let's have truth-tellers who will be courageous."
Just two years into her term in the Senate, Harris said she felt a particular connection to Nelson, largely because the Florida leader delivered one of the first speeches she heard in the Senate after her arrival. Nelson, at the time speaking in opposition to Attorney General Jeff Sessions' confirmation, criticized years of voter suppression efforts.
Speaking to predominantly black church-goers today, Nelson again raised the specter of rules that could disproportionate impact minority citizens' right to vote.
"Don't we owe to all our children the right to possess themselves if this is to be a truly free and fair democracy?" Nelson asked.
"I believe that two of the most fundamental rights in our democracy are the right to vote and the right to know who you are voting for and the right to have the confidence that that vote is going to be counted as you intended."
Nelson and Harris also attended a private Sarasota fundraiser together on Saturday evening.
It's always a Good day in Sarasota but it's a great day when inspiring and dedicated Senators come to town! Thank you for fighting to make the world a better place! @SenKamalaHarris @NelsonForSenate pic.twitter.com/unZMlBF1ag

— Margaret Good (@GoodforFlorida) October 27, 2018