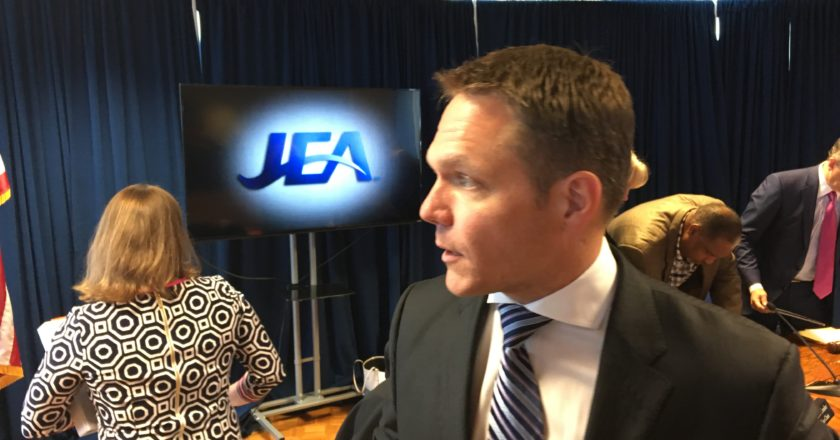 Duval County voters on Tuesday approved a nonbinding referendum suggesting that the Jacksonville City Council must first approve a sale of 10 percent or more of the municipal utility (JEA).
While JEA has an independent board, the push to privatize the utility that started a year ago led Council members to want increased checks and balance.
Jacksonville City Councilman John Crescimbeni, who sponsored the legislation that put the measure on the ballot, said the nonbinding poll allowed voters to "weigh in and tell us they're interested, or they're not interested."
The legislation to put the matter on the ballot came after some of the best-connected lobbyists in the area started working this spring for companies that may want to buy JEA.
Florida Power and Light engaged Paul Harden, best known locally as the representative for the Jacksonville Jaguars and owner Shad Khan's interests.
Emera, a Nova Scotia-based utility company that acquired TECO and otherwise has assets ranging from New Mexico to the Caribbean, has also lobbied up.
Emera has retained Marty Fiorentino and The Fiorentino Group. Other lobbyists for the client include Wyman Duggan, a land use lawyer running for the state House, and his Rogers Towers colleague T.R. Hainline, who served on Mayor Lenny Curry's transition team.
Jacksonville is currently involved in the process of exploring the value of JEA.
While it is by no means certain that FPL or Emera have any interest in JEA assets, both companies were involved in acquisitions of municipal utilities.
FPL acquired the Vero Beach utility recently. The $185 million price tag allowed the city to exit utility agreements, secured the city a new power substation, and led to $36 million in city coffers.
Emera's TECO acquisition was described as "a perfect fit for Emera's strategy." The $6.5 billion deal was lauded as facilitating Emera's diversification of assets and being "significantly accretive" to shareholder earnings.
A JEA commissioned valuation report of the utility urged exploration of a sale, given a combination of flat electrical revenues and a trend of industry consolidation.
Proceeds, the report said, could be between $2.9 billion and $6.4 billion after the retirement of debt. Values range from $7.5 billion up to $11 billion, based on cash flow, price/earnings ratios, and other metrics, per the JEA commissioned report.
The Jacksonville City Council Auditor subsequently issued his own report.
The 2018 Council Auditor report was more conservative in estimates than the one JEA commissioned.
It contended "the net proceeds to the City from selling JEA could range from a low of $1,702,795,000 to a high of $5,202,795,000."
Speculation has swirled that even though the issue has been tabled in recent months, it could return with a new intensity after city elections in spring 2019.