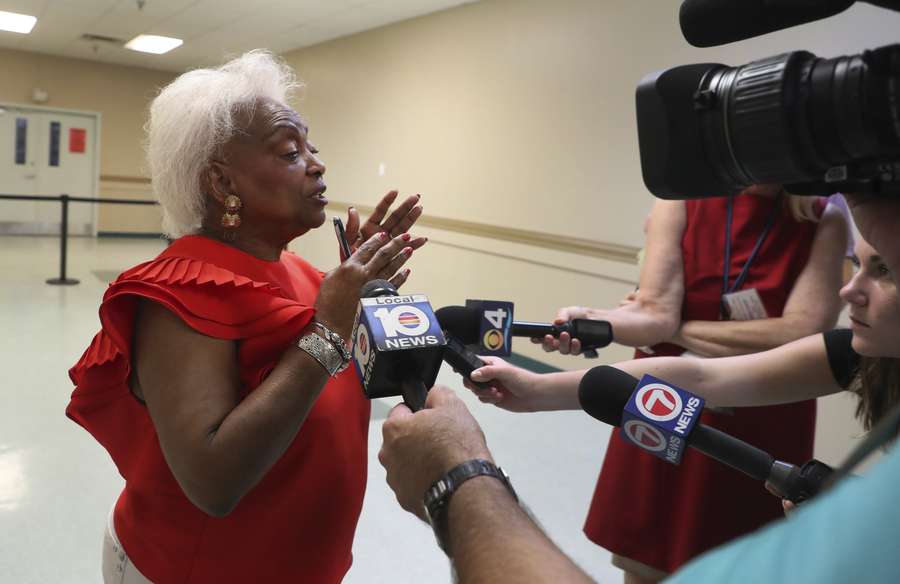 A recount of votes in Broward County started hours after schedule because of machine glitches.
Elections officials today planned to begin a state-ordered recount of votes for U.S. Senator, Governor and Agriculture Commissioner at 7 a.m.
But the count didn't begin until 11 a.m., according to the Miami Herald, because of failed logic and accuracy tests with 10 elections machines.
Bill Scherer, an attorney for Republican Rick Scott's Senate campaign, told the Sun-Sentinel that the delay came from Democratic objections thanks to a large number of undervotes for the Senate race reported in the initial counting of votes.
"They are saying it was a machine glitch," he told the Sun-Sentinel.
"Their only hope of overturning this election is claiming there was a machine malfunction."
The argument in Broward came a day after Democrat Bill Nelson's recount attorney, Marc Elias, argued machine calibration provided the best explanation why fewer votes were cast in Broward County for U.S. Senate than for Governor or even for Agriculture Commissioner.
In Broward, the initial tabulation showed 683,963 votes cast for Senate, compared with 708,955 votes cast for Governor.
Elias says that shows 24,992 undervotes at least in the election that might be picked up by properly calibrated machines.
The initial vote count found Scott leading Nelson in the Senate race statewide by 12,562 votes, about 0.15 percent of the almost 8.2 million votes cast.
The Senate race is one of three statewide elections, along with Governor and Agriculture Commissioner, with a margin narrow enough to trigger a machine recount.
In the Governor's election, Republican Ron DeSantis leads Democrat Andrew Gillum by 33,684 votes, or 0.41 percent. For Agriculture Commissioner, Democrat Nikki Fried clings to a 5,326-vote edge, or 0.06 percent.
Broward County was the second-to-last county behind Palm Beach County to complete the initial tabulation of votes, shortly before the noon deadline on Saturday.
But many smaller counties have yet to begin the machine recount.
Broward County in the first tabulation reported 714,859 votes cast, a turnout of 60.82 percent.
Statewide, there were 8,302,983 votes in the first tabulation, a turnout of 62.53 percent.