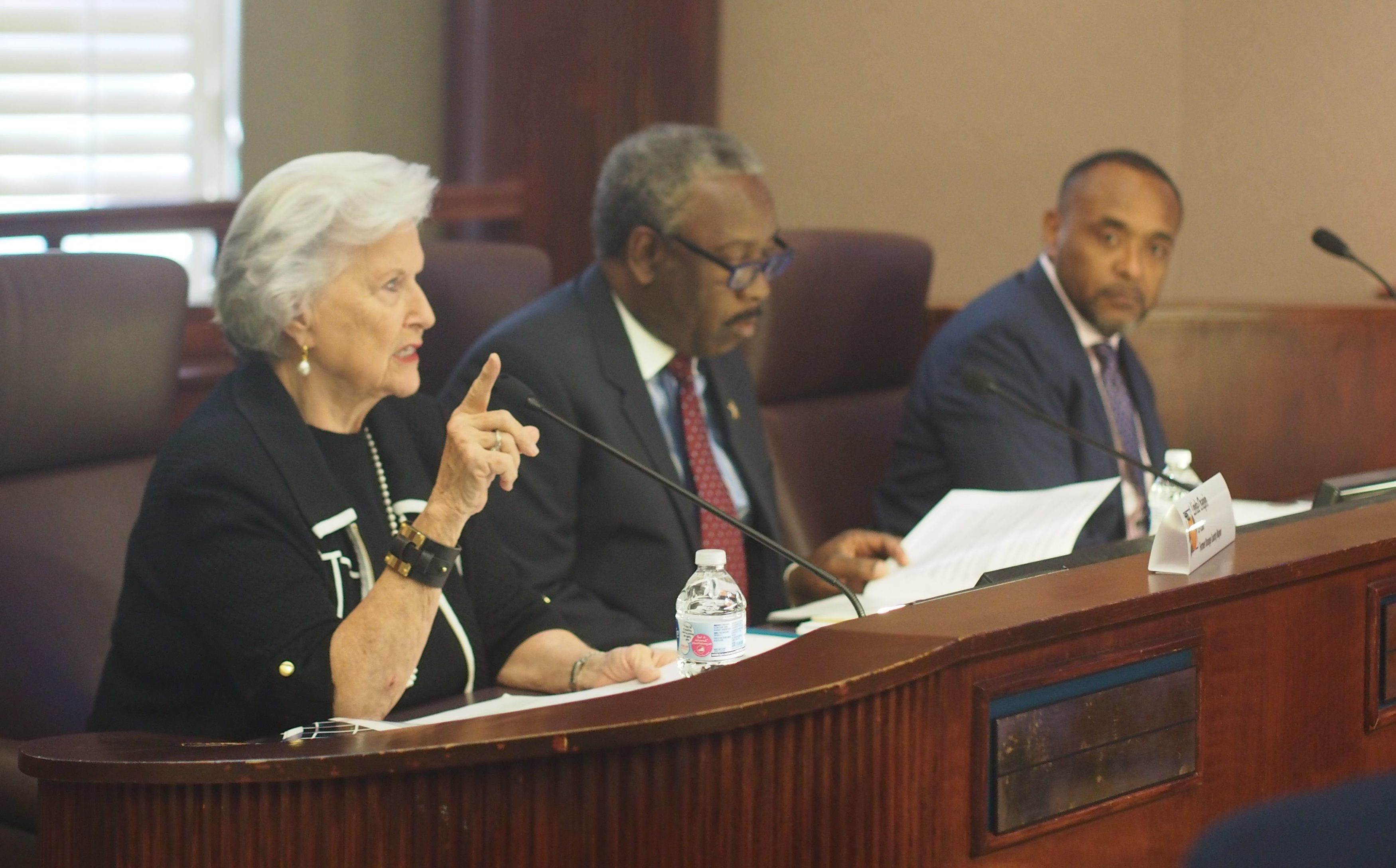 The Orange County mayoral transition team appointed by Mayor-elect Jerry Demings has finished work on its report to him, outlining scores of proposed changes in county government focusing on such things as affordable housing, mass transit, green initiatives and more business culture.
The 60-page draft report was reviewed for a final draft Friday morning at a meeting of Demings transition team. When Demings and the new Orange County Commission are sworn in Dec. 4, Democrats will flip the county from Republican control for the first time in 20 years.
The report gives the first inklings of what new priorities Demings will bring to the office.
The report has some broad recommendations addressing cultures and structural changes for the Orange County government, but also more specific ideas such as hiring a county chief technology officer, establishing an office of sustainability and smart growth, creating a re-entry pilot program for released inmates of the county's work release center, and exploring dedicated sources of funding for a transporation system.
It also includes a few nods to continuing programs and efforts Demings will inherit from outgoing Mayor Teresa Jacobs, who leaves office Monday after eight years. The report urges Demings to impliment the recommendations of the Regional Affordable Housing Initiave Report she sponsored, her Heroin Task Force (which Demings helped lead), her children's services initiatives, and to strengthen or enhance, not replace, many of her other programs.
Demings sat in on the 37-member task force's meetings, though he mostly listened as the co-chairs Linda Chapin, the last Democrat to hold the office he's taking, and businessman Harold Mills led them.
The latest draft version of the report addresses four broad areas, technology and innovation, consumer services and business development, sustainability and smart growth, and "building a community that works for everyone."
It paints a picture of a vibrant, rapidly-growing community with a strong jobs market. But it also notes a darker, less-well addressed side. That included references to a county where 43 percent of households are at or below the federal poverty level, a critical affordable housing shortage that has families living in pay-by-the-week motels, little recent progress in areas such as natural lands preservation, and isa business perception that it can be hard to do business with the county government.
A lot of the report discusses changing the cultures, mindsets, and broad strategies at the Orange County Administration Center in downtown Orlando. That includes the culture of doing business with businesses and individuals, addressing a greener and more sustainable county, and developing tighter-knit neighborhoods and transportation systems.
The final pages talk about potential future challenges to be considered now. These include the forecast that the county's populaiton will grow by 260,000 residents over the next eight years; the number of workers without medical insurance is expected to grow stressing public health clinics; workers are likley to be displaced by technologies; and "without a change in strategy, the current trend of growing inequality could continue."
"Now is the time for a long-term strategy directing reosurces in ways to build a housing and transportation system that opens doors for families and creates opportunities for entrepreneurs," states one suggestion in the draft report.
Among other specific points being recommended for Demings' administration:
– Review the zoning and land-use classifications related to manufacturing, to address the unique needs of evolving technology manufacturing.
– Examine new ways to encourage startups and second-stage companies.
– Create substantial seed capital funds ($100 million or more) to inject capital into Orange County ventures. And invest in local businesses as a first option.
– Partner in a "One Orlando" mission to explore the assets of the region.
– Use crowdsourcing for vision planning.
– Put all development-related divisions under one deputy county administrator.
– Align the county's sustainability and smart growth plans to emulate the city of Orlando's plans.
– Expand solar energy capacity toward a goal of supporting 25 percent of county buildings' energy needs by 2026.
– Encourage alternative transportation by allowing county employees to store their bicycles in all county buildings.
– Strive toward a sustainable food "urban agriculture" environment addressing items ranging from a backyard chicken ordinance to zoning and programs to encourage to innovative and community gardening.
– Establish a "smart growth vision" to update the county's Comprehensive Plan and Land Development Code.
– Address acquisition of conservation land, including idenifying a funding source.
– Establish a goal of doubling the number of transit trips in Orange County within eight years.
– Develop a dedicated funding source for ehanced transit and road optoins.
– Accelerate inclusionary zoning to allow for more diverse neighborhoods from expensive to moderately-priced housing.
– Create financial mechanisms and development concepts for housing for the "missing middle" of price ranges and sizes.
– Pilot a tele-health program for Orange County's Primary Care Access Network health centers.
– Establish more open/no charge outpatient mental health and medical clinics.
– Review management of the jail inmate population, focusing on specialized hosuing and maximum bed space with lower-level classifications.